MoneyLion RoarMoney Account 2023 Review
Learn about the fees, features, and rewards program in this review of the MoneyLion RoarMoney account and compare it to other checking accounts.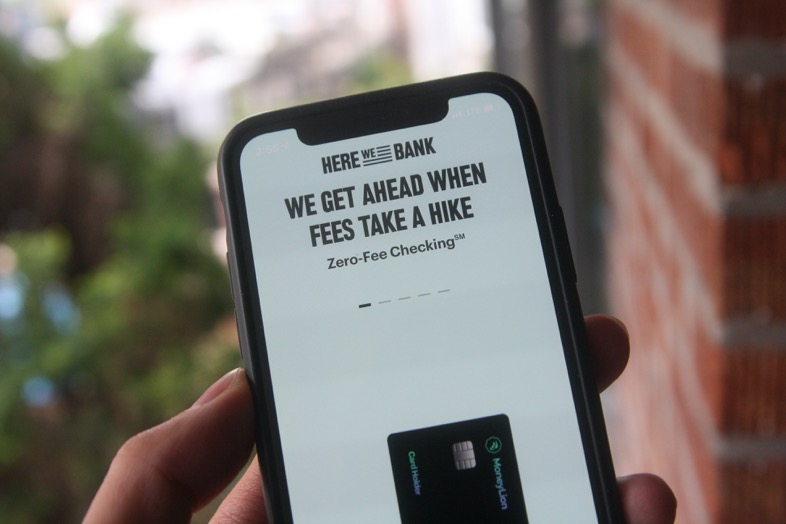 If you're looking for a new checking account, don't count out options other than banks.
MoneyLion is a personal finance company that offers several different products and services. That includes loans and simple investing through the MoneyLion app.
The RoarMoney Account from MoneyLion offers a viable alternative to a traditional checking account. This account aims to minimize the service fees that often come with checking account -- including offerings such as debit card access at more than 55,000 no-fee ATMs.
That might sound good if you're looking for a traditional checking account alternative.
But:
Is it worth making the switch?
Read this review to learn whether a MoneyLion checking account may be a good fit for you.
MoneyLion Checking Account Pros & Cons
Compare Checking Account Options
Make sure that you look at other checking accounts that could be better for you:
Minimal Fees
Bank account fees can be a real drain on your wallet.
With a RoarMoney account, you pay:
$1 monthly maintenance fee
No foreign transaction fees
Even better:
You also get access to 55,000 fee-free ATMs nationwide (other ATM withdrawals cost $2.50 each).
You can use your account to do all the things you could do with a regular checking account. That includes checking your balance, paying bills and using your MoneyLion debit card to make purchases.
Another helpful feature you might like:
The MoneyLion app links up to mobile wallets.
You can add your MoneyLion debit card to Apple Pay, Samsung Pay or Google Pay. That makes spending online, through mobile apps or in-store even easier and more secure.
Free Paycheck Cash Advances
Keeping a budget each month can help you stay on top of your expenses. But sometimes, you can come up short.
You might use a credit card to cover the gap. But, you could skip that option with the RoarMoney account.
MoneyLion allows you to take 0% APR cash advances of up to $250. You can get the advance deposited right to your checking account so you can pay bills or cover other expenses.
That's a much better deal compared to a traditional credit card cash advance. When you get an advance from a credit card, it usually comes with a fee of 2 to 5 percent.
Not to mention, you can pay close to 30% APR on advances. And interest starts accruing on cash advances right away; there's no grace period.
Requirements
Now:
The Instacash feature is a nice extra perk you might like if you occasionally run low on funds. It's quick, convenient and inexpensive.
There are a few rules to qualify for Instacash advances:
You must have a MoneyLion checking account
You must have a recurring direct deposit of $250 or more into your account
You must have completed at least two pay cycles of direct deposit into your account before you can start using Instacash
Just don't get in the habit of relying on it too often, since that could make it harder to get ahead with your money goals.
Earn Rewards
MoneyLion rewards you for completing certain tasks. You perform a task and get a set number of points.
You can then redeem points for gift cards at partner brands, starting at $25.
Some of the ways you can earn rewards include:
Shake your phone after a purchase of $10 or more for a chance to earn cashback rewards
Shop cashback deals at select merchant partners
Daily purchase may enter you to win cash, trips or tickets to events
Free Investing Advice
If you're trying to save and grow wealth while managing spending, you can do both in tandem with a MoneyLion Investment account.
The MoneyLion Investment Account is a zero-fee managed investment account. You can use it to build a portfolio of low-cost exchange-traded funds.
MoneyLion helps you create an investment strategy that's tailored to your goals, needs and risk tolerance. Automatic rebalancing is included so you don't have to worry about your asset allocation straying off-course.
FDIC Insurance
MoneyLion bank accounts are provided through MetaBank, National Association, which is an FDIC member.
That means the money in your checking account is covered by FDIC insurance, up to $250,000.
Investment accounts aren't FDIC-insured, however.
How to Use the MoneyLion RoarMoney Account
The RoarMoney account is completely digital.
There are no checks and no branches. You can manage your money through the mobile app or visit an ATM if you need cash.
MoneyLion allows you to set up direct deposit to your checking account. Mobile check deposit (a convenient way to deposit checks from anywhere) isn't an option right now but it's a feature that's in the works.
You can't make cash deposits at the ATM either (at least, not yet).
However:
You can transfer money into your checking account through a linked account at another bank.
And if you have money in a MoneyLion investment account, you can transfer funds from there as well.
ATM access
As far as ATM access goes, you can use 55,000 no-fee Allpoint ATMs nationwide.
If you use a machine outside the Allpoint network, you'll pay an ATM fee of $2.50. The ATM owner could also charge you an out-of-network fee too.
The only other fee to know about is the 0.8 percent foreign transaction fee. That kicks in when you use your card abroad.
Free credit tracking
Accountholders can check their credit history at no cost.
It's free to sign up and check your credit reports from Equifax and TransUnion. That's helpful for spotting errors, tracking credit score changes and monitoring for identity theft or fraud.
Compared to Other Checking Accounts
Any time you're looking for a checking account, it's good to shop around. And it's helpful to have a short list of things to compare.
As you weigh the MoneyLion RoarMoney account against other checking options, consider:
What you'll pay in fees
Whether there's a minimum balance requirement
If you also need a savings account to go with checking
How easily you can access your account online or at an ATM
What features and functions you get (i.e. direct deposit, mobile check deposit, automatic savings)
Whether the account offers any perks, such as rewards or discounts
What kind of fraud protection and security features are included
Whether the bank is FDIC-insured
Finally, consider whether you want a checking account that offers branch access. You might live your financial life mostly online, but if you want to be able to visit a branch now and then that's something to weigh in.
Final Verdict
Whether the MoneyLion RoarMoney checking account for you depends on what you need and want from a banking experience.
This account could be good for someone who wants to minimize fees for checking. And it's also suited to people who are comfortable doing all their banking online.
But, you might be better off with a different account if you like having branch access or you want to be able to write checks from your account. The lack of mobile check deposit and ATM cash deposit could also be a stumbling block for some people.
As always, take time to look at all your checking choices before making a final decision.