PNC Bank Standard Checking Account 2023 Review
Learn everything you need to know about the PNC Bank Standard Checking account, the bank's basic checking option. Find out which features make it stand out for everyday consumers. Compare this checking account to the options offered by online banks, which tend to provide lower fees and higher interest rates.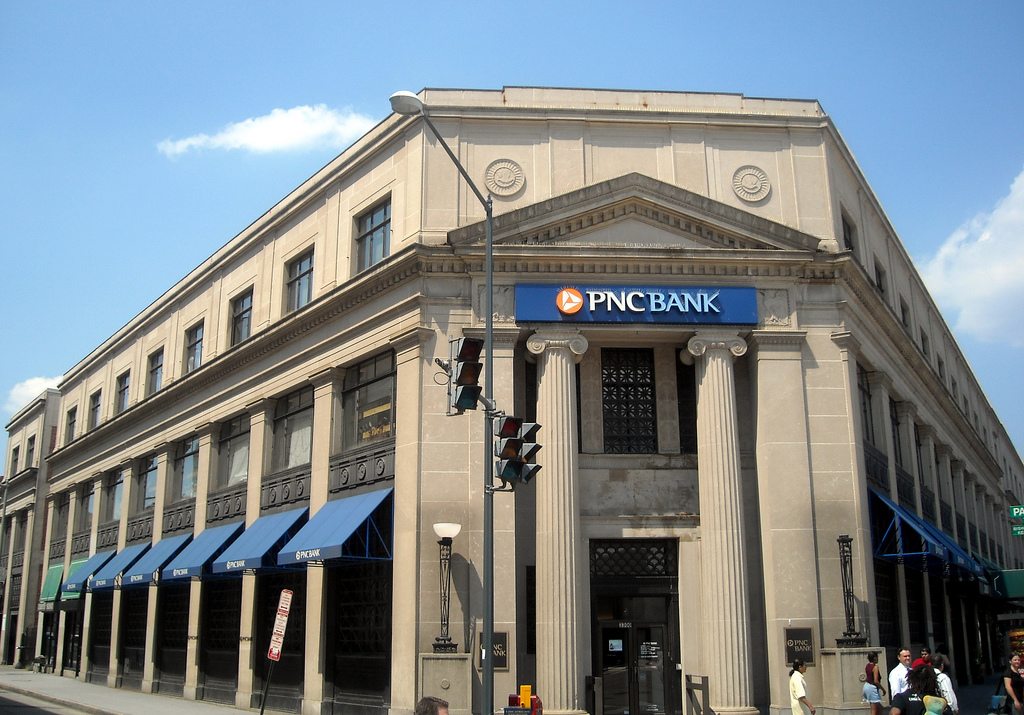 PNC Bank
PNC Bank is one of the biggest banks in the U.S. with nearly 2,500 branches and more than 9,000 ATMs. It primarily serves consumers in the mid-Atlantic states.
You might consider PNC for your next checking account and its Standard Checking account is the basic option that many would consider opening.
If you're looking for a checking account, in this review find out everything you need to know about PNC's Standard Checking account and compare it to other options.
Three Ways to Waive Monthly Fees
The PNC Standard Checking account does charge a $7 monthly fee, but there are ways to avoid the charge. 
To waive the monthly maintenance fee, you must meet one of the following requirements:
Maintain an average balance of $500,
Receive $500 in direct deposits during a statement period, or
Automatically waived if the account holder is 62 or older.
Compare to the monthly fees on basic checking accounts offered by the other large national banks, this account is on the cheaper end. 
Furthermore, the fee waiver requirements are easier to hit than comparable accounts.
Still, the Standard Checking account struggles to compete with the low cost of online checking accounts.
PNC Bank Standard Checking Account Pros & Cons
Pros
Cons

Non-PNC ATM fees reimbursed for in some areas
Ability to earn cash back on certain debit card purchases
Mobile apps available

Monthly fee of $7 (can be waived)
Does not pay interest
Earn Rewards with PNC Purchase Payback
Debit cards are highly convenient, allowing you to withdraw cash from any ATM in the country, though you might have to pay some fees.
You can also use debit cards at stores to pay for your purchases.
The downside of using a debit card is that you pass up on the ability to earn the rewards that many credit cards offer.
With cards that offer as much as 5% cash back on purchases, using a debit card can have a significant opportunity cost.
PNC gives you the chance to earn some rewards on the purchases you make with your debit card. The PNC Purchase Payback program tailors special offers to your spending habits.
When you log in to your online banking account, you can visit your PNC Rewards Center. In the Rewards Center, you will see a list of offers that available to you.
For example, you might see an offer like "Spend $50 at Starbucks and get $5 back."
You can connect offers to your debit card. Once you do, go about your shopping as usual.
When you meet the spending requirement listed in the offer, your account will automatically be credited with the rewards.
These offers reward you for your shopping and let you recover some of the opportunity cost you pay by not using a credit card.
Automate Your Savings and Loan Payments
Managing your personal finances can take a lot of time, especially if you need to do everything manually.
It's easy to forget to save when you have to manually transfer money from your checking account to your savings account.
The PNC standard checking account offers the ability to automate your savings.
Just tell PNC how much you want to save each month, and it will transfer money from your checking to your savings or money market account each month.
This makes it much easier to save towards a goal or build an emergency fund. You can build up your savings without even thinking about it.
You can also automate your loan payments.
If you have a PNC loan, you can set up automatic payments so that the money will be withdrawn from your account each month.
As an additional benefit, you'll get an interest rate discount if you set up automatic payments.
Every PNC loan, other than mortgages, is eligible. This can make your life easier and help you save money.
Combine with a PNC Savings Account for an Interest Rate Bonus
Banks want to build long-term relationships with their customers.
The more of your money that a bank is able to manage, the more money the bank can make from you as a customer.
This is why many banks offer incentives to do most of your banking with one financial institution.
PNC offers relationship bonuses if you have both a checking and savings account with the bank.
To be eligible for the relationship bonus, you must have both a PNC standard checking and PNC Standard Savings account.
You also must receive a direct deposit of at least $500 each month and make 5 purchases with your debit card.
If you meet the requirements, you'll earn more interest on your savings account's balance.
Depending on the balance of your savings account, you could earn as much as ten times more interest.
Choosing PNC's Standard Checking account can help you earn a better return on your savings.
Unfortunately, the APY on the savings account would still be significantly lower than what you'd get with an online savings account.
ATM Access
One of the most important features of a checking account is how easy it is to get your money.
All the special features in the world won't help you if you can't spend the money in your account.
One of the easiest ways to access the money in your checking account is by withdrawing it from an ATM.
PNC operates a network of more than 9,000 ATMs, all of which are fee-free. If you need to use a non-PNC ATM, you can get some of the fees reimbursed.
The terms of the ATM reimbursement are based on where you are located.
For example, in Massachusetts, where there are few PNC ATMs, you can get reimbursed for the first two non-PNC ATM transactions per statement period.
In Washington DC, where there are more than 7,200 PNC ATMs, you will not be reimbursed for ATM fees.
Interest Rates
The PNC standard checking account does not pay any interest.
If you want to earn interest on the balance of your PNC checking account, you'll need to choose one of PNC's premium accounts.
Other Fees
On top of the monthly fee, the PNC basic checking account charges a few other fees.
Most people won't encounter these regularly, but they're good to know about.
The most common fee on this list is the overdraft fee. Each overdraft will incur a fee of $36, with a maximum of 4 overdraft fees charged each day.
That means you could pay $144 in overdraft fees each day. However, if you overdraft your account by less than $5, there will be no charge.
PNC Bank Standard Checking Account Fees
| Type | Fee amount |
| --- | --- |
| Monthly Maintenance Fee | $7 |
| Out-of-Network ATM Fee | $3 |
| Overdraft Fee | $36 |
| Overdraft Protection Transfer Fee | $10 |
| Returned Item | $36 |
| Deposit Item Returned | $12 |
| Stop Payment | $33 |
| Incoming Domestic Wire Transfer | $15 |
| Incoming International Wire Transfer | $15 |
| Cashiers Check | $10 |
Other PNC Bank Checking Options
If you're interested in becoming a PNC banking customer, but aren't sold on this checking account, check out some other checking account options also offered by this bank:
Performance Checking
The Performance Checking account from PNC is a second-tier banking account that best suits those banking consumers that are not looking for the most exclusive banking account, but a step up from a basic banking account.
With this interest-bearing checking account, banking customers can earn higher rates and have a broader variety of rewards at their disposal.
Some of the most prominent features of this account are as follows:
Some fees for non-PNC ATMs are reimbursed, plus other bank's surcharge fees may be reimbursed
Bonus rewards when you add a select PNC credit card
$8 discount on select design checks
Get higher relationship rates on a Premiere Money Market or Standard Savings Account
Free Overdraft Protection set up and transfers
1 free Savings or Money Market Account
$10 annual fee discount on Safe Deposit Box
Free PNC Cashier's Checks
All these great perks do come with a price, however. There is a $15 monthly maintenance fee if none of the following requirements are met:
Maintain a $2,000 average monthly balance
Maintain a $15,000 average monthly balance in linked PNC consumer deposit, loan and/or investment accounts, or
Have $2,000 in qualifying direct deposits ($1,000 for WorkPlace or Military Banking customers)
Here's some of the main fees and features of the account:
PNC Performance Checking Account Fees
| Type | Fee |
| --- | --- |
| Monthly Maintenance Fee | $15 |
| Minimum Opening Deposit | $25 |
| Stop Payment Fee | $33 |
| Overdraft Fee and Not-Sufficient Funds (NSF) Fee | $36 |
| Non-PNC ATM Fee | $3 (waived for first 2 transactions) |
| Cashier's Check | $0 |
| Early Account Closure Fee | $25 if account is closed within 180 days of opening |
| Overdraft Protection Transfer Fee | $0 |
| Deposited Item Returned Fee | $12 |
| Incoming Wire Transfer Fee | $15 |
| Safe Deposit Box Fee | $10 annual rental fee discount |
---
Convenience
The goal of any checking account is to offer easy access to your cash. If a checking account isn't convenient, all it's doing it making your financial life more difficult.
The PNC standard checking account is highly convenient for people who live in an area serviced by the bank.
PNC is one of the largest banks in the U.S. and operates thousands of locations in the states it services.
With easy access to fee-free ATMs and relatively easy to avoid monthly fees, it's easy to use PNC's checking account.
Even if you're outside of PNC's service areas, you can still use the account thanks to the ATM fee reimbursement.
You can even make your initial deposit to the account with a credit card. That lets you open the account instantly rather than waiting for your initial deposit to arrive.
It's also easy to deposit checks with PNC's mobile check deposit feature.
These are the limits for mobile deposit:
Accounts opened for less than 30 days: $1,000 per day or $2,500 per month
Accounts opened for 30 days or longer: $2,500 per day or $5,000 per month
One feature that really adds to the convenience factor is online bill pay.
You can easily pay your bills from your online PNC account, with no charge for the service.
How Does It Compare?
Nearly every bank in the United States offers a checking account. In fact, it's the most common type of bank account in the U.S. That means that you have a lot of options to choose from.
When you're looking for the right checking account, take the time to shop around.
Don't just open the first account that you find.
You might find that a smaller, local bank or credit union can offer an account that better meets your needs.
You can also look for an account from an online bank. Online banks tend to charge the lowest fees and offer the best interest rates.
Other than the fees you'll pay and how easy it is to access your money, you should consider these factors when choosing a checking account:
Minimum deposit
Fee waiver requirements
Interest rates
ATM access
Conclusion
The PNC Bank standard checking account is great for people who live in an area that is served by PNC's branches and ATMs.
In these areas, PNC locations are incredibly easy to find and the low fees make the account a good choice.
Outside of PNC's service areas you're likely to run into frequent ATM fees.
If you don't live near a PNC branch, you're probably better off looking at other options.