PNC Bank Standard Savings Account 2023 Review
Learn about the best features in the PNC Bank Standard Savings account and see if there are better options for your money.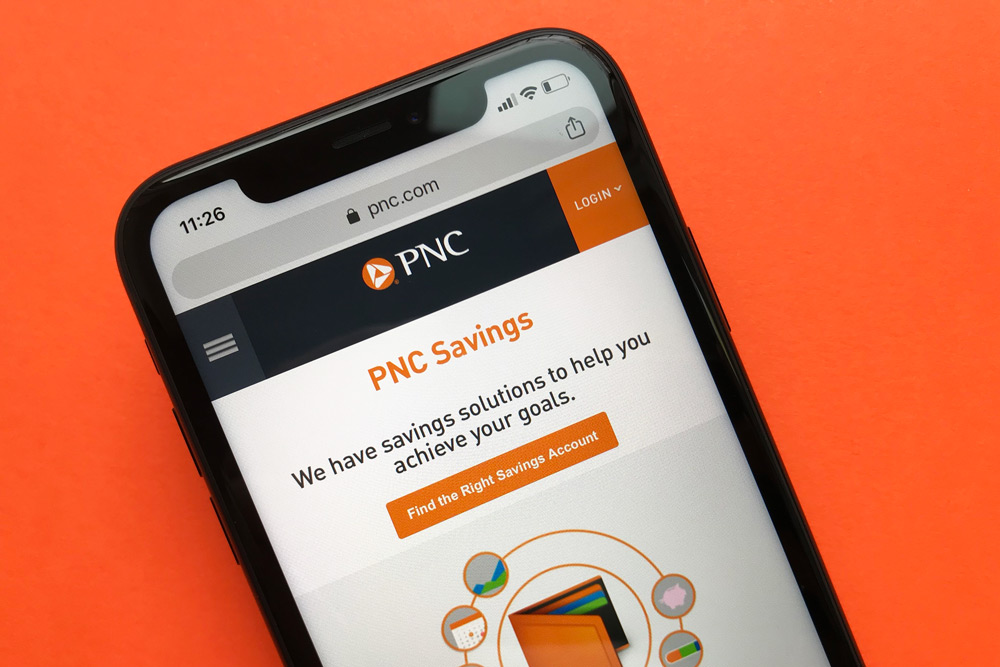 PNC Bank Savings Account
Your search for a savings account is likely to lead you to PNC Bank, one of the largest banks in the country.
It's not surprising because it has branch and ATM locations in 19 states in the eastern and midwestern region, as well as the District of Columbia.
The PNC Bank Standard Savings is designed to be an easy, convenient solution for your savings needs. The account's key features include:
Low minimum opening deposit; open an account with just $25
$5 monthly service charge
Automatic transfers to grow your savings faster
No required minimum balance for savers under 18
Free PNC banking card
Link your PNC savings to your checking account for overdraft protection
The account may be one of your first options, but it might not be the best savings account out there.
In this review, find out more about the account's benefits and fees to see if it'll help you hit your financial goals.
PNC Bank Standard Savings Account Pros & Cons
Compare Savings Options
Be sure to check out more savings accounts worth considering:
Earning Interest on Your Savings With PNC Bank
The PNC Bank Standard Savings Account is an interest-bearing account.
The rate is tiered, depending on your balance.
PNC Bank gives you an opportunity to earn a higher annual percentage yield if you also have a PNC checking account.
This table shows how the rates compare, based on your balance and whether you qualify for the higher relationship rates.
The higher your balance, the more interest you can earn. You also get a boost by having a PNC checking account to go along with your savings account.
With that being said, the highest APY you can earn with a standard savings account is much lower than what you could earn at other banks.
Online banks, in particular, offer more competitive rates on savings.
Generally, online banks have lower overhead costs so they pass the savings on to their customers in the form of higher interest rates on deposit accounts. The best online savings accounts are compared later into this review.
Is branch access important to you?
Comparing the interest rates is important if you want to maximize the interest you're earning on your savings. At the same time, you have to consider the convenience factor.
PNC Bank has an extensive network of branch locations and ATMs.
If you need to make a withdrawal or a deposit or just talk to a teller, you can visit the branch that's closest to you. Online banks, on the other hand, don't offer that option.
How Much Does a PNC Bank Standard Savings Account Cost?
Fees can easily take away from any interest you're earning.
The PNC Bank Standard Savings Account has a $5 monthly maintenance fee. There are, however, some ways of getting around it.
To avoid the fee, you can:
Maintain a $300 average monthly balance
Set up an Auto Savings transfer of $25 or more from your PNC checking account to your savings account
Demonstrate that you're under 18
If you're a high school student, then you wouldn't have to worry about the fee kicking in until you turn 18.
If you're over 18, you'd either have to meet the minimum balance requirement or set up an automatic transfer each month.
PNC Bank doesn't make it extremely difficult to avoid the monthly fee.
If you'd rather not worry about fees at all, however, an online bank could be the better choice.
Many online banks waive the monthly maintenance fee and they don't require you to maintain a minimum balance.
Are There Any Other Fees Savers to Worry About?
While online banks may waive the monthly maintenance fee, they may charge other service fees, such as:
PNC Bank charges some of these same fees for its Standard Savings Account. Here's a rundown of what you can expect to pay for certain services:
PNC Bank Standard Savings Account Fees
| Type | Fee |
| --- | --- |
| Account research fee | $25 per hour |
| Early closure fee | $25 if you close your account within 180 days of opening it |
| Domestic incoming wire transfer fee | $15 |
| Excess withdrawal fee | $15 |
| PNC banking card replacement fee | $7.50 |
| Non-PNC Bank ATM withdrawals in the U.S., Canada, and Puerto Rico | $3 |
| Returned deposit fee | $12 |
Out of all of those fees, the two that you need to pay the most attention are the excess withdrawal fee and the ATM fee.
Federal Regulation D limits you to six withdrawals from a savings account each month.
If you go over that limit, PNC Bank will charge a $15 fee, which can take a big bite out of the interest you're earning.
Besides that, PNC could switch your savings account to a checking account, or close it down altogether if you make excess withdrawals a habit.
While you won't pay any ATM fees at PNC Bank ATMs, PNC charges a $3 fee for withdrawals made at other ATMs in the U.S, Canada, and Puerto Rico. That's on top of any fee the bank that owns the ATM may charge.
PNC Bank doesn't reimburse any foreign ATM fees either.
At other banks, you may be able to get some of the fees paid back to you.
Ally Bank, for example, reimburses up to $10 in ATM charges per statement cycle. That's a perk you may want to have if you're worried about getting hit with expensive ATM fees.
Reach Your Financial Goals Faster With Auto Savings
Getting into the savings habit can be tough, especially if you're new to savings. The PNC Bank Standard Savings Account has one feature that's designed to make it easier.
The Auto Savings program lets you schedule automatic transfers from your PNC checking account to your savings account.
You can set up transfers through your online banking account and it just takes a couple of minutes to do.
Transfers can be scheduled weekly, biweekly or monthly, in any amount you'd like.
If you transfer at least $25 through the Auto Savings program, you can avoid the monthly savings fee.
Your savings account can also double as overdraft protection for your PNC checking account. PNC Bank's standard overdraft fee is $36.
You can be charged up to four of these fees per day, which adds up to $144.
When you use your savings account as overdraft protection, you can dodge these fees.
Instead, you'll pay $10 per transfer to move money from your savings account to your checking account automatically. That's a much better deal if you accidentally run your checking account into the red.
Nearly Identical to Other Big-Bank Savings Accounts
When it comes to the APY and fees, online savings accounts tend to outshine the PNC Bank Standard Savings Account. But what about other brick-and-mortar banks?
Bank of America Regular Savings Account
Bank of America's Regular Savings Account is an interest-bearing account and the rate is virtually identical to what PNC offers.
The same goes for the minimum opening deposit and the monthly service fee.
Bank of America makes it easy to save with the Keep the Change program if you have a Bank of America checking account.
The excess withdrawal fee is also $5 less than what PNC Bank charges.
Chase Savings
The Chase Savings Account has a lot in common with the Standard Savings Account offered by PNC Bank.
The monthly maintenance fee is $5 but you can avoid it by maintaining a $300 minimum daily balance or making at least one recurring $25 transfer from a Chase checking account.
Wells Fargo Way2Save
Wells Fargo's Way2Save account is another basic savings account choice.
It takes $25 to open an account and the APY is the same as what PNC Bank offers.
Again, the monthly maintenance fee is $5, unless you maintain the minimum balance or set up automatic transfers.
Wells Fargo offers Save As You Go, which transfers $1 from your Wells Fargo checking account to your savings account for each qualifying transaction.
Online Savings Accounts Come With Higher Rates and Lower Fees
You'll find higher savings rates and lower fees at online banks because they don't have to pay for running physical branches:
Ally Online Savings
Ally Bank's online savings account doesn't have any monthly fees and your money earns an amazing interest rate. You can even open multiple accounts for free with different nicknames for different savings goals.
Synchrony Bank High-Yield Savings
The Synchrony Bank High-Yield Savings account offers a market-leading interest rate with no monthly fee. For added convenience, you can choose to get an ATM card for emergency cash withdrawals.
Goldman Sachs Bank USA Online Savings
Goldman Sachs Bank USA offers a high-yield savings account with one of top savings rates and no monthly fee. It also doesn't charge any transaction fees so you won't have any surprise charges.
Is a PNC Bank Standard Savings Account the Right Place for Your Savings?
The PNC Bank Standard Savings
is a good pick if you're looking for a no-frills savings account at a bank that has physical locations.
It's on par with what most other major brick-and-mortar banks offer in terms of the APY and fees.
If, however, you're looking to earn more interest on your savings and you don't mind forgoing physical branches, choosing an online savings account makes more sense.