Santander Student Checking Account 2023 Review
Find out out whether the Santander Bank student checking account is a good choice based on its monthly fees, service fees, and account features.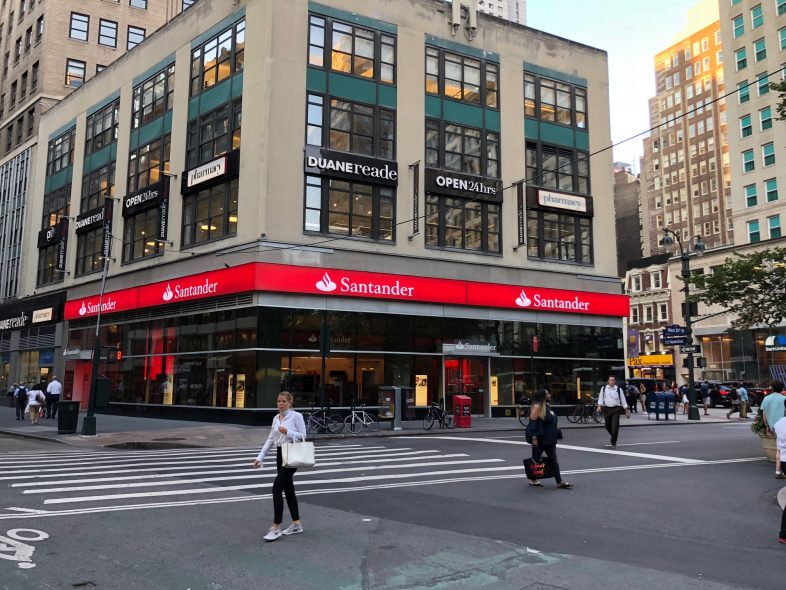 As a student, a checking account will be your financial lifeline.
You want one that is low cost while also providing the features that you need during your time in school.
Being a large regional bank in the Northeast and in Florida, Santander Bank is an option you might consider for a student checking account.
Santander's student checking option doesn't charge a monthly fee.
But, it might not offer other features that you need.
If you're a student and you need a checking account, learn everything you need to know about the Santander Student Checking Account and compare it to other choices.
Santander Student Checking Account Pros & Cons
Pay Your Friends Easily Using Online Funds Transfer
Students, who largely grew up with access to the internet, are particularly heavy users of online services, making it understandable that they would want a way to digitize their financial lives.
Still, cash has continued to be one of the most common ways to settle small debts with friends.
At first glance, cash might seem like the easiest way to pay people, but it actually introduces a number of complications to the process.
First, you have to hope that you have enough cash on hand to pay people when you owe them money.
That means you'll probably be visiting your bank or an ATM on a regular basis.
Next, you have to hope that you can pay the person you owe in exact change.
If you can't you have to rely on the person that you're paying to be able to make change for you.
Luckily:
To make it easier to pay your friends, Santander offers a free online system that lets you send money to anyone with an American bank account.
To get started, all you have to do is log in to your online account. From there, you'll see the option to transfer money to someone else. Fill out the form with basic information, like the recipient's name, phone number, and e-mail address, and input the amount you'd like to send.
The recipient will be automatically notified that you're attempting to make a transfer and will receive instructions on how to complete the transfer. The money will be deducted from your account and will arrive in theirs within a few business days.
Stay Up to Date with Your Account with Free Alerts
College students may not have a job or consistent source of income. This isn't surprising given that they need to balance classes, homework, studying, clubs, and a social life, but it means that they often find themselves with relatively low balances in the account.
Having a low checking account balance can be stressful, and not just because you're low on cash. If you try to spend more money than is left in your account, you could be hit with an overdraft fee.
These hefty fees are charged when the bank covers a transaction for you even when you don't have the money to afford it. Not only will your account be put into the negatives, but the fee will also drop your balance even further.
Santander Bank charged $35 for an overdraft, so it's not something that you want to happen.
To help you keep track of how much money is in your checking account, Santander offers free account alerts. These messages can be sent to you by text or e-mail to keep you apprised of your account's balance. You can set up custom alerts to notify you when your balance falls below a certain threshold or when a large transaction clears your account.
This option makes it easier to keep track of your money and avoid potential fees.
Get a Fee-Free Savings Account
Though college students often don't have much money to spare, that doesn't mean they should completely ignore saving.
If you find yourself with some extra cash, putting it in a savings account is a good idea.
Separating the money from your checking account can help you reduce the temptation to spend it. Savings accounts also pay interest, meaning your money will work for you.
Usually, Santander's savings accounts charge a monthly fee if you cannot meet specific requirements.
If you have a Santander Student Checking Account, you'll get access to a fee-free savings account to help you stash some extra money away.
Poor ATM Access Outside the Northeast
Students are notoriously busy given the fact that they're balancing classes, studying, homework, clubs, and a social life.
That means that don't often have much time to deal with banking matters like dropping by a bank to make withdrawals or transfers.
Santander Bank largely focuses on serving customers in the northeast, so its ATMs are focused on that region.
If you're in the Northeast, you'll have relatively little trouble finding an ATM nearby thanks to the bank's network of 2,000 ATMs.
If you find yourself having to use another bank's ATM, you will still be able to make withdrawals. However, you will have to pay a fee for the service.
Each transaction at another bank's ATM will incur a $2 charge from Santander.
That is in addition to any fee charged by the ATM's owner, meaning you could pay upwards of $5 per transaction if you use another bank's ATM.
Monthly Fee
Many checking accounts charge monthly fees and require that you jump through hoops to avoid the fee.
The Santander Student Checking Account has no monthly fee.
Once you open the account you don't have to meet any requirements to keep it open and fee-free.
Other Fees
Monthly maintenance fees are the most common type of fee you'll have to pay on a checking account.
However, there are other fees that the bank might charge. Some of the fees that may apply to the Santander Student Checking Account are listed below.
Santander Student Checking Account Fees
| Type | Fee |
| --- | --- |
| Monthly Maintenance Fee | $0 |
| Out-of-Network ATM Fee | $2 (free balance inquiries) |
| Overdraft Fee | $35 |
| Overdraft Protection Transfer Fee | $12 |
| Returned Item | $35 |
| Stop Payment | $30 |
| Deposited Item Returned or Cashed Check Returned | $15 |
| Incoming Domestic Wire Transfer | $0 |
| Incoming International Wire Transfer | $0 |
| Money Order | $5 |
| Cashiers Check | $10 |
Convenience
The Santander Student Checking Account offers the convenience features that you'd expect from a modern checking account.
The Santander app and website make it easy to manage your account from anywhere.
When you log in, you can view your account balance, transaction history, and any upcoming transactions. You can also make instant transfers or schedule future transactions.
You'll also get access to online bill pay service.
You can use this feature to pay your bills without having to bother with writing checks and mailing them every month, which is a big time saver.
What Happens When You Graduate?
You can't keep your student checking account forever. Eventually, you'll have to transition to a standard checking account.
The Santander Student Checking Account is available to students between the age of 16 and 25.
When you graduate or turn 26, your account will automatically be converted to a Santander Simply Right Account
This account has all the same features but carries a $10 monthly fee.
Thankfully, it's easy to avoid. If any transaction posts to the account, whether it be a withdrawal, deposit, payment, or transfer, the fee will be waived for the month.
Keep this in mind when you're nearing graduation, so you can avoid unexpected fees.
How It Compares
Checking accounts are the most popular bank accounts in the U.S.
Only savings accounts are more common.
This means that you have a lot of options to choose from when you're in the market for a new account. Take the time to shop around and find the best deal.
When you're comparing checking accounts, fees are the first thing to look at. You want to make sure that you won't pay any maintenance fees. If the account does charge a monthly fee, make sure that you can meet the fee-waiver requirements each month.
Other things to consider when comparing accounts are:
Monthly fees
ATM access
What happens after graduation
Conclusion
The Santander Student Checking Account is relatively unexciting.
It's most notable feature is access to a fee-free savings account, which many students won't be able to take advantage.
If you need a checking account, consider working with an online bank. Their accounts are usually feature-rich and fee-free.