Churning Credit Card Offers: Rewarding, But Dangerous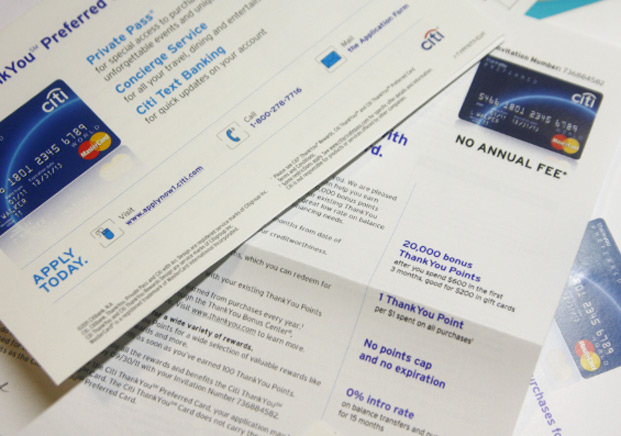 Credit cards are often major sources of debt for consumers who cannot handle them responsibly. But for those who don't have any problems with mounting debt or unwise credit card spending, credit cards are being used to unlock extra cash, free trips and other amazing benefits. In a practice known as "churning," consumers regularly sign up for attractive credit card offers to score bonus cash and miles. After collecting the rewards, they close the card account and repeat the process.
Churning goes against the mainstream advice that is given by financial experts, who preach that you should not sign up for new loans or lines of credit too often. It also means that the average age of your credit accounts will be very short. In the long run, your credit score will likely deteriorate.
However, for some people, churning is a profitable venture because their credit score isn't important to them.
Are you a candidate for churning?
Although it is possible to reap rewards by churning credit cards, it does come with risks you must be willing to take.
First and foremost, you'll need a solid credit profile because the more enticing credit card offers are typically available only to those with good credit. If you cannot qualify for these credit cards, then your churning adventure doesn't even get a chance to take off.
Next, you should not be on the market for a major loan, especially a mortgage. As you begin signing up for more credit card offers, your credit score is going to fall -- making you appear to be a risky borrower. As a result, you might not qualify for the loan or you'll get stuck with a high interest rate. On a mortgage, the difference between a good and bad credit score could mean hundreds of thousands of dollars in interest expenses.
Finally, you should have big purchases on the way. Most credit card bonuses require a certain amount of spending within a specified period of time. For example, to earn that $200 bonus, you might have to make $3,000 in purchases within 90 days of opening an account. Not being able to fulfill this requirement means a hit to your credit score, with nothing to show for it.
Some prep work required
Safeguarding the rewards is essential. Otherwise, what was the point of signing up for the credit card offer? Those who churn credit cards make a note to collect the cash back, use points on merchandise or gift cards, or book a trip with the miles as soon as possible. Some issuers allow cardmembers to transfer miles to frequent flyer rewards programs.
To meet spending requirements, large purchases such as car repairs and home improvement projects are examples of ways to spend a large amount in a short period of time. Most credit card users, regardless of whether or not they are churning, plan ahead to complete the bonus qualifications. If there's nothing to buy, store gift cards are purchased because they can be saved and used later.
Certain card issuers will not honor bonuses made to customers who previously had the card or has shown a history of exploiting promotional offers.
Chase, for instance, states in its card terms:
Chase cardmembers currently receiving promotional pricing, or Chase cardmembers with a history of only using their current or prior Chase card for promotional pricing offers, are not eligible for a second Chase credit card with promotional pricing.
Others may enforce a lockout period (usually several months) when you cannot apply for a similar offer from the same issuer. Remaining cognizant of these churning-prevention measures is vital in maintaining this enterprise.
Since credit scores takes a dip with every credit card application, it is important to wait a few months in between signups -- allowing time for credit scores to recover a little.
Warning: Credit card churning will damage your credit score -- do so at your own financial risk. MyBankTracker does not condone or encourage credit card churning.