Starbucks Rewards Visa Credit Card Review
Find out all the details about the Starbucks Rewards Visa Credit Card, including its rewards, benefits, fees, and more. Learn how the card allows you to earn points toward free coffee and beverages. Compare it to other rewards credit cards to see if it is the right card for your spending habits.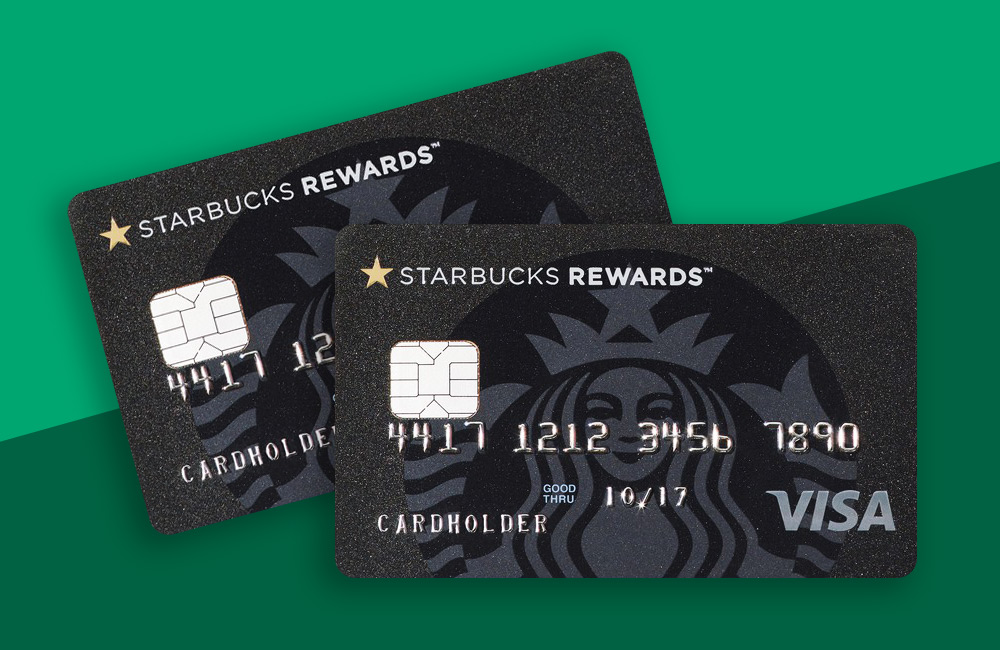 Are you a regular coffee drinker and a loyal Starbucks customer?
If so, Starbucks and Chase have partnered together to create it's first co-branded credit card—the Starbucks Rewards Visa.
It may seem like an obvious choice for Starbucks customers, but are the rewards truly that great?
Because it has an annual fee, you should take a closer look at the card's rewards program and benefits to see if it is actually worth the cost.
In this review, find out whether the Starbucks Rewards Visa is right for you.
How Do Starbucks Visa Rewards Work?
It isn't enough to apply for the Starbucks Rewards Visa credit card.
To earn the most stars, you'll need to download the Starbucks app to your mobile device, and then use your Starbucks Rewards Visa in conjunction with your in-app Starbucks card.
Like any rewards program, you're rewarded for loyalty.
Therefore, you'll earn 1 star per $1 when you use your Starbucks Rewards Visa to digitally preload money onto your in-app Starbucks card.
When you use this in-app Starbucks card to pay for Starbucks purchases, you'll earn an extra 2 stars per $1.
So let's say you preload $20 onto your in-app Starbucks card and spend the entire $20 on coffee, tea, and other food items.
You'll not only earn the first 20 stars for the preload but also an extra 40 stars—which is equal to 3 stars per $1.
Be mindful of the fact that you don't only earn stars on Starbucks purchases.
Swipe the credit card wherever Visa is accepted and earn 1 star for every $4. Use the credit card when paying for purchases at any of the following places:
Grocery stores
Gas stations
Retail stores
Restaurants
Hotels
Airlines
Car rentals
The value of your Stars
If you're only an occasional Starbucks patron, your visits might not be enough to earn a substantial number of stars.
Therefore, the majority of stars you accumulate may come from non-Starbucks purchases.
And unfortunately, at 1 star per $4, you would have to spend $500 on non-Starbucks purchases to accumulate 125 stars for a free drink or food item.
If you redeem your 125 stars for a $5 drink, that's comparable to 1% cash back.
Given this above scenario, this credit card isn't the best pick if you're not a big Starbucks drinker.
You'll benefit more from a cash back credit card that doesn't charge an annual fee.
On the other hand, there's value if you'll use the card exclusively at Starbucks, and you're a regular customer.
With the potential to earn up to 3 stars per $1, you'll only need to spend $42 on Starbucks purchases to earn 125 stars for a free reward.
Assuming you're redeeming a $5 beverage, you're getting roughly 12% back in rewards on Starbucks purchases.
Earn More With a Generous Sign-Up Bonus
Since the goal is to earn as many stars as possible to score free food and drinks, take advantage of all opportunities to earn stars.
As an incentive, the Starbucks Visa Rewards card gives new cardholders introductory bonus stars when they spend a certain amount on the card within the first three months.
The good news is that the minimum qualifying amount for this bonus is lower than what some credit cards require for their respective bonuses, thus more attainable.
But the bonuses don't stop here.
You'll also earn bonus stars the first time you use your Starbucks Rewards Visa to preload money onto your in-app Starbucks card.
APR and Fees: What You Can Expect?
As mentioned, the Starbucks Rewards Visa credit card does have a $49 annual fee, which is typical of many rewards credit cards.
Annual fees essentially offset the cost of a credit card's rewards program.
This isn't the only cost you can expect with this card.
Many credit cards don't charge a foreign transaction fee when cardholders use their card internationally.
This credit card, however, does charge a 3% foreign transaction fee. So, take this into consideration when traveling overseas.
Unfortunately, the Starbucks Rewards Visa doesn't offer a 0% introductory rate period on purchases and balance transfers.
This is a feature you'll find with many comparable rewards credit cards. As if this isn't bad enough, the card's average APR is a bit higher than other credit cards available.
So, even if you have good credit, your rate won't be as low as what you could receive elsewhere.
Your credit history ultimately decides your interest rate. Here are a few tips for getting a low rate and/or reducing how much you pay in interest.
Check your credit score before applying.
If necessary, take steps to increase your score. Pay down existing balances and pay your bills on time every month.
Only charge what you can afford, and then pay off your bill in full every month to avoid interest charges.
If you're approved, but don't currently qualify for a low rate, improve your credit score. Contact the credit card company after six to 12 months to negotiate a lower rate.
Other Cardholder Perks
Another perk of the Starbucks Rewards Visa is that an approval automatically qualifies you for gold status in the Starbucks Rewards Loyalty Program.
Typically, members of this loyalty program don't earn gold status until they accumulate 300 or more stars.
As an instant gold status member, you're eligible to receive a free food or beverage item with every 125 stars. This is in addition to other freebies you'll receive:
Free birthday reward
Free in-store refills
Call ahead ordering
Monthly double star days
Gold status also means you're eligible to receive eight free barista picks a year. These picks are based on prior purchases.
Rewards are loaded directly onto your in-app Starbucks card. These guaranteed freebies may be part of the reason that there's an annual fee on the card.
Receive Visa Credit Card Protections
As a Starbucks Rewards Visa cardholder, you'll also receive certain Visa protections at no additional charge.
Auto rental coverage
Use your Starbucks Rewards Visa to pay the entire cost of a car rental and receive complimentary rental car insurance coverage.
Extended warranty protection
Receive an extra one year of warranty coverage after the manufacturer's warranty expires on electronic purchases.
Price protection
If you use your card for a purchase and find the same item cheaper elsewhere within 90 days, the credit card company reimburses the difference.
Purchase protection
Receive reimbursement if a newly purchased item is stolen or damaged within 120 days of the purchase.
Trip cancellation insurance
If you use your Starbucks Rewards Visa to book travel and must cancel your trip due to injury or illness, you may be eligible for reimbursement up to a certain amount.
Compared to Other Credit Cards
But while the Starbucks Rewards Visa offers a variety of perks and benefits, don't apply for this card until you compare it with the competition.
You might be impressed by the card's low $49 annual fee. But unlike other rewards credit cards, this card doesn't waive the annual fee in the first year.
Also, don't forget that you'll be charged a foreign transaction fee when using the card abroad.
Depending on how often you travel outside the country, you might do better with a credit card that doesn't charge a foreign transaction fee to save money.
Another thing to keep in mind is that the Starbucks stars you earn with this credit card are only redeemable at Starbucks.
This isn't a bad thing if you go to the coffeehouse frequently.
But if you don't go often, another credit card's rewards program might be more suitable because you can redeem earned points for cash, gift cards, statement credit, and travel.
It's also worth noting that you can only redeem your stars at participating Starbucks stores.
And unfortunately, not every location participates in the rewards program. The upside is that there are currently 8,000 locations that allow cardholders to redeem their stars, so it shouldn't be difficult finding a participating store near your home.
You might consider other options that don't limit you to a specific brand because you're likely to be spending money on more than just coffee.
Final Verdict: Is This Card for You?
Now that you know what the Starbucks Rewards Visa credit card offers, the question remains: Is this the right card for you?
To be perfectly honest, the answer depends on how often you'll purchase food or drinks from Starbucks.
If you visit the coffeehouse numerous times a week, you'll likely earn enough stars per visit and qualify for several free items during the year to offset the cost of the annual fee.
You'd need to earn 10 free drinks (roughly) to make up the cost of the card's annual fee, which would require about $420 in annual spending (or $7.50 per week) at Starbucks stores.
If you're not at least spending that amount, you should consider a rewards credit card that's more flexible.
Compare Best Accounts Now
You might also like