What Credit Cards are Accepted at Costco?
Find out which credit cards work at Costco, the wholesale warehouse club that has been known to be picky with accepting credit card payments.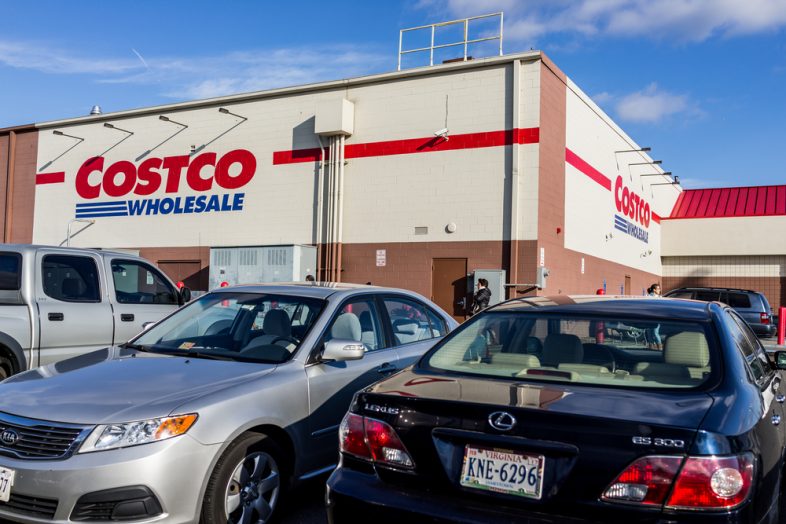 Costco is a very popular destination for people who want to make bulk purchases in exchange for lower prices.
One of the major gripes with the wholesale warehouse club is its credit card acceptance policy. Historically, Costco is known for accepting a single type of credit card.
It's a different approach from many large retailers that are likely to accept all types of credit cards. Therefore, you may ask, "What types of credit cards will Costco accept?"
So if you're thinking about getting a membership to the discount club to save on bulk purchases, make sure you have a Visa in your wallet. This is the only major credit card accepted at the retailer's stores.
Which Credit Cards Are Accepted By Costco?
The fact that Costco limits the type of credit cards it accepts doesn't mean you have to apply for a Costco Visa. Although you need a Visa, the good news is that it doesn't have to be a Costco co-branded Visa. You can use any Visa-branded card.
There's something else to keep in mind about Costco's new partnership with Visa.
The card you use at checkout doesn't have to be a credit card per se. Maybe you prefer using a debit card tied to your personal checking account.
If so, you're more than welcome to pay for purchases with your debit card instead.
Debit cards work too
Debit cards are convenient since you can use cash in your bank account without writing a check or going to an ATM.
Costco accepts debit cards issued by a financial institution at its warehouses and gas stations, as long as the card has a Visa logo.
Swipe your credit card at checkout or add the card to your digital wallet for easy, convenient mobile purchases.
But although Visa is the only major credit card accepted at the 700 Costco warehouses in the US, Puerto Rico, and globally, there's an upside.
You "can" use other types of major credit cards when shopping at Costco.com.
Let's say there isn't a Costco near your home, or let's assume you prefer the convenience and flexibility of shopping online and having packaged delivered to your home.
If so, you can use a Visa, MasterCard, or Discover for online purchases at Costco.com.
Other payments types accepted by Costco
Debit cards and Visa credit cards aren't the only forms of payment that are accepted at Costco.
Customers can also pay with cash, personal checks, EBT card, and Costco Cash Card (which is basically a prepaid debit card that only works at Costco).
The biggest downside to using these other payment methods -- essentially cash equivalents -- is that you won't be earning any rewards on your spending.
For frequent Costco shoppers, the potential rewards can add up to a significant amount.
Costco's History Of Accepting Credit Card Payments
If you're one of 85 million Costco members, you might recall going through checkout and swiping your American Express to pay for purchases.
So, reading that the retailer only accepts Visa might leave you scratching your heads.
If it's been a while since you last shopped at Costco, rest assured that you're not losing your mind.
From American Express to Visa
Costco—which is a member-only warehouse retailer headquartered in Issaquah, Washington—carries a variety of products.
These include jewelry, electronics, groceries, and household items. And up until 2016, Costco partnered with American Express to only accept American Express cards when customers check out at Costco.
If you love Costco and American Express, this might have been the perfect arrangement for you.
But as businesses evolve, so do their relationships. In February 2015, Costco announced the end of its 16-year exclusive partnership with American Express.
Costco revealed a new partnership and collaboration with Citi and Visa.
Cardholders, at the time, received new their account information and new credit cards before the transition day.
Because of their existing relationships with Costco, they didn't have to submit a new credit application or undergo a credit check, a major plus.
Shareholder lawsuit
American Express was sued by shareholders under the accusation that the company defrauded shareholders regarding the ending relationship with Costco.
Shareholders claimed that the risks and troubles of ending the 16-year relationship with Costco were understated and that the company hid the fact that Costco's relationship was worth 18% of its revenue and 20% of its loans.
Reportedly, American Express stock shares lost $8 billion in the two days following the news of the ending relationship.
The U.S. District Court ruled in favor of American Express.
Branded cards changed too
Those who transitioned from the old cards to the new card may agree that perks of the Costco Visa exceed the perks of Costco's American Express cards.
For example, Costco's Visa features a better cash back reward program. Cardholders can receive 4% cash back on eligible gas purchases up to $7,000 each year, and then 1% cash back thereafter.
Additionally, cardholders enjoy 3% cash back on restaurants and eligible travel purchases, 2% cash back on other purchases at Costco and Costco.com, as well as 1% cash back on all other purchases.
This is more attractive than Costco's American Express cards.
These cards offered 3% cash back on eligible gas purchases up to $4,000 each year and 2% cash back on restaurants and eligible travel purchases.
How Visa-Only Credit Card Acceptance Affects You
The strict partnership between Costco and Visa may prove to be an inconvenience for many shoppers.
Although Visa credit cards are the most common around the world, some people may not have one or prefer not to use one.
However, there are valid reasons for this -- and it does benefit shoppers.
Exclusive partnership for lower fees
Retailers have to pay a fee to a payment network whenever that network is used to process a debit or credit card.
With debit cards, the fee is fixed. With credit cards, the fee is a percentage of the transaction amount (usually around 3%).
As one of the largest retailers in the country, Costco is paying millions of dollars in credit card processing fees.
By partnering exclusively with a credit card company, Costco negotiates a lower percentage fee for accepting only one type of credit card.
The actual percentage is never disclosed to the public. Regardless, it likely means that Costco saves millions of dollars in fees.
In turn, Costco can pass a portion of these savings to customers by lower the cost of goods.
Visa Credit Cards to Maximize Your Savings at Costco
Now that you know which major credit card is accepted at Costco warehouses, a question remains. What is the best credit card for shopping with the retailer?
Are you're thinking about adding a Visa credit card to your mix of cards—such as one with a rewards program? If so, here are three options to consider if you're a Costco shopper.
Costco Anywhere Visa Credit Card
If you're looking for a new card, it pays to get a rewards credit card that lets you earn cash back on every purchase.
Apply for the Costco Anywhere Visa card and use the card anywhere Visa is accepted. The more you swipe, the more cash back you earn up to 4% of eligible purchases.
Read Costco Anywhere Visa Credit Card Review
Additionally, earn a minimum 1% cash back on all purchases. As an added benefit, this credit card can function as your Costco ID.
If you're a personal or a business shopper, this feature eliminates the need to carry both your ID card and a credit card.
Citi Double Cash Card
Whether you're looking for a new Visa credit card, or you're thinking about transferring an existing balance to a card with a better rate, the Citi Double Cash credit card might be the answer.
Not only can you receive generous cash back unlimited on purchases, you also earn cash back as you pay your bill. It's a win-win.
Additionally, there's no cap on the amount of cash back you earn.
This credit card is also a perfect pick if you despise extra costs. There's no annual fee.
Fidelity Rewards Visa Signature Credit Card
Between no annual fee and the ability to add the credit card to your digital wallet, the Fidelity Rewards Visa Signature Credit Card is another ideal choice if you're a Costco shopper looking to increase your savings.
You can buy in bulk and enjoy additional savings with cash back.
Apply for this card and earn unlimited high cash back on eligible purchases, which is impressive considering that many credit cards only offer 1% cash back on non-category purchases.
Get Even More Savings on Your Bulk Spending
Costco might be one of the best places to shop if you're looking to get the most for your buck and complete the majority of your shopping in one place.
But don't get caught off guard at checkout.
There's nothing worse than ringing up a bunch of items only to discover that the retailer doesn't accept your method of payment—and it's even worse when you don't have cash as a backup.
Even though cash is welcomed with open arms by just about every retailer, it's a smarter move to use the right credit card to earn some rewards on your purchases.