The Best Credit Cards Issued by Visa for 2023
Visa is the largest credit card payment network so Visa card are the most commonly accepted card in the world. See which Visa credit card the best.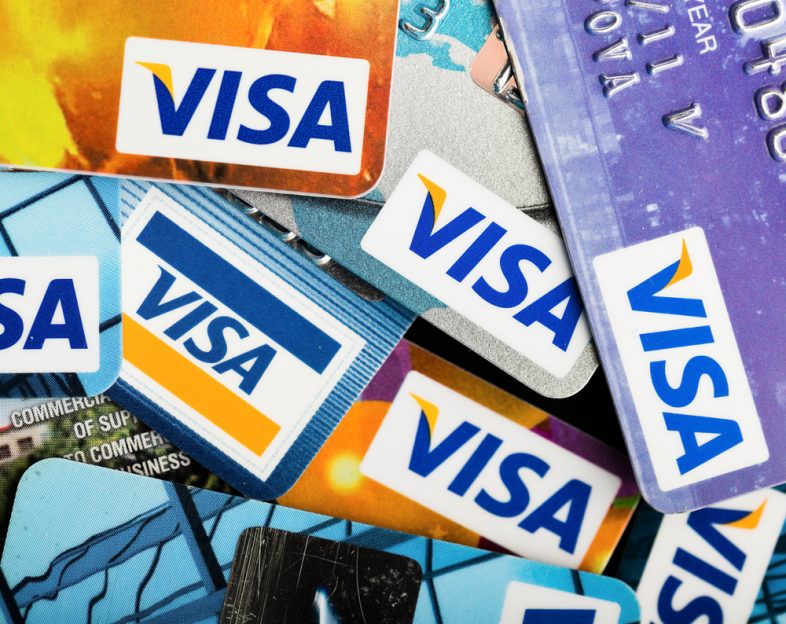 When it comes to credit cards, there are four distinct networks that operate in the U.S. Chances are, if you've got a credit card in your wallet, it's either got a Visa, MasterCard, Discover, or American Express logo on it.
Of the four, Visa boasts one of the highest acceptance rates.
Visa credit cards are offered by a variety of issuers, including some of the nation's top banks and credit card companies.
Some offer rewards for travel while others let you earn cash back on purchases. So how do you decide which Visa credit card rises to the top of the heap?
We spent some time combing through the ranks to pin down three Visa credit cards that represent the best of the best. Here are the cards we chose:
Keep reading for more on what makes each of these cards a winner.
You'll also find some helpful information on Visa offers and acceptance, along with a primer on Visa Platinum and Visa Signature tiers.
MyBankTracker's Picks for the Best Visa Credit Cards:
Best Premium Travel Card: Chase Sapphire Reserve
Chase Sapphire Reserve is among the top-tier travel credit cards on the market due to its strong rewards program and a long list of useful travel benefits.
Cardmembers automatically receive up to $300 in statement credit each year as reimbursement for travel expenses charged to the card.
Travel and dining purchases earn three points per dollar while all other purchases earn one point per dollar.
The points are worth 50% more if you use them to redeem for travel through Chase's online travel booking portal.
As if those benefits weren't enough, you also get up to $100 in statement credits towards Global Entry or TSA Pre ✓ fees every four years, complimentary lounge access to airport lounges worldwide under the Priority Pass Select membership, special car rental privileges, and exclusive benefits at selected luxury hotels and resorts.
The only catch? This card has a $550 annual fee. When you add up the value of the annual travel credit, the regular travel rewards, and the extra perks, however, the benefits easily outweigh the cost of the annual fee.
Who it's good for:
Chase Sapphire Reserve is designed for anyone who prefers travel rewards and has heavy spending on travel and dining out.
Also, you shouldn't be too worried about paying a higher annual fee for these perks. With the $300 annual travel statement credit, your effective annual fee is more like $250.
Best for Balance Transfers: Chase Slate Edge
The Chase Slate Edge card doesn't offer points for purchases but it does have something that you may like even better.
Notably, the card fosters responsible credit usage with APR reductions (limits apply).
You'll need to plan your payoff carefully to avoid any interest charges for purchases or transfers. This is one of Chase's credit cards that doesn't have an annual fee.
Who it's good for:
We'd highly recommend the Chase Slate card for anyone who carries a lot of high-interest debt.
With this card, you can transfer that debt to the card without any fees and enjoy 0% APR for many months. During this time, you can work on paying off your balance interest-free.
Best Basic Travel Rewards Card: Capital One Venture Rewards Credit Card
With some travel rewards cards, earning and redeeming points or miles can get a bit complicated. The Capital One Venture Rewards Credit Card keeps things simple.
With this one, you earn unlimited double miles on every purchase.
When you want to redeem your miles for airfare, hotel stays, or cruises, all you have to do is apply them as a travel statement credit. There are no blackout dates or other travel restrictions to worry about.
There's a $95 annual fee. This card also comes with Visa Signature benefits, which we'll dig into in just a moment.
Who it's good for:
The Capital One Venture Rewards Credit Card is a great travel rewards card for people who don't travel frequently with a specific airline or hotel chain.
Because you can redeem for travel retroactively, you're able to shop anywhere for the cheapest travel prices and have those purchases "erased" with the miles that you earned.
Visa Platinum vs. Visa Signature: What's the Difference?
Besides the features the card issuer offers, you can take advantage of other benefits for being a Visa member.
Those benefits are tiered, based on whether you have a Visa Platinum or Visa Signature card. Here's how the two tiers measure up.
Visa Platinum
Visa Platinum is a step up from the classic Visa card. At this level, you'd enjoy all of the following:
$5,000 minimum credit limit
Emergency card replacement
Emergency cash service
Cardholder inquiry service
Lost/stolen card reporting
$0 liability for fraudulent purchases
Emergency medical/legal assistance if you're traveling
Car rental collision/loss damage insurance
Roadside assistance
Travel accident insurance
One thing to keep in mind here is that the coverage limits on things like car rental coverage or travel accident insurance may vary based on the card issuer.
While these benefits are complimentary, there may be fees involved if you use outside services.
For example, you could use roadside assistance to call a tow truck but you'd have to pay the towing company's fee.
Visa Signature
If you have a Visa Signature card, you get all of that and more. That includes things like:
24/7 concierge service
Exclusive entertainment and sporting event access
Access to special wine and food events
Discounts on shopping
Travel upgrades and savings
Extended warranty protection
Purchase protection
Lost luggage reimbursement
As you can see, Visa Signature status can make your card more much valuable. There's just one thing to consider. But you are more likely to pay an annual fee for those added benefits.
Visa Infinite
Visa Infinite is one tier above Visa Signature but it's only on a few cards that are available in the U.S. Not much is known about this card tier because Visa doesn't offer much information on it.
Many of its benefits overlap with Visa Signature but the terms on the benefits may be better with Visa Infinite:
For purchase protection, each claim has a maximum of $500 on Visa Signature versus $10,000 on Visa Infinite.
For trip cancellation and interruption insurance, you're covered for up to $5,000 with Visa Signature versus $10,000 with Visa Infinite per trip.
For trip delay reimbursement, you're eligible if the trip is delayed for 12 hours with Visa Signature versus 6 hours with Visa Infinite.
Save on Shopping, Dining, Travel, and More With Visa Offers
If you're looking for a deal, Visa Offers delivers. When you shop through Visa Offers portal, you have access to savings on everything from clothes to vacation packages to subscription services.
When you click on a deal, you'll get a redemption code and be transferred to the partner merchant's website. The code is applied when you make an eligible purchase and pay with your Visa card.
As an example of what you can save, here are some recent Visa Offers Promotions:
Get 25% off a regular menu price order at PapaJohns.com
Save $20 off online purchases of $100 or more at Aeropostale
Get 15% off admission at Maui Ocean Center
Save 5% and get a free upgrade at Alamo Rent a Car
Save 20% on single-day tickets to LEGOLAND Discover Centers
The list of offers goes on and on and the choices are pretty varied. Remember to read the fine print before choosing a deal to make sure your purchase qualifies.
Visa Acceptance Basics
According to the official Visa website, Visa is accepted in more than 200 countries and territories worldwide.
Approximately 39.6 million merchants around the globe take Visa as a form of payment. In the U.S., the acceptance rate is around 8 million merchants.
That's pretty comparable to MasterCard's acceptance. MasterCard also enhances its card benefits with different tiers, like Platinum, World, and World Elite status.
So which one is better, especially if you plan to travel outside the U.S.?
A Visa card is likely to be accepted virtually anywhere - but it's important to also understand the individual card's features.
The four cards we've profiled made the cut for different reasons, aside from the fact that they have the Visa logo.
Bottom line, acceptance is an important factor when you're shopping for a new card but, ultimately, it's just one piece of the puzzle.