Chase Slate Credit Card Review
The Chase Slate® credit card is reviewed for its 0% introductory offer and free balance transfers that help with paying down debt faster without interest.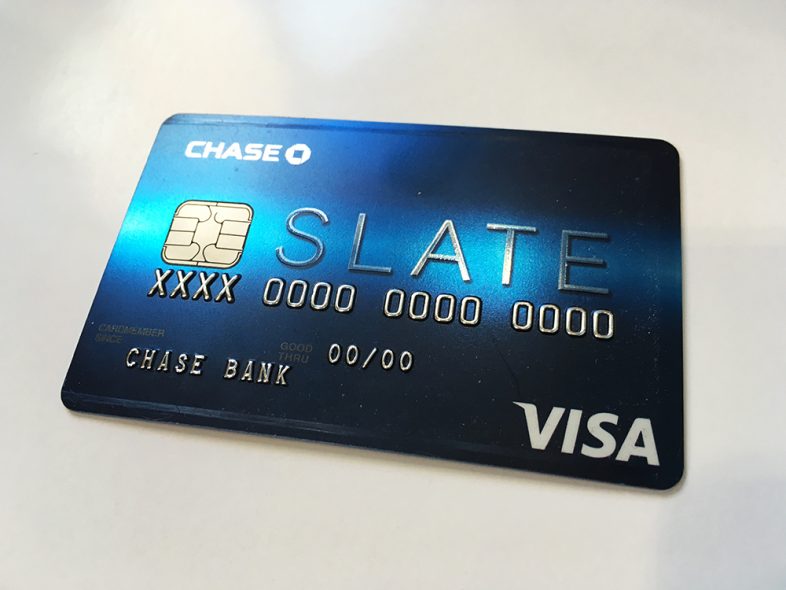 Chase Slate Credit Card
If you're looking to refinance your high-interest credit card debt or consolidate your debt in order to pay it down, Chase Slate is one card you need in your wallet.
What makes the Chase Slate credit card useful for balance transfers is that it comes with a $0 balance transfer fee bonus for the first 60 days as well as a 0% introductory APR for an extended period of time on all balance transfers and purchases.
Although there are many types of balance transfer credit cards out there, very few of them offer both a 0% introductory APR and $0 balance transfers.
Since Chase Slate allows you to transfer balances without a fee for the first 60 days, you can gain the most benefits by using this card to get out of debt.
If you have good credit but you'd like to pay off your debt without worrying about interest rates, Chase Slate may be the solution for you.
In this Chase Slate credit card review, we'll compare rates, fees, and services.
Chase Slate helps pay off debt faster
Chase Slate Card Pros & Cons
Pros
Cons

Good for people who are trying to eliminate or reduce debt
0% Intro APR for first 15 months
$0 Intro balance transfer fee for the first 60 days your account is open
$0 annual fee
No penalty APR

Doesn't offer rewards
Can only transfer debt from a bank other than Chase
Amount you transfer cannot be more than your credit limit or $15,000 (whichever is less)
At first glance, Chase Slate seems a little ho-hum since you will not earn points in Chase's Ultimate Rewards program and it does not offer a sign-up bonus.
However, Chase Slate is not your everyday credit card. It specializes in one thing: helping cardholders to pay off their credit card debt. On this front, Chase Slate delivers.
Many credit cards offer 0% APR financing on balance transfers, but almost all of these cards charge a 3% balance transfer fee.
However, Chase Slate is an exception, and if you are trying to reduce your credit card debt, you can breathe easy knowing this card has no balance transfer fee within 60 days of opening the account.
After the intro period expires, you can expect a variable APR on purchases and balance transfers, depending on your credit profile at the time of application.
A huge advantage of Chase Slate is that you will not pay a balance transfer fee for the first 60 days.
It helps you save at least $50 on every $1,000 transferred, which can be a considerable expense if you're struggling with thousands of dollars in credit card debt.
When you transfer your balances, you can avoid interest charges for 15 months, which can help you to pay down your balance faster than if a portion of every payment was put toward interest charges.
Also, keep in mind that you can move your debts from different cards to Chase Slate and make just one single payment going forward.
Unlike other credit cards that either charge a yearly fee right off the bat or shortly after an introductory period expires, there is no annual fee for using Chase Slate.
Paying off credit card debt is enough work on its own, and many cardholders prefer not having to pay an extra fee on top of all the other costs found with most credit cards.
You will also have free access to your FICO score.
Rewards
Chase Slate is not a rewards card, so you will not earn cash back, miles, or points from this card.
And unlike some rewards credit cards that are geared toward travelers, this card comes with a 3% fee for each foreign transaction, so there will be additional costs to keep in mind if you plan to make purchases outside of the country.
Transfer Rules
You can only transfer debt from a bank other than Chase. This includes Chase co-branded credit cards such as Marriott, Southwest Airlines, United Airlines, and others.
Since Chase is one of the largest issuers of credit cards in the U.S., it is possible that some or all of your current debt is already with Chase.
Also, the amount you transfer, including interest and fees, cannot be more than your credit limit or $15,000, whichever is lower.
Fraud Protection
In addition to features offered through Blueprint, Chase Slate also comes with great protection for its card customers. These extra safety features provide additional peace-of-mind against identity thieves and fraudsters. You will receive:
Purchase protection: Every Chase Slate purchase is covered against theft or damage up to $50,000 per account for the following 120 days and $500 per claim.
Zero liability protection: You will not be responsible for any fraud or unauthorized purchases.
Fraud Alerts: You will be notified of any potential fraudulent activity via email, text, or phone.
Fraud protection: You will benefit from constant monitoring of your account for suspicious activity.
Embedded chip: The Chase Slate card comes with a built-in chip that is accepted worldwide and provides an extra layer of security when used in a chip card reader.
Final Verdict
Chase Slate is ideal for credit card users who are trying to eliminate or reduce their credit card debt (that isn't from an existing Chase credit card).
Smart applicants will understand the unique value and advantages of holding a card that offers no balance transfer fee, no annual fee, and 15 months of interest-free financing.
Keep in mind that Chase Slate may not be for you if you have poor credit, you want a card solely to earn rewards, or you need significantly longer than a year to pay off a balance transfer or purchase.
However, if you have good credit and you are either looking to pay off credit card debt with a balance transfer or finance a large purchase and pay it off over time, Chase Slate is hard to beat.
It's the ideal card for consumers who are trying to find the best way to begin their journey to a debt-free life.
Compare Best Accounts Now
You might also like