How to Pick a Cash Back Credit Card
Learn how to choose the best cash back credit card based on your spending habits so that you can maximize the cash rewards from your most common purchases.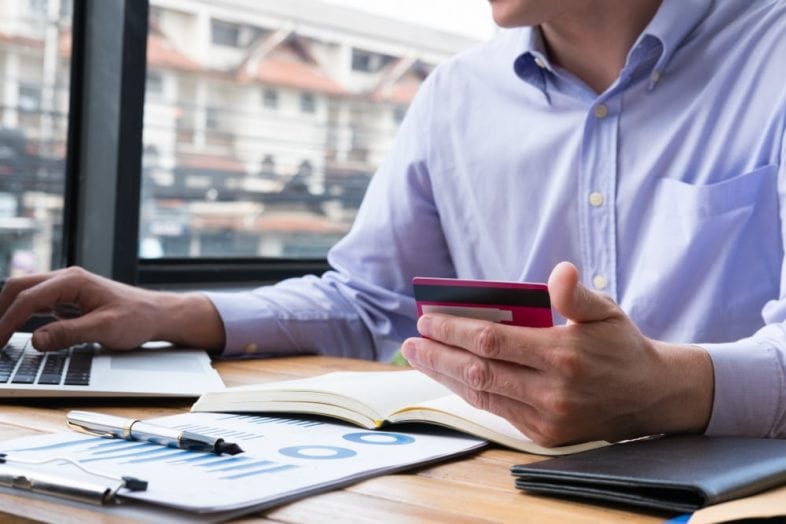 Given the wide selection of cash back credit cards available, picking the right one for your wallet may seem like a daunting task.
There are credit cards that offer different levels of cash back for various types of purchases.
There are also credit cards with a very simple cash back program.
At first glance, they all seem like appropriate choices.
But once you delve into your spending habits, you'll see that you can earn much more cash back with the right credit card.
Ideally, you'll analyze your spending over the course of the past 12 months to figure out which type of cash back card is right for you.
Read on to figure out the best tips and tricks on how to pick the right cash back card to suit your finances.
---
Analyze Your Spending Habits
The first step to picking a cash back credit card:
Look at your debit and credit card purchases, not the purchases that are made with cash.
Since a cash back credit card won't be of any benefit to purchases that you tend to pay for in cash, it doesn't make sense to analyze those purchases. 
If sifting through piles of paper statements is not a chore you want to deal with, consider using a personal financial management (PFM) tool to do the job for you.
These tools can pull in information from multiple financial accounts to one place so that you don't have to log in to multiple websites to review your finances.
Platforms such as Mint, Empower and Finovera are examples of PFM tools that can make it easier to evaluate your spending.
After looking over your spending, can you identify your most common types of purchases?
Make note of your top five spending categories and the amount spent in the past year.
Some PFM tools will automatically assign a category to your purchases so that you can easily see which ones make it to the top of the list.
Future purchases matter too
It's also wise to write down your projected purchases for the near future.
If you're aiming not to eat out less, then you won't be able to maximize a credit card that offers bonus cash back on dining and restaurant purchases.
Equipped with all this information, you can now recognize the credit cards that will generate the most cash back for you.
Cash Back Credit Cards With Bonus Categories
In the vast sea of cash back credit cards, there are certain cards that will focus on consumer spending in specific spending categories.
While a mundane card might provide only 1% cash back on purchases, a more attractive card would give extra cash back on select purchases in addition to 1% cash back on all other purchases.
For example, the American Express Blue Cash Everyday card offers 3% cash back at U.S. supermarkets (on the first $6,000 per year in this category).
There are also some cards that offer bonus cash back on different categories that change on a quarterly basis, and these categories are not necessarily announced ahead of time.
One popular example is the Chase Freedom card.
Cash back categories change every three months and may show up more than once during the year.
The categories are often timely for the purchases that are common during that particular quarter.
For instance, Chase Freedom is known to offer 5% cash back on grocery store purchases (excluding Target and Walmart), $200 cash bonus after you spend $500 during first 3 months after account opening, and earn unlimited 1.5% cash back on all other purchases.
Chase Freedom Flex Card Pros & Cons
Pros
Cons

Great for bonus cash back on very common spending categories
Earn a high amount of cash back on travel booked through Chase Ultimate Rewards
No annual fee

Potentially high APR if you carry over a balance month-to-month
You'll need to remember to activate the quarterly bonus to qualify for the 5% cash back
Groceries vs. dining out vs. gas
If you're interested in the cash back-earning potential of these credit cards, your spending evaluation will help weed out the cards that prove to be of no major benefit to you.
Getting a credit card with bonus cash back on groceries won't yield significant cash back for someone who tends to dine out.
For credit cards with non-changing bonus cash back categories, you can simply compare your top spending areas to the card's cash back categories.
For credit cards with changing cash back categories, the strategy could be a hit or a miss, but at least you can make an educated guess when selecting a card.
See more: 3 Best Credit Cards to Help You Save at the Pump
If the complexity of such bonus cash back credit cards seems to make everything more confusing to you, then you should read the next step.
Consider a Simple Cash Back Credit Card
While some cash back credit cards get to flaunt their ridiculous amounts of cash back offered on specific categories, other cards have extremely simple and straightforward cash back programs.
Instead of confusing cash back tiers and categories, these uncomplicated cash back credit cards will feature a flat, above-average cash back rate on all purchases.
Many people prefer a no-frills cash back credit card because it takes the headache out of worrying about maximizing cash back on certain purchases with different cards.
It's not surprising for some consumers to have a different credit card for each spending category -- one for groceries, one for gas, etc.
It can be too much to manage when you've got to deal with different accounts and different cash back redemption policies.
You'll know that you're better off with a simple cash back credit card for two reasons:
You prefer simplicity in your finances, and
You are not too worried about maximizing every cent of cash back on your spending
Also, a simple cash back credit card is the optimal choice if you cannot identify any major or predictable source of spending that would warrant a category-specific bonus cash back card.
You'd much rather earn a decent cash back rate on every purchase as opposed to a lavish cash back rate on a small number of purchases.
Think About These Factors During Your Search
Regardless of the type of cash back card you decide is your ideal type, there are some factors that are important to consider.
Annual fees
Many cash back credit cards may start with a $0 annual fee for a limited period of time.
However, after that limited period of time, the annual fee is hiked up.
There are plenty of cash back cards without an annual fee, so if you choose a card that does have an annual fee, make sure the cash back overrules the fee.
Here are some cash back cards that do not charge an annual fee:
When you can redeem cash back
Some cash back rewards cards require that you meet a certain minimum before you're able to redeem your cash back.
If you're someone who likes to redeem their cash back rewards as soon as you have them available, make sure the card you pick doesn't not have a minimum requirement.
On the other hand, if you're someone who wants to rack up their cash back before they redeem it, then the minimum requirement rule should not affect you.
The cards below do not have a minimum redemption requirement:
Interest rates
If you tend to carry a balance from month to month, a 0 percent intro APR may be a nice perk, but those double-digit interest rates can counteract any cash back rewards you might receive.
These cards have 0% intro APR offers:
How the cash is paid out
Not all cards give back cold, hard currency.
Fidelity's Visa Signature card is ideal for the budding investor who wants their cash back to benefit from compounding interest.
Likewise, it's not wise to redeem your cash on the Citi Double Cash card as a statement credit, because it could reduce the value of your earnings.
It's important to weigh what's most important to you in terms of how you receive your cash back.