Barclaycard Arrival Plus vs. Chase Sapphire Preferred Card: Which card is Better?
Barclaycard Arrival Plus World Elite MasterCard and Chase Sapphire Preferred are two very popular travel rewards credit cards - which is better?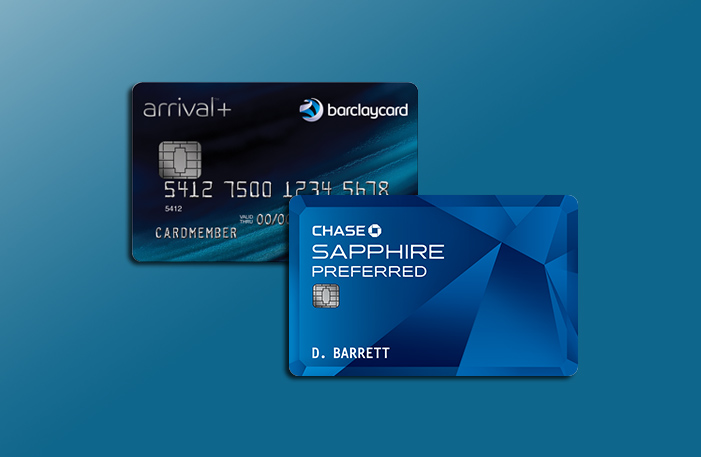 EXPIRED OFFER: Barclaycard Arrival Plus World Elite MasterCard is no longer available to new applicants.
Today, even with their annual fees, the Barclaycard Arrival Plus World Elite MasterCard and cards are two of the more popular travel rewards credit cards on the market. Both of them offer great travel rewards and have handy travel benefits.
Find out how they match up and see which one is better for you:
Barclaycard Arrival Plus World Elite MasterCard
The Barclaycard Arrival Plus World Elite MasterCard swept the credit card industry by storm with its extremely simple rewards program and flexible redemption policy, despite the card's $89 annual fee.
Cardmembers earn 2 miles per dollar spent on anything and everything. Meanwhile, the miles can be redeemed for travel purchases at a rate of 1 mile per cent (starting at 2,500 miles).
So, if you've got 40,000 miles, you can use the points to get a $400 statement credit against a travel purchase.
Additionally, you get 5 percent miles back when you use your miles to redeem for travel statement credits. This actually boosts the card's effective rewards rate of 2.1 miles per dollar spent (applies only when miles are redeemed on travel).
According to the card terms and conditions, travel redemptions include the following purchase categories: airlines, hotels, motels, timeshares, campgrounds, car rentals, cruises, travel agencies, tourist attractions, discount travel sites, trains, buses, taxis, limos, ferries and the $89 annual fee.
What's not heavily advertised is that you can actually redeem for gift cards, merchandise and non-travel statement credits.
However, these redemptions come at a rate of 2 miles per cent -- half the redemption value of the travel statement credits.
When it comes to travel, the Barclaycard Arrival Plus World Elite MasterCard comes with a good mix of handy benefits, including common travel perks like insurances for travel accidents, trip cancellations, baggage delays and auto rental collision damage.
Additionally, there are no foreign transaction fees when you use the card abroad (the typical foreign transaction fee is 3%).
The noteworthy feature is complimentary access to MasterCard's concierge service, which acts like a personal assistant. You can have concierge agents look for hard-to-find items, book restaurant reservations and more.
Chase Sapphire Preferred
With its gem-based theme, the is often marketed to affluent consumers who like to travel.
But with an $95 annual fee, it is far from unreachable for anyone who knows how to take advantage of a travel rewards credit card. (The travel cards with $400+ annual fees are the ones that truly cater to the wealthy.)
Rewards extend beyond free travel
Cardmembers earn 2 points per dollar spent on travel and dining, while all other purchases earn 1 point per dollar.
Through Chase's Ultimate Rewards program, the points can be redeemed for gift cards, merchandise, travel and cash back. Cash back and most gift cards can be redeemed at a value of 1 point per cent.
The points stretch further when they are redeemed for travel through Chase because cardmembers get to spend 20 percent fewer points on these travel redemptions. For instance, a $500 flight will cost 40,000 points instead of 50,000 points.
Points can be transferred to partner airline and hotel programs
One very popular feature is the ability to transfer Ultimate Rewards points to partnered frequent travel programs at a 1:1 ratio. Participating brands include United Airlines, Southwest Airlines, British Airways, Virgin Atlantic, Marriott, Ritz-Carlton and more.
For example, a roundtrip flight between New York City and Los Angeles through United is regularly priced at $999. That exact same flight will cost 50,000 United miles plus $155 in booking fees.
You can convert 50,000 Ultimate Rewards points into 50,000 United miles and enjoy that same flight at the effective cost of $655 ($500 worth of points + $155 in fees).
Personal concierge, travel insurances and more
Chase Sapphire Preferred get a plethora of travel benefits, including the various insurances that are also available on the Barclaycard Arrival Plus World Elite MasterCard. It also doesn't charge foreign transaction fees.
Cardmembers have free 24/7 access to Visa's personal concierge service to help them with their shopping and travel, among many other needs.
An interesting tidbit: The Chase Sapphire Preferred card is made of metal. Therefore, it can not be destroyed like traditional plastic cards. When it comes time to dispose of the card, Chase will send you a return envelope.
Which one for you?
The two competing credit cards differ mostly in the way that rewards are redeemed most efficiently: travel. So, we're looking at your travel patterns to determine the more appropriate card for you:
The Barclaycard Arrival Plus World Elite MasterCard is better if you tend to shop for travel deals through travel agencies and discount travel sites like Kayak or Priceline.
Since you're getting a great deal already, you don't need to rely on complicated booking tools and travel programs to travel on the cheap. It also relieves you of the need to stay loyal to a specific airline or hotel chain.
The Chase Sapphire Preferred is better if you're going to maximize the points-transfer feature through the Ultimate Rewards program and you're also open to booking travel through Chase. The card is worth a serious consideration if you're already a frequent flyer with Chase's travel partners.
Compare Best Accounts Now