Chase United TravelBank Credit Card Review
Find out whether the United TravelBank Credit Card from Chase is worth using to earn free flights on the popular airline. Learn about the card's annual fee, interest rates, fees, and rewards program and compare these features to the benefits offered by the other United-branded travel rewards credit cards.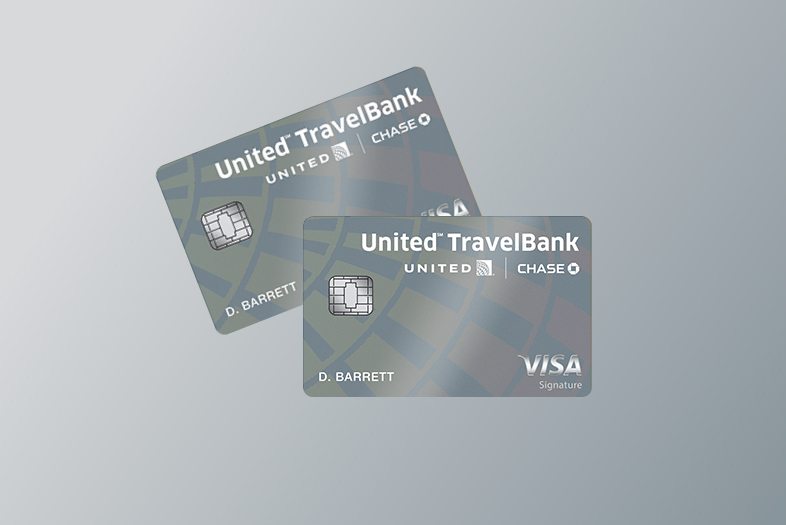 Update: The United TravelBank card is no longer available and it's most comparable replacement is the Chase United Gateway Card.
Frequent travelers know that a travel rewards credit card can yield big savings on trips.
Most travel rewards cards offer miles or points on purchases that you can later redeem for flights or travel statement credit.
The United TravelBank card from Chase offers a different kind of travel rewards.
This card offers benefits like:
An introductory TravelBank cash bonus for new members
Unlimited TravelBank cash rewards on every purchase
$0 annual fee
$0 foreign transaction fee
TravelBank rewards bonuses on in-flight purchases
Easy redemption for United flights
If United is your airline of choice, there are some great reasons to consider this card over other travel rewards options.
Learn how you can use the United TravelBank card to score savings on travel.
United TravelBank Credit Card Pros & Cons
Pros
Cons

No annual fee
Earn bonus rewards on flights purchased from United
Rewards can be redeemed for United flights

Doesn't earn MileagePlus Rewards
No significant perks on flights other than savings on in-flight food & drinks
Generous Cash Rewards on Travel
The United TravelBank card has a straightforward rewards structure.
Members earn 2% in TravelBank cash per $1 spent on tickets purchased from United. You also earn 1.5% in TravelBank cash per $1 spent on all other purchases.
The amount of cash back you can earn is unlimited, so this card might be ideal if you travel with United frequently.
Every $1 earned in TravelBank cash is equal to $1 when used to purchase airfare on United flights.
If you spend $10,000 per year flying United, for example, you'd earn $200 in TravelBank cash.
Spend another $5,000 on groceries and $3,000 on gas and that adds another $120 to your rewards total.
Essentially, you can earn as little or as much TravelBank cash as you like, based on how you spend.
Redeeming TravelBank Cash
To redeem your TravelBank cash, you can visit United.com and apply your rewards during the booking process.
TravelBank cash is redeemable on a 1:1 basis, so $320 in rewards is equal to $320 towards a flight.
There's one caveat, here: TravelBank cash can only be redeemed for United flights.
If you're booking aboard a United partner, like Lufthansa or Air Canada, you wouldn't be able to use your TravelBank cash to cover your tickets.
You can combine TravelBank cash with a credit card to pay for flights if you don't have enough in rewards for the full cost.
Note: TravelBank cash rewards expire after 18 months of inactivity on your account. In other words, these rewards are use-it-or-lose-it.
Is There an Introductory Cash Bonus?
The United TravelBank card does come with an introductory rewards bonus offer.
To qualify, you need to spend $1,000 in qualifying purchases during the first three months after account opening. Landing the bonus can put you on the way to free United flights that much faster.
Compared to other travel rewards cards offered by Chase, the United TravelBank card's bonus is on the smaller side.
But again, you're not paying an annual fee. To land a bigger introductory bonus with a different rewards card, you may be looking at an annual fee of $95 or more.
Does It Earn MileagePlus Rewards?
If you're already a regular United flyer, you're probably enrolled in the MileagePlus rewards program.
This frequent flyer program allows you to earn award miles when you fly United or its partners.
Those miles can then be redeemed for flights, hotels, car rentals, and other travel purchases.
The United TravelBank card requires you to join the MileagePlus program if you haven't already.
But, the TravelBank card doesn't earn any MileagePlus rewards. When you log in to your MileagePlus account, you'll see that your TravelBank cash is listed separately from any award miles you've earned.
Again, this card does not earn MileagePlus miles on purchases; you just get the TravelBank cash rewards.
You can, however, earn MileagePlus miles and Premier Qualifying miles when purchasing fares with your TravelBank rewards.
The catch is that the fare you purchase has to be eligible to earn MileagePlus or Premier Qualifying miles.
Are There Any Other Travel or Shopping Perks?
With some travel cards, you get valuable travel extras like:
Free checked bags
Discounted companion tickets
Concierge service
The United TravelBank card doesn't offer these perks. So, you'll have to pay for checked bags and United lounge access.
United Airlines baggage fees
| Airline | First checked bag | Second checked bag |
| --- | --- | --- |
| United Airlines | $25 | $35 |
| Delta Airlines | $25 | $35 |
| American Airlines | $25 | $35 |
| Southwest Airlines | $0 | $0 |
| JetBlue Airways | $20 | $35 |
United Airlines lounge access fees
| Airline lounge | Single visit pass | Annual individual memberships |
| --- | --- | --- |
| United Club | $59 | $450 to $550 |
| Delta Sky Club | $59 | $450 to $695 |
| American Admirals Club | $50 | $450 to $500 (renewals are $50 cheaper) |
| Southwest (no lounges) | N/A | N/A |
| JetBlue (no lounges) | N/A | N/A |
However, the United TravelBank card offers one simple benefit on United flights.
Members can earn 25% back in rewards as a statement credit on food and beverage purchases on United flights. You just have to pay with your United TravelBank card to qualify.
Remember though, that these rewards won't show up in your TravelBank cash balance.
They're applied directly to any balance you have on your card.
You also get some basic travel and shopping protections, including:
Auto rental collision damage waiver
Trip cancellation and trip interruption insurance
Purchase protection
Price protection
Extended warranty coverage on certain purchases
Not many bells and whistles, as you can see but if you don't travel as often, that may not be too worrying.
If you're looking for a premium travel experience, on the other hand, you'll need to look elsewhere.
Fees and APR
We've already mentioned that the United TravelBank card has a $0 annual fee and no foreign transaction fee.
Fees do apply for balance transfers and cash advances.
Unlike some travel rewards cards, you don't get an introductory APR on purchases or balance transfers with this card.
The regular variable APR for both is based on creditworthiness.
Compared to other travel rewards cards, the APR range is on the higher side which is worth remembering if you sometimes carry a balance.
Compared to the Other United Travel Rewards Cards
The TravelBank card is the newest United card option but it's not your only choice.
There are two other cards United-lovers may want to consider for earning travel rewards.
United MileagePlus Explorer
The United MileagePlus Explorer card lets you earn unlimited 2 miles per $1 on tickets purchased from United. You also earn unlimited 1 mile per $1 on all other purchases.
When you look at it that way, the United TravelBank card has the potential offer more value, since you get 1.5% back on non-United purchases.
But the United MileagePlus Explorer card comes with benefits and features that the United TravelBank card lacks. Those include:
A large introductory miles bonus when you spend $2,000 in the first 3 months after account opening
An additional miles bonus when you add an authorized and make your first purchases in the first 3 months after account opening
Free first checked bag for yourself and one companion
Priority boarding
2 complimentary United Club passes per year
Miles transfer to United partners
Premier upgrades on United flights
Luxury Hotel & Resort Collection access
Like the United TravelBank card, this card has no foreign transaction fee.
You pay a $0 annual fee the first year, then $95 each year after.
But, purchases made with your card do count towards the next tier status in the United MileagePlus program.
United MileagePlus Club
The United MileagePlus Club card is designed for travelers who prefer a luxury travel experience.
This card comes with an even larger introductory miles bonus than the United MileagePlus Explorer card.
United Club membership is included, which is valued at up to $550 per year. That's huge if you enjoy relaxing in the airport lounge between flights.
This card offers a rewards structure that's similar to the TravelBank card.
United ticket purchases earn 2 miles per $1 spent; all other purchases earn 1.5 miles per $1 spent. Again, miles are unlimited and they don't expire as long as your account stays open.
What really sets this card apart from the other two is the annual, which is $450. But, you do get some nice perks like:
Free first and second checked bags for yourself and one companion
Premier Access travel services
Hertz Gold Plus Rewards President's Circle Elite Status
World of Hyatt: Discoverist Status
No close-in award booking fees on United flights
Can You Open a TravelBank Card If You Have Another United Card?
The short answer is yes, you can have more than one United travel rewards credit through Chase.
But, you have to keep the 5/24 rule in mind. This rule says that if you've opened five or more credit cards in the past 24 months, you can't get approved for a new Chase card.
The better question is whether it makes sense to have more than one United card. The answer here depends on how you spend, and particularly how often you travel with United.
While United allows you to supplement MileagePlus miles with TravelBank cash on certain flights, you can't convert TravelBank cash into miles.
And your TravelBank purchases won't get you any closer to the next rewards tier in the MileagePlus program.
If you have more than one United card, choose wisely when deciding which one to use to book flights.
That way, you can make sure you're getting the most value possible.
Final Verdict: Should You Get the United TravelBank Card?
The United TravelBank card puts a new spin on travel rewards.
It's sure to appeal to travelers who want to earn a higher rewards rate on flights with no annual fee.
Just remember, however, that the rewards you earn can only be redeemed on United flights.
You can't transfer them to other airlines or hotel loyalty programs.
If you want a little more flexibility in how you earn and use travel rewards, you may want to check out another United travel card option.
Otherwise, we'd say this card is a solid no-annual-fee option for United flyers.
Compare Best Accounts Now
You might also like