Credit One Bank Cash Back Rewards Platinum Visa Credit Card 2023 Review
Rebuild good credit and earn cash back rewards with the Credit One Bank® Cash Back Rewards Platinum Visa Card. It's not a secured credit card.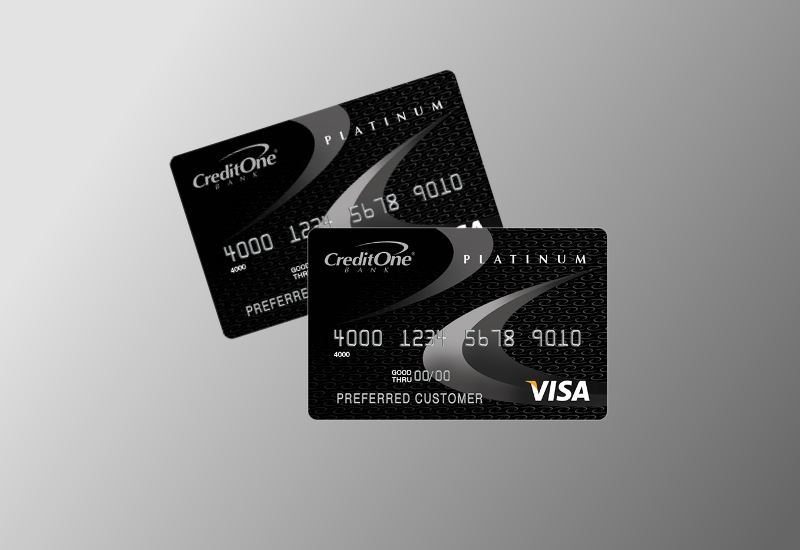 Being able to wave a magic wand and have a better credit score would be nice but it's not realistic.
Instead, you have to practice good financial habits that can help you build up your score over time.
If you want to get a jump start on working your way to better credit, the Credit One Bank Cash Back Rewards Platinum Visa card can help.
It's an unsecured credit card that's designed just for people with poor to average credit. This card reports to all three major credit bureaus and you can track your credit score for free each month.
There's no out-of-pocket cost to set up your account but you may be charged an annual fee. Learn how you can use this card to achieve a better credit rating.
Use It to Build Good Credit
Your credit score isn't just a three-digit number. It's what lenders use to decide how financially responsible you are.
If you've got a low credit score, that can send the signal that you don't know how to use credit wisely.
A higher credit score, on the other hand, makes it easier to get approved for credit and score better interest rates to boot.
This card offers a path to rebuilding bad credit or establishing new credit for the first time. Unlike a secured card, you don't have to put up a cash deposit to open your account.
The card features competitive interest rates and credit limits, based on your creditworthiness.
So how do you use the card to get better credit? It all comes down to two things: paying your bill on time and keeping the balance low.
How payment history and credit use affect your credit score
There are several different credit scoring models that lenders use when making credit decisions.
The most recognizable credit score is the FICO score, which is determined by five specific factors.
FICO Credit Score Factors and Their Percentages
| FICO credit score factors | Percentage weight on credit score: | What it means: |
| --- | --- | --- |
| Payment history | 35% | Your track record when it comes to making (at least) the minimum payment by the due date. |
| Amounts owed | 30% | How much of your borrowing potential is actually being used. Determined by dividing total debt by total credit limits. |
| Length of credit history | 15% | The average age of your active credit lines. Longer histories tend to show responsibility with credit. |
| Credit mix | 10% | The different types of active credit lines that you handle (e.g., mortgage, credit cards, students loans, etc.) |
| New credit | 10% | The new lines of credit that you've requested. New credit applications tend to hurt you score temporarily. Learn more about FICO credit score |
Thirty-five percent of your FICO score is based on your payment history. Paying your bills on time every month can lead to a healthy score.
Paying late or even worse, letting accounts slip into collections, can knock major points off.
The amount of debt you have compared to your total credit limit accounts for 30% of your score. This is also referred to as your credit utilization ratio in credit-speak.
Ideally, you should try to use 30% or less of your credit line to give your credit score the biggest boost.
If you're opening this card, you can leverage it to a better credit score by making your payments on time and keeping your utilization low.
Credit One even gives you some built-in tools to help you manage your account:
Choose your own payment date for easier monthly budget planning
Sign up for text or email alerts for payment reminders
Free access to your monthly credit score
Last but not least, Credit One periodically reviews your account to see if you're eligible for a credit line increase.
Having more available credit can help your utilization ratio and your score, as long as you're not running up a high balance.
Tip: Syncing your account with a budgeting app like Mint is another easy way to keep track of what you're spending and when your payment is due.
Can You Earn Rewards With the Card?
As the name implies, the card does offer a rewards program. The exact cash back program actually varies based on your credit.
You'll get one of these programs:
Earn 1.1% cash back on dining purchases and 1% cash back on all other purchases
Earn 1% cash back on gas and groceries
The cash back may not seem like much but it can add up if you're using the card pretty regularly.
Your cash rewards are applied as a statement credit and there's no limit on how much cash back you can earn. Just remember that credits don't count towards your minimum payment.
If you have a payment due, you'll still have to make it to avoid a late fee.
The important thing to remember here is that the Credit One Bank Cash Back Rewards Platinum Visa is meant to help you build good credit.
Being able to earn unlimited cash rewards in the bargain is a nice extra perk.
How Do the APR and Fees Stack Up?
One thing you can't overlook when opening a new credit account is the cost. If you choose a card that has a high annual percentage rate (APR) or a big annual fee, being able to build credit comes at a premium.
Fees can vary depending on your credit
This card does charge an annual fee for certain cardmembers. The fee ranges from $0 to $75 for the first year.
The amount you pay or whether you even pay this fee at all is based on your credit score and your income.
The annual fee is billed automatically when you set up your account.
For example, if you're approved for a $500 limit with a $75 annual fee, you'd have $425 in available credit to start.
After the first year, the fee range goes from $0 to $99. Instead of paying it all at once, however, Credit One breaks it up into 12 equal payments.
Besides the annual fee, there are some other fees to keep in mind:
Authorized user fee: Credit One charges you $19 to add an authorized user to your account
Cash advance fee: If you decide to take a cash advance be prepared to pay for it. The cash advance fee is either $5 or a steep 8%, whichever is greater.
As a side note, late payments will cost you up to $37. There's no foreign transaction fee, which is good if you're planning to use the card when you travel outside the U.S.
Avoiding interest charges
One major downside of the card is the regular variable APR for purchases and cash advances (This card doesn't allow for balance transfers).
It can get quite expensive to carry a balance with this card so you're better off paying in full every month to get out of being sideswiped by interest.
Card Protections
The Credit One Cash Back Rewards Platinum Visa doesn't come with a ton of bells and whistles but there are some basic protections that cover you against fraud and identity theft.
Your card comes with an EMV security chip for an extra layer of security protection when you shop in-store.
Credit One also gives you a $0 liability guarantee in case your card is ever used to make fraudulent purchases.
Your card comes with an EMV security chip for an extra layer of security protection when you shop in-store.
Credit One also gives you a $0 liability guarantee in case your card is ever used to make fraudulent purchases.
What Other Cards Does Credit One Offer?
A Credit One customer service rep says there are two other options if you want to improve your credit.
Credit One Bank Unsecured Platinum Visa
The Credit One Bank Unsecured Platinum Visa is very much the same as the Cash Back Rewards card.
Your rewards post as a statement credit automatically each month so you're not waiting around to use them. You also get the same ability to track your credit score.
In terms of what sets this card apart, it all comes down to what's included.
With the Credit One Bank Cash Back Rewards Platinum Visa, you get travel protections like travel accident insurance and car rental insurance so you're covered if you run into trouble while you're away from. This card doesn't come with those features.
Credit One Bank Official NASCAR Visa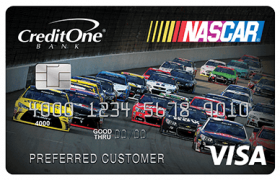 The Credit One Bank Official NASCAR Visa is a good fit if you've got a need for speed.
This card also pays 1% cash back on purchases but as an added bonus, you can get double the cash back when you use it to shop at NASCAR.com.
Members can also get in on special deals, promotions and exclusive NASCAR experiences. If you're a big NASCAR fan, this one could be a good fit.
Final Verdict: For People Who Pay Off Their Balances and Want to Build Credit
The Credit One Bank Cash Back Rewards Platinum Visa might be one to consider if you want to build credit while earning some cash back rewards.
You should review the card's terms carefully, however, since the annual fee and the APR can quickly add up. While you're at it, take a look at what other cards are good for building credit.