PenFed Platinum Rewards Visa Signature Credit Card 2023 Review
The PenFed Platinum Rewards Visa Signature credit card is reviewed for its gas and grocery rewards rate. And, membership is easy with a one-time donation.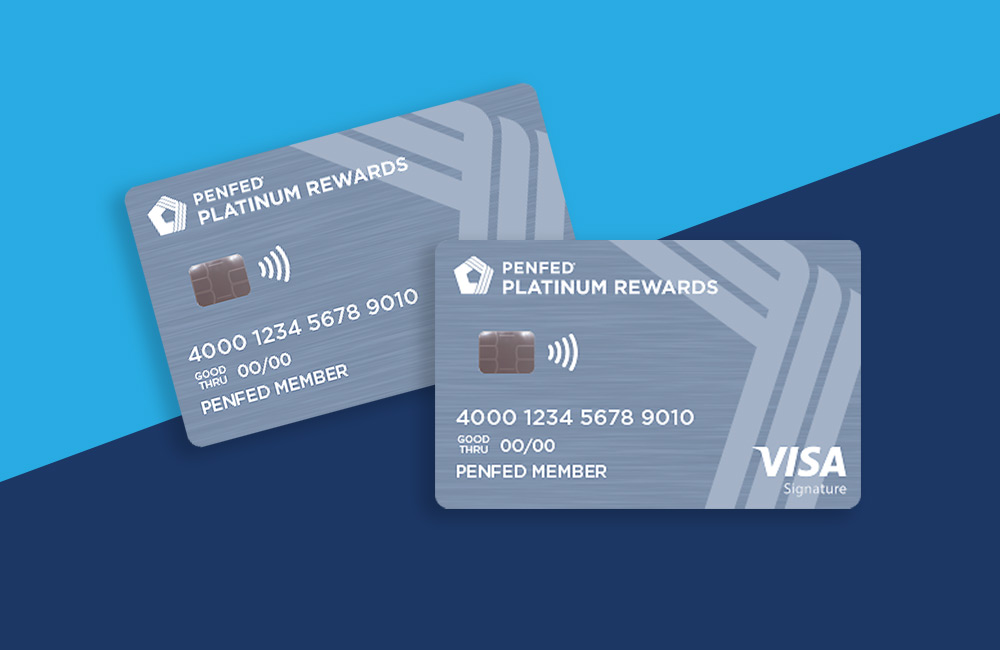 There are plenty of reasons to ditch your traditional bank and join a credit union instead.
Not only do they tend to offer better rates on savings and charge less in interest for loans, but some of them also have great credit card rewards programs.
The PenFed Platinum Rewards Visa Signature Card is a prime example of how credit union members can cash in on premium benefits.
This card is issued by the Pentagon Federal Credit Union or PenFed for short and it's available only to members.
Dive into MyBankTracker's review to learn what the card's full benefits are and who's eligible for a PenFed membership.
PenFed Platinum Rewards Visa Signature Card Pros & Cons
Earn major points when shopping at gas stations and grocery stores
The true highlight of the PenFed Platinum Rewards Visa Signature Card is its rewards program. This card pays points on everything you spend but you get more points in certain categories. Members earn:
5 points per $1 on gas purchases at the pump
3 points per $1 on all supermarket purchases
1 point per $1 on all other purchases
If you've got a large family or you spend a lot of time on the road each month, you can use this card to earn a lot of rewards with ease. For example, let's say your typical monthly spending looks like this:
Gas purchases = $500 per month
Supermarket purchases = $800 per month
Travel/shopping/misc. Purchases = $1,000 per month
Altogether, you'd earn 70,800 points over the course of a year.
There's no cap on the number of points you can earn so this card is suited for big spenders who put most of their everyday purchases on plastic. You won't get any points, however, for balance transfers or cash advances.
Tip: If you don't spend as much on groceries, use your PenFed Credit Union Platinum Rewards Visa to stock up on gift cards the next time you're at the supermarket instead.
One thing to keep in mind about this card is that points do have an expiration date. You have to use them within five years of earning them so you don't want to let them pile up too long.
Use your reward points for travel, merchandise and more
So what do you do with the points you've earned? The PenFed Platinum Rewards Visa Signature Card gives you several ways to redeem the points you've earned.
For example, you could use your points to book travel.
Some of the redemption options that are currently available include flights between major cities like New York and Washington, D.C. and hotel stays at five-star properties in Las Vegas.
If you're not heading out of town anytime soon, you can also redeem points for merchandise, such as designer handbags, golf stands and educational toys for kids.
Last but not least, you can use your points towards gift cards to your favorite retail, dining, entertainment and travel destinations.
Points are redeemed at different values  
Your points value ultimately depends on how you use them. The minimum redemption starts at 2,940 for a $25 gift card. At that rate, your points would be worth 0.85 cents apiece.
The redemption levels are higher for merchandise and travel. A one-way coach flight, for instance, starts at 18,797 points.
Hotel stays start 15,110 points. If you want to get your hands on a designer purse, you'll need a minimum of 33,410 points. The actual redemption value varies based on which option you choose.
Anyone can actually join PenFed Credit Union
As the name suggests, PenFed Credit Union serves federal employees. You're eligible to open an account and apply for the PenFed Platinum Rewards Visa Signature Card if you:
Are a member of the U.S. military
Are a government employee or an employee of another qualifying organization
Are a member of a qualifying organization or association
Live or work at an eligible location
Are a relative of someone who's eligible to join
Those membership requirements still leave out many people who would be interested in signing up for any PenFed credit card.
Fortunately, anyone can become a PenFed member by making a one-time donation of $10 to $15 toward Voices for America's Troops or the National Military Family Association.
PenFed membership comes with discounts and savings as well
Aside from being able to apply for a PenFed Platinum Rewards Visa Signature Card, a PenFed Credit Union membership benefits you in other ways. You'll enjoy things like:
Discounts on car insurance and home security
Discounts on cell phone service and tax prep software
Savings on car rentals
Reduced interest rates and cash discounts on car purchases
Up to $10,000 in savings when you buy a home through PenFed Real Estate Rewards
PenFed offers a variety of banking products, including checking accounts, savings accounts, IRAs and CDs.
They offer home loans, auto loans and personal loans in addition to credit cards so if you need to borrow money they've got you covered.
Visa Signature perks include insurance and personal concierge
PenFed Platinum Rewards Visa Signature Card comes with Visa Signature membership. Being part of the Visa Signature program opens the door to an even wider pool of benefits related to travel, shopping, and entertainment.
Visa Signature makes travel more enjoyable
If you do a lot of traveling, you'll appreciate these PenFed Platinum Rewards Visa features:
Complimentary discounts and upgrades at selected resorts, hotels, and cruise lines
Emergency card replacement if your card is lost or stolen while you're away from home
Emergency cash disbursement if you need money in a pinch
24/7 roadside assistance in the U.S. and Canada
Travel and emergency assistance services
Auto rental collision damage waiver
Another great reason to consider this card is the lack of a foreign transaction fee.
Most credit cards charge a foreign transaction fee of 3%, which can be expensive if you're swiping your card often during international trips.
Shop your way to more benefits
In addition to travel, the PenFed Platinum Rewards Visa Signature Card also covers the things you buy.
The Warranty Manager Service extends the manufacturer's warranty by an extra year on items that have an existing warranty of three years or less.
Visa will replace, reimburse or repair items purchased with the card in the first 90 days, up to a $500 limit. Members also get discounts and access to special offers from participating retailers.
Free personal concierge for reservations and more
One of the best things about the Visa Signature Program is the complimentary concierge service.
If you need help finding a hotel, choosing a restaurant or scoring tickets to a Broadway show, your personal concierge is there to help. Service is available 24 hours a day in the U.S. and abroad.
Foodies will appreciate the fine wine and dining experiences that are included as part of the Visa Signature package.
Exclusive dining events and complimentary tastings at more than 70 Sonoma County wineries are included with your membership.
Finally, there's also something for sport's lovers. Visa Signature connects you with once-in-a-lifetime sporting events, from golf to college football so you don't miss any of the action on game day.
Read the fine print on rates and fees
The PenFed Platinum Rewards Visa Signature Card is pretty impressive when it comes to fees.
Not only is there no annual fee or foreign transaction fee but there's also no cash advance fee. That's something that's rare with a rewards credit card of this caliber.
It's not 100% fee-free, however. There's a 3% fee for balance transfers, as well as a late fee of up to $25. There's no overlimit fee but if your payment is returned, a $25 charge applies.
The PenFed Platinum Rewards Visa Signature Card doesn't have a 0% promotional rate for purchases.
Currently, the regular APR ranges based on your creditworthiness. The same regular APR goes for balance transfers and cash advances.
If you pay more than 60 days late, your entire balance is automatically subject to the penalty APR.
Fortunately, you can make three consecutive on-time payments to lower that penalty APR. Compared to most other rewards credit cards, the APR on the PenFed Platinum Rewards Visa Signature Card is much lower.
Final verdict: Who should get the PenFed Platinum Rewards Visa card?
The PenFed Platinum Rewards Visa Signature Card is a great choice for anyone who spends a lot on gas and groceries, which happen to be two of the most common purchase categories in American households.
Because of how easy it is to join PenFed, the membership hurdle is not an excuse to not get the card.
However, it still isn't advised to carry a balance on any rewards credit card such as this one because the interest charges are likely to exceed the rewards earned.
If you tend to hold a card balance, you're better off with a low-interest credit card.