SunTrust Secured Credit Card Review
Learn about the SunTrust Bank Secured Credit Card that is designed to help people build credit. Find out about its fees, interest rates, and cash back program.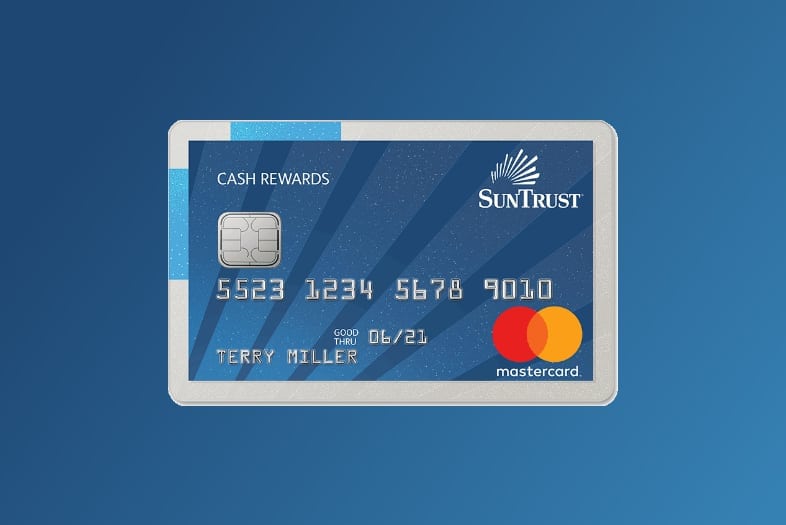 You're on the hunt for a way to improve your credit score and a secured card is one way to do it.
It is designed specifically for people with poor or no credit.
And, you might have come across the secured credit card offered by SunTrust Bank.
It definitely provides an avenue for boost your credit, along with a twist: you can actually earn rewards on your spending while you do so.
We break down the SunTrust Secured Credit Card so that you have the information to compare with other alternatives available on the market. You'll get an idea of:
The rewards program
Free credit score monitoring
Collateral policy
Costs (APR and fees)
SunTrust Secured Credit Card Pros & Cons
Earn Cash Back on Purchases
One of the biggest benefits of using a credit card to make your everyday purchases is the rewards.
Many credit cards offer some type of rewards, whether they be in the form of points, miles, or cash back.
If you use the right card, you can get as much as 5% of the value of your purchase back in rewards.
Unfortunately, the best rewards cards often require great credit scores.
People with poor credit usually can't qualify for rewards credit cards and have to settle for cards that don't offer rewards at all. Secured cards especially tend to lack a rewards system.
What sets the SunTrust Secured Credit Card apart from the pack of secured credit cards is its cash back rewards.
Here's what you're getting:
You'll earn 1% cash back on every purchase you make.
The first $6,000 you spend on gas and groceries each year will earn you an additional 1% back, for a total of 2% cash back.
The USDA estimates that a family of four that spends a moderate amount on food spends $239 each week on food.
even half of that is spent at the grocery store, you'll max out the $6,000 in bonus spending, and earn a total of $120 in rewards from groceries alone.
You'll earn even more from your other spending.
The kicker:
If you have a bank account with SunTrust, you can earn even more rewards by depositing your cash back rewards to the account.
Depending on your account's balance, you can get a bonus of as much as 50% when you redeem your cash back directly to your bank account.
If you don't want to redeem your cash back into a bank account, you can get a number of other rewards, including e-gift card, travel, and electronics.
Free Access to Your Credit Score, and Reports to all Three Bureaus
Your bottom line is:
You want to build good credit.
One of the biggest perks of the SunTrust Secured Credit Card is that it reports your credit file to each of the major credit bureaus.
There are three companies that are responsible for tracking consumers' credit scores: Experian, Equifax, and TransUnion.
Each tracks your credit history based on information that is provided to it by lenders.
When you apply for a loan, the lender will ask for a copy of your report from one of these companies. The content of that report helps to determine whether you get the loan.
It gets better:
You can also get a free copy of your FICO score to track your progress.
Each month you can look at an updated copy of your report to see how your score is improving. This can help you gauge when to start applying for other types of credit cards.
Tip: Look to see if there are any errors on your report.
Errors, such as missed payments that you actually made on time, can significantly reduce your credit score for no good reason.
Avoid Paying Interest Because of the High APR
Credit cards are a type of loan.
You use your card to pay for purchases at the store, then pay the card issuer back at a later date.
Like all loans, credit cards charge interest.
That said:
The SunTrust Secured Credit Card charges an interest rate in excess of 20%, you should avoid paying interest when at all possible.
There is a grace period where you won't be charged interest. If you pay your bill in full before the payment due date, you won't be charged any interest. If you pay less than the full balance, then interest will start to accrue.
Credit cards charge huge amounts of interest, so you want to avoid paying interest on them at all costs.
Carrying a balance can also lower your credit score, which is the opposite of the goal you had when you opened a secured card.
World MasterCard Protections
The SunTrust Secured Credit Card is a full-fledged Platinum MasterCard.
That means you get the full suite of credit card consumer protections when you use the card.
Some examples of the protections offered are:
Purchase Assurance – Reimbursement for products damaged or stolen within 90 days of purchase
Extended Warranty – Up to 24 months of additional warranty on purchased goods
Price Protection – Reimbursement for the difference if a products price drops shortly after purchase
Your Credit Limit is Determined by the Deposit Your Provide
Secured credit cards differ from other credit cards in one major way.
With a standard credit card, you receive a credit limit.
You can spend money up to that limit and pay the card issuer back over time.
So, if you get a card with a $5,000 credit limit, you can spend as much as $5,000 even if you don't have that much money (though it would be a bad idea).
Secured credit cards are targeted toward people with poor credit. Lenders want to make sure that they get their money back, so they need a way to reduce their risk. They do this by requiring you to provide a security deposit to get a secured card.
When you apply for the SunTrust Secured Credit Card, you'll receive a decision outlining your potential maximum credit limit.
It will also include information about the security deposit required.
Collateral held in a savings account
Before you receive the card, you have to provide the security deposit.
For example, you may be approved for a credit limit of $500, so long as you can provide a $500 deposit.
SunTrust will require that you open a special savings account and deposit $500 before giving you the card.
Once you've proven that you're trustworthy enough to have an unsecured card, you can get your deposit back.
No Online Applications
An obstacle:
One thing to know about the SunTrust Secured Credit Card is that you can only apply for the card by visiting a branch or by phone.
You cannot apply for the card online.
If you want to open the card you should visit your nearest branch. A banker there can walk you through the application process.
Make sure that you are ready to provide the security deposit when you apply. You don't want things to be held up because you aren't able to provide collateral.
Annual Fee
No surprise:
Many secured credit card have a small annual fee.
The SunTrust Secured Credit Card is no different.
It charges an annual fee of $32, which is close to what many other secured credit cards charge.
That's why it is important to stay on track with your credit improvement so that you can transition to an unsecured credit card that won't have an annual fee.
How Does It Compare?
There are hundreds of different credit cards on the market.
Each has its own perks, rewards, benefits, and target audience. When you're looking for a new credit card, take the time to consider your options.
Secured credit cards are a unique portion of the credit card market.
They're targeted towards people with poor or no credit, and these people tend to not have many other options because they won't qualify for better cards. This means that secured cards tend to have lower limits, worse perks, and higher fees.
Look:
The SunTrust Secured Credit Card stands out from the crowd thanks to its rewards program.
You can get an effective 1.5% - 3% cash back on your purchases thanks to the bonuses you can get from redeeming your cash back directly to a SunTrust bank account.
This rewards rate is on-par with many of the most popular rewards cards for people with good credit.
But, it is still smart to shop around.
When comparing secured credit cards, you should look at the following factors:
Annual fee
Maximum credit limit
Security deposit policy
Interest rates
The Final Verdict
The SunTrust Secured Credit Card is a compelling choice for people who need a secured credit card. It offers cash back rewards, which is rare among secured credit cards.
People who want to rebuild their credit would be well-served by this card.
It is relatively easy to qualify for and provides many of the perks of cards for people with better credit.
If you already have good credit, you can get a card that offers similar rewards without the need to provide collateral or pay an annual fee.