Uber Visa Rewards Credit Card Review
Learn more about the details of the Uber Credit Card and compare its fees and rewards program to the top rewards credit cards offered right now.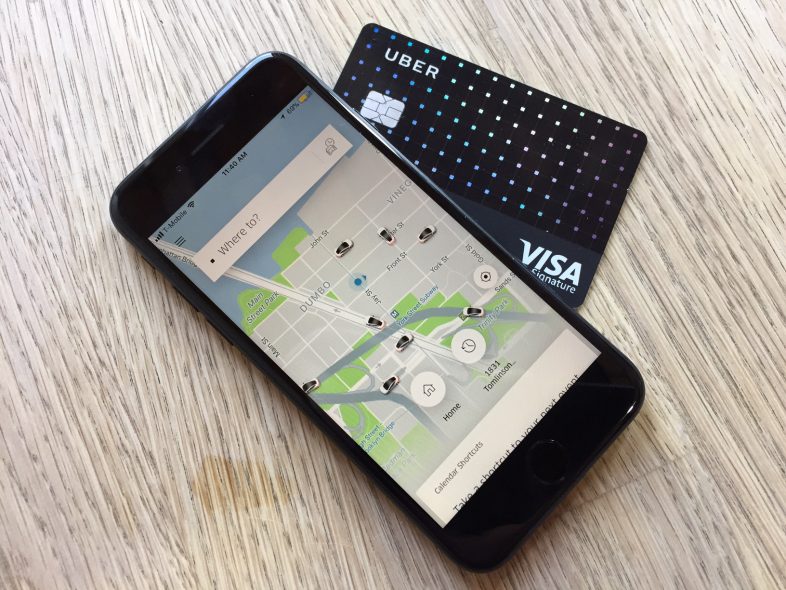 Uber Visa Credit Card
When you need a ride, Uber can get you where you need to go.
The popular ride-hailing service also happens to have a credit card that offers rewards on dining, shopping, and travel (including Uber rides, obviously).
The Uber Visa credit card doesn't have an annual fee. And, there's an introductory points bonus for new members who meet the minimum spending requirement.
In addition to cash back rewards, cardmembers also get some nice extras such as mobile phone protection and online subscription credit that add to its value.
You can also get special access to exclusive events and offers.
The Uber Visa card is designed with Uber riders in mind but it's still worth a look if you dine out or travel regularly.
Learn whether the Uber Visa's rewards and card features are a good fit for your spending style.
Earn 4% Back on Dining Out With No Annual Fee
If you live a fast-paced lifestyle, you may eat dinner out more often than you do at home.
The Uber Visa pays you back for those purchases, by giving you 4% back (or 4 points per $1) on dining at restaurants, fast food chains, bars, and UberEATs.
UberEATs is Uber's online food ordering and delivery platform. It partners with restaurants in over 100 cities worldwide to bring dinner right to your door.
So, why is 4% back on dining out such a big deal? Simple. It's rare to find a card that pays that much in rewards at restaurants.
Most rewards cards pay 2%-3% in rewards on dining. The cards that offer upper tier rewards at restaurants often come with a sizable annual fee.
The Uber Visa supercharges your ability to earn rewards when you eat out, without an annual fee taking a bite.
Earning Additional Rewards With the Uber Visa
Restaurants aren't the only place you can rack up rewards with your Uber Visa card. This card also offers:
3% back on airfare, hotels and travel agency bookings, including stays at Airbnb properties
2% back on online purchases, including shopping at retailers like Amazon and WalMart, Uber purchases, online services purchased from Angie's List and TaskRabbit, video, and music streaming services like Netflix and Pandora, and mobile app or digital download purchases
1% back on all other purchases
As you can see, this card offers many opportunities to earn rewards on everything you spend.
Like many other credit cards with sign-up bonuses, this card also comes with an introductory bonus available for qualifying members.
The bonus is comparable to what other rewards cards offer and you don't have to spend a lot to qualify.
Outside of the introductory bonus, there's no limit on the amount of rewards you can earn.
That could make this card a great choice for someone who travels locally using Uber or takes trips further away from home, spends a lot of time shopping from their mobile device or eats out a few times a week.
Redeeming Uber Visa Rewards
Knowing how you can earn rewards is one half of the equation; the other is knowing how you can use them.
There are four options for redeeming Uber Visa rewards:
Gift cards
Cash deposits into a checking or savings account
Uber credits for Uber rides or UberEATs purchases
All four redemption options have a flat 1 cent per point value.
That keeps things simple, which is good if you don't want to try to figure out whether one redemption option is more valuable than other.
On the flip side, that may be a downside since there are some cards that may offer more value for travel redemptions.
Redeeming rewards is as easy as logging into the Uber app. Rewards earned post to your account within a day and you can begin using them once you hit the minimum redemption threshold.
You'll need at least 500 points to redeem for $5 in Uber rides or UberEATs purchases.
For cash back, statement credits and gift cards, redemptions start at 2,500 points for $25.
Based on that structure, we'd say this card is better for someone who plans to use rewards primarily for Uber purchases, since it may not take you as long to accrue the necessary points.
Get a $50 Subscription Credit
The Uber Visa is meant to appeal to people who live a digital lifestyle. As an added incentive, cardmembers enjoy a $50 subscription credit when they spend $5,000 or more annually.
That credit can be applied to a number of subscription services charged to your card, including:
Amazon Music
Amazon Prime
Apple Music
Audible
DirecTVNow
Google Music
HBO Now
Hulu
Netflix
Pandora
Shoprunner
SiriusXM
Spotify
The one standout on that list is Amazon Prime. If you're paying $99 a year for Prime services, the Uber Visa essentially gives you a 50% discount on that fee.
That's a big plus that you won't find with other cards. Just remember, you have to charge at least $5,000 a year to qualify for the $50 credit, which breaks down to $416 and change each month.
Your Mobile Phone Is Covered
Paying your cellphone bill with your Uber Visa can yield an unexpected reward. Not only would you earn 1% back when you pay your bill but you get built-in mobile phone protection. Uber covers you for up to $600 against damage or theft.
This protection covers all the lines on your account, for up to two claims per year with a maximum of $600 per claim
If you're paying your mobile provider $5 or $10 a month for insurance, putting your monthly payments on your Uber Visa could save you $60 to $120 per year.
Uber Visa APR and Fees
As mentioned already, the Uber Visa has no annual fee. It also has no foreign transaction fee. That's good if you plan to use your card outside the U.S.
Unlike some rewards cards, this card doesn't have a 0% introductory annual percentage rate for purchases or balance transfers.
The regular variable APR for both transactions is based on your creditworthiness. A higher APR applies to cash advances.
Compared to other cards, the APR range is about what you'd expect. Ideally, you should be planning to pay off your balance in full each month to avoid interest charges.
What Card Protections Are Available?
The Uber Visa does include an EMV chip for added security. It's a little light on other protection features, however.
For example, you don't get things like:
Extended warranty protection
Purchase protection
Travel accident insurance
Trip cancellation coverage
Lost luggage reimbursement
These kinds of benefits are standard with many rewards cards that are designed for travelers. Ultimately, you'd have to decide whether the other card's features outweigh forgoing these add-ons.
Uber Visa vs. Other Rewards Competitors
There's a lot to like about the Uber Visa. Before you apply, however, take a look at three other dining and travel rewards options:
Savor® Rewards from Capital One®
The is a foodie's dream. This card offers 3% cash back on dining, 2% cash back on groceries and 1% cash back on all other purchases.
The card has no annual fee and there's an introductory cash bonus for new members. Compared to the Uber Visa's bonus, this card gives you a little more bang for your spending buck.
Another big difference between the two is the introductory APR for both purchases and balance transfers. But, the Uber Visa would give you more mileage in terms of rewards on Uber purchases and other online shopping.
Read the Capital One Savor Cash Rewards editor's review.
Chase Sapphire Reserve
The offers some impressive benefits, including 3X points on travel and dining, a very generous introductory bonus and elite travel perks like Global Entry fee credit and complimentary lounge access.
Members also get a $300 annual credit towards travel purchases. This card is geared towards jet setters but there's one potential snag: a $550 annual fee.
That makes it a much more expensive option for earning dining and travel rewards compared to the Uber Visa.
Read the Chase Sapphire Reserve editor's review.
Costco Anywhere Visa
The a rewards members with 4% cash back on gas purchases, 3% cash back on restaurant and travel purchases, 2% cash back on Costco purchases and 1% cash back on everything else.
There's no annual fee but you do have to maintain your Costco membership each year. The biggest downside of this card has to do with redemption: members receive a reward certificate once per year.
Rewards can be redeemed for cash or Costco purchases. The Uber Visa, on the other hand, gives you more flexibility on when and how you can use rewards.
Read the Costco Anywhere Visa editor's review.
Final Verdict: Should You Get the Uber Visa Card?
The Uber Visa could be a solid pick for frequent Uber users or anyone who wants a higher rewards rate on dining purchases.
This card is also good for online shoppers or someone who regularly uses online subscription services.
This card may be less useful to someone who's looking for a higher rewards rate on travel or doesn't mind paying an annual fee to take advantage of premium travel benefits.
Bottom line, this card might be best for the Uber crowd or anyone else who stays on the go.
Compare Best Accounts Now