U.S. Bank Cash+ Visa Signature Credit Card 2023 Review
The U.S. Bank Cash+ Visa Signature credit card is reviewed for its 5% cash back program that lets you choose the categories for high cash rewards.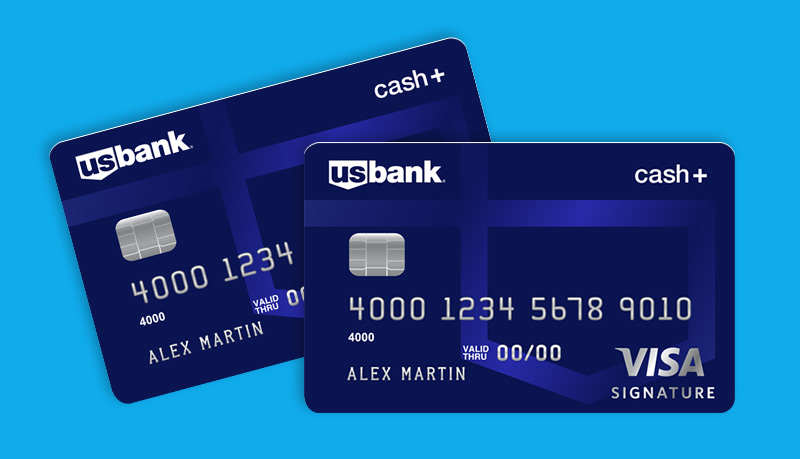 U.S. Bank Cash+ Visa Signature Credit Card
Earning cash back with a rewards credit card is an easy way to save on the things you buy. It's even better when you can pick and choose which purchases you want to earn the most cash back on.
The lets you decide which spending categories you want to get the biggest cash back bonus in.
This card is an excellent choice for everyday spenders who want the most value possible out of their cash back rewards.
Cash back rewards, no annual fee top the list of main features
When you're comparing cash back credit cards, it's easy to assume that they're all the same. It's not until you take a look at their finer points that you see what makes one card more of a stand out than others.
U.S. Bank Cash+ Visa Signature Card Pros & Cons
Customized cash back rewards: The best reason to choose this card
The main highlight of the U.S. Bank Cash+ Visa Signature Card is its cash back rewards program.
This card offers cash rewards at three different levels and every single purchase earns at least 1% cash back. Here's a brief overview of the rewards you can earn:
5% cash back on the first $2,000 in net purchases each quarter on two categories you choose
2% cash back on one everyday category you choose
1% cash back on all other purchases
At the 5% cash back bonus level, the spending categories include:
Selected clothing stores
Cell phone services
Electronics stores
Car rentals
Bookstores
Fast food restaurants
Department stores
Movie theaters
You get to choose two of these each quarter and they rotate regularly so you can swap them out, depending on how your spending habits change.
Tip: Use your card at electronics stores and bookstores to earn cash back when you pick up gift cards to your favorite merchants. For example, Best Buy sells gift cards to major retailers and restaurants like Amazon, Starbucks and Chili's.
At the 2% bonus level, you have three categories to choose from: gas stations, grocery stores and restaurants.
Remember, you only get to pick one so consider how much you spend on gas, groceries and dining out each month to make sure you're getting the most bang for your buck.
Another important caveat to keep in mind is that you have to choose your 5% and 2% bonus categories every quarter.
If you don't log-in to your online account and update your selections every three months, you'll only earn 1% back on everything you spend.
In case you need a little more convincing, here's an example of how much money you can earn back with this card each year.
Let's say you max out the 5% bonus every quarter, spend $5,000 at the 2% bonus level and another $3,000 at the 1% level. That adds up to:
$8,000 x 5% back = $400
$5,000 x 2% back = $100
$3,000 x 1% back = $30
Total cash back: $530
While the 5% bonus is limited to $8,000 in purchases each year, there's no limit on how much cash back you can earn in the 2% and 1% categories.
If you're a heavy spender who does a lot of shopping at grocery stores or gas stations or you plan to use the card for travel, the sky's really the limit on how much cash back you can rack up.
Card rates and fees explained
Any time you're thinking of getting a new credit card, you want to read the fine print first.
We've summed up the most important things you need to know about the U.S. Bank Cash+ Visa Signature Card's rates and fees.
Annual percentage rate (APR)
Your ongoing APRs for purchases and balance transfers are based on your credit so you'll need a higher score to lock in a lower APR.
Interestingly, the card has no penalty APR, which means your interest rate won't increase because of a late payment.
If you think you may carry a balance on the card at any point, calculate how much the interest will cost first.
Over time, the amount you pay in interest could negate any cash back rewards you're earning.
U.S. Bank Cash+ Visa Signature Credit Card Fees
| U.S. Bank Cash Visa Signature Credit Card | Fee |
| --- | --- |
| Annual fee | None |
| Balance transfer fee | $5 or 3% of the transfer amount, whichever is greater |
| Cash advance fee | 3% to 4% or a minimum of between $5 and $20, based on the advance amount and transaction type |
| Late payment fee | Up to $37 |
| Foreign transaction fee | 3% for transactions completed in a foreign currency |
| Returned payment fee | Up to $35 |
| Overlimit fee | None |
As you can see, the U.S. Bank Cash+ Visa Signature Card has quite a few fees to be aware of.
The 3% foreign transaction fee, in particular, is one you want to pay attention to if you're planning on using this card for an international trip. That fee adds another $30  to every $1,000 you spend outside the U.S.
Additional Card extras
To round out our review, here are the details on everything else the U.S. Bank Cash+ Visa Signature Card has to offer.
Visa Signature benefits
Visa Signature membership comes with a laundry list of perks and protections, including:
24/7 concierge service
Complimentary discounts and upgrades at top hotels, resorts and cruise lines
Discounts when you shop at select premium retailers
Exclusive access to selected sporting and entertainment events, including discounted golf packages
Lost luggage reimbursement
Car rental damage insurance
All of these are included in your account at no extra charge and they can come in handy if you're traveling or just hoping to enjoy a night on the town.
Fraud protection
U.S. Bank protects your Cash+ Visa Signature Card in a few different ways. First, they offer constant account monitoring to look for signs of fraudulent activity.
U.S. Bank credit cards also come with a built-in EMV chip, which ensures your information is secure when you pay at the checkout.
If your card ends up being compromised, you won't be held responsible for any charges an identity thief makes. U.S. Bank offers card members a $0 liability guarantee on unauthorized purchases.
Overdraft protection
Existing U.S. Bank customers have the option of linking their checking account to their U.S. Bank Cash+ Visa Signature Card as a form of overdraft protection.
If you don't have enough cash in checking to cover a debit card purchase, your U.S. Bank Cash+ Visa Signature card is there to cover it so you don't get hit with an expensive overdraft fee.
There's no added cost to take advantage of this benefit.
Compared to Other Cash Back Credit Cards
This a long list of credit cards on the market that offer plenty of bonus cash back opportunities based on your spending patterns.
Here are some to consider as well:
Chase Freedom
The  offers 5% cash back in certain categories, which rotate on a quarterly basis.
These categories tend to be very appropriate during those months. And, all other purchases earn 1% cash back. 
The card has no annual fee and you can earn bonus cash back at select online merchants through the Chase Ultimate Rewards portal.
Read the Chase Freedom editor's review.
Citi Double Cash
The  is a simple cash back credit card that offers an effective 2% cash back on all spending.
If you don't quite have a recognizable pattern of purchases in certain categories, this is the optimal general-purpose cash back card.
Plus, it has no annual fee.
Read the Citi Double Cash editor's review.
Final Verdict
The is a natural choice for anyone who desires more control over their cash back rewards.
This card packs a lot of earning potential and the lack of an annual fee just makes it that much more appealing.
On the other hand, we wouldn't encourage you to pick this card if you do most of your spending on travel. For that, a travel rewards credit cards would be more appropriate.