The Best Credit Cards For Travel to Argentina
Find out which credit cards are the best for earning free travel to Argentina and learn the tips for using credit cards during your trip.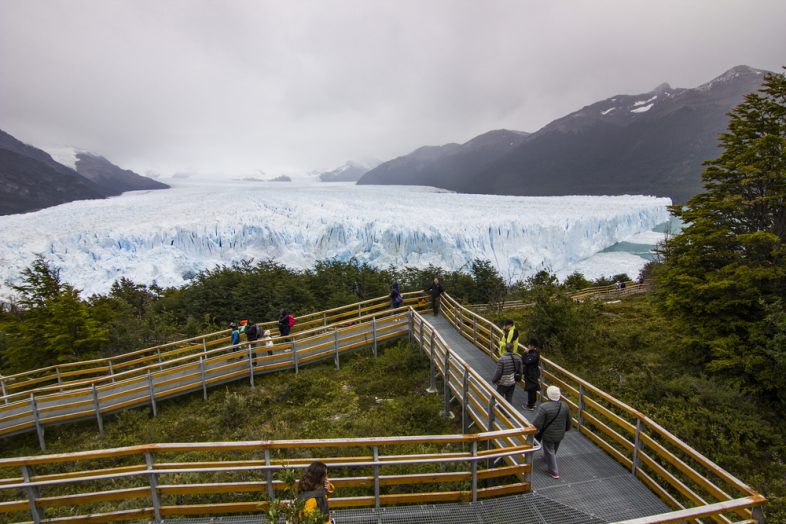 Argentina is a magnificent destination for a vacation. Buenos Aires has a European feel to it and is the perfect jumping off point for everything from adventures in glacier-strewn Patagonia to a relaxing time enjoying wine in Mendoza.
But if you scratch the surface recent Argentine history, you'll learn that it's had difficult economic times in recent years.
It suffered through a great depression at the turn of the century, and it's survived a currency crisis over the last few years.
Before my trip to Argentina in 2013, my family there told me that the government was fixing the currency at an unnatural exchange rate for any bank transactions.
This meant that travelers would receive a very unfavorable exchange rate when they purchased anything using a credit card.
And it was easy to receive several times more Pesos exchanging U.S. dollars on the street than you could from an ATM machine.
Knowing this, we brought hundreds of U.S. Dollars in cash with us that we exchanged and used daily. In fact, we never even touched our credit cards.
But in 2015, Argentines elected president Mauricio Macri that floated the currency, resulting in a massive devaluation.
As before, Argentina remains a bargain for US travelers, although the favorable exchange rate is somewhat tempered by inflation.
And most importantly for visitors, you can use your credit card again without getting a horrible exchange rate.
The Best Frequent Flyer Programs for Free Trips to Argentina
Argentina can be a tough frequent flyer award to book from the United States.
First, the country really has only one intercontinental gateway, Buenos Aires. And although Delta, United, and American all offer service to Buenos Aires from their largest hubs, they don't make a lot of award space available at the lowest mileage levels.
You might get lucky and find some, but it wouldn't be a great strategy to save miles just for that rare opportunity.
There are also two South American carriers that offer non-stop service to Argentina from the United States.
Aerolineas Argentinas is the national carrier of Argentina, and it offers non-stop service from Buenos Aires to New York-JFK and Miami.
Aerolineas Argentinas is a member of the SkyTeam Alliance, which includes partners such as Delta and Air France/KLM. It's also known to offer a fair amount of award space between the U.S. and Buenos Aires.
LATAM, which is the result of a merger between the airlines LAN and TAM, also offers service to New York-JFK and Miami.
It's a member of the OneWorld alliance, which includes American Airlines.
However, you will find award space to be somewhat rare on their non-stop flights to Buenos Aires, but a little better on flights that connect through their other South American hubs.
But with either Aerolineas Argentinas or LATAM, you can usually find plenty of available award seats from Buenos Aires to other destinations within Argentina and neighboring countries.
Choosing the right credit card to earn your award trip to Argentina
As with any big award trip, you might want to start with a credit card that offers you more points and miles to add to any program you already have rewards in.
Another strategy is to use a program that allows you to transfer your rewards to miles with several different other airlines.
Here are a few of the best credit cards you can use for an award trip to Argentina:
Chase Sapphire Reserve
Chase Sapphire Reserve comes with a large sign-up bonus and you also receive 3x points for all travel and dining purchases, and one point per dollar spent elsewhere.
This card's rewards come in the form of Ultimate Rewards points, which can be transferred to miles with seven different frequent flyer programs.
To get to Argentina, one option is Korean Airlines, which is a SkyTeam members.
This allows you to book award tickets on Delta, Aerolineas Argentinas, and AeroMexico. Korean charges 50,000 miles round-trip in economy class, and 110,000 in business.
Another option is to transfer your miles to British Airways, which is part of the OneWorld alliance, along with American and LATAM.
The British Airways award chart is distance based, so the miles required will vary based on the route you take.
British Airways miles are also great for flights within the country on LATAM Argentina. Flights start at just 4,500 miles each way for trips under 650 miles.
Just note that most domestic flights from Buenos Aires depart from Aeroparque Jorge Newbery, a smaller airport in downtown, not from Ministro Pistarini International Airport on the outskirts of the city.
For example, a round-trip flight from Buenos Aires to Mendoza is just 609 miles, so can book an award there for just 9,000 British Airways miles.
Finally, it's worth considering that you can redeem Ultimate Rewards points directly for airfare using the Chase Ultimate Rewards travel center.
Points from the Sapphire Reserve are worth 1.5 cents each, so a $1,000 trip to Argentina would be only 66,000 points.
There is a $550 annual fee for this card, but since you also get a $300 travel credit each calendar year.
Tips for Using Credit Cards in Argentina
You can use any MasterCard, Visa, American Express, or Discover card in Argentina, although American Express and Discover are less widely accepted.
During Argentina's currency crisis, the country became more of cash based society, so you should certainly carry cash just in case you need to make a purchase from a merchant that doesn't accept credit cards.
And while the exchange rate you will receive from your credit card is much better than it used to be, it still might be possible to exchange money informally at a better rate that the official one.
If you exchange money outside of a bank, you should only do so with someone referred to you by a trusted person, such as a friend, family member, or your hotel staff. And even then, you have to be especially concerned about receiving counterfeit currency.
Counterfeit bills tend to be larger bills and are found more often in Buenos Aires than in other parts of the country.
Also, make sure you bring newer American Dollars in good condition since many are hesitant accept worn or torn currency.
As with any travel outside of the United States, you will want to use a card that has no foreign transaction fees, like the ones I mentioned in this article.
Sadly, many credit cards still impose a 3% foreign transaction fee on all charges processed outside of the United States.
Argentina is a safe, fun, and affordable destination for Americans.
By using the right credit card to earn points and miles, you book an award flight there and have even more money left over to enjoy the country.