The Best Credit Cards for Travel to Lithuania
Learn more about how credit cards work in Lithuania and find out which credit cards are the best when traveling there.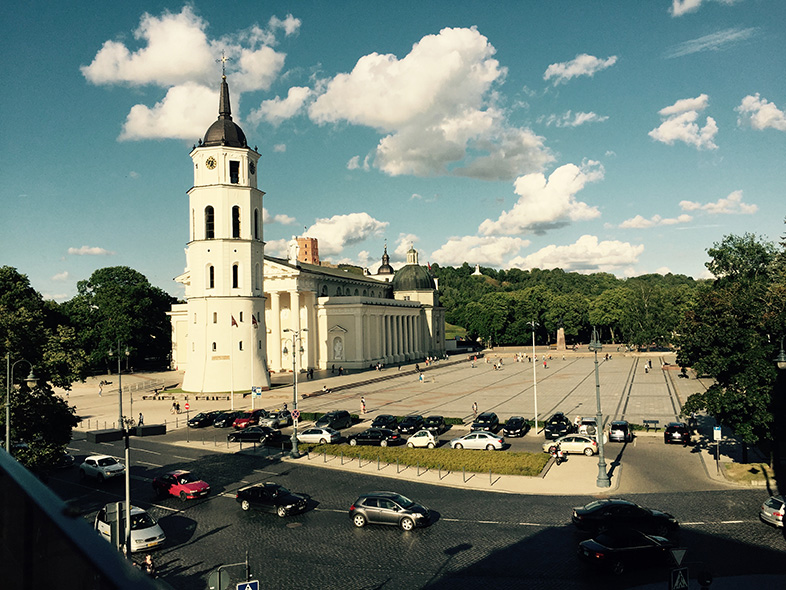 Lithuania is an underappreciated destination at the southern end of the Baltic Sea. Yet those who visit return with stories of a vibrant capital of Vilnius, compelling historical sites, and a coastline filled with miles of beautiful beaches.
But Lithuania is not an easy place to get to. This small nation is not served by any U.S. airline, and there aren't any non-stop trans-Atlantic flights there.
Furthermore, the country's primary airport in Vilnius doesn't even have service from all the major European airlines.
Because Lithuania is such an out of the way destination, it's a good idea to use your credit card rewards to get there, rather than pay out of pocket.
There are plenty of ways to earn credit card rewards that you can use for an award trip to Lithuania.
Find out which are the best credit cards to use to earn rewards towards a Lithuanian vacation and which cards you should use when you get there.
Chase Sapphire Preferred
In addition to a generous introductory bonus points offer, Chase Sapphire Preferred has a rewards program that caters to spenders who travel and dine out regularly.
Rewards are earned in the form of Chase Ultimate Rewards points, which can be transferred to miles with seven different frequent flyer programs, and three hotel programs.
To travel to Lithuania, one option is to transfer your miles to Korean Airlines, which is a member of the SkyTeam alliance which includes Delta, Air France, KLM, and Aeroflot.
However, you will have to fly Aeroflot the last leg of your trip to Lithuania, as it's the only SkyTeam carrier that serves Vilnius.
Fortunately, Moscow is less than 500 miles from Vilnius, so the flight is just over an hour long.
The Korean Air Skypass frequent flyer program allows you to book award tickets to Europe for just 50,000 miles round-trip in economy class, and only 80,000 in business.
Just be aware that Korean Air only allows you to book awards in the name of yourself or an immediate family member, including spouses, parents, grandparents, grandchildren children, and siblings. No friends or cousins allowed, and they even ask you to document your relationship.
You could also transfer your points to miles with Flying Blue, which is the frequent flyer program of Air France and KLM.
Like Korean Air, Flying Blue is part of the SkyTeam alliance along with Delta and Aeroflot.
It offers economy class award flights to Lithuania for 50,000 miles round-trip, and business class awards starting at 125,000 miles.
United Airlines is also a transfer partner of Chase. It offers award flights to Vilnius starting at 60,000 miles round-trip in economy and 115,000 in business class, so long as you cross the Atlantic on a United-operated flight.
When the trans-Atlantic flight is on one of United's Star Alliance partners, such as Lufthansa, Austrian, Air Canada, and Swiss, awards are 140,000 miles round-trip.
This may be the best frequent flyer program to get an award flight to Lithuania, as its partners Austrian, Brussels, LOT Polish, Scandinavian, and Turkish all fly to Vilnius. And of course, you can mix and match airlines to get you there from the United States.
Use points when booking through Chase
And if you are planning on visiting Lithuania outside of the peak season, it's worth considering that you can redeem Ultimate Rewards points directly for airfare using the Chase Ultimate Rewards travel center.
Points from the Sapphire Preferred are worth 1.25 cents each, so a $1,000 flight to Vilnius would cost only 80,000 points.
You can also use these points to book hotels, car rentals and activities in Lithuania.
There is a $95 annual fee for this card, and no foreign transaction fees.
Capital One Venture Rewards Credit Card
Another way to earn an award trip to Lithuania is to just forget about earning miles from the airlines and earn just flexible award miles instead.
The  offers 2x miles per dollar spent. Miles are worth one cent each as statement credits towards any travel reservations.
If you are able to find a discounted, off-season ticket to Lithuania these miles could go further than traditional airline miles.
For example, you could find a discounted flight to London, and then fly on an ultra-low cost carrier to Lithuania.
Ryanair and Wizz Air (yes, that's the name of a real airline), fly to both Vilnius and Kaunas airports in Lithuania.
You can think of these airlines as the European equivalents of Spirit or Frontier.
So you can expect extremely low ticket prices, but a myriad of fees for baggage, food, and many other "extras."
Also, keep in mind that Ryanair and Wizz Air both fly to Lithuania from London's Luton airport, which is smaller and more distant that Heathrow or Gatwick.
And unlike most airline miles, the miles from the card can also be used to cover any additional taxes and fees, so your total cost for your flights can actually be zero.
Also, you can also use miles to pay for hotels, car rentals, and tours. There's a $95 annual fee for this card that's waived the first year and no foreign transaction fees.
Using the Right Credit Card in Lithuania
Credit cards are widely accepted in Lithuania, but it's not as universal as it is in America or other countries of the European Union.
Nearly all merchants in Lithuania that accept credit cards take Visa and MasterCard, and many will accept American Express. However, the Discover card isn't widely accepted.
If you will be renting a car, you will want to use a credit card that comes with rental car insurance.
Thankfully, all of the cards mentioned here include a rental car collisions damage waiver insurance when you decline the optional policy offered by the rental car company.
Minimize fees for using your card
As with any trip outside of the United States, you'll want to make sure to use a credit card with no foreign transaction fees.
All of the cards mentioned here have no foreign transaction fees, but many other cards still impose a ridiculous 3% foreign transaction fee on all charges processed outside of the United States.
You also need to be extremely careful to avoid a scam called dynamic currency conversion.
This "service" is marketed to merchants as a way to increase their profits at your expense.
You are supposed to be asked if you would like the charge made in your home currency, which sounds innocuous.
But if you agree, then your bill will be marked up by as much as 6%, just to display the price in U.S. dollars on your receipt.
Bottom line
Lithuania can be a difficult country to fly to, but travelers who have been there say that it's worth the journey. By choosing the right travel rewards credit card, you can visit this Baltic nation even soon than you might have thought.