Hazard Insurance: How Does It Cover Your Home?
Learn how hazard insurance works as part of your overall homeowners insurance policy, especially if you have an existing mortgage on your property.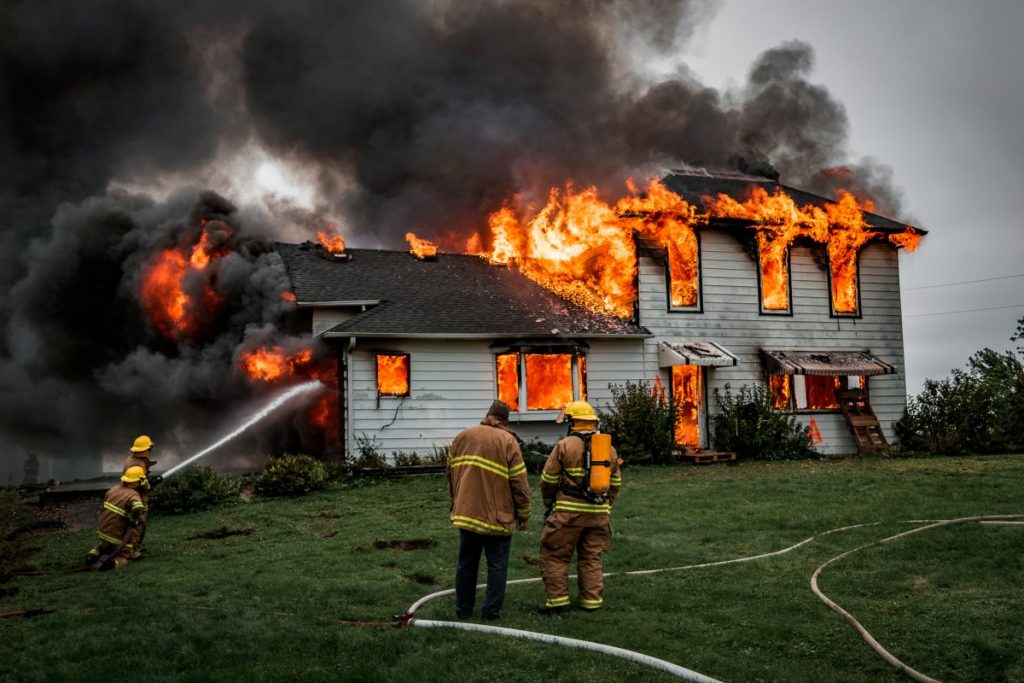 Most homeowners know the value of homeowners insurance. These policies protect against losses or damage to their home, and provide other protection to reduce their out-of-pocket expense.
If you're buying a home, though, your mortgage lender will require hazard insurance. But while it might appear that you'll need two separate policies to protect your home, you don't.
Although lenders tell borrowers to buy hazard insurance, it's important to note that standard home insurance policies automatically include hazard protection.
Hazard insurance covers the actual structure or dwelling, and it's commonly known as dwelling coverage.
Here's what you need to know about hazard insurance, including what it does and doesn't cover.
Why Do Mortgage Lenders "Single Out" Hazard Insurance?
Since standard home insurance policies cover hazards, to avoid confusion couldn't lenders simply ask borrowers to buy homeowners insurance?
Technically, yes.
However, hazard insurance or dwelling coverage is the only type of coverage mortgage lenders care about.
They're not concerned about your personal belongings or whether you have liability protection.
They're only concerned with the part of the policy that protects their financial interest. So they typically single out dwelling coverage, even though it's standard with any home insurance policy.
What is Hazard or Dwelling Coverage?
What exactly is hazard insurance or dwelling coverage, though?
This is the most important part of any home insurance policy because it protects the actual home.
If a covered peril damages or completely destroys the property, dwelling coverage pays the cost to rebuild or repair the home.
But, the good news:
It doesn't only protect the actual structure.
Hazard or dwelling coverage also protects "other structures" on the property. This includes a fence, a detached garage, or maybe a shed.
For example, let's say lightning strikes your outdoor shed and burns it to the ground. Rather than pay the replacement cost out-of-pocket, the dwelling coverage part of your home insurance policy helps cover the expense.
Protection for other structures is 10 percent of your dwelling coverage.
Types of perils included with hazard insurance
It's important to note that hazard insurance or dwelling coverage doesn't cover every possible event that damages or destroys your property.
Home insurance policies only cover certain types of perils.
Policies vary, but perils fall under either "named perils" or "open perils."
These perils impact coverage. So it's necessary to understand how they differ.
With named perils, your policy only covers hazards resulting from one of 16 named perils. Common named perils include:
Fire
Lightning
Hailstorms
Windstorms
Explosions
Theft
Vandalism
Falling objects
Damage from vehicle or aircraft
Open peril provides more protection and covers everything except perils specifically excluded from the policy. These type of exceptions might include:
Earth movements such as earthquakes or sinkholes
Neglect
Certain types of water damage
Mold
Wear and tear
Rodent or insect infestation
Wars
Dwelling coverage or hazard insurance typically provide open peril coverage. But, damage to personal property typically falls under named perils.
In other words, your insurance company will only pay to replace personal property that's damaged by a named peril.
Coverage amounts
As far as coverage amount, you need enough dwelling coverage or hazard insurance to completely rebuild your house in a worst-case scenario event.
Worst-case scenarios might include a fire completely destroying your home, or perhaps a hurricane destroying your home.
Keep in mind:
You'll need to notify your insurer after making significant improvements to your home. Sometimes, it's necessary to increase your amount of dwelling coverage.
For example, you might renovate your kitchen or other areas of your home with high-quality materials. Or, you might increase your living space or square footage. This can happen after a room addition or finishing your basement.
These changes will increase the cost to rebuild your home.
What doesn't hazard insurance cover?
Unfortunately, hazard insurance or dwelling coverage doesn't cover everything.
Many standard home insurance policies will cover damage caused by windstorms or named storms.
So if a hurricane or tornado damages your home, the policy pays the repair or rebuild cost.
However, in some areas hit hard by tornadoes or hurricanes, some insurance providers have started to exclude windstorm protection. In which case, you would have to buy separate windstorm coverage.
If you live in an area prone to hurricanes or tornadoes, confirm whether your policy offers this protection.
Also, standard home insurance policies do not cover floods or earthquakes. If you live in a flood zone, you must purchase a separate flood insurance policy.
You can get a policy through the National Flood Insurance Program. Or, you might be able to add a flood rider to your existing policy.
The same applies for earthquakes and other earth movements. You will need separate coverage to protect against earthquakes or sinkholes.
How to File a Claim
Be mindful, too, that the amount you receive from your insurance company also depends on your policy.
If you have an actual cash value policy, this means you only receive reimbursement for an item's value at the time of damage. So it takes into account depreciation.
If you have a replacement cost value, you're reimbursed at the full cost. You'll pay less out-of-pocket after filing a claim with replacement cost value. But these policies have higher premiums
To file a claim, the first step is to notify your insurance provider immediately. You'll answer a few questions about the damage, including when it occurred and the cause.
Your insurance company will then send an insurance adjuster to your property to assess the damage. It's their job to decide how much the insurance company should pay for the loss.
Deductibles
If you're covered, you'll then pay a deductible.
This is what you are required to pay out-of-pocket before your insurance provider pays a claim.
Deductibles can range from $500 to $2,500. So if it costs $8,000 to repair damage to your home, and you have a $500 deductible, your insurance provider only pays $7,500.
What Happens If You Don't Buy Home Insurance?
But although your mortgage lender will ask for hazard insurance, do you have to buy a policy?
The short answer is yes—if you're financing your home.
In fact:
Many lenders will require proof of hazard insurance or dwelling coverage before closing. If you don't buy a policy, or if you let your policy lapse after purchasing a home, your mortgage company will buy a policy on your behalf. But these policies tend to be more expensive.
Homeowners insurance isn't required by law, though. So after paying off your mortgage, you're free to cancel your policy, although you probably shouldn't do so.
Other Parts of a Home Insurance Policy
But while dwelling coverage is the most important part of a home insurance policy, other coverage is important, too.
Home insurance also includes personal property coverage. This replaces or repairs personal belongings like clothes, furniture, jewelry, or electronics damaged by a covered peril.
Personal property protection is usually 50 percent to 70 percent of dwelling coverage.
Your policy also provides liability protection.
This protects against injury that occurs on your property, or if you cause damage to another person's personal property.
Liability also helps cover a court-ordered award, if you're sued by an injured party. Standard home insurance policies offer $100,000 in liability protection. Depending on your assets, you can increase your policy to $300,000, $500,000, or $1 million.
You also receive loss of use protection.
If your home because uninhabitable after a covered peril, this part of your policy pays your additional living expenses. This includes hotels, temporary rental housing, and even meals. Loss of use coverage is 20 percent of your dwelling coverage.
Tips for Getting Low-Cost Hazard Insurance
Shop around and compare home insurance policies. You should get a quote from at least three different insurance providers.
Increase your deductible. Typically, the lower your deductible the higher your monthly premium.
Maintain good credit. Insurance providers often offer lower rates to applicants with good credit.
Bundle and save. You'll receive a discount if you have multiple policies with the same provider.
Periodically review your policy. Each year, reassess your insurance needs before renewing your home insurance policy. This ensures you maintain adequate coverage, and it lowers the risk of being overinsured
Conclusion
Hazard insurance is required by mortgage lenders, but getting coverage doesn't involve buying a separate policy.
Standard home insurance already includes hazard insurance, also known as dwelling coverage.
But although included in your policy, it's important to review your insurance needs from time to time to make sure you maintain enough coverage to completely rebuild your home—just in case.