Does Homeowners Insurance Cover Termite Damage?
Find out whether your homeowners insurance policy will cover the cost of repairs for significant termite damage in your home or property.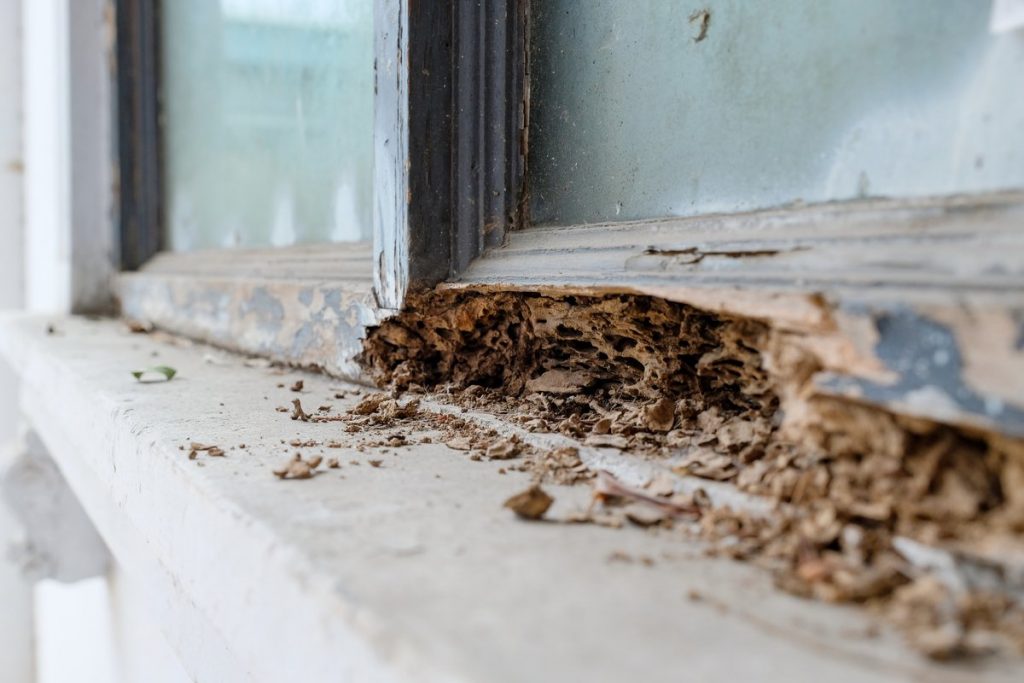 Termites are destructive pests that feed on wood. Although small, these insects can cause extensive damage to a home.
So if you have termites, you need to get rid of the infestation as quickly as possible.
Termites impact the structural integrity of a home, and a severe infestation can cause parts of a home to collapse. This can leave a property unlivable.
If you have to remove termites and repair your home, you might ask: Does homeowners insurance cover termite damage?

Here's what you need to know about termite damage, including whether your home insurance policy will cover the cost to fix your home.
Does Homeowners Insurance Cover Termite Damage?
Unfortunately, though, homeowners insurance doesn't typically cover termite damage.
Still, home insurance is a need-to-have policy as a homeowner.
The same way auto insurance protects an automobile and health insurance protects against high medical costs, home insurance protects your home against a variety of perils.
A home is an important investment, so it only makes sense to have a policy as financial protection. If not, you would have to pay certain damages out-of-pocket.
Home insurance protects your dwelling and personal property, and it also provides loss of use coverage and liability protection. But it doesn't offer protection against insect infestations.
So while termite infestations are common and can cause major damage to a home, you'll most likely pay the repair cost yourself.
Not only does home insurance not cover termite damage, it doesn't cover other certain types of damage, too.
For example, a standard policy doesn't cover water damage caused by exterior flooding. In addition, your policy doesn't cover wear and tear, nor does it typically cover mold damage.
The only exception is when a covered peril causes mold.
When Does Home Insurance Cover Termite Damage?
But while you shouldn't expect your home insurance policy to cover termite damage, it might cover this damage in unique circumstances.
Termites are known for feeding on wood, but this isn't the only damage they cause to homes.
Covered perils
Termites can also damage the electrical wires and cables in your interior walls.
And unfortunately, this increases the risk of a fire.
A house fire is a covered peril under a home insurance policy. In this situation, your policy would cover the damage and rebuild your home.
Your policy might also cover termite damage triggered by a covered water leak. Moisture attracts certain types of termites. So if a pipe breaks and causes interior water damage, and this leak leads to a termite infestation, your policy might cover the cost.
In both scenarios, the damage falls under the dwelling portion of your home insurance policy.
Standard home insurance includes four basic parts. Dwelling coverage is the most important component because it protects the actual home.
You'll need enough dwelling coverage to completely rebuild your home. Your dwelling coverage also protects other structures on the property. These include a detached garage, a shed, a fence, or a swimming pool.
Other Coverage Included With Home Insurance
Dwelling coverage isn't the only protection you'll receive, though. Here's a look at other types of coverage included with a home insurance policy.
Personal property
This covers belongings such as clothes, furniture, electronics, and jewelry. Personal property protection is usually 50 percent to 70 percent of dwelling coverage.
Termites can feed on clothes, too. But since termite damage isn't a covered peril under home insurance, your policy will not cover the cost to replace clothes damaged by these pests.
The only exception is when termite damage causes as a house fire, and the fire destroys your personal belongings.
Loss of use protection
Your home insurance policy also pays additional living expenses if your home becomes uninhabitable after a covered peril.
Covered perils include windstorms, vandalism, explosions, fire, damage by car or aircraft, etc.
Significant termite damage can leave a home uninhabitable. But again, a termite infestation isn't typically a covered peril, so you can't file a loss of use claim in most cases.
Loss of use protection is usually 20 percent of dwelling coverage.
Liability protection
Standard home insurance policies also include about $100,000 of liability protection.
This is necessary if someone becomes injured on your property. The policy will pay their medical expenses and court-ordered awards.
There's the option to increase your liability protection to $300,000 or $500,000. Or, you can buy an umbrella policy up to $1 million.
Keep in mind:
Significant termite damage might cause bodily injury to others.
If a porch or step collapses due to damage, the injured party might file a lawsuit against you. Even though home insurance policies offer liability protection, the policy might not protect you in this scenario.
Can You Get an Insurance Rider to Cover Termite Damage?
Standard home insurance policies offer a lot of coverage, but they don't cover everything.
For example, a standard policy does not provide flood coverage, earthquake coverage, and some policies limit windstorm protection.
Homeowners can add riders or endorsements for added protection, though. This includes getting a separate policy for flood insurance, earth movements, or extra windstorm protection.
Unfortunately, there isn't a rider or endorsement to cover termite damage.
If you're concerned about termites, some pest control companies offer maintenance plans.
Plans vary, but often include an annual termite inspection and treatments.
What to Do If You Have Termites?
Here's what to do if you find termites in or around your home, or if you have termite damage.
File a claim
If you believe a covered water leak attracted termites, or that termites caused a fire in your home, contact your home insurance company to file a claim.
Filing a claim doesn't mean that your insurance provider will pay for damages. The company will send out an adjuster to assess the damage. Based on their assessment, your insurance company will determine whether to pay the claim.
Your provider will not cover damage that results from negligence. This includes failure to have annual termite inspections, or ignoring obvious signs of termites or water damage.
If you insurance company does pay the claim, be mindful of deductibles. This is what you'll pay out-of-pocket before your insurance company pays a claim. Deductibles can range from $500 to $2500.
Contact a pest control company
You must also contact a pest control company to find and remove the termite colony.
Treating a termite infestation can be costly, so get quotes from multiple pest control companies.
Repair damage
Next, you'll need a contractor to repair termite damage.
The cost of repairs will depend on the extent of the damage. If you remove the infestation early, you might have little damage.
Extensive damage might include replacing all termite-damaged wood behind your walls and in your ceiling. Termites can also cause damage to floors, cabinetry, and your foundation.
Tackle moisture problems
It isn't enough to remove the infestation.
You also need to address any moisture problems in the home. Moisture attracts certain types of termites, so make sure you fix leaky pipe and leaky appliances.
How to Prevent Termite Damage
Here's a look at ways to prevent termite damage in your home.
Have annual termite inspections
Termites can go unnoticed while causing major damage to your home.
Schedule annual termite inspections with a pest control company.
Maintain proper drainage
Take steps to minimize moisture around your home and foundation.
This includes extending your downspouts to divert water away from the home, cleaning gutters to prevent a water backup, and keeping mulch and leaves away from your foundation.
Keep firewood away from house
If you stack wood for your fireplace, don't keep the wood in your basement, crawlspace, or up against the house.
Keep it several feet away from your home to reduce the possibility of termites. You should also elevate wood off the ground.
Recognize the signs of termites
Keep an open eye for outward signs of termite damage.
This includes dents in drywall, peeling paint, termite droppings, discarded wings, mud tubes, tight-fitting doors or windows, and exterior wood damage.
Conclusion
Depending on the extent of damage, it can cost tens of thousands of dollars to repair termite damage and get rid of an infestation.
And unfortunately, this cost isn't usually covered by home insurance.
So it's important to take steps to reduce the likelihood of termite damage. Schedule annual inspections to detect problems early and lower the risk of costly home damage.