Does Homeowners Insurance Cover Plumbing, Pipe Leak Damage?
Find out whether your standard homeowners insurance policy will cover damage to your property as a result of plumbing issues and pipe leaks.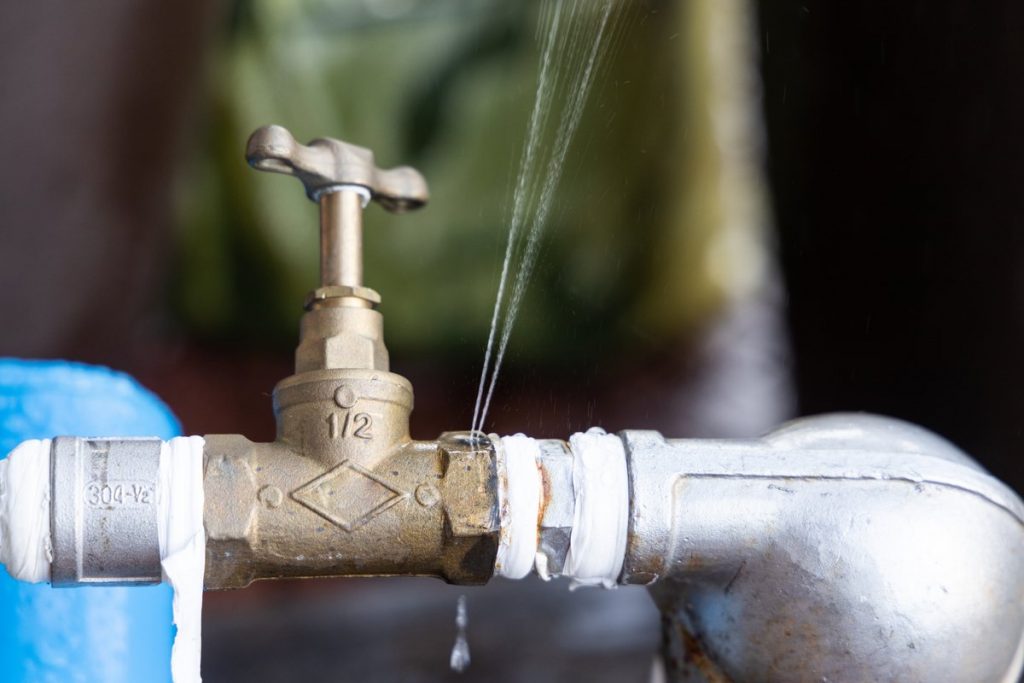 Your property's plumbing system is an integral part of the home and if anything happens to it, there can be major repercussions.
Luckily, homeowners insurance can help protect you (at least financially) from any incidents that cause expensive damage to your property.
Home insurance covers losses and damages caused by many perils. These include windstorms, hailstorms, fire, theft, vandalism, and even water damage.
That said:
They don't cover all types of water damage.
Here's what you need to know about homeowners insurance, including whether it protects against plumbing issues, leaky pipes, and other water-related issues.
Does Homeowners Insurance Cover Plumbing and Pipe Leaks?
Yes, a home insurance policy covers water damage caused by a sudden, unexpected event from plumbing or pipe leaks.
It's estimated that just one inch of water can cause approximately $25,000 of damage.
A pipe in your home might burst and spill gallons of water in between your walls. Or your water heater might burst, causing similar damage.
In both scenarios, your policy pays the repair cost.
Your homeowners insurance policy might also cover water damage from the weight of snow and ice.
Melting snow or ice can severely damage your roof. If so, water can leak into your home.
Dwelling coverage
Dwelling coverage is the most important part of your home insurance policy. When water damage occurs due to a sudden, unexpected event, this part of your policy covers the damage.
Dwelling coverage protects your actual structure or house. So you need enough coverage to completely rebuild your home.
In addition, dwelling coverage also protects other structures on your property. This can include a detached garage, a shed, or a fence. Protection for other structures is 10 percent of your dwelling coverage.
Personal property coverage
Unfortunately, water damage from a sudden, unexpected event doesn't only damage your house. It can also damage your personal property, depending on the extent.
For example, maybe your water heater is in the attic. In this case, your water heater might break while you're at work and flood your home. This can damage your furniture, your clothes, and your electronics.
This is costly, too, yet personal property protection helps cover the cost to replace these items.
Covered items include the aforementioned belongings, as well as jewelry, collectibles, musical instruments, and artwork.
Personal property protection is 50 percent to 70 percent of your dwelling coverage. But there's a few things you need to know about personal property protection.
There are limits to what your home insurance company covers. Depending on your policy, they'll either cover the actual cash value of an item, or the replacement cost value.
With actual cash value, you're reimbursed for the depreciated value of an item. With replacement cost value, you insure the full replacement value of an item.
Typically, insurance providers limit how much they'll reimburse for jewelry and other items.
For example, your insurance company might reimburse jewelry up to $1,500 per item. Yet, your jewelry pieces might be more valuable.
Consider adding a rider to insure the replacement value of high-value items like jewelry and musical instruments. Adding an insurance rider will increase your insurance premium, though.
Loss of use coverage
In the event of significant water damage, you might live elsewhere during home repairs. This is an added expense.
But fortunately, standard home insurance policies include loss of use protection.
This pays your additional living expenses such as hotel stays, rental houses, and even restaurant meals. Loss of use protection is 20 percent of dwelling coverage.
What Type of Water Damage Isn't Covered?
Be mindful, though, that other types of water damage aren't covered by standard homeowners insurance.
Flood damage
If flood from rain water or a storm surge enters your home causing damage, a standard homeowners insurance policy will not cover this damage.
To protect your property, you'll need to purchase separate flood insurance. You can get a policy through the National Flood Insurance Program. Or, you can add a flood rider to your existing policy.
If you live in a flood zone, your mortgage lender will likely require a policy to protect their investment.
Hurricane water damage
Then again, a hurricane might bust your windows or damage your roof, causing interior water damage.
Understand that in these scenarios, some home insurance policies will not cover the damage.
This is likely if your policy excludes damage from named storms. If so, you'll need to buy separate windstorm protection.
Still:
While a standard policy covers hurricanes, damage from these storms typically have their own deductible.
The deductible is what you pay out-of-pocket before your insurance pays a claim. Most deductibles are a flat rate, ranging from $500 to $2,500 per incident.
With windstorms, the deductible is usually a percent of the home's insured value.
For perspective, according to Insure.com the average annual cost of homeowners insurance nationally for a policy with $300,000 coverage and $1,000 deductible is $2,540.
Sewer backup
Additionally, standard homeowners insurance doesn't cover water damage from a sewer backup.
Some homeowners don't think about this coverage. But if a severe storm or hurricane dumps too much water into the sewer system at once, this can cause a clog, resulting in sewage backing up into your home.
But while this damage isn't included as a covered peril with a standard policy, you can add a sewer backup rider to your policy—just in case.
Lack of maintenance
When interior plumbing or appliance issues cause water damage, your insurance provider will investigate for signs of negligence or poor maintenance. And if they find that you could have prevented the water damage, they might not pay the claim.
An example of negligence is a poorly maintained roof. If the weight of snow or ice causes severe water damage, they might reject the claim.
Or, you might go on vacation during the cold winter months and turn off your heat. If your pipes freeze and burst, they might reject your claim, too.
How to File an Insurance Claim for Water Damage
If your home sustains water damage from plumbing, appliance, or pipe issues, notify your home insurance company immediately.
It's also important to turn off the water to your house to prevent further damage. You also need to start the cleanup process quickly. Mold can begin to grow on damp surfaces within 24 to 48 hours.
Contact a water damage and restoration company.
They are equipped to remove excess water from carpet and start the drying out process. When you notify your homeowners insurance company, they'll likely send a restoration company to your house.
Keep in mind:
Your insurance company will also send an adjuster to the property as soon as possible. It's their job to assess the damage. From here, they'll determine how much your insurance provider should pay for the loss.
Does Insurance Cover Mold From Water Damage?
Under normal circumstances, home insurance policies do not cover mold damage.
The only exception:
Mold developed as the result of sudden, unexpected water damage.
So, if your water heater bursts and mold develops as the result of this incident, your home insurance company will likely pay the cost for mold remediation.
How to Avoid Water Damage
Here are a few tips to avoid water damage and costly home repairs:
Look for signs of rust or deterioration around pipes
Once a year, check all pipes underneath your bathroom and kitchen sinks, and around toilets. Replace bad pipes. Deteriorating pipes can leak or break, causing extensive water damage.
Monitor your water bill
Plumbing leaks in between your walls can go unnoticed until it's too late.
Keep a close eye on your water bill. If your water bill increases significantly (yet your water consumption hasn't), contact a water leak detection service.
They have technology to locate water leaks throughout the house, including those hidden in your walls.
Listen for water leaks
Periodically put your ear to the wall and listen for signs of leaks or running water.
You may hear a slight dripping sound every couple of seconds.
If so, contact a plumber immediately.
Conclusion
Water damage from plumbing issues, broken appliances, and pipe leaks can cause major damage to a home.
The good news:
Standard home insurance policies will cover a sudden, unexpected event.
A standard policy doesn't cover all types of water damage, though.
For added protection, consider adding a flood insurance policy, especially if you live in a flood zone. You can also ask your insurance provider about other protections. These include additional windstorm coverage and sewer backup coverage.