Louisiana Homeowners Insurance: What Proper Coverage Will Cost You
Find out how much it costs for homeowners insurance coverage for your Louisiana home, including optional coverages for hurricanes, floods and more.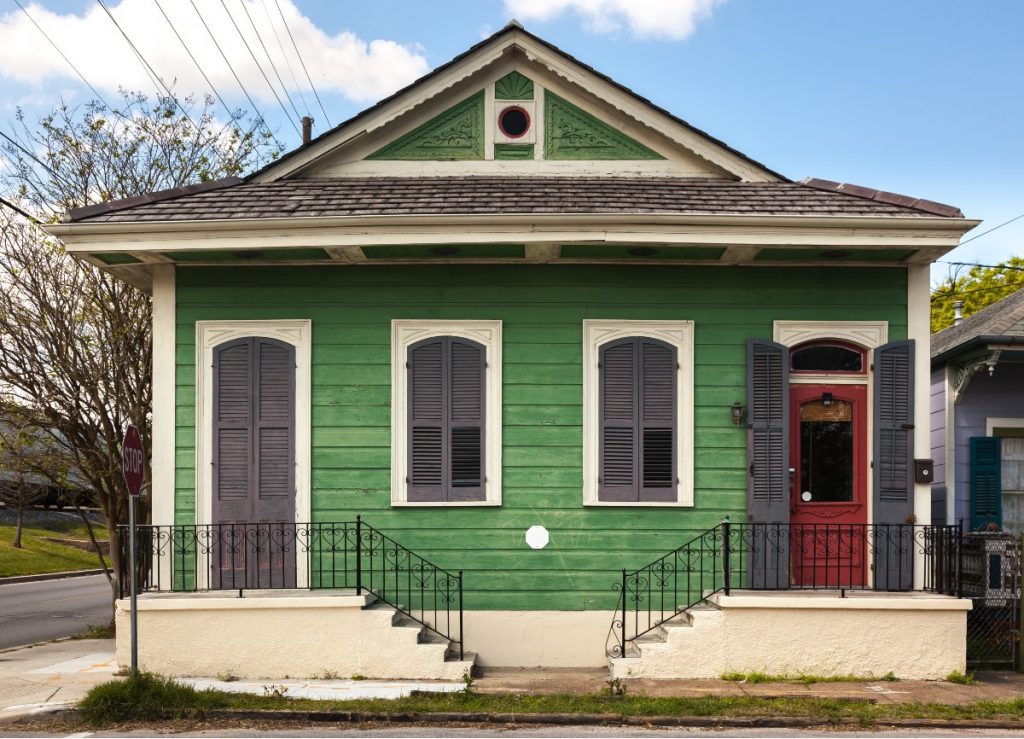 Homeowners insurance in Louisiana doesn't only protect your home. It also protects your possessions.
But while valuable, you might ask: Is home insurance required?
The short answer is no.
There's no law that says you must have homeowners insurance for your house. But if you finance your home through a mortgage company, your lender will likely require a policy.
You don't have to keep it once you've paid off the home—but you should.
Homeowners insurance includes different types of coverage. So it's also important to understand what you're buying and how your coverage works.
Average Louisiana Homeowners Insurance Rates
The average homeowners insurance rate in Louisiana is about $3,270 per year.
This is more expensive than some areas in the country. The higher cost is due to the state's location on the Gulf Coast.
You can pay your premium as a one-time yearly payment. Or spread out payments over 12 months.
Homeowners insurance in Louisiana isn't a flat rate. So homeowners often pay different rates depending on where they live within the state.
Average homeowners insurance rates in major LA cities
| City | Average rate |
| --- | --- |
| New Orleans | $3,473 |
| Baton Rouge | $3,593 |
| Shreveport | $2,935 |
| Metairie | $4,297 |
| Lafayette | $3,493 |
| Lake Charles | $3,631 |
| Bossier City | $2,818 |
| Kenner | $4,181 |
| Monroe | $2,863 |
| Alexandria | $3,058 |
Other factors that influence home insurance rates include:
condition of the property
age of the property
square footage
area crime rate
level of coverage
deductible
Average Lousiana homeowners insurance rate by coverage level
| Coverage level ($1,000 deductible) | Average annual rate |
| --- | --- |
| $200,000 with $100,000 Liability | $2,633 |
| $200,000 with $300,000 Liability | $2,656 |
| $300,000 with $100,000 Liability | $3,249 |
| $300,000 with $300,000 Liability | $3,270 |
| $400,000 with $100,000 Liability | $3,711 |
| $400,000 with $300,000 Liability | $3,704 |
| $500,000 with $100,000 Liability | $4,077 |
| $500,000 with $300,000 Liability | $4,091 |
| $600,000 with $100,000 Liability | $4,195 |
| $600,000 with $300,000 Liability | $4,210 |
Standard Homeowners Insurance in Louisiana
Homeowners insurance in Louisiana is like any other insurance policy. You have auto insurance for your car.
Life insurance for your life, and health insurance for doctor appointments and other medical expenses.
Homeowners insurance, though, is specifically for your property. It protects against a covered disaster.
These disasters include:
fire
lightning
windstorm
hail
vandalism
water damage originating inside the home
explosions
theft
damage by vehicle or aircraft
Without home insurance, you would have to pay to repair your home yourself. This damage can be expensive, depending on the extent of the disaster.
Homeowners insurance provides peace of mind. And frankly, you can't afford to be without a policy.
It's important, though, to understand what these policies cover. You can expect four levels of protection:
1. Dwelling coverage
When you buy a homeowners insurance policy, one component includes dwelling coverage.
This is the most important aspect of your policy.
Dwelling coverage protects the actual structure and attached structures.
Attached structures can include a porch or garage. As far as how much coverage to obtain, dwelling coverage should be enough to replace or completely rebuild your home.
A policy doesn't only cover your dwelling and attached structures, though. Homeowners insurance also covers other structures on your property. These can include a detached garage, shed, and fence.
Coverage for other structures is a percent of your dwelling coverage, usually 10 percent.
2. Personal property coverage
Your homeowners insurance policy will also cover personal belongings.
After a covered disaster or theft, it can cost thousands to replace clothes, furniture, electronics, and other items. This part of your policy reduces the financial burden.
In most cases, coverage for personal belongings is between 50 percent and 70 percent of your dwelling coverage. Take inventory of your personal belongings to determine the right level of protection.
Personal property coverage also protects expensive items. These include furs, silverware, jewelry, artwork, and collectibles. There are limits, however, to what your insurance will cover.
Typically, the policy only insures up to $1,500 per item.
For this reason, if you have high-value belongings like expensive jewelry, ask your insurance company to add a rider to your existing policy.
This rider, also called an endorsement, increases your protection for high-value items. In some cases, you can insure the full replacement value of the item.
3. Liability coverage
Liability coverage is also important as a homeowner.
You are responsible for what happens on your property.
So, if an injury occurs, you might be liable for the other person's medical expenses.
An injured person can also sue and receive a court-ordered reward. Liability protection covers you in these scenarios. It'll help pay a court-ordered reward as well as an injured person's medical expenses.
Liability also protects against damage you cause to another person's personal property.
How much liability coverage should you receive? There are no hard or fast rules.
Liability protection usually starts at about $100,000. If you feel this isn't enough, you can increase your coverage to $300,000 or $500,000.
Homeowners with a lot of assets to protect will often raise their coverage.
4. Loss of use coverage
The thought of moving out of your home while it undergoes repairs after a covered disaster can be nerve-racking. You might stress about the financial repercussions of a move.
The good news:
Your policy will provide money for additional living expenses. These funds can pay for hotel stays or renting a temporary home.
This loss of use coverage has limits, though. It's typically only 20 percent of your dwelling coverage.
The upside is that loss of use also includes restaurant meals. If you're temporarily living in a hotel, you're reimbursed for eating out.
How Do Home Insurance Deductibles Work?
When shopping for home insurance, some homeowners forget about deductibles.
When you file a claim, you'll pay a deductible before your insurance provider repairs or replaces an item.
Do note:
Deductibles vary, but typically start at $500.
To lower your insurance premium, you can raise your deductible to $1,000, $2,000, or $2,500.
Do I Need Hurricane Insurance in Louisiana?
Most standard home insurance policies cover hurricane damage. Just know that if you live in an area hit hard by hurricanes in recent years, some insurance companies might exclude hurricane damage.
This might be the case in your situation, depending on where you live in Louisiana. Since there's a high risk for hurricanes in the state, always confirm whether your policy covers this damage.
If it does, you'll likely pay a separate hurricane deductible. Rather than a flat fee, the hurricane deductible is a percentage of your home's insured value.
If your standard policy excludes hurricanes, you can purchase separate windstorm protection. This added coverage protects against wind damage caused by hurricanes and tornadoes.
Do I Need Flood Insurance in Louisiana?
Your mortgage lender will require flood insurance if you live in a flood zone. But even if you're technically not in a flood zone, getting a flood insurance policy is worth consideration.
Hurricanes are known to cause storm surges. In which case, water damage might occur despite no previous history of flooding.
Standard home insurance policies do not cover flood damage that originates from outside the home. Also, a standard policy does not cover flood damage caused by a hurricane.
If you live in a danger zone, or if you're simply looking for added protection, you can get a policy through the National Flood Insurance Program.
In some cases, you can also add a flood rider to a standard home insurance policy.
Flood insurance offers bonus financial protection.
Without coverage, you'll likely pay for flood damage out-of-pocket. This includes replacing your carpet, flooring, sheet rock, and personal belongings.
Tips to Save on Home Insurance in Louisiana
Here are a few tips to find affordable home insurance in Louisiana.
1. Shop around
Even though home insurance policies offer similar levels of coverage, the cost of a policy can vary. The price depends on the insurance company.
For this reason, make sure you shop around and compare policies.
Average Lousiania homeowners insurance rates by insurer
| Insurer | Average Premium ($300k dwelling/$1,000 ded.) |
| --- | --- |
| ASI Lloyds | $1,577 |
| United Property Casualty | $2,389 |
| Safeco | $2,800 |
| USAA | $3,075 |
| Louisiana Farm Bureau | $3,203 |
| Garrison | $3,375 |
| Liberty | $3,453 |
| Foremost | $3,775 |
| Farmers | $3,815 |
| State Farm | $3,874 |
| Allstate | $4,420 |
You need to compare terms, rates, and protections. Getting a rate quote is simple.
In most cases, you only need to provide the ZIP code of the property and a few property details.
2. Make your home safer
Safer homes qualify for lower premiums. Taking a few extra steps can help you snag a discount.
This includes installing fire alarms, burglar alarms, deadbolts, and a fence.
You can even qualify for a lower premium if you install shatterproof windows.
This reduces the likelihood of storms breaking your windows. This also reduces the risk of interior flooding and theft.
3. Increase your deductible
Increasing your home insurance deductible can also help you save money.
Many people choose a $500 deductible. This is relatively inexpensive. It also prevents paying a lot of cash out-of-pocket per claim. But low deductibles also have higher premiums.
If you have enough in your emergency fund, consider raising your deductible. You can choose a higher deductible of $1,000, $2,000, or $2,500.
4. Bundle your policies
Another option is to get home insurance through a company that also protects your car, life, or health. In this case, you'll likely qualify for a loyalty discount.
In addition, ask your provider about other discounts.
Some companies will lower your premium if you're employed in certain occupations, or if you have a high credit score.
Final Word
Homeowners insurance in Louisiana can protect against different types of disasters ranging from windstorms to fire damage.
Just make sure you understand coverage details to avoid surprises.
Depending on where you live, you might need additional windstorm protection or flood insurance.
This ensures you're completely protected against natural events.