New Jersey Homeowners Insurance: Averages Rates for Coverage
Find out about the average rates for homeowners insurance in New Jersey, including how much coverage you need and the optional coverages to consider.
Your home is your haven. It's the place where you spend the most time with loved ones, so it only makes sense to protect it.
Homeowners insurance in New Jersey can provide the protection you need.
Of course, insurance is something you hope to never use. But at the same time, you can't afford to go without coverage.
Home damage from a disaster can be costly. And without home insurance, you're responsible for the repairs and replacement costs.
But although there are several benefits to buying homeowners insurance in New Jersey, it's important to understand how your policy works and know how much you might pay for a homeowners insurance policy with the proper coverages.
Average Homeowners Insurance Rates in New Jersey
New Jersey residents can expect to pay an average of $1,744 for home insurance per year.
New Jersey is one of the least expensive states in the nation for homeowners insurance.
Understand, though, that rates vary depending on the insurance company and your location within the state.
There's the option to pay home insurance once a year as a lump payment. Or, you can pay monthly and include premiums with your mortgage payment.
To understand how insurance companies price premiums, you have to understand other factors that influence rates.
These include:
age and condition of the home
local crime rates
deductible
square footage
home's safety features
Average NJ homeowners insurance rates by coverage level
| Coverage level ($1,000 deductible) | Average annual rate |
| --- | --- |
| $200,000 dwelling/$100,000 liability | $1,301 |
| $200,000 dwelling/$300,000 liability | $1,327 |
| $300,000 dwelling/$100,000 liability | $1,717 |
| $300,000 dwelling/$300,000 liability | $1,744 |
| $400,000 dwelling/$100,000 liability | $2,146 |
| $400,000 dwelling/$300,000 liability | $2,174 |
| $500,000 dwelling/$100,000 liability | $2,573 |
| $500,000 dwelling/$300,000 liability | $2,602 |
| $600,000 dwelling/$100,000 liability | $2,878 |
| $600,000 dwelling/$300,000 liability | $2,907 |
Average homeowners insurance rates in major NJ cities
| City | Average rate |
| --- | --- |
| Clifton | $1,604 |
| Hoboken | $1,657 |
| Passaic | $1,681 |
| Elizabeth | $1,688 |
| Trenton | $1,764 |
| Paterson | $1,778 |
| Camden | $1,894 |
| Jersey City | $1,898 |
| Newark | $1,980 |
| Asbury Park | $2,102 |
Standard Homeowners Insurance for New Jersey
Homeowners insurance is a policy designed specifically for homeowners. It offers a range of protections in the event of theft, storms, and other disasters.
If you own a home, it's financially wise to have a policy. But interestingly, there's no rule mandating one.
Your mortgage lender will likely require a policy if you're financing a property. This protects their financial interest. However, a mortgage lender's requirement isn't the only reason to secure a policy.
A policy also protects you. So you should maintain homeowners insurance even after paying off your house.
Home insurance policies cover a variety of disasters.
For example:
lightning
fire
smoke damage
theft
vandalism
explosions
water damage originating from inside the home
damage by aircraft or vehicle
windstorms
hail
In the event of a covered disaster, your policy covers the damage up to a certain amount. This amount varies depending on the type of coverage.
Homeowners insurance in New Jersey provides four basic levels of coverage.
1. Dwelling coverage
This is the most important feature of home insurance. Dwelling coverage protects your actual structure and attached structures. Attached structures can include porches and garages.
As a general rule of thumb:
You need enough dwelling coverage to completely rebuild your home after a major disaster.
As a bonus, your home insurance policy also protects other structures on the property.
Do you have a detached garage, shed, or fence? If a covered disaster damages these structures, you're protected, too. You're also protected against theft involving these other structures.
So if a thief steals items from a detached garage, you're protected. Coverage for other structures is less, though. It's usually 10 percent of your dwelling coverage.
2. Personal property coverage
Theft or disaster can also result in loss or damage of personal belongings. But don't worry. Your home insurance policy also provides some protection for these items.
This coverage will repair or replace belongings damaged or stolen. This includes many types of valuables such as clothes, electronics, and furniture.
Your policy also protects against high-value merchandise. This includes jewelry, artwork, silverware, collectibles, and musical instruments.
Be mindful:
Personal property coverage might not cover the full value of the latter items.
Standard policies typically replace up to $1,500 per item.
For this reason, if you have expensive jewelry or other expensive personal belongings, it's worth getting an insurance rider.
This offers added protection. Sometimes, you're able to insure the full value of an expensive item.
3. Liability coverage
Even if you take steps to protect others from injury on your property, accidents can happen. In which case, someone might get hurt on your property.
Since you're responsible for what happens in your home, you'll likely be held liable for an injured party's medical expenses.
An injured party can also sue and win a lawsuit against. If so, you'll have to pay their court-ordered award. Both scenarios can be costly.
Fortunately, liability coverage offers protection in these situations.
It helps cover the cost of a court-ordered award and an injured party's medical bills.
Plus:
Liability protects against damages you make to another person's personal property.
Standard policies include about $100,000 of liability coverage. You can increase your coverage, though, if you have many assets to protect. Some homeowners will increase their protection to $300,000 or $500,000.
4. Loss of use coverage
If a disaster causes extensive damage to your home, you might have to move out on a temporary basis.
Paying for a hotel or another home while paying a mortgage is expensive. The good news is that a standard home insurance policy includes loss of use coverage. It will cover your additional living expenses while your house undergoes repairs.
This part of your policy also covers restaurant meals. Homeowners who live in a hotel typically eat out on a daily basis.
Do I Need Hurricane Insurance in New Jersey?
Hurricanes are a rare occurrence in New Jersey. But they can happen.
Since New Jersey is located on the Atlantic coast, residents must prepare for the possibility of these storms.
Fortunately, most standard home insurance policies cover hurricane damage. If your insurer lists hurricanes as a covered disaster, these storms will likely have their own deductible.
The deductible for a hurricane is often 2 percent to 5 percent of a home's insured value.
Many standard homeowner insurance policies have deductibles starting at $500 for other types of claims. The deductible is what you pay out-of-pocket before your insurance provider pays a claim.
Sometimes, though, insurance companies will exclude hurricanes from an insurance policy.
To protect yourself in these scenarios, you can purchase separate windstorm coverage. These policies protect against damage caused by hurricanes and tornadoes.
Do I Need Flood Insurance in New Jersey?
There's also the possibility of flooding in New Jersey. This can happen if you live in a flood zone. Or if a hurricane causes a storm surge.
If you live in a flood zone, your mortgage lender will likely require a flood insurance policy.
You can purchase one through the National Flood Insurance Program.
Depending on your insurance provider, it might be possible to add a flood rider to your existing home insurance.
Flood insurance is worth consideration because a standard home insurance policy does not cover flood damage that originates outside the home. Standard policies also don't cover flood damage caused by hurricanes.
If flooding severely damages your home, and you don't have flood insurance, you'll have to repair the home using your own funds.
The good news:
Flood insurance is relatively affordable.
Even if you aren't in a flood zone, getting a policy provides extra protection and peace of mind.
How to Save on New Jersey Home Insurance
Here's what you need to know about saving money on New Jersey home insurance:
1. Get multiple quotes
Do your due diligence and contact two or three insurance providers to receive a free rate quote. Policies vary from company to company.
Comparison shopping can help you find an affordable annual premium.
Average NJ homeowners insurance rates by insurer
| Insurer | Average annual rate |
| --- | --- |
| Travelers | $1,953 |
| Safeco | $2,037 |
| Allstate | $2,239 |
| Allied | $2,370 |
| USAA | $2,524 |
| Nationwide | $2,699 |
| New Jersey Farm Bureau | $2,811 |
| State Farm Fire | $3,029 |
| Nationwide | $3,134 |
| LM Insurance | $3,608 |
| Foremost | $4,139 |
2. Increase your home's safety
Adding safety features and quality materials reduces the likelihood of filing an insurance claim.
As a result, you might qualify for a lower premium.
Home insurance companies typically offer discounts when homeowners install alarm systems, smoke detectors, deadbolt locks, and a fence.
3. Increase your deductible
Another way to lower your premium is to raise your insurance deductible.
Standard policies start with deductibles as low as $500. Some owners, however, increase their deductibles to $1,000 or $2.000.
A higher deductible increases your out-of-pocket expense when filing a claim. But it can also lower your monthly premium.
4. Bundle your policy
Contact the insurance company that protects your car or provides your life insurance.
As an existing customer, you'll likely qualify for an additional discount.
This also results in a lower premium, saving money over the course of a year.
5. Maintain good credit
Some insurance providers use credit scores to determine a homeowner's premium.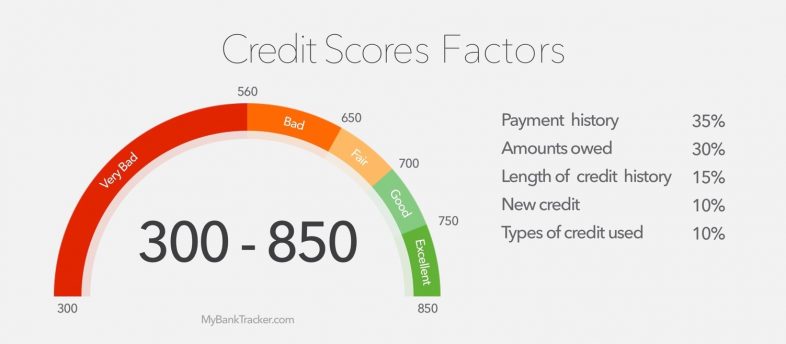 Often times, homeowners with the highest credit scores qualify for the best home insurance rates.
Final Word
Home insurance in New Jersey protects against theft, storms, fires, and many other disasters.
But like any policy, it's important to understand how your coverage works. This way, you avoid surprises when filing a claim.
Talk with your agent and ask questions, if necessary.
Also, consider extra coverage for added protection. This can include windstorm protection or flood insurance.