Report: 28% of Americans Wouldn't Marry Someone Who Had Debt
Bringing baggage into a marriage isn't uncommon but it can be a huge problem when it's financial rather than emotional.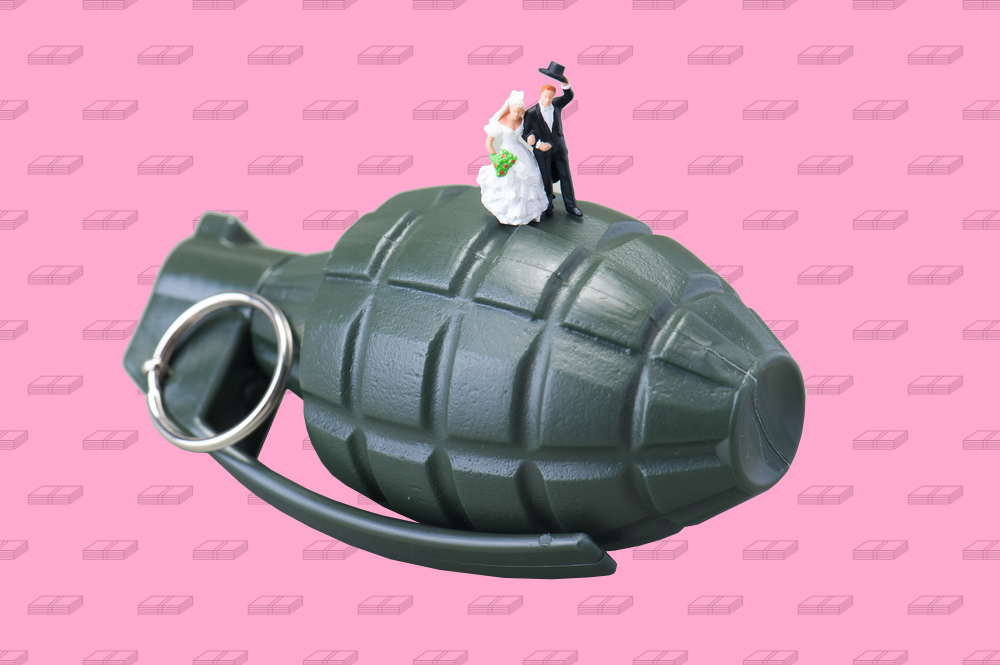 Bringing baggage into a marriage isn't uncommon but it can be a huge problem when it's financial rather than emotional. MyBankTracker decided to take a deeper look at whether being in debt could cause couples to rethink saying I do.
A nationwide survey was conducted asking respondents to chime in on how debt affects their outlook where marriage is concerned and which types of debt are most likely to put a damper on the big day. 28% of those who responded said they'd put their marriage plans on ice if their partner was battling debt.

If you're planning on walking down the aisle any time soon, you'll want to check out the full survey results below.
Credit card debt is the biggest deal-breaker for women
24.8% of those polled for our survey said that credit card debt would prevent them from tying the knot with their partner. When broken down by gender, MyBankTracker found that 25% of women felt that credit card debt would be a barrier to getting hitched.

Among millennials, 22.1% of women in the 25 to 34-year-old range agreed that credit card debt would cause them to put their wedding plans on hold. Considering that the median age for a first marriage has increased to 27 for women and marriage rates have been on a steady decline, it's logical to conclude that debt may be playing a part in women's decision-making when it comes to choosing a spouse.
According to nationally recognized matrimonial attorney Regina A. DeMeo, the hesitancy to take on a future spouse's debt among women is a reflection of the way that gender roles have conventionally been defined in marriage.
"Traditionally, women sought men that would be good stable providers for the family unit. Now while most of us are able to support ourselves just fine, we still realize that if we want to have children and maybe reduce our work schedule in the future, we still need a good stable provider by our side and not someone who might threaten the financial security of the family unit with debt."
Interestingly, older women felt the most strongly about avoiding marriage when their spouse-to-be is burdened with credit card debt. 31.7% of women aged 65 or older said they'd skip out on marriage in that scenario, followed by 29.5% of women aged 55 to 64.
That's not necessarily unusual, considering that women face more struggles to save for retirement and the poverty rate among women 65 and up is 16% compared to 9% of men. For some women, marrying later in life may not lead to an improvement financially if their new spouse is saddled with debt, hence the reluctance to commit to a legal union.
Low and middle-income earners are most likely to be scared off by debt
28.9% of the respondents who said they wouldn't marry someone who had debt reported earning an annual income ranging from $50,000 to $74,999. That was followed by 27.7% of those earning between $25,000 and $49,999 a year. For those people, marrying into debt may push an already strained budget to the breaking point.
Among those earning between $50,000 and $74,999, credit card debt was once again the most dreaded kind of debt. 24.1% of people in that income range said they wouldn't marry someone who had maxed out their plastic.
Just 9.4% said that student loans would cause them to think twice, which is interesting considering how the average student loan debt and average credit card debt stack up. As of 2014, the average grad had $28,950 in student loans according to the Project on Student Debt. That's a much deeper debt hole compared to the $5,262 in credit card debt that TransUnion estimates the average borrower owes.
So why is credit card debt such an issue? Author and finance expert Janet M. Nast says that it's not so much the debt itself as what the debt suggests about the person.
"Credit card debt indicates someone with irresponsible spending habits. Perhaps they reason it out by saying they can afford the monthly payments but you have to wonder, for how long? Credit cards have no pay off date like a car loan so you can be paying on it forever, especially if the cards are still being used."
Surprisingly, it's high income earners who seem to have the least resistance to the idea of taking on debt in a marriage. 56% of respondents who reported bringing in an annual income of $100,000 to $149,999 said that debt wouldn't stop them from marrying someone they loved. 27.3% of respondents earning more than $150,000 said the same.
It takes a decent amount of debt to avoid marriage
11.7% of the survey respondents said that they would only take marriage off the table if their future spouse had $25,000 or more in debt. Just 6.5% said they'd do so if the person they planned to wed had $5,000 or more in debt.
When broken down by the debt amount, our survey found that men were more likely to balk as the amount of debt grew. 12.7% of men said they wouldn't marry someone with $25,000 or more in debt versus 10.7% of women. 9.3% said they'd call the marriage off if their intended's debt hit the $50,000 mark compared to 5.8% of women.
Men were also more likely to be cagey about taking on student loan debt. 11.3% of men said they wouldn't go through with a marriage when student loans were involved while 6.1% of women said the same. The conclusion? Women are more likely to be dissuaded by higher interest credit card debt, regardless of what's owed while men see a huge student loan balance as a bigger obstacle, even when it comes with a lower interest rate.
All debt, says personal finance and life coach Debbi King, is negative but student loans can be the most daunting and bring the heaviest burden. That's because the amount of money and time you invest in paying them off is usually very high, she says. A future spouse may see that as an obstacle to being able to own a home or achieve other financial goals, which is why it's so important to have a defined plan of attack before you make it to your wedding day.
What couples can do to successfully merge marriage and debt
If you're planning a wedding and your future spouse is weighed down by credit card, student loan or other types of debt, you can't afford to ignore the elephant in the room. Valerie Rind, author of the award-winning book, Gold Diggers and Deadbeat Dads says that before couples agree to a marriage with debt, the first step is being clear about what lead to the debt to begin with.
"You want to learn how your partner got into this debt mess. Did he or she make bad choices in the past but is diligently working to pay off the debt? Or is it part of a recurring problem that will get exponentially worse? Take a close look at their credit reports — and it's only fair to share yours also. You need solid information to make a serious decision before you merge your financial worlds."
From there, couples can move on to creating a roadmap for handling the debt. Asking these key questions can make it easier to shape your plan:
How much debt do you owe total?
What kinds of debt do you have?
How much of your income is going towards debt repayment?
Is there a way to refinance any of the debt to reduce interest costs?
Will we both contribute to the debt repayment once we're married?
Will we incur any new joint debt (such as a mortgage) after we're married?
How would debts be handled if the marriage doesn't work out?
It's important to be clear about who's going to be responsible for what before you head down the aisle so that there's no room for misunderstanding or miscommunication down the line. This is especially important if one of you is earning significantly more than the other. If you're bringing home a bigger paycheck than your spouse and they're trying to manage a huge pile of debt on their own, it can lead to feelings of resentment that can create cracks in the foundation of your relationship.
And once couples are actually married? Making marriage work when debt is involved is an ongoing process, according to Robert Baltzell, founder of RLB Financial.
"Couples should carve out some time, either monthly or quarterly, to sit down and look at their finances and create financial goals as a team. Paying off debt and having a healthy savings account is crucial. Working together to achieve your financial goals as a couple will ultimately lead to a stronger bank account and a stronger marriage."
---
Survey Methodology
This online nationwide survey was conducted by Google Consumer Surveys on behalf of MyBankTracker. A total of 3,005 responses were collected. All respondents were aged 18 or older.