Report: Hidden Fees Are #1 Consumer Complaint
Everyone has their financial pet peeves. But, hidden fees seem to the number one complaint among others of course.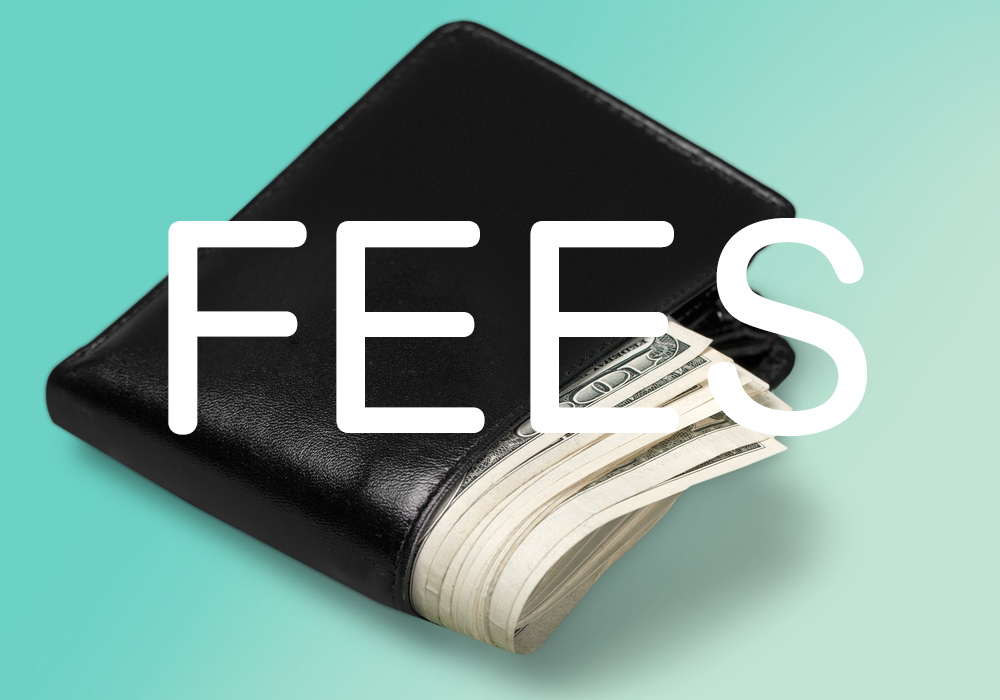 MyBankTracker recently conducted a nationwide survey to determine which financial pet peeves are the most bothersome. Overwhelmingly, hidden charges proved to the most frustrating thing to have to deal with. We've broken down the full survey results below, starting with the most pressing financial headaches.
Hidden charges are the stealthy budget-killer
One misconception people tend to have about budgeting is that it's the big costs that blow your financial plan out of the water. In reality, it's often the smaller fees that end up nickel and diming you to death. For 40.1% of those who responded to our survey, those hidden charges are a major source of annoyance.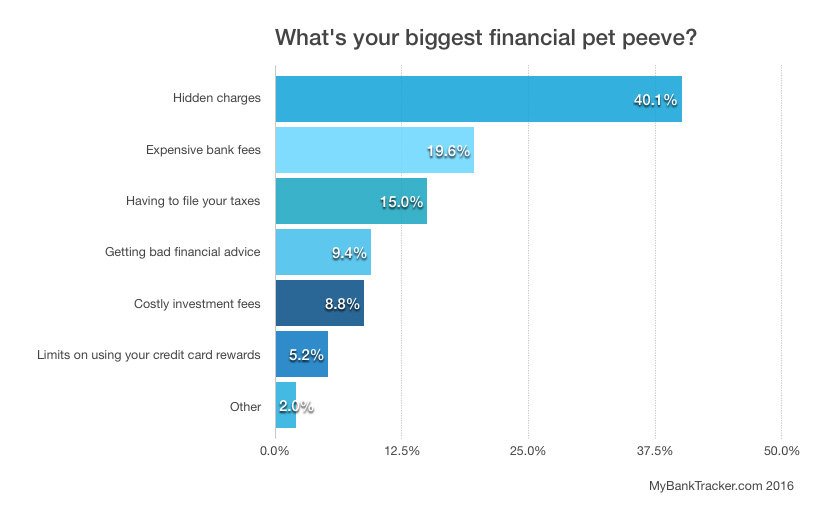 That includes grey charges, such as:
Recurring fees that are charged to your credit card after a free trial period has expired
Recurring subscription fees for websites, magazines or newspapers that you no longer read/use
Automatic renewals for services that are billed monthly, quarterly or annually such as anti-virus protection for your computer
Monthly fees that seem to increase over time
According to BillGuard, one in four consumers has, at least, one grey charge on their credit card or bank statement each month. The average person racks up $356 in grey charges, with the average dollar amount per transaction ranging from $12 to $18. Other hidden charges are actually in plain sight but they get overlooked. For example, you may not realize your credit card company charges a 3% foreign transaction fee on international purchases until you get home from that European vacation and find a huge bill waiting for you. For Money Bliss expert and founder Briana Cavanaugh, the solution is simple—read the fine print. Most consumers end up getting stuck with these fees, she says, because they just don't know the fees are there or how they're charged. Bottom line, if you want to cut hidden fees out of your financial life for good, you can't afford to skim over the details.
Bank fees continue to be a pain in the wallet
Among our survey respondents, 19.6% agreed that bank fees were their number one financial pet peeve. Twenty-five percent of those respondents were between the ages of 35 and 44 while another 23.5% were in the 25 to 34-year-old range. That's the age group that's most likely to get hit with an overdraft fee, according to the CFPB. Bank fees are a constant source of headaches and unfortunately, they just seem to keep climbing. Overdraft fees are especially burdensome and according to the Consumer Financial Protection Bureau, the average banking customer who has opt-in to overdraft protection still pays more than $250 in overdraft fees per year. If you get stuck with an overdraft fee, it may be possible to negotiate with your bank to have the fee waived. Opting out of overdraft protection, setting up account balance alerts and moving your accounts to an online bank with low or no overdraft fees can keep you from incurring additional fees going forward.
No one likes doing their taxes
15% of our survey respondents ranked doing their taxes as their biggest financial pet peeve. Not surprisingly, it's the high-income earners who dread tax season the most each year. Fifty percent of people who chose to file taxes as their top pet peeve reported earning an income of $150,000 or more annually. Another 18.2% reported an annual income between $75,000 and $99,999. So what can you do to make tax time less stressful? Here are some quick tips to get through your tax filing without tearing your hair out:
Get organized. Filing your taxes is a lot harder when you're spending hours tracking down receipts or income statements. Using free and low-cost tax apps like Expensify makes it easier to record tax-deductible expenses.
Choose the right software. If you don't want to pay an accountant big bucks to handle your filing, you've got plenty of options for doing your taxes on your own. Check out MyBankTracker's guide to choosing the right tax software to find out what you need to look for when comparing programs.
Don't panic if you can't pay right away. Owing money to the IRS can seem like a nightmare but you should resist the urge to pick up and move to another country when you've got a big tax bill. Charging the bill to a credit card or applying for a payment plan are just some of the options to consider when you can't pay your taxes.
People are tired of getting bad financial advice
9.4% of our survey respondents said that bad advice about investing, saving and spending was something they could do without. When you're young and just getting started with managing your money or you've got a tough financial dilemma that needs resolving, your first inclination is likely to look for someone older and more experienced for advice. For some people, it's a parent while for others it's a financial professional but when the advice they're handing out is just plain bad, the source isn't all that important. Personal finance guru and Wallet Hacks founder Jim Wang recommends shopping around for a fee-only advisor and sidestepping so-called experts who offer solutions without taking a deeper look at your larger financial picture.
"Good advice has to be tailored to you and your situation. Too many advisors are really salespeople for large insurance and investment companies who are there to push their products because that's where the commissions are. Stick with a fee-only advisor who's being paid for their time because they'll give better advice."
According to Wang, choosing a fee-only advisor is a win-win on both sides because they benefit when you're paying fees consistently and you have the advantage of getting advice that's tailored specifically to your interest, not based on what someone's trying to sell you.
High investment fees are an obstacle to building a solid portfolio
Costly investment fees were the worst financial pet peeve for 8.8% of our survey respondents and similar to filing taxes, it's higher-income earners who are most likely to feel the pinch. When paired with bad financial advice, high investment fees can do even more damage to your portfolio according to David Born of Born Investment Management, LLC. If an advisor is steering you towards a particular investment that carries higher fees you're taking a gamble as far as performance is concerned. Like Wang, he advises choosing a fee-only fiduciary who's obligated to act in your best interest to keep costs to a minimum.
Credit card users don't like restrictions on their rewards
For 5.2% of our survey respondents, not having complete freedom to redeem rewards is a financial nuisance. Using a rewards credit card to earn cash back, miles or points on the things you spend is a good way to save money but there's a downside if you're limited as to how you can use those rewards. To eliminate some of the frustration, there are a few things you can do to get the most out of your rewards:
Start with the right card. Having a rewards card that pays you miles on everything you spend does you no good if you rarely travel. Ditch cards that aren't a good fit for your spending habit in favor of ones that are.
Know the rules. Before you sign on the dotted line for a new rewards card, be clear about what the guidelines are for using rewards. For example, if it's a travel card, check to see if there are any blackout dates or other limitations that would hinder your ability to use rewards to your maximum advantage.
Tailor the card to the purchase. Using multiple cards to score rewards can amp up your savings faster but you need to be smart about which card to swipe at any given time. With a credit card rewards app like Wallaby, you'll always know which card offers the most rewards on what you're spending.
Tip: If you need recommendations on which rewards card is best based on your spending style, take a look at MyBankTracker's credit card comparison tool to help narrow down the field.
---
Survey Methodology This nationwide, online survey was conducted by Google Consumer Surveys for MyBankTracker on February 19, 2016. A total of 501 people responded to the questions in our survey. All respondents were 18 or older. Finally, 43.9% of responses came from men while the remaining 56.1% came from women.