What Amazon's Checking Account Might Look Like
Take look at what we might expect from a checking account by Amazon, including account fees and benefits that could include discounts or rewards.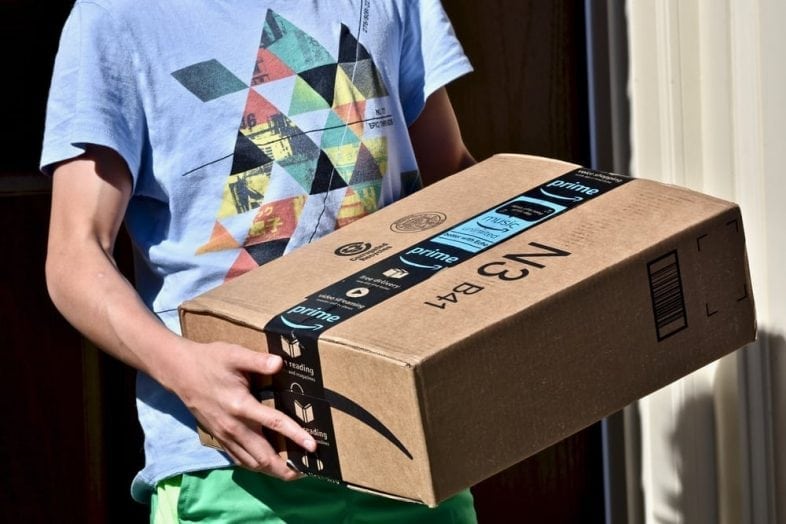 Amazon may be the first place you think about when you're online shopping, but can it be the place you turn to for your banking?
Various news outlets have reported that Amazon is looking to venture into the financial services industry -- a checking account could be in the works.
It's just a rumor at this point.
However, it wouldn't be surprising for the e-commerce giant.
Let's take a look at what the checking account from Amazon could look like:
Expectations of an Amazon Checking Account
In general, we'd predict an Amazon checking account to behave very similarly to the checking accounts that are currently available from online banks.
No branches.
It may not even offer checks in the traditional sense, where you get a checkbook. Rather, customers may have to rely on online bill pay.
With online bill pay, the customer enters the payment amount and payee information and the bank sends a check on the customer's behalf.
But, a deeper breakdown of what we may see:
Monthly fees
The typical online checking does not charge any monthly fee. That means no minimum balance requirement.
If there was to be a monthly fee, we can expect there to be fee-waiver requirements that entail the Amazon ecosystem.
Prime membership
Amazon Prime is the crown jewel of the online shopping portal -- enticing customers to shop freely because they can get the best prices and have their orders arrive within 2 business days with free shipping.
More importantly, the convenience may encourage more spending.
Therefore, why not allow checking account customers to waive the monthly fee if they have Prime membership (annual fee of $119)?
Purchase activity
Another way that customers may be able to avoid a monthly fee is to require debit card activity, especially purchases.
It might even only apply to Amazon and/or Whole Foods spending.
For example, checking account customers can avoid the monthly fee by using the debit card to make 10 purchases or have spent $200 per month at Amazon and/or Whole Foods.
Customer benefits
Let's face it:
This checking account has to be able to attract applicants somehow.
There are free online checking accounts that have great perks including no monthly fee, ATM fee refunds, and competitive interest rates.
With such strong competition, how does Amazon's checking account put up a fight?
The best way is to offer some way to save on Amazon or Whole Foods spending.
Discounts or rewards
We can see Amazon take the path of Target, another retailer that offers a debit card (REDcard).
The Target REDcard debit card allows customers to get an automatic 5% discount on all Target spending. Additionally, they are eligible for special discounts and offers from time to time.
Or, the Amazon debit card could provide rewards based on spending -- same as what Amazon already does with its credit cards.
The Amazon Prime Rewards Visa Signature Card offers 5% back at Amazon.com and on Whole Foods Market purchases.
Either approach can prove to be a value proposition to avid Amazon shoppers who could find great savings with a 5% discount or reward.
Free shipping
Another perk we might see if free shipping for Amazon customers that are not Prime members.
By eliminating the shipping costs on Amazon orders, frequent shoppers can save a good amount of money.
Sure, it may not be 2-day free shipping like Amazon Prime orders, but you'd still appreciate the savings.
Again, removing this cost barrier could drive shoppers to spend at Amazon more often.
Interest earnings
Probably not.
Online banks out there are paying out very attractive interest rates.
It wouldn't make sense for Amazon to create a checking account to compete on that front.
Will Amazon Become a Bank?
According to the reports, Amazon's foray into the financial sector will not include the prospect of becoming a financial institution.
Instead, Amazon is looking to partner with banks that will be in charge of holding the deposits put in by customers.
At the moment, Chase is the issuing of Amazon's credit cards. There's no reason that Chase is also in the running to handle Amazon's checking accounts.
Actually…
This may work out for customers because Chase operates a large ATM network throughout the U.S., which may allow for free ATM withdrawals.
Reportedly, other large national banks are in talks as well. The same would apply as the big banks also have widespread physical presences.
What Does Amazon Stand to Gain?
This is a big concern.
With tight regulations on the financial industry, Amazon may want to dodge the headaches of offering a checking account.
The company has to have something to profit from it.
Right?
Here are some of the reasons that Amazon would do so:
Increased spending
Higher immersion in the Amazon ecosystem
Lower processing fees
Big data
Increased spending
As mentioned many times above, Amazon shoppers may experience significant savings from the checking account benefits provided.
In the end, the idea of a juicy discount or reward (or even just free regular shipping) is enough to make consumers into thinking that they are saving money.
Sure, they are cutting the cost of their orders.
But, overall, they may notice that they are placing more orders, which means more revenue for Amazon.
Increased immersion in Amazon ecosystem
Amazon is more than just an online retailer. It offers music and video streaming services, local food/grocery delivery, cloud computing, and more.
It requires a level of trust to commit one's finances to any entity. The willingness to use Amazon's checking account could ease customers into using these other Amazon services and products -- similar to what Apple does with consumer electronics.
Lower processing fees
Whenever a business accepts a debit or credit card for a purchase, that business pays a small fee for that privilege of a faster and safer transaction.
Generally, merchant processing fees are much high for credit cards than debit cards.
With millions of dollars worth of transactions, Amazon could save a good amount of money on those operating costs.
Big data
Here's the deal:
The data on someone's financial habits and situations could allow Amazon to tailor their marketing and advertising.
Again, this strategy goes into how the company can provide a "personalized" shopping experience.
Put another way:
Amazon can use the information to get people to spend more.
Online retailers, not just Amazon, are already using this tactic by tracking consumer online-browsing activity to display certain ads.
The Bottom Line
From a business perspective, the idea of a checking account is simply to help Amazon generate more revenue and/or profit.
No surprise there. Amazon is a business.
From a consumer perspective, any potential savings would be rather attractive -- only if fees are avoided.
Remember, the checking account will likely be designed to encourage increased spending.
As long as you don't end up making more purchases than usual, you'll reap any rewards and savings offered by the account.