Amazon Prime Rewards Credit Card Review
Learn more about the Amazon Prime Rewards Visa Signature card and how it can help you earn more rewards on your Amazon.com shopping.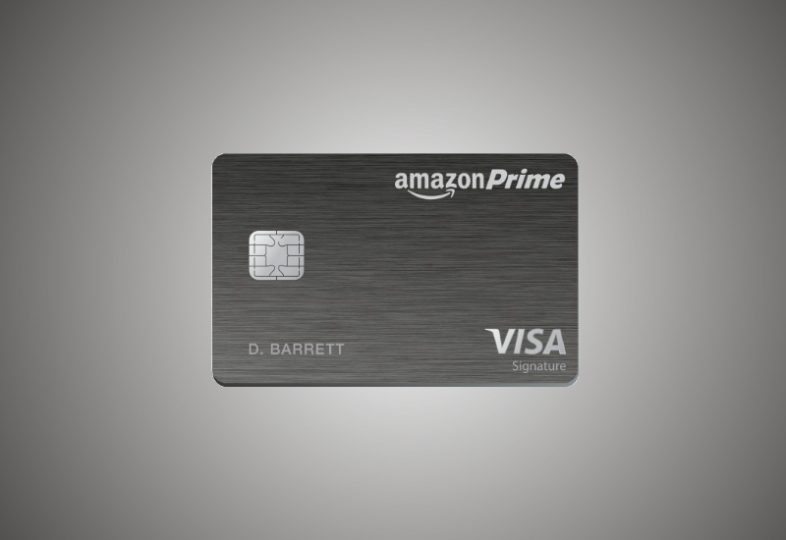 You just have to be an Amazon Prime member, which does have an annual fee of $99.
Amazon Prime Rewards Visa Signature Credit Card Fees
| Fees | Amazon Prime Rewards Visa Signature |
| --- | --- |
| Annual Fee | $0 |
| Where can you use? | In-store purchases only |
| How to Avoid Paying Interest on Purchases | Your due date will be a minimum of 21 days after the close of each billing cycle. |
| Minimum Interest Charge | None |
| Late Payment Fee | Up to $15 if the balance is less than $100; up to $27 if the balance is $100 to less than $250; up to $37 if the balance is $250 or more. |
| Returned Payment Fee | Up to $37 |
You'll also earn rewards on non-Amazon purchases. There's no foreign transaction fee, which is good if you think you may use the card for travel.
Since it's a Visa Signature card, you get some premium perks built in that can make your next trip more enjoyable.
At $99, Amazon Prime membership doesn't come cheap.
If you're not already a Prime user, you may be wondering whether it's worth it to get this card. Find out whether or not the card's features and benefits and worth it.
Main card features:
No annual fee
Exclusively for Amazon Prime members
5% back at Amazon.com, 2% back at restaurants, gas stations, and drugstores, and 1% back on all other purchase
No foreign transaction fees
Visa Signature benefits
Standout Feature: High Rewards at Amazon.com
The Amazon Prime Rewards Visa Signature Card has a significant edge over the regular Amazon Store Card.
That card offers Prime members 5% back on Amazon purchases, which is applied as a statement credit.
With this card, you earn 5% back at Amazon.com with an eligible Prime membership.
Additionally, when you use your card at restaurants, gas stations, and drugstores, you earn 2% back.
All other purchases earn 1% back. Rewards are unlimited and they don't expire while your account is in good standing.
That kind of flexibility is great if you're primarily an Amazon.com shopper but you also want to earn rewards on everyday purchases.
One thing to point out is that you're not earning cash back. Instead, you're earning rewards back as points.
Every 100 points you earn is worth $1 for redemption purposes. Instead of being limited to statement credits, you've got lots of options for redeeming your rewards points.
Redeeming Amazon Prime rewards
So how can you put your Amazon Prime rewards to work? First, you can use them to shop at Amazon.com. You can pay for part or all of your purchase with points. There's no minimum amount required to redeem.
You can buy millions of products on Amazon.com with Shop with Points but there are some limitations. For example, you can't redeem points for:
Kindle downloads
Digital music
Amazon video titles
Amazon Appstore apps
Subscribe and Save items
Pre-order items
Textbook rentals
Prime membership
That's something to keep in mind if you routinely make those kinds of purchases on Amazon.com.
Redeeming rewards through Chase
This card is issued by Chase, which issues most of the Amazon-branded credit cards. That means your redemption options go beyond just shopping at Amazon.
For example, you can redeem points for cash back. Every 2,000 points you redeem is worth $20 in cash rewards in the form of a statement credit.
Gift cards are another option. You can get a $25 gift card for every 2,500 points redeemed.
If you like to travel, you're in luck. You can redeem points for travel purchases, including flights, hotels, cruises and car rentals.
Looking Beyond Rewards: Other Card Perks
The rewards program is undoubtedly the best feature of this credit card, but that's not all you get. The card also comes packed with extras for travel and shopping.
Travel protections
If you travel a little or a lot, this card has got you covered. The following features are included in your card membership:
Travel accident insurance
When you charge air, bus, train or cruise fare to your card, you're covered by up to $500,000 in accidental death or dismemberment insurance.
Lost luggage reimbursement
You've also got $3,000 in lost luggage reimbursement coverage per passenger if your bags are lost or damaged.
Baggage delay insurance
Having to wait for your bags to catch up with you once you reach your destination can be a pain.
This card offers reimbursement coverage for things like toiletries and clothing if your baggage is delayed by more than 6 hours. The coverage maxes out at $100 a day for three days.
Travel and emergency assistance
When you're away from home, it's always good to have someone you can call on for help.
Fortunately, card members can get help with legal and medical referrals or other travel and emergency assistance.
Roadside dispatch
You can also get help if you need a tow or a jumpstart or you just run out of gas. Any service fees related to the call are automatically charged to your card.
Visa Signature Luxury Hotel Collection
As a cardmember, you can choose from over 900 luxury hotels around the world. Cardmembers receive bonus goodies like the best available rate, automatic room upgrades when available and complimentary in-room Wi-Fi.
Visa Signature Concierge Service: Visa Signature Concierge Service is available 24 hours a day.
If you need help finding tickets to a sports or entertainment event, making dinner reservations or tracking down the perfect gift, concierge service is on standby.
Auto rental collision damage waiver
One final travel perk covers you if you're renting a car. Your card comes with rental car insurance for most rental cars in the U.S. and abroad.
Shopping protections
You can shop 'til you drop without worrying about extra hassles. Your card comes with both extended warranty protection and purchase protection built in.
The extended warranty program extends your existing warranty for one year, on eligible warranties of three years or less. You're also covered against damage or theft for the first 120 days, up to $500 per claim.
Is It Worth the Cost?
As mentioned earlier, there's no annual fee for this card. To qualify for the 5% back rewards rate on Amazon purchases, you have to have an eligible Amazon Prime membership. That includes:
Annual and monthly Amazon Prime subscriptions, excluding Amazon Prime video subscriptions
Members who share Prime benefits via an Amazon Household
Amazon Prime Fresh
Amazon Family
Amazon Prime Student
Trial memberships of annual and monthly Amazon Prime subscriptions, Amazon Prime Fresh, and Amazon Prime Student (excluding Amazon Prime video subscriptions)
The standard Prime membership is $99. That breaks down to $8.25 a month. The best way to look at the math is this: how often do you use Prime services?
If you're regularly streaming movies, music or TV, then $99 may be a small price to pay. The same goes if you regularly buy things on Amazon.
Free 2-day shipping is included on eligible Prime purchases. The money you could save alone on shipping could easily make up for the $99 subscription fee.
One other thing to consider is the annual percentage rate (APR).
There's no low introductory APR for purchases or balance transfers with this card. The regular variable APR applies to everything you purchase or transfer.
The APR range pretty is broad and if you don't have the best credit score, you may end up with a higher rate.
If you're not paying in full each month, the APR could make the things you buy with the card more expensive.
How It Compares to Other Rewards Cards
The Amazon Prime Rewards Visa Signature Card isn't the only credit card that lets you earn rewards.
Another card may be more appealing if you have different spending habits. Here are other cards you might want to consider.
Amazon Rewards Visa Signature Card
The Amazon Rewards Visa Signature Card is designed for Amazon shoppers who want to earn rewards without paying the Prime membership fee.
This card offers 3% back at Amazon.com, 2% at restaurants, gas stations, and drugstores, and 1% everywhere else.
Virtually everything else is the same with this card, from the APR range to the travel and shopping protections.
The two biggest differences are the lower rewards rate on Amazon purchases and the fact that you don't have to be a Prime member to get this card. If you don't use Prime, this one could be a good alternative.
Chase Freedom Flex
The has a rotating cash back structure, with cardmembers earning 5% back on selected purchases each quarter. There's no annual fee either.
One reason to consider this card is the potential to earn more rewards on Amazon purchases.
In the past, during certain promotion periods, Chase has increased the quarterly bonus on Amazon shopping to as much as 10%.
Read the Chase Freedom Flex editor's review.
Citi Double Cash
The  is the strong contender due to its simple cash back program, which could allow you to earn an effective 2% cash back on all spending.
It also have no annual fee.
Read the Citi Double Cash editor's review.
A No-Brainer For Amazon Prime Members
The Amazon Prime Rewards Visa Signature Card could be a great choice for anyone who does a lot of spending on Amazon but also uses their card for other purchases.
We wouldn't recommend this one if you don't want to pay the $99 subscription fee required for Prime membership.
Ultimately, this card is best suited for Amazon shoppers who already use Prime and want to get more points back on their purchases.
Compare Best Accounts Now