Amazon Store Credit Card 2023 Review
The Amazon Store Credit Card is reviewed for its 5% cash back rewards program with Prime membership and special financing. It is not the Amazon Rewards Visa.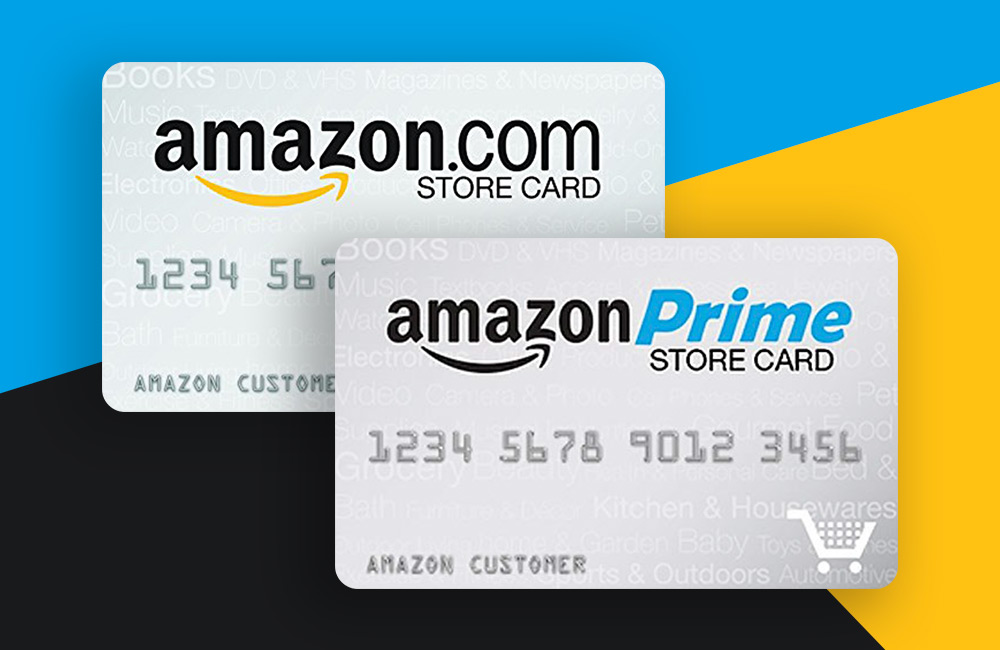 Shopping from the comfort of home is a lot more convenient than trying to fight the crowds at the mall.
If you're a regular Amazon customer, signing up for an Amazon credit card is a no-brainer.
The Amazon store credit card is designed to be used exclusively for Amazon purchases.
This card is good for someone who wants to earn a whopping 5% cash back on Amazon spending (requires a Prime membership) or to take advantage of 0% APR financing for big purchases.
In this Amazon credit card review, we'll compare rates, fees, and services to other popular credit cards.
Key credit card features:
Credit cards come with lots of fine print and we know how easy it is to get bogged down in the details. To make it easier, we've highlighted the best reasons to apply for an Amazon credit card:
No annual fee
Some credit cards charge you an annual fee just to have them. That's on top of the interest you pay if you carry a balance.
The Amazon store card has no annual fee at all.
Promotional financing
If you spend $149 or more with your card, you pay no interest if you pay the balance off within six months.
If you spend $599 or more, you get 0% financing for 12 months. There's also a 0% deal available on selected items for up to 24 months. That includes things like appliances, jewelry, and computers.
5% back when you upgrade to Amazon Prime
With the upgraded Amazon Prime Store card, you earn 5% back every time you shop online at Amazon.com. That's $5 back on every $100 you spend.
Equal pay financing
Amazon offers 0% financing on certain items for 12 months without requiring a $599 minimum purchase.
Card rates and fees
If you make a purchase that doesn't qualify for 0% financing, you'll pay a regular variable annual percentage rate. A variable rate means your APR can go up or down over time. The minimum interest charge is $1.50.
This card doesn't allow balance transfers or cash advances so there are no fees for that. The only other cost is a $35 late fee if you make a payment past the due date.
Amazon Store Card Account Fees
| Type | Fees |
| --- | --- |
| Annual Percentage Rate (APR) for Purchases | 27.49% This APR will vary with the market based on the Prime Rate. |
| How to Avoid Paying Interest on Purchases | Your due date is at least 23 days after the close of each billing cycle. We will not charge you any interest on purchases if you pay your entire balance by the due date each month. |
| Minimum Interest Charge | If you are charged interest, the charge will be no less than $1.50. |
| Late Payment | Up to $38 |
Why it's worth it to get the Amazon Prime credit card instead
The basic store card is good for Amazon shoppers but there's a better option if you want to get paid back even more for shopping online.
Upgrading to an Amazon Prime Store Card opens the door to more impressive benefits, including streaming TV and movies as well as free 2-day shipping on Amazon purchases. Not only that but you can earn rewards on what you spend.
With a Prime store card, you automatically earn 5% back on everything you spend at Amazon, every day.
The rewards you're earning are applied as a statement credit. Amazon doesn't cap the amount of rewards you can earn.
They don't expire as long as your account is open and in good standing.
Getting 5% back on your purchases can add up to some serious savings if you're a regular Amazon shopper.
It's the equivalent of getting $50 back for every $1,000 you spend so if you charge $10,000 a year, you're putting $500 of that right back in your pocket.
Even if you only spend $2,000 a year, you still earn enough back to cover the Prime membership's annual fee.
Amazon does enforce a catch of sorts for customers who change from the store card to the Prime card.
If you make a purchase that qualifies for 0% financing, you have to decide whether you want to avoid the interest charges or get the 5% back. Amazon doesn't let you have both.
The current annual membership fee for Prime benefits is $99.
If you already have a membership or you decide to sign up for one, your store card is automatically upgraded to an Amazon Prime credit card.
If you're on the fence about paying a $99 annual fee, Amazon gives you 30 days to try Prime for free. You can always switch back to a regular Amazon store card before the trial period expires.
Amazon store cards vs. other rewards credit cards
It's always smart to compare the different Amazon credit card options to some of the most popular rewards cards on the market.
Specifically, we were interested in whether any other cards could help you save the same amount or more on Amazon purchases.
Here's a quick rundown of the top card alternatives for Amazon shoppers:
Blue Cash Preferred Card from American Express
The gives you cash back for making supermarket purchases each year.
If your grocery store sells Amazon.com gift cards, you can use the Blue Cash Preferred card to save money on gift cards you buy.
This card has a $95 annual fee (see Rates & Fees; terms apply) but that's still less than the $99 you'd pay each year for an Amazon Prime credit card.
You can earn the fee back and then some if you max out the 3% cash back bonus each year.
Read Blue Cash Preferred Card Editor's Review
U.S. Bank Cash+ Visa Signature
The has a more customizable cash back program that makes it a good pick if you love Amazon.
The card offers the option to earn 5% cash back on the first $2,000 in purchases in two categories of your choice each quarter.
One of the choices is electronics stores, including Best Buy, which sells Amazon gift cards so you can save when you stock up.
read U.S. Bank Cash+ Visa Signature Card Editor's Review
Citi Simplicity
The doesn't offer any rewards but it's got something better for people who don't like paying interest charges.
Typically, the card offers 0% financing on purchases for an extended period of time. You get the same deal on balance transfers. Best of all, there's no annual fee, no late fees and no penalty rate.
Read Citi Simplicity Card Editor's Review
Discover it® Cash Back
The Discover it® Cash Back card is another cash back card that features rotating spending categories. The cash back bonus tops out at 5% and it applies to Amazon.com purchases during certain quarters of the year.
If you don't shop at Amazon as often but you still want to get a deal, this no-annual-fee card is worth a look.
Applying for an Amazon store card or Prime card
You can apply for an Amazon store card if you're a U.S. resident and at least 18. You need to have a Social Security number of a Taxpayer ID number to fill out the application.
Amazon store cards are issued by Synchrony Bank and they'll check your credit report when you apply. You'll find out in as little as 15 seconds if you're approved.
If you've got serious delinquencies or a bankruptcy on your credit, it may be tougher to get a card.
Final verdict: Is an Amazon store credit card a good choice for online shoppers?
The answer to that question ultimately depends on how much shopping you do at Amazon and how you prefer to save money.
For shoppers who don't want to pay interest on larger purchases or get hit with an annual fee, the Amazon store credit card makes sense.
On the other hand, if you already have a Prime membership the 5% back option with the Amazon Prime credit card offers you a little more in the way of rewards.
If you want rewards but you don't think you'll use Prime to stream movies or TV or take advantage of the free two-day shipping, you're better off sticking with one of the no-annual-fee alternatives we mentioned earlier.
See the rates & fees for the mentioned American Express cards: Blue Cash Preferred from American Express (Rates & Fees; terms apply).