Lowe's Store Credit Card 2023 Review
Read our review of the Lowe's Credit Card to find rates, minimum credit scores, benefits & more. Then decide whether you shop at Lowe's enough to save big.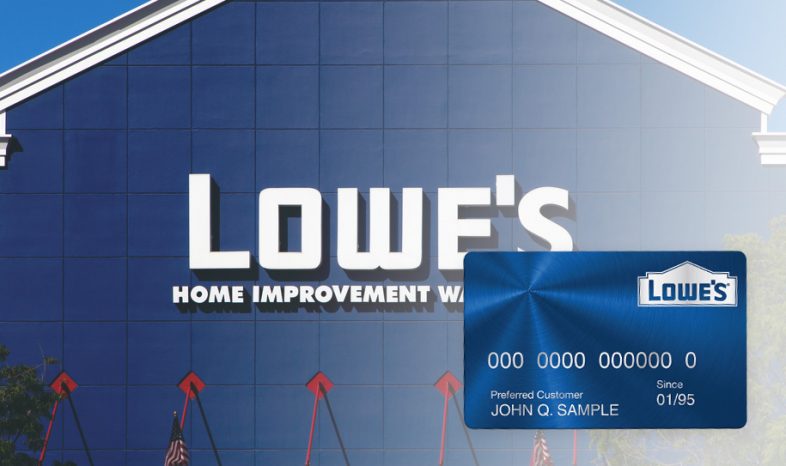 Big projects and plans for our homes are seldom cheap or easy.
One way to get the most out of the money spent on home improvements is through rewards cards that specifically award these types of purchases.
Because of Lowe's reputation as a leading retailer for everything from building supplies and hardware to flooring and appliances, the Lowe's Consumer Credit Card is often the first choice for consumers.
If you're looking for the best credit card for your home improvement purchases, here's how the Lowe's Store Card stacks against the competition:
People with fair credit scores can more easily get approved
You can apply online
You can pay your bills online
You can choose between 5% back on Lowe's purchases or special financing on those purchases
Application and Bill Pay
As with many other store credit cards, the Lowe's card application is available online. Its bill pay services for managing your account are also available online.
This is particularly convenient for new applicants who would like to apply and get a response from their living rooms, rather than waiting in the store at the counter.
Think this is standard? Think again. Believe it or not, there are store cards that still require consumers to apply in-store.
And when it comes to the types of large purchases you might plan to make in Lowe's stores, applying in-store could be a big hassle.
What Credit Score is Needed
Store credit cards accept those with lower credit scores than other credit cards. For the Lowe's Card, you may qualify with a credit score in the low to mid 600s.
On the other hand, most of the top rewards credit cards are going to require a credit score in the "excellent" range.
The Lowe's Card is particularly helpful for people who've had credit problems in the past or are working toward building credit for the first time.
This benefit is one particular to store cards in general. Store cards are often the easiest of all cards to be approved for.
Why is this? It's because retail stores can charge high interest rates and keep lending limits low. This keeps their risk low, making it easier for them to offer cards to those with lower credit scores.
And for those with credit scores? Well, if you can keep your balance low, then you can build your credit score up without succumbing to debt.
In order to improve your credit score, one major factor is your payment history.
If you pay your bills on time every time consecutively, you'll start to see an increase in your score. (And, if you pay your bill in full before the end of the billing cycle, you'll do so without paying a dime in interest.)
You can also improve your score by keeping your credit utilization low. (Credit utilization is the amount of money you owe versus how much credit you have available to you.)
When you combine payment history with credit utilization, you've already covered 65% of your credit score. Not bad for pretty little effort.
If you're looking for a way to finance your home improvement purchases and improve your credit score, the Lowe's credit card could be a great way to accomplish both at the same time.
Featured credit card:
Credit Card Promotions
Lowe's offers a few different promotions that you might find beneficial while shopping. One of the offers is 5% off your purchase when you use your Lowe's Credit Card.
There are a few limitations to the 5% off. For instance, this discount doesn't apply to gift cards, services, and some brands of appliances.
You also can't use the offer in conjunction with other promotions. Still, for home improvement purchases where the costs can get high, 5% can quickly add up to a large amount of savings.
Downsides of Lowe's 5% Off
Although 5% is a nice discount on home improvement purchases, the limitations of this discount can mean you might not even get to take advantage of it.
If you are specifically looking for a card that offers a discount or rewards on your Lowe's purchases, there are cash back credit cards without these limitations.
Another option for saving on Lowe's purchases is with the Chase Freedom Credit Card, which awards up to 5% cash back on rotating quarterly categories.
However, for Lowe's purchases specifically, the store happens to be a retailer that is part of the online Chase Ultimate Rewards portal, which awards 3% cash back on all your Lowe's purchases.
This card allows you to earn cash back on your home improvement purchases, as well as many other types of purchases that aren't at Lowe's.
Unless you frequently shop at Lowe's, the Chase Freedom are better options.
Credit Card Special Financing Offers
The other promotional offers with the Lowe's Card involve saving money on interest with special financing.
If your purchases total at least $299 to $998.99 made with the card, you can take advantage of special financing for 12 months.
This means you can pay down your balance without any interest. If your purchase is $999 or more, you get 18 months to pay it off without any interest.
Disadvantages of Lowe's Special Financing
Although you can save quite a bit of interest with the Lowe's Credit Card if you choose one of the special financing offers, there are a few disadvantages, especially when compared with other credit card offers.
Primarily, you have to choose either the 5% off at Lowe's stores or special financing. You can't take advantage of both offers.
And although there are no rewards with the Citi Simplicity Credit Card, you're most likely going to get a lucrative introductory APR offer, without the spending requirements attached to the Lowe's special financing offer.
Special Financing vs. 0% APR Offers
Another disadvantage of the special financing offer with Lowe's is that although you don't have to pay the interest during the promotional period, that interest is still accruing.
If for some reason, you don't pay your balance in full within that period, all the interest that accrued will be applied to your balance at the end.
With most other 0% APR offers, you pay no interest during the introductory offer. If you don't pay your balance in full by the end, you are charged interest on the remaining balance at whatever your interest rate is on the card.
Because the APR for the Lowe's Credit Card versus the lowest APR on the Discover it and Chase Freedom, it's especially important to consider whether or not you will be able to pay your balance off in full during the promotional period.
Lowe's Store Credit Card Interest Rates and Interest Charges
| Lowe's Store Credit Card | Fee |
| --- | --- |
| APR for Purchases | 26.99% |
| Avoid Paying Interest on Purchases | Your due date is at least 23 days after the close of each billing cycle. You will not be charged any interest on purchases if you pay your entire balance by the due date of each month. |
| Minimum Interest Charge | If you are charged interest, the charge will be no less than $1.00. |
| Late Payment Penalty | Up to $35 |
Interest Rate Review
Because store credit cards are often easier to qualify for than others, the APRs are usually higher than on other credit cards as well.
In fact, the APR with the Lowe's Credit Card is among the highest you'll find on a credit card.
If you plan to consistently pay your balance in full before the end of the billing cycle, you can avoid paying interest on your purchases.
However, if you carry a balance from month to month, the APR is going to add up, making your purchases cost you more in the long run.
If you typically carry a balance, it is best to focus on low-interest credit cards rather than those that provide rewards and other special benefits. And, if possible, pay off those balances as soon as possible.
Should You Apply?
If you have a fair credit score and won't qualify for other rewards credit cards, you have a better chance with the Lowe's Card than with other rewards credit cards.
The fact that this card is easier to be approved for compared to other credit cards is its primary advantage when stacked up against the competition.
Although the credit card isn't the best available for rewards or special financing offers, it does offer the option to choose between taking 5% off your Lowe's purchases or receiving special financing on those purchases.
And, if you're a frequent Lowe's shopper, either of these benefits can come in handy.
If you make sure you pay your balance in full before the promotional period ends and continue to be diligent in paying balances in full each month, you might find the Lowe's Credit Card a decent choice for home improvement purchases.
And, as you use the card to help increase your credit score, you can graduate on to even better rewards credit cards in the future.