Gap Store Credit Card 2023 Review & Tips
The Gap Store Credit Card review looks at the credit card designed to offer rewards and exclusive sales on Gap and Banana Republic purchases.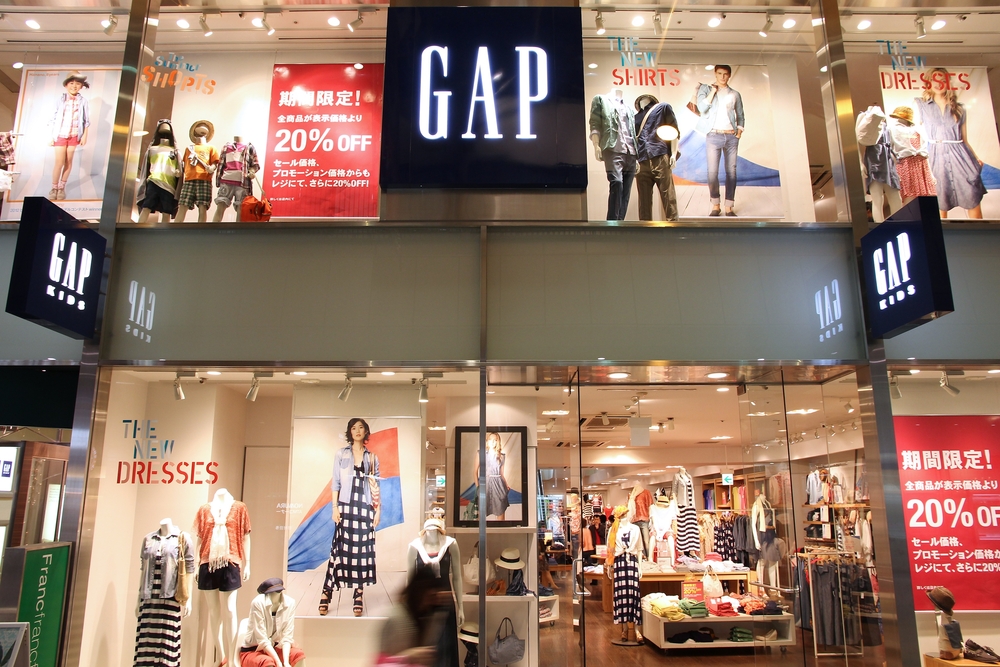 Gap Store
Gap stores are trendy, well-known clothing stores for everyone from babies to adult men and women.
It's also part of a family of popular retailers which include Old Navy, Banana Republic, and Athleta, which provides extra options when it comes to the GapCard.
The Gap credit card offers extra perks when shopping in these stores, but you might wonder just how well it stacks up against other rewards credit cards on the market.
If you're considering one of the Gap's two credit cards or looking for ways to get the most out of shopping with the Gap, in this review learn what you should know when it comes to the credit cards that are available.
Here are the main benefits of the Gap credit card:
15% off your first purchase at Gap
1,000 bonus points if you enroll in text updates and paperless billing
5x points at Gap, Old Navy, Banana Republic, and Athleta
Automatic Gap Silver status if you earn 5,000 points in a year
What Credit Score is Needed for the Gap Credit Card?
Like many popular retailers, the Gap offers two versions of its credit cards.
The store card, which can be used whenever you shop at Gap stores, and the Gap Visa card, which can be used in-store as well as wherever Visa is accepted.
And, like other store cards, if you've had credit problems in the past or you haven't yet established any credit, you have a better chance of being approved for the standard store card version.
Although you might qualify for the Gap store card with a credit score in the lower 600s, a higher credit score near the 700s will be required to get approved for the Gap Visa.
In comparison, most other rewards credit cards require higher credit scores around the 700s as well.
You can apply for either of the Gap credit cards by completing and submitting the Gap credit card application online and, in most cases, you'll know whether you are approved or denied within minutes.
If you do not qualify for the Visa, you could be offered the Gap store version of the card instead.
Differences between the Gap Store Card and Gap Visa
Otherwise, there really isn't much difference between the two cards, other than the fact that you can't use the store card on other types of purchases.
The Gap Visa card also includes Visa Signature benefits that are often found on credit cards, as well as the opportunity to transfer a balance, take out a cash advance, or use the card for foreign transactions.
How the GapCard Rewards Program Works
Both cards award 5x points for each dollar spent at Old Navy, Gap, Banana Republic, and Athleta, but the Visa card also awards all other types of purchases with 1x point for each dollar spent.
You can earn points on purchases made in-store, as well as online at sites such as bananarepublic.gap.com, oldnavy.gap.com, and even Baby Gap. Each 500 points that you accumulate can be redeemed for a $5 rewards toward your next Gap purchase.
Compared to Cash Back Credit Cards
In comparison to other credit cards, however, this may not be the best deal even for the purchases you make at Gap stores.
U.S. Bank Cash+ Visa Signature
You can choose clothing stores as your bonus category with the and earn 5% cash back on the purchases you make at Gap brands.
The biggest advantage with this card is that you receive cash back that you can turn around and use anywhere, versus Gap points which can only be redeemed toward other Gap purchases.
Read the U.S. Bank Cash+ Visa Signature Card editor's review.
Chase Freedom
Another option is the which awards 5% cash back when you use the Chase Ultimate Rewards online shopping portal, plus an additional 1% cash back when you shop at The Gap and Gap Outlet online.
Read U.S. Bank Cash+ Visa Signature Card editor's review.
Citi Double Cash
And, if you only shop at Gap stores occasionally, a card like the , which may award an effective 2% cash back on all purchases (1% when you make the purchase and 1% when you pay it off), allows you to earn cash back on all purchases and not just those made at Gap stores.
Read the Citi Double Cash editor's review.
Get to Gap Silver Status Faster and Other Perks
The Gap Credit Card does come with other benefits and bonuses that shoppers may find valuable.
For instance, if you earn 5,000 points in a calendar year, you qualify for Gap Silver status, which includes bonuses such as 20% bonus points per quarter, free shipping at Gap, free basic alterations at Banana Republic, and a dedicated customer service line.
Gap cardholders also receive access to exclusive deals, presales, and offers only available to cardholders like a special birthday savings and 10% Tuesdays when you shop at Gap and Gap Factory stores or online at gap.com or gapfactory.com.
Fans of Gap stores won't find these specific deals and Gap shopping offers with many other credit cards.
GapCard Sign-Up Offer for New Cardholders
New Gap cardholders get a 15% discount off the first purchase made with the credit card.
If you plan on making a large purchase or need to stock up on school or baby clothes at Gap stores or any of its partners, you could save a significant amount of money.
You can also earn a total bonus of 1,000 points worth $10 at Gap, if you agree to receive text updates and sign-up for paperless billing.
Neither of these bonuses are particularly impressive, however, especially when compared to the sign-bonuses that many other cash back rewards credit cards currently offer new cardholders.
Popular cash back credit cards like U.S. Bank Cash+ Visa Signature and Discover it often provide new cardholders with promotional offers that can be worth hundreds of dollars.
And although these offers typically require you to meet a specific spending limit within your first three months of account opening, you aren't limited to just Gap stores to earn or redeem them.
The Cost of Carrying the Gap Credit Card
Although neither Gap credit card charges an annual fee, they both carry high APRs, which is pretty common with most store credit cards.
This is less of a problem if you consistently pay your balance in full each month instead of carrying your balance from month to month.
If you need to carry a balance, cards with high APRs are going to cost you hundreds of dollars per year in interest. If this is the case in your situation, it's best to forego rewards programs and extra benefits for a low-interest rate credit card instead.
Saving Money with 0% Intro APR Offers
In addition to the high interest rate, there isn't a promotional 0% APR opportunity or special financing offer that you usually get as a new cardholder with other credit cards.
These offers can help you save money not only on purchases you make within a certain period of time but also on balance transfers if you need to transfer from a high-APR credit card.
The Discover it Credit Card currently offers a 0% introductory APR on purchases and balance transfers for 12 months and the Citi Double Cash Credit Card offers a 0% intro APR on purchases and balance transfers for 15 months from the date of account opening.
Should I Apply for the GapCard?
If you have had credit problems in the past or you don't yet have credit established, store cards can be used to use to start building your credit file.
Depending on your credit score, you may have a better chance of being approved for the Gap store credit card than you would with the Discover it, U.S. Bank Cash+ Visa Signature, or the Citi Double Cash.
It's important if you choose the GapCard, however, that you are diligent in paying your balance in full each month to avoid paying loads of interest on your purchases.
If you carry a balance from month to month, the interest is likely to cancel out any rewards or benefits you earn from using the card.
Other Disadvantages of Gap Cards to Consider
Even for those who frequently shop at Gap stores and its partner stores, there are various other rewards cards on the market that provide better opportunities.
With other cards, you not only earn rewards when you shop at Gap stores, but you can earn from other types of purchases as well. Plus, you can typically redeem your rewards in other ways besides being limited to Gap certificates.
Finally, for cardholders who can save money on sign-up bonuses or 0% introductory APRs, the GapCard is not helpful, nor the best option available by far.
In order to earn the most valuable rewards and save the most money, your best bet is to choose one of the other no-annual-fee credit cards on the market rather than either the Gap store card or the Gap Visa.