Are Store Credit Cards Worth the Discounts?
It's no secret that retail store credit cards come with a plethora of discounts and benefits. But are these discounts worth signing up for? Read on to find out.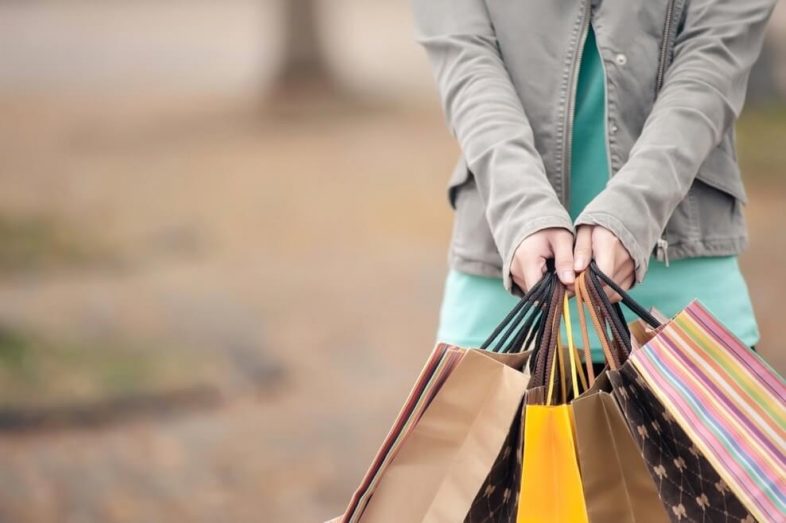 It's a common experience to be asked by cashiers if you'd like to open a store credit card while shopping at the mall or other retail locations. They promise savings on your purchase and insider coupons in the future.
But often, we decline the offer, thinking "it's a trap!" to avoid the high interest rates that come with signing up for another credit card. It's assumed that store credit cards are offered just as a way to entice us with a signup bonus and hide the fact that the card has a high APR with little reward - a quick way for stores to earn more money from us.
However, not all store credit cards are like this. Many of them offer cashback, rewards, and loyalty perks, making them worth having in your wallet beyond just the initial discounts.
So, don't stop at the signup offer, take the time to explore what benefits the store credit card can offer you.
Rewards Credit Cards vs. Store Credit Cards: What's the Difference?
The average rewards credit card as we know it may operate differently depending on the card.
In return for the purchases you put on the card, your card issuer may reward you with a percentage of cash back.
You could receive your cash back as a reward for various types of spending. Some rewards cards even offer a bonus percentage of cash back for specific categories.
Rewards can be redeemed in a variety of ways. Points, miles, and statement credits are the most common forms of reward redemption.
And you could use these rewards for a variety of things, depending on the card (think general expenses, airfare, hotels, and more).
Store cards offer benefits in a different way. You may not get rewards for your store card, but you will likely get significant, upfront discounts and invitations to exclusive shopping events. These cards often come with an initial discount for signing up.
Store Credit Card Pros:
You can get discounts on the brands you love to buy. Additional perks include exclusive deals on purchases and financing, free shipping, and more.
You can use a store card to build credit just like you would any other credit card.
If your store card is associated with a larger brand, you may be able to get discounts and benefits at a large network of stores and brands.
Store Credit Card Cons:
They come with higher interest rates than standard credit cards.
They tend to come with lower credit limits than standard credit cards.
The promise of discounts on your purchase for signing up may make it too easy to open too many store cards at once - or to open store cards you won't use again.
They could potentially hurt your credit score because stores run "hard pulls" on your credit report.
Store Credit Card Discounts: Are they Worth It?
Like any rewards credit card, there are good store cards and bad store cards.
First impressions count, so it can be hard to tell if attractive discounts are worth the account you're opening.
Here are a few top store cards to help you see what's out there - and evaluate whether this type of credit card might be worth it for you.
1. Amazon Rewards Visa Signature Card from Chase
Benefits:
Amazon Rewards Visa Card from Chase is ideal for the Amazon loyalist.
You'll get rewards points for every dollar you spend on Amazon, and you could get points for spending elsewhere as well.
You also get the choice of redeeming their points in a variety of ways, like cash back or on a gift card. There's no annual fee and no earnings cap.
Drawbacks:
Interest rates for the Amazon card can be on the steep side.
If you carry a balance from month to month, the amount you pay in interest charges may counteract any savings you were awarded for signing up the card.
2. Gap Visa Card
Benefits:
The Gap Visa Card signup discount is a bit of a gateway to other discount offers.
First, you'll get the initial discount on your purchase if you sign up for the card. Then you'll get an additional discount at Gap or its affiliates if you shop on specific days of the week.
Like the Amazon card, you can earn points not just for your purchases at Gap, but for your purchases elsewhere too.
Drawbacks:
Rewards on the Gap store card expire.
That means you might feel pressure to redeem your rewards before you're ready and thus spend more than you intended.
This card also comes with a high interest rate, which can become a problem if you don't pay your balances off each month.
3. Lowe's Consumer Credit Card
Benefits:
Lowe's Consumer Credit Card offers a discount on all purchases.
This can add up if you're a DIYer who loves shopping at Lowe's. Another option is to take advantage of special financing on large purchases, instead of this discounted shopping. There's no annual fee.
Drawbacks:
A pattern of high interest rates can't seem to be avoided with store credit cards. This card is no exception.
Interest rates aside, this card's signup discount isn't as impressive as other store cards.
However, the special financing on large purchases can make this card worthwhile if you have a lot of home improvements or purchases on your to-do list.
4. TJX Rewards Credit Card
Benefits:
Bargain and sale hounds who go for TJ Maxx or Marshalls over Nordstroms or Saks can do quite well with this card at their disposal.
With The TJX Rewards Credit Card, each dollar you spend earns you points that can then be redeemed for a store gift certificate.
Drawbacks:
This card comes with one of the highest interest rates out there. This might not sit well with a budget-minded shopper.
However, the discounts the card comes with can go further than most retail outlets, so that helps.
If you pay the balance off each month, you can enjoy the discounts without worrying about the interest.
Shop around for the Right Store Credit Card
Signup bonuses are icing on the cake for the right store credit card. But if you open the wrong card, it will sit in your wallet unused and unloved.
To prevent that from happening, keep some of these considerations in mind when searching out a store card:
Make Your Credit Score Your Top Priority
A sweet discount won't take away the fact that many store cards carry high interest rates.
If you tend to carry a balance from month to month, a high APR can run you into debt and make opening a store card something to regret.
Debt is bad for your credit score and, more importantly, bad for your finances.
Also, be careful not to open several cards at once just for the discount you'll get on your purchase.
Too many credit inquiries in the application process, plus overdoing it on opening and closing of accounts, can damage your FICO score.
Spend Moderately
Store cards can make it easy to overspend, especially when those coupons start coming in the mail.
This can leave you with a credit card balance that's impossible to pay off and with oppressive interest rates that can place you on the brink of debt.
Be mindful of your spending just like you would with any other credit card. And remember that you don't have to buy just to take advantage of the latest coupon or deal.
Find the Right Card for You
It's impractical to open a Lowe's card if home improvement isn't your thing.
But if home improvement is your passion, a Gap card won't be the right choice for you.
Select the right card for your retail needs. Where do you like to shop? Where do you spend money most often? The right store card will give you the bonuses and rewards that serve you best.
Understand Your Card May Be Limited
Remember that store card discounts can be limited to the brands associated with that retailer.
And some may only be usable with that particular retailer. To mitigate against this, sign up for store cards that are serviced by Visa, American Express, or Mastercard. Those are usually accepted anywhere you shop.
Be Responsible with Your Card
Be responsible with your store card and your credit and finances will thank you.
Spending moderately will earn you rewards and prevent you from running up a high balance.
Pay it off in full and on time, and it'll reflect positively on your credit score.
Plus, you'll never have to deal with the high APRs inherent to store cards.
If you're a diverse shopper, consider getting a basic rewards card suited for retail rewards, to broaden the rewards you can receive in all your retail excursions.