The Best Savings Accounts in Alaska for 2023
While Alaska doesn't have many banks in the state, there are still a couple of great savings account options. But, residents should still look at online banks.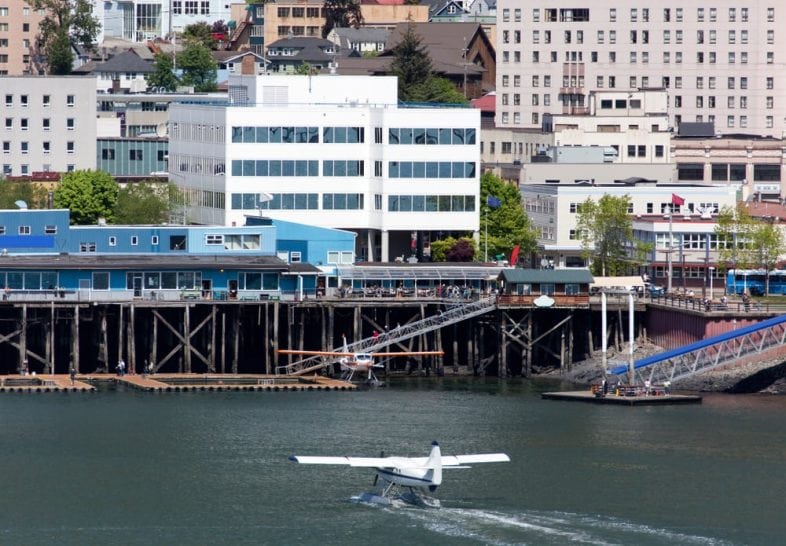 Alaska, the largest state in the union, is home to nearly 750,000 Americans. Though the state's population is smaller than most, Alaskans need banking services just like any other American.
Savings accounts are the second most popular type of bank account in the United States. Due to their popularity, nearly all of the banks that operate in Alaska will offer some type of savings accounts. Only the checking account is more popular than the savings account.
Savings accounts meet two major financial needs:
One is that people need a safe place to store their money. Savings accounts are one hundred percent safe. You can't lose money that you deposit to a savings account.
Despite that safety, it's still easy to withdraw cash from the account, making it a good place to store an emergency fund.
People also need a way to grow their money over time. Savings accounts accomplish this by paying interest on the deposited balance.
If you live in Alaska and want to open a savings account, this article will discuss your options.
The Best Savings Accounts in Alaska
Mt. McKinley Bank Kasasa Saver Account
The Mt. McKinley Bank Kasasa Saver Account offers customers a no-fee account with the chance to earn a great rate of interest.
There's no minimum deposit to open the account and no minimum balance to maintain. You also won't have to any monthly maintenance fees to keep the account open.
To earn the best rates, you have to link your account to a Kasasa checking account. You'll earn the highest available rate if you meet the following requirements each month:
Make 12 debit card purchases
Receive one direct deposit
Receive free eStatements.
If you don't meet the requirements, you'll earn a lower interest rate.
Northrim Bank Classic Savings Account
The Northrim Bank Classic Savings Account offers low fees and an interest rate that increases with your balance.
To open the account, you'll need to make a $100 minimum deposit. Once the account is open, you'll want to maintain a $100 minimum balance. If you let your balance fall below that amount, you'll pay a monthly fee of $1.50.
Your interest rate will increase with your account balance. You'll earn the lowest rate with less than $2,500 in your account. If your balance falls between $2,500 and $25,000, you'll earn the second-highest rate. Once you have $25,000 or more in the account, you'll earn the best rate.
Denali State Bank Personal Savings Account
The Denali State Bank Personal Savings Account is a basic account that may charge hefty fees.
You will need to make a $100 minimum deposit to open the account. You'll also have to maintain a $100 minimum balance to continue earning interest.
If you want to avoid monthly fees, you have to have $200 in the account.
If you can't maintain a balance of $200, you'll pay a $5 maintenance fee. You'll also pay $2 for paper statements. Signing up for e-Statement lets you avoid that charge.
You may make six withdrawals per month without paying any fees. Each withdrawal after the sixth will cost $5.
How we picked
MyBankTracker applied a methodology when choosing the best savings accounts in Alaska. Our top recommendations were selected based on a thorough analysis of savings accounts offered by the top 50 banks by deposit market share in Alaska (based on FDIC June 2023 data)--with a physical presence in major cities including Anchorage, Juneau, Fairbanks, Wasilla, and Sitka.
We focused our choices on savings accounts with low monthly maintenance fees, the least demanding requirements to waive these fees, the bank's ATM network, excess withdrawal fees, and any other convenience features.
Online Banks Serve All States
If you're looking to open a savings account and don't want to open an account with a national bank, you aren't restricted to working with a local bank.
Online savings accounts can be opened from anywhere and offer a multitude of benefits.
One of the largest benefits of online savings accounts is that they offer much more interest than brick and mortar banks do. Online banks are cheaper to run because they don't have to operate ATMs or branches.
They take advantage of the lower cost by paying more interest and charging lower fees.
Low fees alongside higher APYs
Interest and fees can have a massive effect on your savings over the course of months and years. This example will illustrate why an online bank is a much better choice than a low-interest account.
You have $5,000 to put in a savings account and plan to add $250 to the account each month.
A savings account at a brick and mortar bank may pay as much as .05% interest. If you use a savings account that offers that interest rate, you will have $14,014.07 after three years. In the end, you'll have earned less than $15 in interest.
Online savings accounts can offer as much as 10 or 100 times more interest You might be able to find an online savings account that offers 1.5% interest. If you use an online account that pays that much interest, you'll have $14,429.69 after three years.
Choosing the right account is worth more than $400 over the course of three years.
Don't forget that the brick and mortar bank might charge a monthly fee.
Even a $1 monthly fee will wipe out all of the interest you earned.
Don't worry about minimum deposits
Another major benefit of online savings accounts is their low minimum deposits.
Many traditional banks require that you have $50 or $100 before you can open a savings account. It can be difficult for some people to get that much cash at once, which means it's hard for them to open a savings account.
Online banks have very low minimum deposits. Some let you open an account with as little as a penny. That means that nearly anyone can afford to open an online savings account.
Deposit insurance still applies
Many people wonder whether online savings accounts are safe. In fact, they receive the same insurance that brick and mortar banks do. That means that they are just as safe as any other bank.
The Federal Deposit Insurance Corporation offers insurance to banks in the United States. The FDIC will cover up to $250,000 per account type, per customer, at a bank.
What that means is that you can have up to $250,000 in combined savings account balances at an online bank without taking any risk. If the bank is later unable to return your money to you, the FDIC will reimburse you for any amount lost.
If you need more insurance, you can open a joint account as it'll count as a separate account ownership type.
You can get even more deposit insurance coverage by opening accounts at multiple online banks.
Top Savings Accounts at Banks in Alaska
Working with a local bank brings a number of benefits.
One is that local banks can provide personalized service.
As you visit your local bank and get to know the employees there, they will get to know you. They will also get to know your unique financial situation. As the bank's employees come to understand your needs, they will be able to meet those needs more effectively.
Another plus is that local banks are usually better able to cut you a deal on fees every once in a while. National banks tend to have more rigid rules.
Local banks also do a good job of meeting local needs. Given that Alaska is a unique state unlike any other, the banking needs of Alaskans are very different from the banking needs of most Americans.
Local banks understand that and can focus on meeting those unique needs.
National banks do offer one major benefit. If you ever travel outside of Alaska, your local bank won't have any ATMs or branches in the area.
You'll have to use another bank's ATMs and pay the fees. If you work with a national bank and travel or move somewhere else, you'll easily be able to use the same bank.
Advantages and Disadvantages of Savings Accounts from Local Banks
Benefits
Drawbacks

Lower fees than national banks (but not always)
Personal service for account management

Smaller branch and ATM networks
Interest rates are not the highest available