The Best Savings Accounts in Connecticut for 2023
Learn which local banks in Connecticut offer the best savings account based on fees, rates, and features. Compare them to online savings accounts.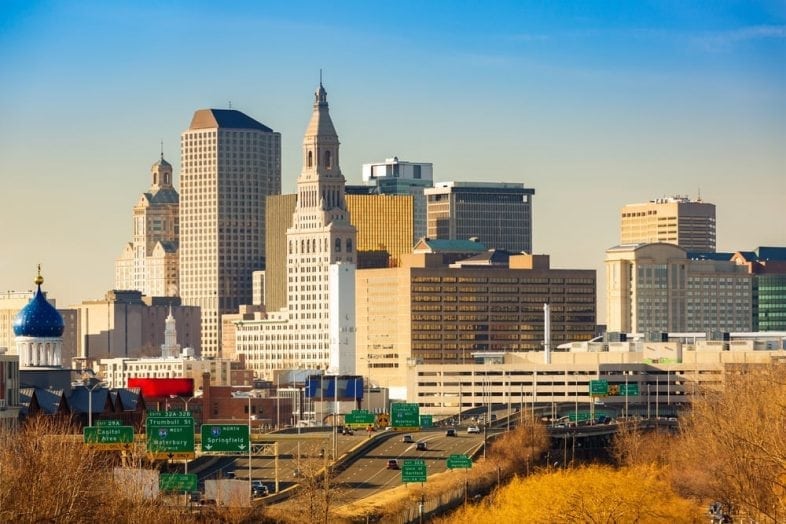 Connecticut is located between two of the major financial hubs of the United States, New York City and Boston. This location means that there is no end to the number of banks that operate in the state.
Each of these banks offering savings accounts to their customers, so it can be difficult to know which savings account is the best.
Savings accounts serve two purposes. They give consumers a way to store their extra cash without having to worry about losing it or having it stolen. Savings accounts also pay interest on the balance that you've deposited. That means they help your money grow.
Another benefit of savings accounts is that they are easy to withdraw money from. That makes them an ideal place to store emergency funds.
If you live in Connecticut and need to open a savings account, find out about the options that you should look into.
The Best Savings Account in Connecticut
M&T Bank e-Money Market Account
The M&T Bank e-Money Market Account is a fee-free savings account that provides some of the flexibility of a checking account. Money market accounts are a special type of account that combine the features of savings and checking accounts.
After opening the account you'll be able to write checks against your balance as if you were using a checking account. However, the interest rate you'll earn will be similar to the rate offered by a savings account.
The only fee to worry about is the excess withdrawal fee. You'll pay a fee of $12.50 for each withdrawal after the sixth in a statement.
Connecticut Community Bank Statement Savings Account
The Connecticut Community Bank Statement Savings Account is a low-fee option for people who want to earn some interest.
There is a $2 monthly fee to have the account, but you can avoid the fee by keeping a minimum balance of $200 in the account. The fee is also waived for account holders under 18 or over 55.
To open the account, you'll need to make a $100 minimum deposit. To earn interest, you'll need to maintain a $200 balance. If you do meet that requirement, you'll earn an average rate of interest. The account also offers an ATM card so you can make withdrawals easily.
Liberty Bank Cinch Savings
The Liberty Bank Cinch Savings account aims to make saving a cinch.
To open the account, you'll need to make a $25 opening deposit. Once the account is open, there's no minimum balance to maintain and no monthly charges. The only fee to worry about is the $2 paper statement fee, which is easily avoided by signing up for online statements.
One of the benefits of the account is that you'll receive a free ATM card that you can use to make withdrawals. Liberty Bank let you make withdrawals from any ATM, whether it is owned by Liberty Bank or not. You may have to pay fees imposed by the ATM's owner if it is owned by another bank.
How we picked
MyBankTracker applied a methodology when choosing the best savings accounts in Connecticut. Our top recommendations were selected based on a thorough analysis of savings accounts offered by the top 50 banks by deposit market share in Connecticut (based on FDIC June 2023 data)--serving consumers in major cities including Bridgeport, Stamford, New Haven, Hartford, and Waterbury.
We focused our choices on savings accounts with low monthly maintenance fees, the least demanding requirements to waive these fees, the bank's ATM network, excess withdrawal fees, and any other convenience features.
Online Savings Accounts are Available Nationwide
If you don't want to work with a national bank chain, you shouldn't just be looking at local banks.
Online banks have grown in popularity recently thanks to their low fees and high-interest rates. Their savings accounts have become particularly popular with people looking to help their savings grow.
Online banks have an advantage over brick and mortar banks because they are much less expensive to run. Brick and mortar banks have raised fees and lowered rates to save money because of the costs associated with operating physical locations.
They can centralize their operations and hire fewer employees. That lets them offer a better deal to their customers.
More savings without more fees
The interest rate and fees have a huge effect on your savings account's value. Given a few years to compound, you could wind up with hundreds or thousands of dollars less if you chose a low-interest, high-fee account.
Remember that many brick and mortar banks will charge monthly account fees. If you pay $2 a month in fees, that will wipe out nearly all of the interest you earned over the course of five years. Choosing an online savings account can result in thousands extra of dollars in your pocket.
Low barrier to saving
Another huge benefit of online savings accounts is that they offer low minimum deposits.
Many traditional banks require that you put down $50 or $100 to open a savings account. Many people have trouble scraping that much money together, so they never open an account and never start saving.
Online savings tend to have lower minimum deposit requirements. Many will let you open an account with just a penny, making it easy to get started.
Your money is insured
Online banks are seen by many as less safe than traditional banks. This is understandable given how strange it feels to give your money to a bank you can't see. The good news is that online banks, just like brick and mortar banks, are insured by the Federal Deposit Insurance Corporation.
The FDIC was formed after the Great Depression to restore confidence in the American banking system. To do this, the FDIC began insuring the value of bank accounts, up to a limit.
Today, the FDIC provides $250,000 in insurance, per account type, per customer, at covered banks. That means that you can have up to $250,000 in savings accounts at one online bank, and be fully protected.
If you make a deposit to a bank that later is unable to return your money, the FDIC will reimburse you. That means that it is impossible to lose money deposited to an FDIC insured bank.
Sticking to savings goals
There is one major-minor drawback to using an online bank. They make it difficult to access your cash.
Online banks don't operate their own ATM networks. You may be able to withdraw money from other bank's ATMs, but you'll have to pay the fees charged by the ATM's owner. Some online banks reimburse these fees, but not all do.
This can be seen as a way to force you to keep savings in the account and avoid the temptation to spend this money.
The Best Savings Accounts in Connecticut
There are two major arguments in favor of working with a local bank.
One is that local banks serve the needs of local customers.
If you open an account at a national bank chain, you get the same account that everyone else in the country gets. That means that the bank provides generically useful account features, but nothing especially unique. Offering features that are only useful to people in a certain part of the country would be a waste of money to a national bank.
Local banks can offer features that appeal to locals, and avoid spending money on benefits that locals won't use.
Another reason to use a local bank is that they can provide personalized service.
If you work with a national bank, the employees are less likely to get to know you, and if they do, the regulations imposed by the bank means they won't be able to provide any additional assistance. If you work with a local bank, the bank's employees will get to know you over time.
They may be able to help you by providing personalized services or financial advice. They might also be able to help you out by bending a rule here and there or giving you some other type of assistance.
National banks do excel at one thing: having a large network of banks and ATMs. If you travel a lot, you'll be happy that you're working with a national bank because you'll be able to find a branch or ATM anywhere. It'll also be a good thing if you move. If you move somewhere that your local bank doesn't serve, you'll need to open a brand new account.
Advantages and Disadvantages of Savings Accounts from Local Banks
Benefits
Drawbacks

Lower fees than national banks (but not always)
Personal service for account management

Smaller branch and ATM networks
Interest rates are not the highest available