The Best Savings Accounts in Hawaii for 2023
Hawaii doesn't have too many banks but you can find some savings accounts from the local banks. Compare them to online savings accounts available nationwide.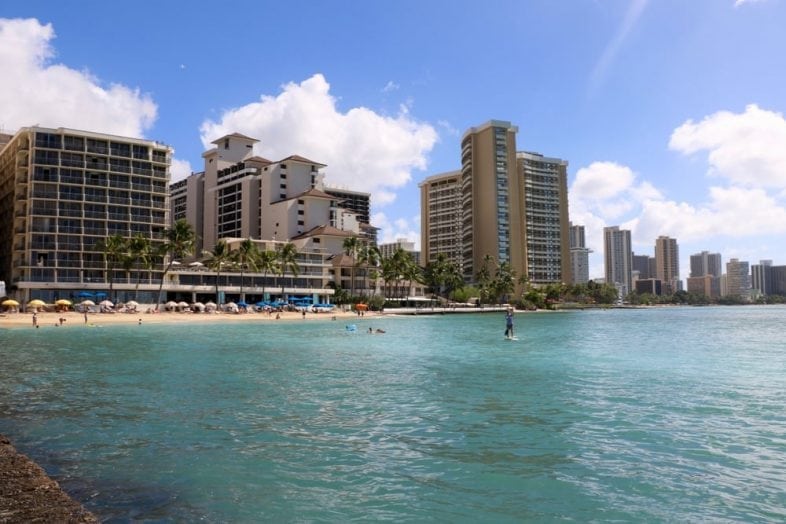 Hawaii is home to nearly 1.428 million Americans, and nearly all of those Americans need access to banking services. Many banks operate in the state to serve the banking needs of Hawaiians. That gives Hawaiians a lot of options to choose from when they're looking for a new bank account.
Savings accounts are the second most popular type of bank account in the United States. Only checking accounts are more common.
Because savings accounts are so prevalent, nearly every bank in the U.S. offers some form of savings account. That means that banks have to compete with each other to draw new customers.
Consumers might want to open a savings account for a couple of reasons.
One reason is that savings accounts are a good place to keep extra money. They're very safe, but still, make it easy to withdraw the money when you need it. That makes them a good choice for storing an emergency fund.
Savings accounts also help people grow their money over time. They pay interest based on the amount deposited, meaning that savers can leave their money to earn more money.
If you live in Hawaii and need to open a new savings account, find out which are the best options in your neighborhood.
The Best Savings Accounts in Hawaii
HomeStreet Bank Personal Savings Account
The HomeStreet Bank Personal Savings Account offers a low-fee experience in a basic savings account.
To open the account, you must make a $200 opening deposit. Once the account, there is no minimum balance requirement to keep the account open.
There is, however, a minimum balance to avoid the monthly fee. If you allow your balance to fall below $200 at any point in a month, you'll pay just a $1 fee.
There are no other monthly fees, such as paper statement fees, to worry about.
First Foundation Bank Personal Savings Account
The First Foundation Bank Personal Savings Account has a high minimum balance but offers unlimited ATM fee reimbursements.
You'll need to make a $100 minimum deposit to open the account. Once the account is open, you'll have to maintain a $250 balance to earn interest and avoid fees. If your balance falls below $250, you'll pay a $3 monthly fee until you get your balance over the minimum.
If you ever need to use an ATM owned by another bank, you may be charged a fee. The fee will be deducted from your balance, but you will be reimbursed for all of the ATM fees you incur, without limit. The reimbursement will come at the end of the month when you receive your statement.
Territorial Savings Bank Statement Savings Account
The Territorial Savings Bank Statement Savings Account offers a low minimum deposit that makes it a strong choice for people who are starting to save. $10 is all you need to open the account.
Once you open the account, you'll want to keep your balance above $100. If you allow your average balance in a month to fall below that amount, you'll pay a $4 fee.
How we picked
MyBankTracker applied a methodology when choosing the best saving accounts in Hawaii. Our top recommendations were selected based on a thorough analysis of savings accounts offered by the top 50 banks by deposit market share in Hawaii (based on FDIC June 2021 data)--serving consumers in major cities including Honolulu, East Honolulu, Pearl City, Hilo, and Kailua.
We focused our choices on savings accounts with low monthly maintenance fees, the least demanding requirements to waive these fees, the bank's ATM network, excess withdrawal fees, and any other convenience features.
Consider Online Savings Accounts Instead
If you want to open a savings account, don't forget to look into online savings accounts.
You can open an online savings account from anywhere in the U.S. and they bring some great benefits.
The biggest benefit of an online savings account is that you'll earn much more money than you would with a traditional savings accounts.
Online banks are able to charge much lower fees and pay much higher interest rates because they cost less to run.
They don't have to pay to operate branches or ATMs and can centralize their operations. They use those savings to give customers a great deal.
Earn more interest
It can be difficult to understand how huge an effect a savings account's interest rate can have on your balance over time.
This example will illustrate how interest rates and fees can affect your account's balance over time.
You want to start saving for a down payment on a house. You have $20,000 to save today and plan to save another $500 each month. After five years, you plan to use the money you saved to make a down payment.
If you open a savings account at a brick and mortar bank, you can expect to earn roughly 0.05% APY each year. If you use an account that pays that rate of interest, you'll have $50,086.97 at the end of five years.
Online savings accounts pay far more interest. You might find an account offering as much as 1.60% APY. If you use that account instead, you'll have $52,875.59 in your account at the end of five years.
You'll earn almost $2,800 more in interest, just by choosing an online savings account.
Also, consider the fact that the brick and mortar bank might charge monthly account fees. If that happens, the fees will put a big dent in the small amount of interest you earn.
Start savings with less
Another significant benefit of online savings accounts is their low minimum deposit requirements.
Brick and mortar banks might refuse to let you open a savings account with less than $50 or $100. Online banks will let you open an account with as little as a penny.
That makes them the obvious choice for someone who is just starting to save.
As safe as the big banks
Online banks might seem riskier than traditional banks, but the reality is that they're just as safe.
The Federal Deposit Insurance Corporation was founded in the wake of the Great Depression to restore confidence in the banking system. It did so by insuring deposit accounts at banks.
Today, it offers up to $250,000 in insurance, per account type, per depositor, at each bank in the U.S.
So long as you don't allow your combined savings account balances at an online bank to exceed $250,000, you cannot lose money. If your online bank goes bankrupt, the FDIC will reimburse you for the loss.
Advantages and Disadvantages of Savings Accounts from Local Banks
Benefits
Drawbacks

Lower fees than national banks (but not always)
Personal service for account management

Smaller branch and ATM networks
Interest rates are not the highest available
Local Hawaiian banks offer a few benefits that make them worth considering.
One is that local banks are good at meeting the needs of local people.
National banks have to offer account features that are useful to the majority of Americans. They can't adapt to the fact that some areas need different banking services than others. By working with a bank that is local to Hawaii, you can get the banking services that are most valuable to Hawaiians.
Another benefit is that the staff at a local Hawaiian bank will get to know you as you do your banking with them.
Over time, the staff will learn about your preferences and personal financial situation. They will be able to provide personalized advice and assistance that a larger bank wouldn't be able to. Local banks also tend to be more able to cut deals or erase fees if you ask. National banks tend to have more rigid rules.
There is one major benefit of using a national bank.
If you use a local bank and wind up traveling to the mainland, you'll have some trouble finding a way to make transactions. You won't be able to visit a branch and will have to use another bank's ATM, which results in fees.
If you ever move, you won't be able to bring your bank with you, so you'll have to choose a new bank in your new area. If you work with a national bank, moving or traveling means you just have to visit a different branch than normal.
Frequently Asked Questions
How should I choose a savings account?
Generally, you want a savings account that will not cost you any money to hold your cash. Then, to truly build savings, you want a savings account with a high interest rate. So, you should prioritize:
Low monthly fees (preferably none)
High interest rate (often found with online banks)
Accessibility (do you need to withdraw this money in an emergency?)
Is my savings safer at a local bank than at a national bank?
In terms of the safety of your deposits, there is no difference between a local or national bank--as long as the financial institution is FDIC-insured or NCUA-insured (in the case of credit unions). Deposit insurance guarantees up to the respective limits in the event that the financial institution fails.
Will I be taxed on interest earnings in savings accounts?
Yes, you may be taxed on your interest earnings in a savings account. Your bank may send a Form 1099-INT to you in the mail for tax-filing purposes at the end of the calendar year. Even if you do not receive this form, the IRS requires taxpayers to report all taxable interest income.