The Best Savings Accounts in New Hampshire for 2023
Compare the best savings accounts from local banks in New Hampshire to online savings accounts available nationwide -- with lower fees and higher rates.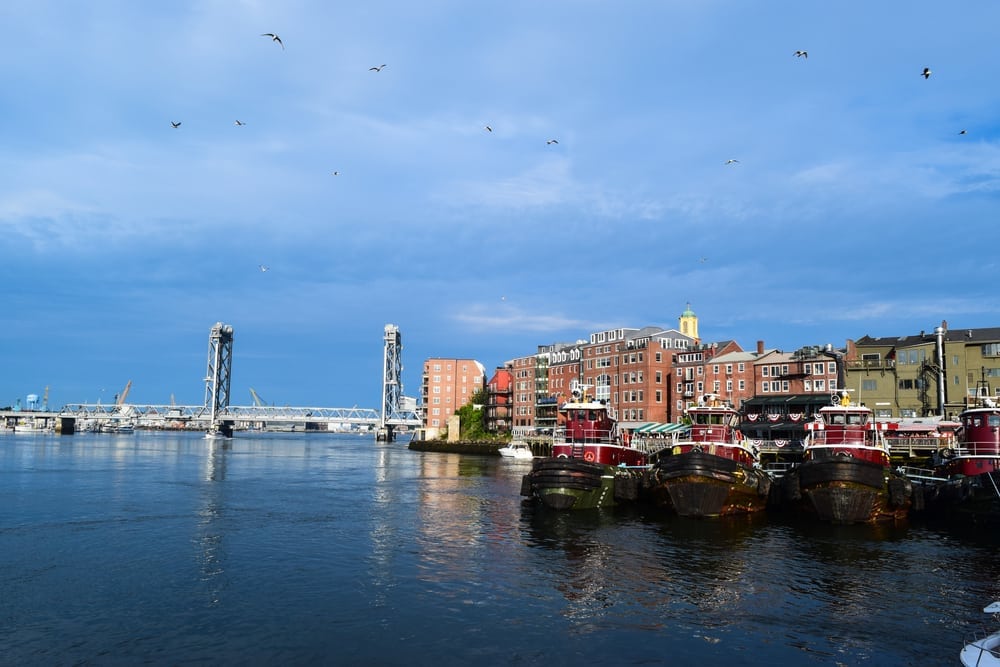 New Hampshire is located just north of Boston, Massachusetts, one of the financial hubs of the Northeast. This location means that many banks operate in the state, looking to gain loyal customers.
One of the many services that the banks of New Hampshire offer is the savings account. Savings accounts are a very popular type of bank account, second only to the checking account. With so much competition between banks in the state, it can be difficult to know which savings account is best.
When comparing savings accounts, you need to remember the two things that savings accounts aim to accomplish.
First, savings accounts are intended to be safe places to store extra money. They provide a good place to keep emergency funds or money you don't otherwise need immediately.
Second, savings accounts pay interest based on the amount of money you deposit. By paying interest, they help depositors grow their savings.
If you're looking to open a savings account in New Hampshire, consider the options available to you.
The Best Savings Accounts in New Hampshire
Eastern Bank Premier Money Market
The Eastern Bank Premier Money Market Account combines the interest earnings of a savings account with the flexibility of a checking account.
There's no minimum deposit required to open the account and no minimum balance that you have to maintain. There's also no monthly fee to worry about.
Once the account is open, you'll receive a checkbook. You can write checks against the balance of the account. The only thing to watch out for is the $10 excessive transaction fee, which will be assessed on each transaction after the sixth in a statement.
Claremont Savings Bank Free Kasasa Saver
The Claremont Saving Bank Free Kasasa Saver Account gives savers the chance to earn a great interest rate if they jump through some hoops.
There's no monthly fee for the account and no minimum balance that you must maintain to keep the account open. The minimum deposit to open the account is just $10.
To earn the highest interest rate available, you must meet three requirements each month:
Make at least 12 debit card purchases
Be enrolled in and agree to receive e-statements
Be enrolled in and log into online banking
If you don't meet these requirements, you'll earn a much lower rate of interest.
NBT Bank Personal Statement Savings
The NBT Bank Personal Statement Savings Account is easy to open and pays a reasonable rate of interest.
Unlike many traditional bank accounts, there is no minimum deposit required to open the account. Once the account is open, there's no minimum balance to maintain or maintenance fee to pay.
The only requirement on the account is that you have a balance of at least $25 to earn interest. If your balance is less than $25, you won't receive any interest.
The one fee to worry about is the $10 excessive transaction fee. This fee will be charged on each withdrawal after the sixth in a quarter.
How we picked
MyBankTracker applied a methodology when choosing the best savings accounts in New Hampshire. Our top recommendations were selected based on a thorough analysis of savings accounts offered by the top 50 banks by deposit market share in New Hampshire (based on FDIC June 2023 data)--serving major cities including Manchester, Nashua, Concord, Dover, and Rochester.
We focused our choices on savings accounts with low monthly maintenance fees, easy-to-meet requirements to waive these fees, the bank's physical branch and ATM network, excess withdrawal fees, and any other convenience features.
Online Savings Accounts are Available Nationwide
If you're shopping for a new savings account and don't want to work with a national bank, local banks aren't your only option. Online banks have become more popular as consumers have noticed their low fees and high interest rates.
Online banks cost far less to run than brick and mortar banks do. They don't have to pay for ATMs, branches, or any of the associated costs of staffing and maintaining those branches.
Instead, online banks can operate out of one central location, saving a lot of money. Where traditional banks have raised account fees and reduced interest rates, online banks have lowered fees and raised rates.
Better interest rates and lower fees
Online banks have lower fees and better rates, but it's important to understand just how large an effect they have on your savings.
Choosing the right account can mean hundreds or thousands of extra dollars in your pocket.
Consider this example:
You're saving for a down payment on a home. You have $10,000 and want to add $300 to your account each month for five years. After five years, you'll use your savings to make a down payment on a home.
A typical savings account might offer as much as 0.10% APY. Using this kind of savings account, you'll have $28,094.44 at the end of five years. You'll have earned less than $100 in interest in total.
If an online savings accounts pay far more interest, often as much as 1.60% APY. If you instead chose an online savings account, you'd wind up with $29,559.90 after five years. You'd have almost $1,500 more just because you chose a savings account with a better interest rate.
Don't forget that most brick and mortar banks also charge monthly fees. If you fail to meet the fee-waiver requirements, those fees will wipe out any interest you earn. A monthly fee of just $2 will eliminate all of the interest, leaving you with less than you deposited.
Minimum deposits are low
Another major benefit of online banks is that they have low minimum deposits
Many brick and mortar banks won't allow you to open a savings account with less than $50 or $100. For many people, it can be difficult to get that much money at one time. Online savings accounts can usually be opened with $10 or less. Some have a minimum deposit of just one penny.
These low requirements make it easy for anyone to start saving.
Protect your money with FDIC insurance
Online banks are often seen as riskier than traditional banks. This is understandable given the rise in online fraud in recent years.
In fact, online banks are just as safe as brick and mortar banks. The Federal Deposit Insurance Corporation insures all banks equally.
The FDIC offers up to $250,000 in protection, per account type, per customer, per bank. So, if you have a savings account you can receive up to $250,000 in insurance. Opening another savings account won't increase this limit, but opening a checking account will, so long as you split your balance between the accounts.
If you make a deposit to your online savings account and the bank later goes bankrupt, the FDIC will reimburse you. That means that it's impossible to lose money deposited to a savings account. All you need to do is keep your balance under the $250,000 limit.
The Best Savings Accounts in New Hampshire
There are two notable benefits, and one important drawback, in opening a savings account at a local bank.
The first benefit is that local banks can provide personalized service in a way that national banks aren't able to. As you work with a local bank, the staff at that bank will get to know you.
Over time, they may be able to provide you with advice specific to your financial situation. Local banks also tend to have less rigid rules. If you need a break or a fee forgiven, a local bank has a better chance of helping you out.
Local banks also excel at meeting the needs of local consumers. National banks have to offer generic features that are useful to most people. Local banks can really target their account benefits to the needs of locals.
For example, if every ATM in your area is on a specific network, your local bank will probably use that network.
If you're in a town that relies heavily on tourism, the local bank might be able to offer more loans during the off-season to help people get by.
The reason to use a national bank is to leverage its massive network of branches and ATMs. If you travel or move, you might not be able to find an ATM or branch of your local bank.
You'll have to deal with ATM fees or open a new account whenever you move to. If you use a national bank, you'll never be far from a branch or ATM.