The Best Savings Accounts in Oklahoma for 2023
Find out about the different savings options available from local Oklahoma banks and compare them to the best online savings accounts available nationwide.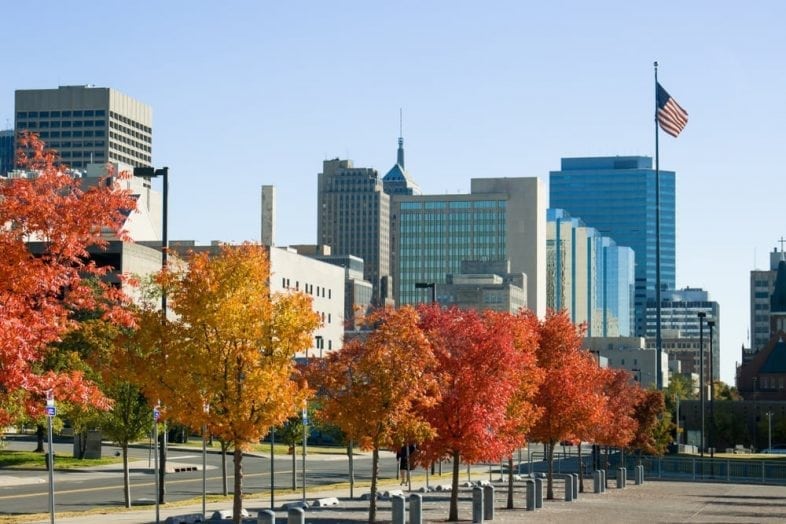 Nearly 4 million people live in the state of Oklahoma. Nearly all of those people need access to banking services in one form or another. There are dozens of banks that operate in the state looking to meet the needs of those citizens.
One of the most common financial needs is for a safe place to store money. To that end, banks offer savings accounts. In fact, savings accounts are the second most popular type of bank account in the United States. That popularity means that nearly every bank offers at least one savings account.
The popularity of savings accounts also means that banks have to compete with each other to attract new customers. That's good news for consumers. By taking the time to find the best savings account, people can get a great deal.
If you live in Oklahoma and want to open a new savings account, look at the best option available locally -- and compare them to the competitive savings accounts from online banks too.
Compare Savings Options
Be sure to check out more savings accounts worth considering:
The Best Savings Accounts in Oklahoma
American National Bank High Yield Savings Account
The American National Bank Personal Savings Account offers a lower minimum deposit and basic banking services.
To open the account, you'll need to make a $25 minimum deposit. Once the account is open there is no minimum balance required and no monthly fees to pay. You can sign up for free mobile banking services or install the bank's app, making it easy to manage and view your account while you're on the go.
The Community State Bank Personal Savings Account
The Community State Bank Personal Savings Account is another no-frills savings account.
There is a $100 minimum deposit required to open the account. Once the account is open there is no monthly fee or minimum balance requirement.
The account offers some basic features, including free online banking and eStatements. You may make up to six withdrawals each month without paying a fee. Additional withdrawals will cost $1 each.
How we picked
MyBankTracker applied a methodology when choosing the best savings accounts in Oklahoma. Our top recommendations were selected based on a thorough analysis of savings accounts offered by the top 50 banks by deposit market share in Oklahoma (based on FDIC June 2023 data)--serving major cities including Oklahoma City, Tulsa, Norman, Broken Arrow, and Edmond.
We focused our choices on savings accounts with low monthly maintenance fees, easy-to-meet requirements to waive these fees, the bank's physical branch and ATM network, excess withdrawal fees, and any other convenience features.
Online Savings Accounts are Available Nationwide
Once you've looked into the banks and credit unions near you, take the time to consider online savings accounts. You can open an online savings account from anywhere in the country. Their benefits make them worthy of consideration.
Two of the best reasons to use online savings accounts are their low fees and high interest rates.
Online banks cost much less to run than brick-and-mortar banks. They save money by not having to operate ATM networks or physical branches. The online banks take those savings and pass it on to their customers.
Online banks are also very easy to use. Just transfer money to your savings account and leave it to grow. If you ever need to make changes, you can do so from your phone.
Interest rates and fees
The interest rate that your account earns and the fees that you have to pay can have a major impact on the value of your savings. If you choose an account with a good interest rate, you could earn hundreds or thousands of dollars more than you would be choosing a worse account.
Consider this example:
You plan to buy a house in five years and have $10,000 to put toward a down payment today. You plan to add $300 to the account each month and to use the account's balance to make your down payment five years from now.
If you choose a brick-and-mortar bank, you might find a savings account that pays 0.10% APY. With that account, you'll have a balance of $28,094.44 after five years.
If you choose an online bank, you might get a savings account that pays 1.70% APY. If you instead use that account, you'll have a balance of $29,659.79 after five years.
Choosing an online account will give you more than $1,500 more than a traditional savings account would.
Remember that many brick-and-mortar banks charge monthly account fees. If you have to pay those fees, that just widens the gap between the brick-and-mortar bank and the online bank.
Start with a low minimum deposit
Another major benefit of online savings accounts is their low minimum deposits.
Many brick-and-mortar banks won't let you open a savings account with less than $50 or $100. It's not worth the cost of managing your account. That can make it hard to open an account for people who are just starting to save.
Online banks have much lower minimums. You can often open an account with as little as a penny or a dollar. That makes it much easier to get started.
FDIC insurance keeps your money safe
Money deposited at online banks is protected just like money deposited at brick and mortar banks. The Federal Deposit Insurance Corporation offers insurance to protect depositors.
The FDIC insures up to $250,000 per account type, per customer at a bank. What that means is that you cannot lose money deposited at an online bank so long as your combined savings account balances do not exceed $250,000.
If the bank is ever unable to return your money to you, the FDIC will reimburse you for the loss.
Local vs. National Banks
Banking with a local institution brings two distinct benefits:
Understands the needs of clientele
One is that local banks are able to specifically target the needs of local customers in ways that national banks cannot.
Because national banks have to serve customers across the country, they can't focus on features that will only benefit people in small parts of the country. Local banks know what local consumers need, and can work to provide those services.
For example, banks in agricultural communities might offer special loans to purchase and maintain farm equipment.
Personalized service
As you do your banking at a local institution, the staff at that bank will get to know you. As they get to know you, and your financial situation, they will be able to offer more accurate personal advice.
National banks have too many customers to be able to do this. Local banks also tend to be more flexible when it comes to waiving account fees and offering deals here and there. National banks have more strict rules around these things.
One downside to local banks is that they can be hard to use if you ever travel. You'll probably have to rely on other banks' ATMs if you travel outside the region served by your bank. That means you'll be left to foot the bill for the ATM fees. If you ever move, you'll probably have to close your account and open a new one at a different bank.
Advantages and Disadvantages of Savings Accounts from Local Banks
Benefits
Drawbacks

Lower fees than national banks (but not always)
Personal service for account management

Smaller branch and ATM networks
Interest rates are not the highest available
Tips to Help Your Savings Grow Faster
Follow these tips to grow your savings even faster.
Avoid temptation
It's not uncommon for people to feel like they have money burning a hole in their pocket. It's easy to spend money frivolously if you can access it easily.
Consider choosing a savings account that doesn't offer ATM access or other convenience features. That can make it easier to save your money and make it harder to spend.
Automatic transfers
If you have trouble remembering to save, sign up for automatic transfers from your checking account.
Each month, money will move into your savings account and your balance will grow.
Partial direct deposits
Many employers now let you split your paycheck into multiple accounts.
Because constantly adding money to your savings is one of the best ways to grow your savings, try to sign up for direct deposit into your savings account.
Money will arrive in your account without you having to think about it and your savings account will slowly grow.