The Best Savings Accounts in Washington for 2023
Compare the best savings accounts that you would find from local banks in Washington to the savings accounts from online banks, which offer high rates and low fees.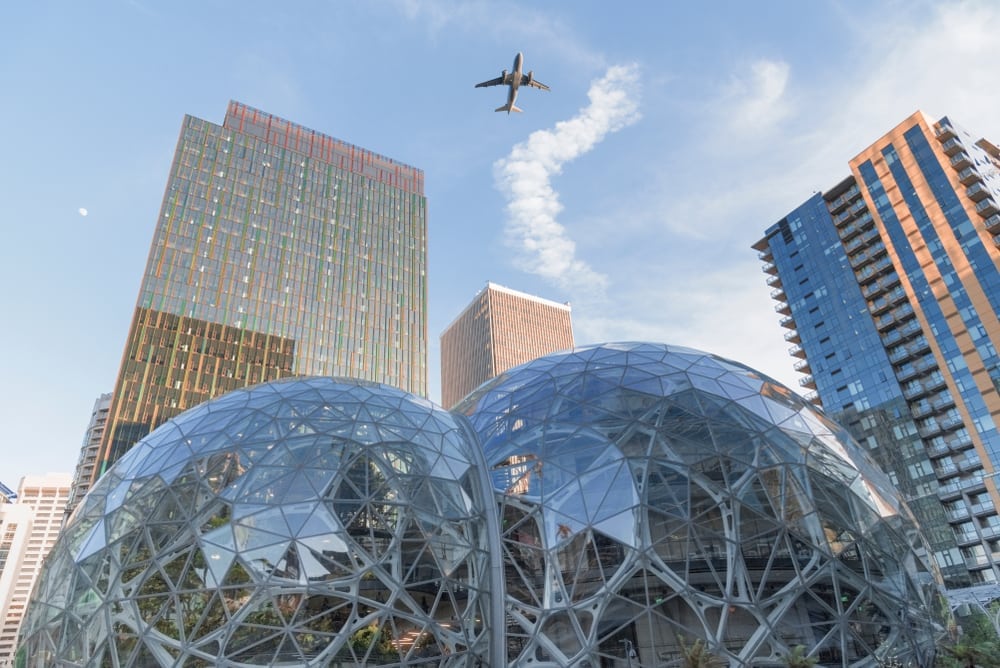 Washington is actually one of the more populated U.S. states that have plenty of people who need savings accounts.
In addition to the group of national banks that operate in the state, several local banks hold a large share of the deposits held in the state.
Find out which banks are the largest in Washington and see which savings options are the best from local banks. Then, compare it to other savings accounts from online banks, which accept customers nationwide.
The Best Savings Accounts in Washington State
Yakima Federal Passbook Savings
The Passbook Savings account from Yakima Federal Savings & Loan is a very traditional savings account that serves as a basic beginning for anyone looking to keep money at the bank.
It has no monthly fee and customers only need $1 to open this account.
Therefore, anyone can walk into a branch an open this account with ease. Furthermore, there's no worry about a monthly charge -- or worrying about meeting the fee waiver requirements.
Cashmere Valley Bank Personal Savings
Cashmere Valley Bank provides a rather competitive savings account when it comes to features (not necessarily interest rates).
The account has no monthly service charge and you can open one with just $50.
More importantly, customers can obtain a Visa debit card that allows for easy ATM access. Additionally, Cashmere Valley Bank offers four (4) free foreign ATM transactions per month -- you can use any bank's ATM.
Timberland Bank Statement Savings
Timberland Bank offers another very basic and simple savings account.
The Statement Savings account is a no-frills account that requires just $1 to open.
Opt for electronic statement and customers will not have to pay a montly charge ($2.50 per month for paper statements).
How we picked
MyBankTracker applied a methodology when choosing the best savings accounts in Washington. Our top recommendations were selected based on a thorough analysis of savings accounts offered by the top 50 banks by deposit market share in Washington (based on FDIC June 2023 data)--serving major cities including Seattle, Spokane, Tacoma, Vancouver, and Bellevue.
We focused our choices on savings accounts with low monthly maintenance fees, easy-to-meet requirements to waive these fees, the bank's physical branch and ATM network, excess withdrawal fees, and any other convenience features.
Compare to Online Savings Accounts
Though an account from a local bank may be appealing, you should always do your due diligence and consider all the options.
One such option is an online savings account.
You open an online savings account no matter where you are located.
Great rates with low fees
Online banks are much cheaper to run than traditional banks. They don't have to operate expensive networks of ATMs and branches. That lets them charge much lower fees and pay much higher interest rates than traditional banks can.
If you don't mind losing out on the ability to visit a local branch of your bank, you can get more bang for your buck with an online bank.
Focus on savings, not spending
Online savings accounts also do a good job of helping you save money, especially if you keep your checking account elsewhere.
If your savings account is at your local bank, you'll see branches and ATMs all over when you're traveling around town.
You'll also have easy access to the money when you visit a branch to handle your checking account, mortgage, or other bank accounts.
Keeping the money at an online bank keeps it out of sight, and out of mind, reducing the temptation to use just a bit of the balance to make a frivolous purchase.
Better branchless banking
For an online bank, the online experience is the only way to get to interact with the bank.
If a traditional bank that operates branches and ATMs has a bad website or app, it can be forgiven if the experience at the branch is good.
Online banks don't have that luxury. That means they usually have the best, easiest to use, and most responsive apps and websites.
Deposits are secure
Some people are wary of online savings accounts because they don't feel as safe as a traditional bank does.
This is understandable given the prevalence of online fraud these days.
The truth is, online bank accounts are just as safe as any account at a Washington bank.
The Federal Deposit Insurance Corporation (FDIC) provides this safety, regardless of whether the bank is a traditional or online bank. The FDIC insures account balances up to $250,000.
If you deposit money to a bank that later goes under, the FDIC will reimburse you for your lost deposits, up to the $250,00 limit.
That makes online savings accounts as safe as any other.
Advantages and Disadvantages of Local Banks
Local banks are great at offering personalized service, especially services tailored to meet the needs of people who live where the bank is located.
You can walk into any branch to get help with your account, or get questions answered.
Larger chain banks have more customers and cannot provide that same level of familiarity.
National banks tend to offer the same rates and charge the same fees, regardless of where you live.
Even if you're in Washington, you'll have the same account as someone from California or Maine does.
This has its own benefits if you move or travel a lot, but choosing a local Washington bank lets you get access to services tailored to the needs of people where you live.
Local banks can also offer more personalized services, or higher interest rates so they can draw more customers.
The biggest benefit of the large chains is that they sometimes charge lower fees. Local banks might have to charge larger fees to stay afloat.
Advantages and Disadvantages of Savings Accounts from Local Banks
Benefits
Drawbacks

Lower fees than national banks (but not always)
Personal service for account management

Smaller branch and ATM networks
Interest rates are not the highest available
What Kind of Account is Right for You?
If you're having trouble deciding whether to choose an online savings account or a local bank, consider these questions:
How often do you visit your current branch?
If you're a regular and all the tellers know your name, an online bank might not work for you. If you do most of your banking at ATMs, an online bank could work.
How good are you with technology?
If you know your way around technology, you'll have trouble adapting to doing your banking online. If you're not much of a smartphone or computer user, you might want to stick with your traditional bank.
Are you willing to pay for the privilege of visiting a branch?
Online banks charge lower fees and pay more interest. Are you willing to accept more fees and less interest just to visit a branch once in a while?
Most Important Features in a Savings Account
Choosing the right savings account is important, but it can be difficult.
When comparing accounts, compare these factors to help you choose.
Interest rate
Savings accounts have two goals: to help you keep your money safe and letting you earn interest.
Look for the account that offers the best interest rate available. Choosing a lower rate account is like passing up on free money.
Fees
Many savings accounts have started to charge maintenance fees. Can you really say your money is safe if it can be eaten up by fees?
Choose the account with the lowest fees, or the fee waiver requirements that are easy for you to meet.
Accessing Your Money
Finally, think about how easy it will be to get your money when you need it.
A local Washington bank will excel at this: just walk into a branch and make a withdrawal.
Online banks might limit daily withdrawals, making it hard to get large sums when you need to.