Capital One 360 Money Market Account 2023 Review
Learn how the Capital One 360 Money Market Account is different from your typical savings account and how it can help you reach your financial goals.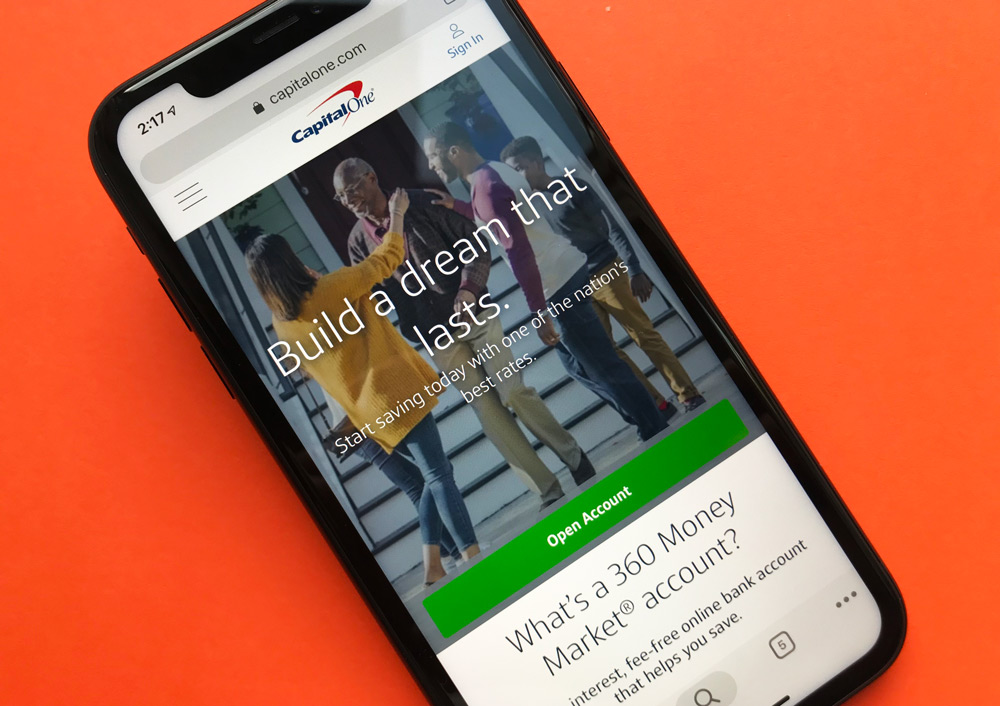 Capital One 360 Money Market Account
UPDATE: This product is no longer available to new customers -- consider one of the other money market accounts available now.
Your savings should grow much faster than you think. Imagine an account that offers potential interest rates that are 100 times as much as what you'd find from a national bank.
The Capital One 360 Money Market Account can deliver those types of savings rates, especially if you're going to maintain a large balance.
Other useful features that you're getting with this account:
Mobile check deposit
Up to 6 withdrawal transactions per month with no penalty
Option of using a Capital One branch location, Capital One 360 cafe or Capital One 360 ATMs
Allpoint ATMs
In this Capital One 360 Money Market Account review, we'll compare rates, fees, and services to other national and online banks.
Capital One 360 Money Market Account Pros & Cons
Pros
Cons

High interest rate
Mobile app available
No monthly maintenance fee
No minimum opening deposit
No ATM fees at Allpoint® ATMs

No physical branches
Minimum balance required to earn APY
Compare Savings Options
Be sure to check out more savings accounts worth considering:
Adding Up the Interest on Your 360 Money Market Account
There are two APY tiers depending on how much money you keep in your account.
Breaking the $10,000 mark is going to give you the biggest benefit in terms of the rate. As far as how those rates compare to other money market accounts, Capital One 360 is similar to other online banks.
There's no minimum amount required to earn that APY either.
That's an advantage if your savings isn't in the five-digit range yet. The catch is that you'll need at least $1,000 to open an account. Capital One 360, on the other hand, doesn't have a required minimum balance.
Sign-up Bonuses
Occasionally, Capital One 360 offers various cash bonuses for new customers who open one of its accounts -- the money market account is one of them.
The typical bonus could be hundreds of dollars, but the exact bonus amount depends on the balance maintained over the first 90 days of account opening.
With these bonuses, the effective earnings of the Capital One 360 money market account increases significantly.
How Do the Fees Compare?
The Capital One 360 Money Market Account is a bargain when it comes to fees. There's no monthly maintenance fee. There's also no excess withdrawal fee.
Capital One 360 Money Market Account Fees
| Type | Fee |
| --- | --- |
| Monthly Maintenance Fee | $0 |
| Domestic Wire Transfer | $30 |
| Statements generated within the last 2 years | $5 per copy |
| Overdraft Fee | You're not allowed to overdraw your 360 Money Market and you agree not to withdraw more money than what is available at the time. |
Federal Regulation D limits how often you can take money out of a savings account.
At other banks, this fee applies when you make more than six withdrawals per month from your savings or money market account.
This limit does not apply to withdrawals made in person or through ATMs, mail (by a check payable and mailed to you), or messenger.
Depending on the bank, even some online banks, there could be monthly maintenance fees for money market accounts, in addition to other account fees may apply.
At Ally, for example, there's a $7.50 returned deposit fee, a $20 fee for outgoing domestic wire transfers, a $10 excess transaction fee and a $25 per hour research fee.
While those are fees you may not incur on a regular basis, it still helps to be aware of what your bank might charge. Every fee will reduce the amount that you're earning.
The point of saving in a money market account is to watch your dollars and cents pile up, not lose money on the deal.
That's why it's important to understand the fees up front so you don't end up getting nickeled and dimed.
Tip: Use an APY calculator to see how quickly your own savings could add up.
Step Up Your Savings With an Automatic Savings Plan
Saving money is a habit and for some people, it takes more time to develop. If you struggle to save, the Automatic Savings Plan may be just what you need.
With the Automatic Savings Plan, you can have a fixed amount of money transferred from your linked checking account to this account. You can set up your plan when you open your account or any time after.
Transfers can be made weekly, bi-weekly, or monthly so you can adjust your savings to fit your pay cycles.
It takes just a minute or two to establish your Automatic Savings Plan through your Capital One 360 online account and you can cancel it anytime you like.
Is a Capital One 360 Money Market Account the Best Place for Your Savings?
Money market accounts are designed to offer higher interest rates than regular savings accounts. As an added bonus, many brick-and-mortar banks offer check-writing capabilities or a debit card for money market account holders.
Unfortunately, Capital One 360 doesn't offer them on it money market account.
There are some online savings accounts, however, that may offer better rates than a money market account.
Another plus of choosing a savings account over a money market account is the low minimum opening deposit.
With a lot of money market accounts, you're expected to bring $1,000 or more to the table to get started.
If you're on the fence about whether a money market account or a savings account makes more sense, comparing your options can help settle the issue.
With that in mind, these are the top savings accounts that give 360 Money Market Account a run for its money:
Ally Bank Online Savings
In addition to a money market account, Ally also offers an online savings account. This account currently offers an APY that's higher than what you'd get with the 360 Money Market Account.
There are no monthly maintenance fees and there's no minimum deposit to open your account. You do, however, have to put something in it within the first 30 days; otherwise, Ally will close the account.
Deposit options include direct deposit, mobile check deposit, and ACH transfers.
The biggest difference is that with Ally's money market account, which comes with a debit card and checks.
In a nutshell, Ally's Online Savings Account offers a higher rate but Ally's money market account gives you more flexibility if you need to withdraw some of your savings.
Capital One 360 Performance Savings
The Capital One 360 Performance Savings Account offers the same APY on every balance.
You'll get the same rate if you're saving $100 a month or $1,000 a month. Like the money market account, there's no minimum opening deposit. This account is also fee-free.
You can set up the Automatic Savings Plan with a 360 Savings account and you have the same deposit options as the money market account.
If you're not sure whether to go with the savings account or the money market account, you could compromise and do both.
For example, you could use the Capital One 360 Performance Savings Account as your emergency fund.
This is money you might need to cover a minor car repair or an unexpected doctor bill.
If you've got a long-term savings goals, such as establishing a down payment for a home, you could park that in the money market account to earn a higher APY.
Synchrony Bank High Yield Savings
Synchrony Bank's High Yield Savings Account features a highly attractive APY.  You get that rate with no minimum balance or monthly maintenance fee. This account also offers the advantage of an ATM card, for easy withdrawals.
There's no excess withdrawal fee if you go over the six withdrawal limit. Synchrony Bank can, however, close your account if you get in the habit of making excess withdrawals.
Final Verdict: The Capital One 360 Money Market Account is Ideal for Super Savers
After looking at all the options, the Capital One 360 Money Market Account
stands out for people who've got a bigger bankroll to park in savings.
If you typically keep less than $10,000 in savings, you might be better off with something like Ally Bank's Online Savings Account, since it has a better yield and you don't need a minimum amount of savings to earn that APY.
As you're weighing your options, remember to consider how the APY compares to the account's fees and whether it comes with any perks, like a debit card.
In the end, whether you're better with a money market account or a savings account may depend on what's more important: a higher interest rate or convenient access to your money.