First Internet Bank Regular Savings Account 2023 Review
Learn about the interest rates, fees, and features of the First Internet Bank Regular Savings Account and compare it to the top online savings accounts.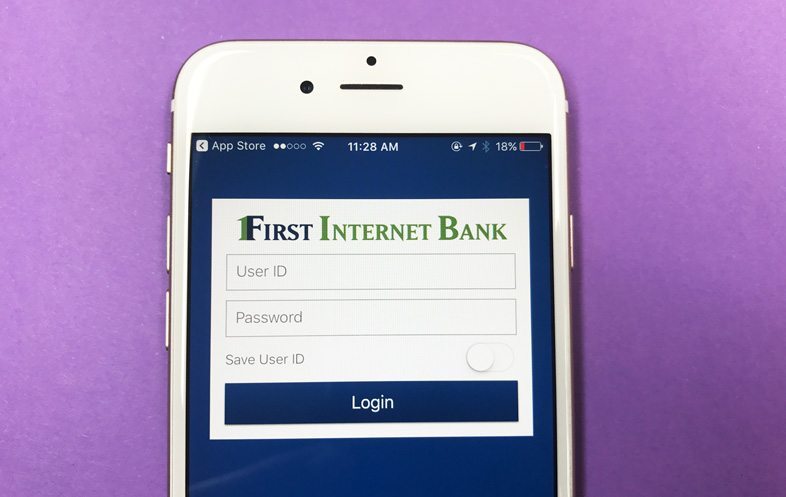 First Internet Bank Savings Account Pros & Cons
Pros
Cons

Low interest rate
No physical branches
Requires a minimum deposit
Monthly fee
While some consumers may have misgivings about online banks, First Internet Bank assuages those fears. Every account at the bank is insured by the FDIC.
The Federal Deposit Insurance Corporation gives consumers confidence in the banking system.
It insures accounts for up to $250,000, reimbursing depositors for any amount lost, up to that limit.
Even if the bank you've deposited your savings in closes or goes bankrupt, the FDIC will return your money.
So long as you remain below the $250,000 limit per account type per depositor, you cannot lose money at a bank insured by the FDIC.
How Inflation Can Affect the Value of Your Savings
Though the FDIC will reimburse you if the bank is unable to return your savings, there is still a way to lose money on a savings account. Inflation can cause the value of your savings to decrease over time.
Inflation is the process by which money becomes less valuable over time.
If you've ever heard someone tell stories of loaves of bread that cost a nickel and penny candy that actually cost a candy, inflation explains why those products cost so much more today.
Inflation is expressed as a percentage rate per year.
So, if the inflation rate this year is 3%, that means that if you had $1 on January 1st, that same dollar is worth just 97 cents on December 31st.
To look at it another way, something that cost $1 on January 1st would cost $1.03 on December 31st.
3% sounds like a really small inflation rate, but over time it can have a huge effect.
If the inflation rate holds steady at 3% for ten years, something that cost $1 at the start of the decade will cost $1.34 at the end of the decade. After twenty years, something that cost $1 will cost $1.81, nearly twice as much.
If you want your savings to keep its value, you'll have to earn an interest rate that's equal to the inflation rate.
Inflation is a complicated concept, but there are a few rules of thumb that can make it easier to remember:
Money loses value over time
In order for your savings account to gain value over time, the interest rate must be higher than the inflation rate
If your savings account's interest rate is lower than the inflation rate, your account is losing value
Why Do Banks Pay Interest and How is the Interest Rate Determined?
When you deposit money in a bank account, what you're really doing is lending money to the bank.
The bank will take your money and combine it with the money deposited by other customers. It will then use that pool of cash to offer car loans, mortgages, credit cards, and other loans.
When someone borrows money from the bank, they have to pay interest to the bank.
The interest paid to the bank is higher than the interest the bank pays to its depositors.
The bank uses that difference to pay for its operating costs.
One advantage that online banks like First Internet Bank have is that they cost less to run than traditional banks.
Banks with physical branches need to pay for tellers, rent, and a number of other costs.
Online banks can centralize their operations to save on costs. That lets them pay better interest rates that physical banks.
First Internet Bank offers interest rates far higher than physical banks but loses out to many other online banks' rates.
You're unlikely to beat inflation with the interest rate offered by the First Internet Bank Regular Savings Account.
Minimum Deposit and Monthly Fees
In order to open a First Internet Bank Regular Savings Account, you'll need to meet the $100 minimum initial deposit.
Once the account is open, there's no minimum balance required to keep it open.
One thing to watch out for is that you will have to pay a $2 monthly fee for the account.
To avoid the fee, you'll need to maintain an average balance of $1,000.
If you don't like paying fees, you should wait to open the account until you can maintain a $1,000 balance.
Other Fees to Look For
Outside the fees that are common to most bank accounts, like wire transfer fees, there's one fee to watch out for: the excessive transaction fee.
Federal regulations limit savings account holders to making no more than six withdrawals or transfers per statement period. For every transfer or withdrawal after the sixth, you'll pay a $5 fee.
Transactions made at ATMs do not count towards this limit, so you will have a way to access your cash fee-free, even if you reach the transaction limit.
First Internet Bank Regular Savings Account Fees
| Type | Fee |
| --- | --- |
| Monthly Maintenance Fee | $2 |
| Excess pre-authorized withdrawals, transfers or checks | $5 |
| Statements with check copies &/or deposit slips only | $3/Statement |
| Incoming wire transfer (domestic) | $0 |
| Outgoing wire transfer (domestic) | $20 |
| Stop Payment Fee | $30 |
ATM Card With Monthly ATM Fee Refunds
One of the biggest concerns people have with online banks is how they'll be able to get money out of their account.
The First Internet Bank Regular Savings Account makes it easy by offering a complimentary ATM card for the account.
You can use the ATM card to withdraw money at any ATM nationwide.
First Internet Bank does not charge a fee for the use of an ATM, but the ATM's owner might.
To counteract those fees, First Internet Bank will return the first $10 of ATM fees that you pay each statement.
That saves you from the trouble of finding a fee-free ATM when you need to get some cash.
Track Your Money Using FinanceWorks
FinanceWorks is a money management tool that was designed to help consumers keep track you're their finances.
Once you've logged into FinanceWorks you can link your other financial accounts.
FinanceWorks will automatically import your balances and transactions, letting you see all of them on one page.
You can track your net worth, account balances, and debts, all in one place.
You can also use FinanceWorks to track your expenses.
Any purchase you make using a linked credit or debit card will be automatically tracked and categorized.
That makes it easy to track and stick to a monthly budget.
Identify your spending habits
After using FinanceWorks for a while, you'll be able to look back and see how much you spend on groceries, restaurants, or entertainment.
You might find that you spend more on certain categories than you thought. Having that information available can help you create an effective budget.
As an additional benefit, FinanceWorks can notify you when you reach certain spending thresholds.
If you have a goal, like spending no more than $200 on groceries in a month, you can set up an automatic alert for when you get close to that limit.
How Does It Compare?
The savings account is the second most common type of bank account in the United States. That means that consumers have a lot of options when they're trying to decide which account to open.
You should avoid going straight for the local branch of a national bank and instead find the account that best meets your needs.
Online banks tend to offer better interest rates and lower fees.
Though fees and interest rates should be the primary factors when you're looking at savings accounts, you should also consider these factors:
ATM access
Sign-up bonuses
Quality of customer service
Online and mobile banking options
The Final Verdict
The First Internet Bank Regular Savings Account offers consumers an easy to use account that offers a moderate interest rate.
Though it does not measure up to the rates offered by other online banks, it handily beats the rates offered by physical banks.
Because First Internet Bank offers a full range of financial services, including lending services, the account is a good choice for someone who wants to transition all of their financial accounts to an online bank.
If you just want to earn a good interest rate on an online savings account, there are better accounts out there.