Live Oak Bank Savings Account 2023 Review
Learn all about the high yield savings account offered by Live Oak Bank. Compare its fees, interest rates, and features to the top savings accounts provided by online banks. See how to choose the best savings account for you and your savings goals.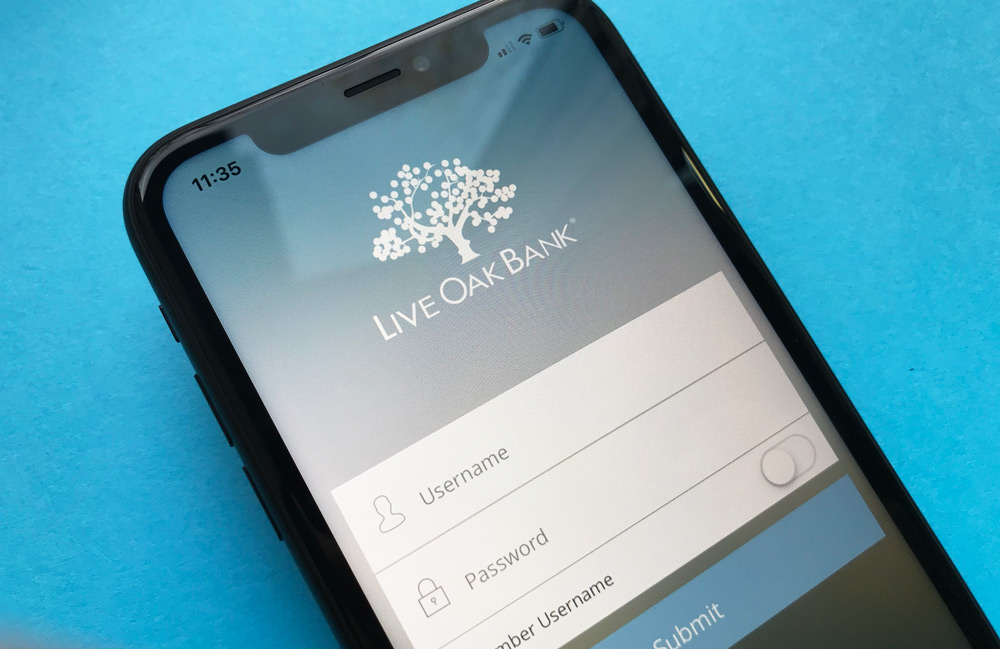 Live Oak Bank iPhone App
Thinking of getting a new savings account? Your choice of bank matters.
Brick-and-mortar banks are an obvious choice but there are some perks to choosing an online bank instead.
Without branches to add to overhead costs, online banks can offer fewer fees and better interest rates on deposits to savers.
Live Oak Bank is a direct online bank headquartered in Wilmington, North Carolina.
The bank is primarily a small business lender but it also offers two savings products: a high-yield personal savings account and a high-yield CD.
The personal savings account offers what you'd expect from an online bank: a competitive interest rate and maximum convenience.
In this Live Oak Bank Savings Account review, we'll compare rates, fees, and services to other national and online banks.
Live Oak Bank Savings Account Pros & Cons
Compare Savings Options
Be sure to check out more savings accounts worth considering:
Personal Savings Account Highlights
Every savings account is different when it comes to the benefits they offer. To start with, here's a brief overview of Live Oak Bank personal savings account features:
One of the best interest rates available
No monthly maintenance fee
No minimum balance requirements
No minimum initial deposit
Convenient mobile banking access
As far as accessing your account goes, you can make deposits or withdrawals through an ACH transfer to another bank or a wire transfer.
You can also deposit checks through the Live Oak Bank mobile app.
A nice added feature of the app is that you can sync your external accounts at other banks so you can see all your balances in one place and easily make transfers.
One downside is that this account doesn't come with an ATM or debit card. That makes it a little less convenient if you need to make a quick cash withdrawal.
Earning Interest on Your Savings
Live Oak Bank offers a market-leading APY to savers -- significantly higher than what you'd receive from national banks. It even beats out many other online banks.
Certain online banks tier the rates they offer, based on your balance. Live Oak Bank applies the same rate to every balance.
You essentially have control over how much interest you earn, based on how much you save.
That flexibility gives it an edge over other online savings accounts that might require you to maintain a four or five-figure balance to snag the best rates.
This account is suited to people who are just getting started with saving or super savers; either way, it's good for maximizing interest on what you save.
One great thing about saving with an online bank is that fees are usually scarce. Fewer fees mean less you have to pay to earn interest on what you save.
Fees 
At Live Oak Bank, there's no monthly maintenance fee for savings accounts.
Brick-and-mortar banks, by comparison, can charge between $3 and $10 a month for a basic savings account.
There's no minimum balance you need to maintain in your account either. You do need a balance of at least $0.01 to earn interest.
There are a handful of fees you do need to watch out for. Those include:
Live Oak Bank Savings Account Fees
| Type of Fee | Fee |
| --- | --- |
| Monthly Maintenance | $0 |
| Excess Withdrawal | $10 |
| Stop Payment Fee | $25 |
| Returned Item Fee | $10 |
| Non-Sufficient Funds Fee | $25 |
| Incoming Wire Transfers | $15 |
| Domestic Outgoing Wire Transfer | $19 |
| Dormant Account Fee | $10 |
The excess withdrawal fee kicks in when you exceed the six withdrawal transactions allowed from your account each month.
The fee is steep: $10 for each transaction over the six withdrawal limit.
Avoiding the fee simply means tracking the withdrawals, transfers or payments made out of your account each month.
This is relatively easy to do if you're using the Live Oak mobile banking app.
The dormant account fee should also be easy to avoid if you're actively saving.
This fee applies when you have a balance of less than $10.01 and no activity for 24 consecutive months. In that scenario, Live Oak Bank charges a $10 fee and closes your account.
Opening an Account
Anyone who's a U.S. resident with a valid Social Security number or a permanent resident can open a Live Oak Bank savings account. You don't have to live in North Carolina.
You can open a savings account online in just a few minutes. To do that, you'll need to give Live Oak Bank your:
Name
Address
Date of birth
Social Security number
Funding account information
Again, there's no minimum balance required so you can open an account with as much or as little money as you'd like. Your funding account is verified using two small deposits.
Once your external bank account is confirmed, you can make your first transfer deposit into your Live Oak Bank savings account.
This initial deposit is held for five days. After that, you can begin making withdrawals from your savings.
Additional transfers into your account typically take four business days to clear. Mobile check deposits are available on the fifth business day after deposit.
Does This Account Have Any Special Features?
Some online banks sweeten the deal by adding incentives or bonus features to their savings accounts.
For example, some banks give you an ATM card for convenience or offer free online money management tools for savers.
Live Oak Bank's savings account is more straightforward, with no extra bells and whistles.
The account's main feature is the high APY you can earn on deposits.
If your focus is growing your money faster with fewer fees, this account serves that purpose well.
Competitors
Choosing a savings account is challenging because there are so many online banks that offer them.
You also have to consider what traditional banks offer.
We've included some savings accounts to compare for you, but it's still important to do your own research.
As you're looking at different savings account options, here are the most important things to focus on:
Interest rates
If you come across a savings account with a high APY, remember to read the fine print.
Check to see if the rates are tiered by balance. If they are, look at what the full APY range is to see how much interest you'd earn when you make your initial deposit.
Fees
Earning a great interest rate only gets you so far if you're handing some of it back to the bank in fees each month.
Take a look at the monthly maintenance fee requirements. If there is a fee, see what, if anything, you can do to avoid it.
Also, consider any other fees the bank charges, like wire transfer fees or excess withdrawal fees.
Even smaller fees can add up to a big chunk of money if you're paying them regularly.
Account opening requirements
With online banks, you may be able to open an account from anywhere. Some banks, however, do limit new accounts to residents in specific states. The same is true for brick-and-mortar banks.
Before you open an account, read over the requirements to make sure you're eligible.
Also, look at the minimum initial deposit to make sure you have enough money to get started with saving.
A lot of internet banks require $0 or $1 to start but some set the minimum deposit higher.
Convenience
The nice thing about saving in a traditional bank is that you can to an ATM or a branch to make deposits, withdrawals or just get help with your account.
With an online bank, you don't have that same level of access.
As you compare online banks, take a look at things like the availability of online and mobile banking, how easy it is to link your account to accounts at other banks and your options for making deposits and withdrawals.
The account you choose should match up with your lifestyle and banking habits.
Lastly, consider the other range of products the bank offers if you're hoping to do all your banking in one place.
You may want a checking account for paying bills or linking to savings for overdraft protection.
Or you might want to open a CD account to save for a long-term goal, like a down payment on a home. It's important to look at the total banking picture.
Final Verdict: Is Live Oak Bank a Good Savings Option?
Overall, we'd recommend a Live Oak Bank personal savings account if you want to get a higher rate on your savings, with minimal hassle.
The fact that you don't need a minimum balance to get a competitive rate and there are no monthly fees gives this account a strong advantage.
If you're looking for a high yield savings account/checking account combo, on the other hand, or if you want to save for retirement with an IRA savings account or CD, you may need to look elsewhere since Live Oak doesn't offer those products.
Bottom line, take time to weigh all your personal savings options to find the one that best fits your needs and savings goals.