PayPal Savings Account 2023 Review
Our review of the PayPal Savings Account looks at its interest rates, fees, and features to help you decide if its worth considering for holding your cash.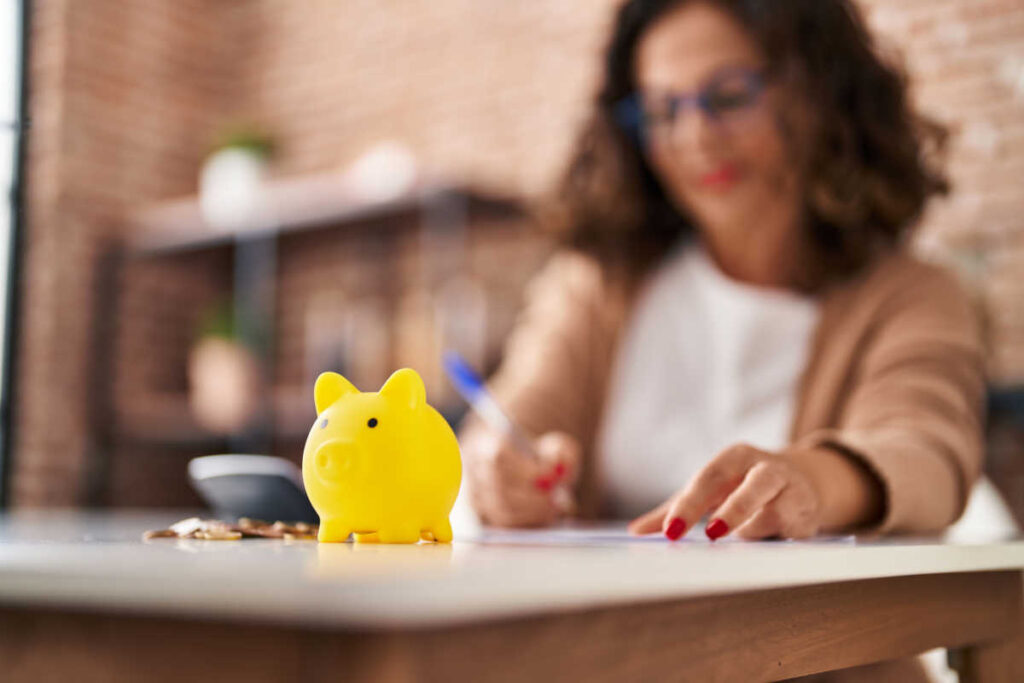 You might use PayPal to send money to friends and family, or receive payments if you run an online business. Now, you can save money with PayPal too. 
The PayPal Savings Account is a high-interest savings account that offers a competitive interest rate and APY. 
You'll need a PayPal Balance Account to open one of these savings accounts. But it could be worth it if you're interested in maximizing your money's growth potential. 
Is the PayPal Savings Account legit? 
Yes and to show you how it works, we've put together an in-depth review that covers the most important things to know about saving with PayPal. 
PayPal Savings Account Pros & Cons
Compare Savings Options
Be sure to check out more savings accounts worth considering:
How Much Interest Can You Earn?
Opening a high-yield savings account might sound good to you if you're hoping to get the best rate possible for your money. 
The PayPal Savings Account doesn't disappoint in the rates department. This account offers an APY that's approximately 12 times higher than the national average. 
That's typical of online savings accounts. 
Online banks -- and fintech companies like PayPal that partner with online banks -- can afford to pay higher rates to savers for a very important reason. They don't have the same high overhead costs as traditional banks. 
If you'd like to know exactly how much you can earn with a PayPal Savings Account, you can plug the numbers into an online savings calculator. 
You can see how much interest you might earn based on:
How much you deposit to your account initially
What you add to savings on a monthly basis
How long you plan to save
Keep in mind that savings account rates aren't fixed and can change over time, which can affect your money's growth.
As mentioned, the main feature of the PayPal Savings Account is the rate you can earn on deposits. 
The same rate applies across all balance tiers. So you can earn a high rate whether you save a little or a lot. 
Just remember that you'll need to have a PayPal Balance Account first before you can open a savings account here. 
How Much Does the PayPal Savings Account Cost?
When opening a new savings account, it's a good idea to know what you might pay in fees. 
For example, it's not uncommon to pay a monthly maintenance fee for traditional savings accounts. Banks can charge a monthly maintenance fee just for allowing you to have an account. 
The PayPal Savings Account doesn't have a monthly maintenance fee. 
That's a good thing since it means you get to keep more of the interest you earn on your savings. 
PayPal does charge some fees to use its money transfer services but the savings account is fee-friendly. 
You won't pay a lot of other fees you might find with other online savings account options. 
ATM and Excess Withdrawal Fees
If you have a personal PayPal Balance Account, you can get a Mastercard debit card to go with it. 
You could then use that card to withdraw money fee-free at MoneyPass ATMs. The debit card can also be used to make purchases anywhere Mastercard is accepted. 
So can you use your debit card to withdraw cash from your PayPal Savings balance? 
Not directly, but you could transfer money from your savings account to your PayPal balance. Once the transfer is complete, you'd be able to access those funds with your card. 
There are no excess withdrawal fees mentioned in the PayPal Savings Account deposit agreement. But ideally, you're not making endless withdrawals from savings. 
That defeats the purpose of a savings account. However, it's good to know that you can easily transfer funds from savings to your PayPal balance if you need to. 
Using Your PayPal Savings Account as Overdraft Protection
When you overdraft a bank account, you spend more money than you have available. Your bank might charge one or more overdraft fees as a consequence. 
That's a simple explanation of how overdraft works. 
Overdraft protection is a banking service that helps you avoid high overdraft fees. When you opt-in for this protection, your bank agrees to transfer money from savings to checking for you automatically. 
PayPal doesn't offer any type of overdraft protection for its accounts. But it doesn't charge any overdraft fees either. 
If you're keeping track of your PayPal balance, you can transfer money from savings to make sure you have enough to cover scheduled bill payments, purchases or cash withdrawals. 
Accessing Your PayPal Savings Account
PayPal gives you a few ways to manage your savings account. You can:
Log in to the PayPal website online
Manage your account through the PayPal app
If you need to add funds to your savings account, you can transfer them over from your PayPal Balance Account. 
You can add money to your PayPal balance by:
ACH transfer from an external bank account
Person-to-person transfer
Mobile check deposit
Direct deposit
Cash deposit
PayPal allows you to add cash to your PayPal debit card at more than 90,000 locations in the U.S. Some of the places you can add cash include Walmart, CVS and Rite Aid. 
Aside from depositing money to your account, you can also use the PayPal app to:
Pay bills
Buy, transfer or sell cryptocurrencies
There are no fees to use the app or get a PayPal debit card. 
Are Online Savings Accounts Better?
Online savings accounts can offer some great features that you don't always get with traditional savings accounts. For example, some of the main highlights can include:
Higher interest rates on all balances
Lower fees and in some cases, no fees at all
Low minimum opening deposit requirements
Low or no minimum balance requirements
Convenient access through mobile and online banking
If your most important concern is the APY you can earn, online savings accounts can easily beat brick-and-mortar banks. 
PayPal is just one example of an online savings account that offers an above-average rate. There are plenty of other online banks and fintech companies paying impressive rates to savers. 
On the other hand, you don't have the convenience of branch banking. That could be a dealbreaker if you like having the option to visit a branch or bank in person. 
When you're comparing online savings accounts, it's helpful to look at the big picture. Here are a few things to weigh when trying to find the right savings account for you:
What types of accounts the bank offers (i.e., savings, money market, CD, checking, etc.)
Fee structures, including monthly maintenance fees and excess withdrawal fees
Daily, weekly and monthly deposit limits
Daily, weekly and monthly withdrawal limits
Interest rates and APYs for savings accounts
Minimum deposit and minimum balance requirements
Overdraft protection benefits, if the bank also offers checking accounts
ATM and debit card availability
ATM network and which ATMs are fee-free
Added benefits, such as automatic savings features
Online and mobile banking access
User experience
Customer service and overall reputation
It's also important to know whether you're getting FDIC-insured savings. The FDIC insures deposits at member banks up to $250,000 per depositor, per account ownership type, per financial institution. 
PayPal is not a bank so it can't be an FDIC member. However, it partners with Synchrony Bank to offer savings accounts and Synchrony is FDIC-insured.
Who Should Choose a PayPal Savings Account?
The PayPal Savings Account could be a good savings option if you want to get a higher rate on balances and you don't necessarily need branch banking. You might open one of these savings accounts if you:
Already have a personal PayPal account and PayPal debit card
Are looking for competitive interest rates on savings
Want to skip the high monthly fees that traditional banks can charge
Are comfortable managing your savings in the PayPal app
One thing to note is that you can't open a PayPal Savings Account if you only have a PayPal Business Account. You'll need to have a personal PayPal account to get the savings account. 
If you're comparing the PayPal Savings Account to other high-yield savings accounts, start with the basics. 
Look at the APY you can earn, the monthly maintenance fee and the initial deposit requirements. Then, consider how you'll be able to access your money and what unique benefits or perks the account might offer. 
At the end of the day, the best savings account for you is the one that offers the rate you're looking for with the features you're most likely to use.