SFGI Direct Bank Savings Account 2023 Review
Learn about the interest rate, fees, and features of the SFGI Direct Savings Account and compare it to the best online savings accounts available nationwide.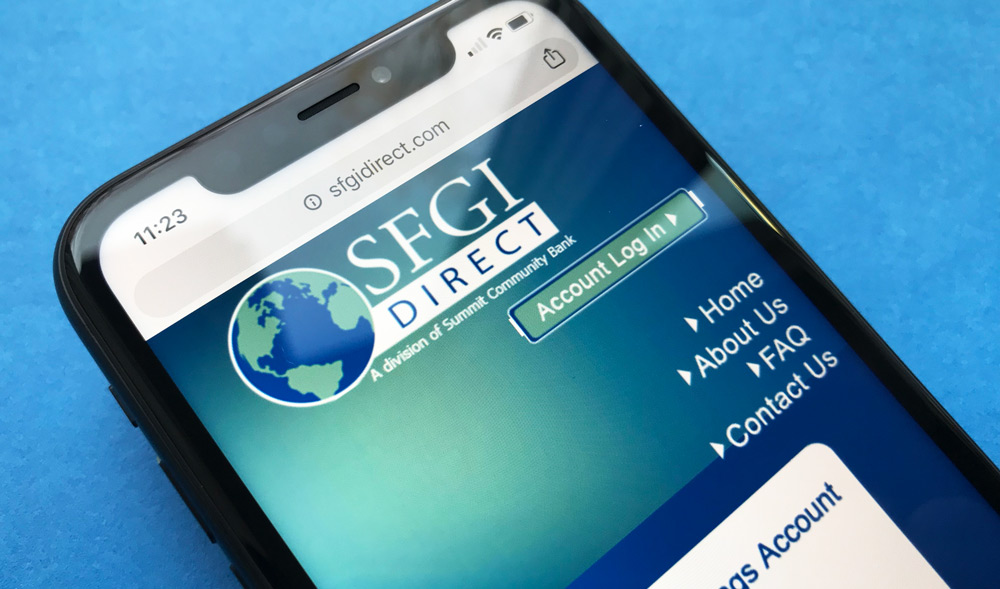 SFGI Direct iPhone Website
A savings account can keep your money secure as you work towards a financial goal.
It's even better when you're earning interest on what you save. But, that doesn't mean you should choose just any bank for your savings.
For example, you might be weighing an online bank against a brick-and-mortar bank.
While online banks typically don't have branches, they could give you a better yield on your savings. The more interest you're earning, the faster your money adds up.
So which online bank is the best for savers? SFGI Direct is one contender.
A division of Summit Community Bank, it's based in Moorefield, West Virginia. Savers across the country can open an SFGI Direct Savings Account.
If SFGI Direct has caught your eye, in this review learn all the details about this account and compare it to the top competition before finalizing your decision.
SFGI Direct Savings Account Pros & Cons
Compare Savings Options
Be sure to check out more savings accounts worth considering:
High Interest Rate
Earning interest is a great reason to open a savings account versus keeping all of your money in a checking account.
While there are interest-bearing checking accounts, the APY you can earn is often less than what you'd get with a high yield savings account.
The SFGI Direct Savings Account has a competitive APY that's similar to what other online banks offer.
You need a minimum balance of $1 to earn interest, but you'll need at least $500 to open your account.
The maximum initial deposit tops out at $25,000.
The rate on this account is variable, so it can change over time. Interest is accrued daily and compounds monthly.
Compared to a traditional bank, SFGI Direct gives savers more for their money in terms of interest.
The rates aren't tiered either, so you don't have to worry about earning a lower or higher rate, based on the amount you're saving.
Very Few Fees to Worry About
The interest rate is important with any savings account, but so are the fees.
The more you pay in fees each month, the less interest you get to keep. In fact, too many fees could have you working backwards towards your savings goals.
One great thing about the SFGI Direct Savings Account is that there's no monthly maintenance fee or service charge.
Those fees are more common at traditional banks, and some online banks also charge them.
You can sometimes avoid those fees by maintaining a minimum balance or setting up direct deposit. That, however, may not appeal to you if you want a savings account with minimal fuss.
That doesn't mean there aren't any fees at all, however. SFGI Direct does have a few miscellaneous fees for things like account research and paper statements
Other than that, however, it's relatively light on fees. There's no excess withdrawal fee stated on the website but you are limited to 6 withdrawal transactions per month.
SFGI Direct Savings Account Fees
| Type | Fee |
| --- | --- |
| Monthly maintenance fee | $0 |
| Excess pre-authorized withdrawals, transfers or checks | $0 (excess withdrawals may be denied or lead to account closure) |
| Paper statements | $5 each |
| Dormant account fee | $5 per month after 7 years of inactivity |
| Research fee | $25 per hour |
Opening, Accessing, and Managing Your Account
Opening an SFGI Direct Savings Account can be done online in just a few minutes.
You just need to plug in your name, Social Security number, date of birth, address, phone number and employment information.
You'll also need a valid government-issued ID. If you're opening a joint savings account, the joint owner would also need to give SFGI Direct their information.
Limited options to fund your new account
Once you get your account opened, you can link it to an external checking or savings account at another bank.
That's important because SFGI Direct has limited options when it comes to making deposits to your account.
You can put money into your account via ACH transfer or direct deposit but you can't set up an incoming wire transfer or deposit paper checks.
By comparison, some online banks let you use a paper check to make your initial account deposit.
SFGI Direct doesn't have a mobile banking app so mobile check deposit isn't an option either.
Rules with transfers
Online banking is available through SFGI Direct Access. This is where you can schedule transfers in or out of your account.
Be aware that you can only link one external account to get started. You'll have to wait 90 days before linking any other accounts.
ACH transfers generally take 2 business days. There's no limit on single external transfers to SFGI Direct Savings Accounts.
That's a difference from other online banks that may cap how often you schedule ACH transfers or limit the dollar amount.
Statements are issued electronically once a month. You can print and view up to 24 months of statements, which is handy if you need to document your savings to get a car loan or qualify for a mortgage.
Remember, though, if you need to request paper copies directly from the bank you'll have to pay a fee for that.
No ATM Access Available
Some online and traditional banks give you an ATM card with your savings account. This may be useful for those emergency situations that require urgent cash withdrawals.
Unfortunately, SFGI Direct doesn't provide such an option.
If you need cash quickly, you'll have to make a withdrawal from another checking or savings account.
Bottom line, if you like the convenience of being able to visit the ATM to make withdrawals or cash deposits, this account's probably not going to fit the bill.
No Frills, No Mobile Banking
Online banks are competing with each other, and traditional banks. As a result, some of them up the ante when it comes to offering perks or extra benefits to savers.
For example, the bank might offer you free financial management software or a savings goal tracker as an incentive.
Or you might have mobile check deposit or an online service like PopMoney to spend money instantly to friends and family.
Or, you may qualify for a cash bonus when you open an account with a certain amount of money.
The SFGI Direct Savings Account, on the other hand, is more scaled-down.
There aren't any exciting bells and whistles; this account relies on the high APY to attract savers.
That in itself is good but it may fall a little flat if you're looking for a more bang for your buck.
The biggest downside is the lack of mobile banking apps, which could be useful for customers who want to access and manage their accounts on the go.
What to Consider When Shopping for a Savings Account
The savings account that's right for your mom or your best friend may not be the best choice for you.
While getting recommendations from friends and family or reading reviews like this one can steer you in the right direction, you still need to do your own research.
With that in mind, here's what you should be focusing on in your search for a savings account:
APY
If you want to earn the most interest possible on your savings, you need to know what APY the bank is offering and what you need to do to earn it.
If you don't read the fine print, however, you might not realize that you need a large minimum balance to qualify for that rate.
Fees
A high APY won't get you far if you're handing money back to the bank each month in fees. Check whether there's a monthly maintenance or service fee.
If there is, look to see if there's a way to avoid it. Then, look at the other fees (e.g., excess withdrawal fees, paper statement fees, and wire transfer fees).
ATM access
For some people, the lack of ATM access might be a deal-breaker. Look into whether an online savings account has an ATM card option. If not, consider how you can get money in and out of your account.
Transfer and deposit limits
Some banks may limit what you can transfer in or out of your account on a daily, weekly or monthly basis.
As you're checking out savings accounts, look at whether the bank imposes any limits on deposits or outgoing transfers.
If you're used to transferring large amounts in or out of your savings regularly, that could potentially be an issue.
Final Verdict: Should You Save With SFGI Direct?
The best feature of the SFGI Direct Savings Account is undeniably the APY savers earn.
The rate is in league with what you'd get at some of the top online banks. But, a solid rate alone isn't a reason to move your savings here. You also have to think about how practical it is.
Not having ATM access, mobile check deposit, or wire transfer capabilities might detract from the high APY you're earning.
And, no mobile banking app may not go over well if you're using to managing all of your finances from your mobile device.
At the end of the day, all you're getting here is a high APY -- no other frills come with this savings account.