State Farm Bank Savings Account 2023 Review
Learn the details of the State Farm Bank Savings Account and compare the interest rates and fees to the top online savings accounts available nationwide.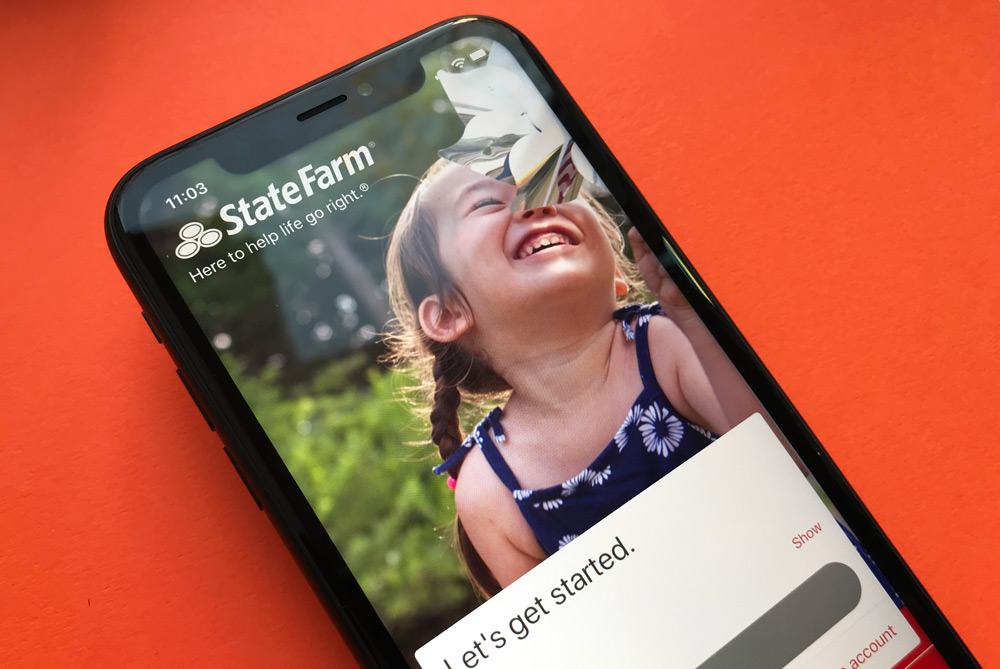 State Farm Bank iPhone App
State Farm might be well known for its insurance plans, but the company also offers other financial services.
State Farm operates State Farm bank, which offers a savings account with a number of benefits.
In this State Farm Bank Savings Account review, we'll compare rates, fees, and services to other national and online banks.
State Farm Bank Savings Account Pros & Cons
Compare Savings Options
Be sure to check out more savings accounts worth considering:
As Safe as a Big Bank
Savings accounts offer two things to account holders: safety, and the opportunity to earn a return.
The State Farm Bank Savings Account offers security thanks to its FDIC insurance.
The Federal Deposit Insurance Corporation was founded in the wake of the Great Depression.
Its goal is to give consumers confidence in the banking system and to prevent another run on banks that could cause an economic crisis.
Accounts at banks covered by the FDIC are insured up to a maximum of $250,000.
If the bank closes or goes out of business, the FDIC will reimburse you for your lost money, up to the limit.
Because the FDIC is backed by the US government, that protection means that you cannot lose money in a FDIC insured account.
Though you cannot lose money with a FDIC insured account, the money in that account might lose value.
How Inflation Affects the Value of Your Savings Account
Over time, money becomes less valuable due to a process called inflation.
If you've heard a parent or grandparent complain about how a gallon of milk used to cost a quarter, you have inflation to blame.
Inflation is expressed as a percentage, usually per year. So, if the inflation rate for this year is 3%, the value of the dollar is 3% less at the end of the year compared to its value at the start of the year.
Though that might not sound like much, if inflation is 3% per year for 10 years, that same dollar is worth less than 75% of what it was worth at the start of the first year.
The interest that a savings account pays can help you fight the effects of inflation.
Banks don't just pay you interest because they're generous.
They pay interest because when you make a deposit, you're actually lending money to the bank.
The bank will take the money that you and other account holders deposit and use it to make loans to other customers.
It charges those borrowers more interest than it pays to you. The difference is used to keep the bank running.
Mediocre Rates for an Online Bank
Many online banks have been springing up as smartphones and internet-connected devices have become more common.
Because online banks don't have to pay for physical locations, they can offer much better interest rates. Interest rates are one of the biggest points of competition among online savings account.
State Farm Bank's savings account offers a great rate when compared to physical banks' accounts.
However, it falls slightly short of the rates offered by other online savings accounts.
Minimum Balance and Monthly Fee
The State Farm Bank Savings Account requires a minimum deposit of $100 or a $3 monthly fee is charged.
Many consumers should be able to meet that requirement, but if you're just getting started with saving, it might be difficult.
Once the account is open, there is no minimum balance required to keep the account open. Instead, there is a monthly charge that will be waived so long as you keep the account's balance above $100.
If you decide to open the account, make sure that you can maintain that balance in the account.
Otherwise, the money in your savings account will be anything but safe as fees will eat into your balance.
Other Fees
The State Farm Bank Savings Account charges fees that are relatively standard, such as stop payment fees and wire transfer fees.
Most consumers won't deal with those fees in their day-to-day life.
The most common fee you'll have to worry about is the excessive transaction fee.
Federal regulations limit the number of transactions you can make in an online savings account to six transactions per statement.
If you make more than six transactions in one statement period, you'll face a $10 fee per transaction.
The good news is that transactions made at ATMs do not count towards the limit. That lets you access your cash without fees, even if you've already reached the limit.
State Farm Bank Savings Account Fees
| Type | Fee |
| --- | --- |
| Monthly Maintenance Fee | $3 |
| Excess pre-authorized withdrawals, transfers or checks | $10 |
| Statements with check copies &/or deposit slips only | $5/Statement |
| Incoming wire transfer (domestic) | $0 |
| Outgoing wire transfer (domestic) | $15 |
| Stop Payment Fee | $20 |
Link Your Account for Overdraft Protection
You can use your State Farm Bank Savings Account to provide overdraft protection to your State Farm checking account.
Usually, when you try to make a transaction that requires more money than you have in your checking account, you'll overdraft the account.
Your balance becomes negative and you incur a significant fee.
With overdraft protection, State Farm will automatically move money from your savings account to your checking account to cover the transaction.
You'll pay a $3 fee per overdraft protection transfer, but that's much less than the overdraft fee.
While you should try to avoid overdrawing your account, it sometimes happens. This feature helps you minimize the damage.
Manage Your Account with a Free ATM Card
One of the biggest concerns people have about online savings accounts is accessing the money in the account.
State Farm makes it easy by offering a free ATM card that you can use to manage your savings accounts.
You can make free withdrawals from State Farm ATMs. State Farm also won't charge you for making withdrawals from other ATMs.
If the owner of an ATM charges you a fee, State Farm will reimburse you for the fees, up to $10 per statement.
This feature makes it easy to get to your savings whenever you need it.
Save On Your Home Equity Line of Credit with Automatic Payments
If you have a HELOC from State Farm Bank, you can set up automatic payments from your savings account.
If you do, you'll automatically save 0.25% on the HELOC's interest rate. Depending on your loan's balance, that can be a significant amount.
One thing to note is that making your loan payment from your savings account will count towards your six transactions per statement limit.
Make sure not to accidentally incur an excessive transaction fee.
How Does It Compare?
With so many online savings accounts out there, it can be hard to choose the right one.
When you're looking to open a new savings account, consider these factors when comparing your options:
Your deposit balance
Some online savings accounts will provide a higher interest if you can deposit more money with them.
Access to ATMs
You may get an optional ATM card that allows you to withdraw money from your account in the event of an emergency.
Sign-up bonuses, if any
It's tough to turn down free money to open a savings account and deposit some money.
Account management
Think about how important it is to you that you can easily access and maneuver your online savings account through online banking, mobile apps, etc.
The Final Verdict
The State Farm Bank Savings Accounts offer some compelling benefits, especially for people who already have accounts with State Farm.
Though it does not excel in any specific area such as fees or interest rates, it is a good all-around account.
If you already have accounts with State Farm and just want a simple online savings account, it's not a bad choice.
If you're looking to open your first bank account or to transfer all your accounts to a new financial institution, you might want to choose a different company.