TIAA Bank Yield Pledge Money Market Account 2023 Review
Find out whether the TIAA Bank Yield Pledge® Money Market Account offers interest rates and fee policies that are better than the top savings accounts.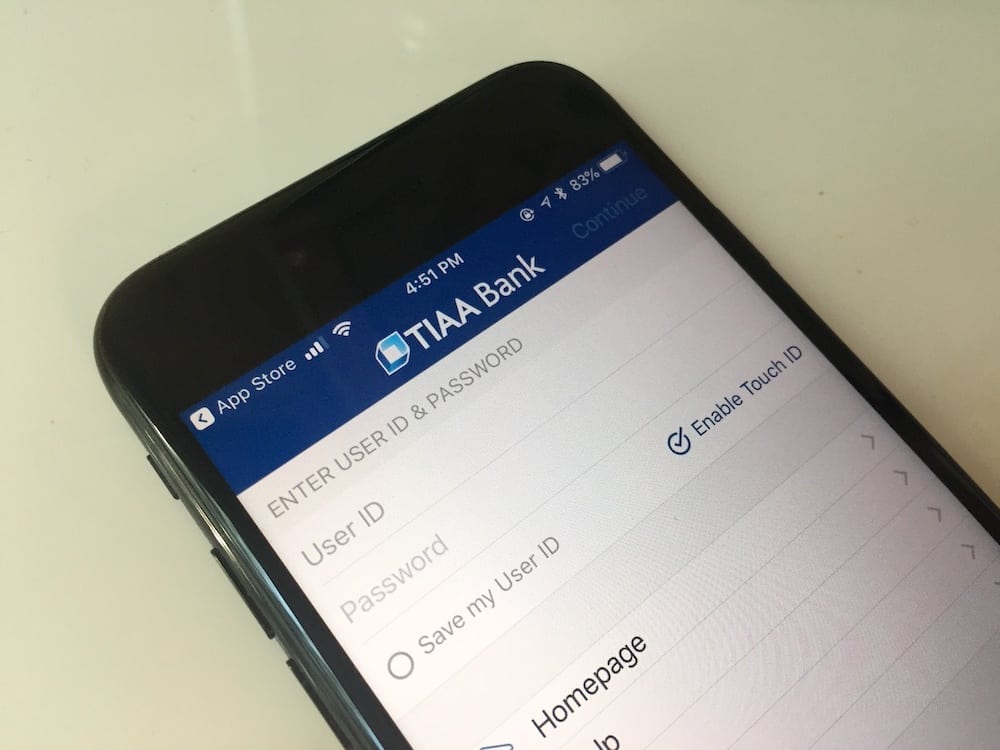 TIAA Bank App
Choosing a place to stash your savings is no easy task. Between savings accounts, money market accounts and certificates of deposit, you've got lots of choices.
And those choices aren't all alike. Savings accounts, for example, offer convenient access to your money.
A CD, on the other hand, could yield more interest on your deposits.
Money market accounts can offer a little of both. And some money market accounts can offer something else: ATM card access or check-writing abilities.
The challenge lies in choosing the right bank. Traditional banks and credit unions may offer money market accounts.
Online banks are an alternative to old-school banking.
TIAA Bank's Yield Pledge Money Market Account is designed for savers who want to maximize their money's potential.
In this TIAA Bank Yield Pledge Money Market Account review, we'll compare rates, fees, and services to other national and online banks.
TIAA Bank Yield Pledge Money Market Account Pros & Cons
Compare Savings Options
Be sure to check out more savings accounts worth considering:
Highly Competitive Yields With Fewer Fees
If you want to kick your savings into high gear, the TIAA Bank Yield Pledge Money Market Account might be for you.
And unlike other money market accounts, it's not overloaded on fees.
Sound good? Learn whether the Yield Pledge Money Market Account is a good fit for growing your money.
A Promise to Always Offer Great Rates
One of the most notable things about the Yield Pledge Money Market Account is the interest rate.
New savers earn an introductory APY for the first year that's more than 10 times the national average, according to TIAA Bank's website.
After that, you enjoy a variable rate on your money market savings. The ongoing APY is a bit lower than the introductory rate but it's still better than what you'd get at a brick-and-mortar bank.
The Yield Pledge promise means that your APY will always be in the top 5% of competitive rates.
The rates aren't tiered, so you earn the same amount of interest regardless of your balance.
You do, however, need at least $5,000 to open an account. Take note -- the first-year introductory APY applies to a maximum balance of $250,000 for new savers.
Pay No Monthly Fee on What You Save
One of the perks of choosing an online bank is the fees. There are generally fewer of them.
Online banks tend to have lower overhead costs than traditional banks. That means they don't have to charge their customers as many fees.
The Yield Pledge Money Market Account has no monthly maintenance fee.
That means you don't feel nickel-and-dimed to death. And, you get to go hold on to more of the interest you're earning each month.
At brick-and-mortar banks, you might pay $5 or even $10 a month to keep your account open.
While you might be able to get around the fee by maintaining a minimum balance or scheduling direct deposits into your account, that's more work you have to do to earn interest on your savings. TIAA Bank eliminates those hassles.
Get ATM Fee Reimbursements, But Watch for Excess Withdrawals
Another way TIAA makes managing your account easier is by eliminating ATM fees.
TIAA Bank doesn't charge a fee when you use one of their ATMs -- or another bank's -- to make a cash withdrawal.
And, they reimburse you for any foreign ATM fees you pay elsewhere.
To get those fees reimbursed, you do have to maintain a $5,000 minimum balance each month. ATM fees are reimbursed automatically.
That doesn't mean, however, that you can go crazy with withdrawals. The Yield Pledge Money Market Account is subject to federal Regulation D rules.
You can make unlimited transactions in-person, by mail, or at the ATM but there are limits on other transactions. Currently, you're limited to six of the following each month:
ACH transactions
Debit card transactions
Checks
Internet-initiated transactions
Phone or mobile-initiated transactions
Pre-authorized or automatic withdrawals
If you go over six of these, TIAA Bank can charge an excess withdrawal fee to your account. This fee is $10 for any month when you exceed the limit.
If you make frequent excess withdrawals a habit, the bank could change your account to a checking account or shut it down altogether.
As far as other fees go, there are few you should know about. For example, it'll cost you $10 to get a cashier's check.
Fees also apply for domestic and international wire transfers going out of your account. All in all, however, this account is pretty reasonable when it comes to fees.
TIAA Bank Yield Pledge Money Market Account Fees
| Type | Fee |
| --- | --- |
| Monthly Maintenance Fee | $0 |
| Excess pre-authorized withdrawals, transfers or checks | $10 |
| Overdraft fee | $30 |
| Incoming wire transfer (domestic) | $0 |
| Outgoing wire transfer (domestic) | $25 |
| Stop Payment Fee | $30 |
| Cashier's check | $10 |
Ways to Manage Your Account
While TIAA Bank does have branches, it's geared more towards people who prefer to bank online. Fortunately, you'll have all the tools you need to keep tabs on your savings.
That includes:
Mobile and online banking access
Free mobile check deposit
Online transfers
Mobile payments
Secure money transfers via People Pay
You may not be able to get to a branch but you've got plenty of ways to stay connected to your money.
Use Your Money Market Account to Save for Retirement
Saving for retirement is a big goal and there's more than one way to do it. While you could play the stock market, that can be risky.
If you want a safer way to save, your Yield Pledge Money Market Account can do double-duty as a retirement account.
TIAA Bank allows you to set up your money market account as an individual retirement account or IRA. The APY, minimum deposit and fees are the same.
The difference is in how these accounts are treated for tax purposes.
With an IRA, your money can grow on a tax-deferred basis. Generally, if you have money in a savings account that earns interest, that interest is considered taxable income for the year it's earned.
With a traditional IRA money market, you wouldn't pay taxes on your interest until you withdraw the money in retirement. Contributions to a traditional IRA are tax-deductible.
A Roth IRA allows you to make withdrawals in retirement tax-free. That could be valuable if you think you'll be in a higher tax bracket when you retire.
If you haven't started saving for retirement yet, or you haven't saved as much as you'd like, an IRA money market might be something to consider.
TIAA Bank vs. Other Competitive Online Banks
TIAA Bank isn't the only choice for opening a money market account online.
Before you make a final decision, it helps to look at what other banks are offering.
Here are three banks that might catch your eye:
UFB Direct Money Market Account
UFB Direct's Money Market Account has a lot in common with TIAA Bank's money market account. Both require a $5,000 minimum deposit and both offer a generous yield.
And UFB Direct charges no monthly fee. The biggest difference is in the APY.
Compared to TIAA Bank, UFB offers a better rate. And it's not an introductory APY.
That means you'll keep earning the same great rate after the first year.
As an added plus, you get a free debit card and check-writing capabilities with this account.
Ally Bank Money Market Account
Ally is a well-known online bank and besides savings accounts, it also offer a high-yield money market account.
Compared to TIAA Bank or UFB Direct, Ally's APY is lower but you don't need a huge chunk of cash to open your account.
In fact, there's no minimum opening deposit requirement to meet. There's no monthly maintenance fee to worry about either.
Ally Bank does reimburse foreign ATM fees, but the reimbursement is capped at $10 per month.
Final Verdict: Who the TIAA Bank Yield Pledge Money Market Account Is Right For
A money market account can be a great way to save for short- or long-term goals but TIAA Bank may not appeal to everyone.
If, for example, you don't have $5,000 to get started, you might prefer to open a money market account with Ally Bank instead.
Overall, we'd recommend the TIAA Bank Yield Pledge Money Market Account to savers who can meet the minimum deposit requirement and don't want to worry about foreign ATM fees.
The IRA option is another nice extra that might make it more appealing than a competing account.
On the other hand, if it's the highest APY you're after, UFB Direct may be more to your liking.
With any money market account, be sure to compare the yield and the fees beforehand to make sure you're choosing the right one.