The Travel Comparison Tool That Will Save You Money: Review
Looking for a better way to find cheap flights online? We review the ITA Matrix to see if this travel comparison tool can work for you.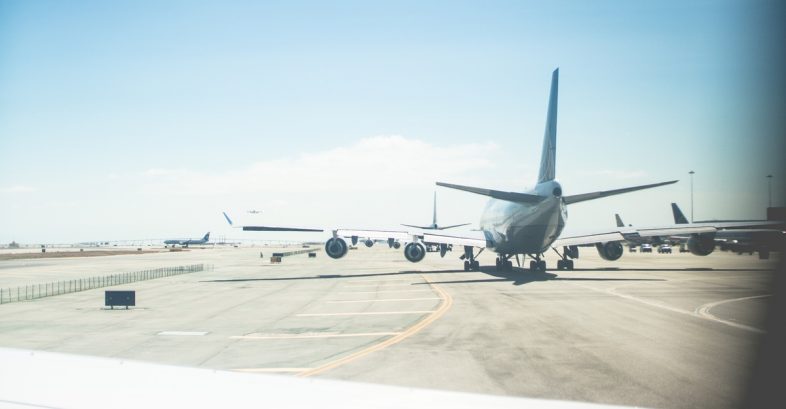 When you shop for plane tickets, you're likely looking for nothing short of the best possible deals.
Decisions are typically not made until you've done a thorough comparison on multiple search engines.
However, there's a little-known tool that can actually help you save more money than the popular travel comparison websites.
ITA Software Matrix for Unbiased Flight Comparisons
ITA software Matrix is a search tool is strictly for flights and powers both KAYAK and Google Flight Search.
It offers numerous ways to customize your search and you can really narrow in on specifics for your travel.
ITA Matrix results also include budget airlines, which contributes to its low airfare search results.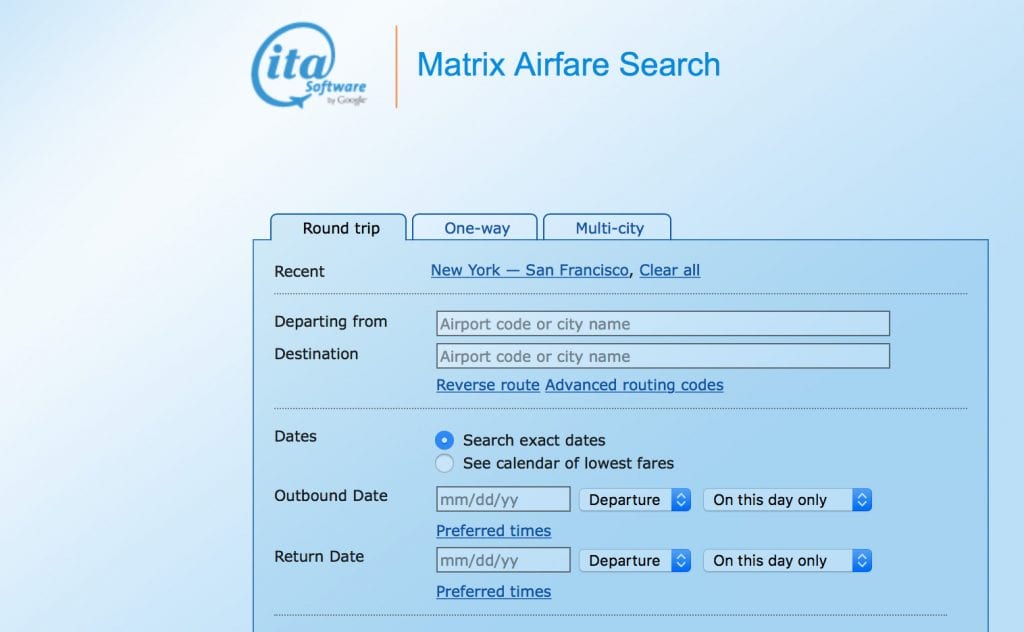 Unfortunately, like most things that sound too good to be true.
The catch:
You can't actually purchase tickets through Matrix ITA.
Although, the site does make it easy for you lock down the Matrix flight you found. You simply head to the particular airline's site and book the flight, or through an online travel agency.
This, however, isn't necessarily a bad thing, as ITA Matrix receives no kickbacks to what flight you choose.
How to use ITA Matrix for the Cheapest Flights
Simply put, there's a lot of maneuvering you can do with the Matrix ITA software search criteria that can help you land the best ticket prices – for free.
For example, you can find fares for either exact dates, or you can view a calendar of prices. This option is great to explore if you have flexibility with your itinerary. The lowest ticket is always highlighted in orange.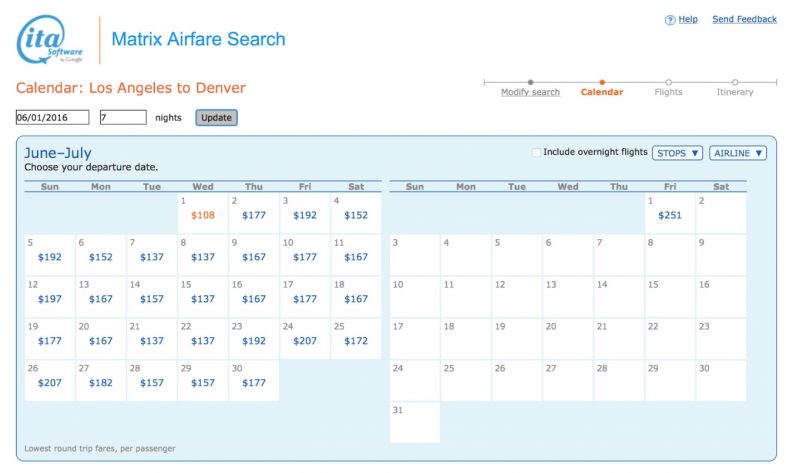 Matrix flights offer additional information like cost per mile and endless options. There are advanced routing codes, you can add a "sale city," make airport changes, add or restrict stops, and change ticket currency, and more.
Even the search results are highly detailed with more choices for your consideration. You can browse and select plane types, see what the difference would be in price for a date change, and so forth.
If you have the time, or just enjoy seeing the most variables of your search, then this service will not disappoint.
ITA Travel Matrix Comparison to Popular Flight Search Engines
ITA travel proves to be the ultimate tool for finding the lowest airfare results when tested against competitors.
In the table below, you'll see a search comparison to Orbitz, Travelocity, and Expedia.
Airfare Search Comparison
| Website | Price | Stops | Airline |
| --- | --- | --- | --- |
| ITA Matrix | $426.20 | Non-Stop | Delta |
| Orbitz | $485.19 | Non-Stop | Delta |
| Travelocity | $463.20 | Non-Stop | Delta |
| Expedia | $426.20 | Non-Stop | Delta |
The same flight itinerary was reproduced on each of the search engines. Orbitz produced the highest price for the same round-trip, totaling $59 above the ITA Matrix flight.
Buying the ticket on Travelocity would cost $37 more than air Matrix.  On the contrary, Expedia shared the same price as the flight Matrix.
This chart only compares the cost for the same exact flight and not alternatives to this itinerary.
By utilizing the in-depth features that ITA Matrix software provides, you can expand your search and gather even more attractive flight options.
Tips and Tricks to Use Google Flight MATRIX
If you're a traveler that's picky about flight specifics, you'll be pleased that you can pick all you want with ITA Matrix.
Need to fly on a Boeing aircraft? No problem, as you can select that filter.
Essentially, as a user of the Google flight Matrix, you'll be able to manipulate as you please. Here are a few tips and tricks to use the search tool effectively.
1. Make Use of the Advanced Routing Codes
Making ITA Matrix unique is its advanced routing codes. This allows you to add restrictions to your search quickly. With these routing codes you can:
Choose specific airlines or airline partnership networks
Add travel time restrictions
Indicate the number of connections you want or don't want to make
Avoid a particular airport or specify an airport layover location
Under the Matrix Airfare Search, click the advanced routing codes link.
This will pull up routing code options.
Then you can enter several types of codes, including airport, city, departure, and return flight. According to the Google Help Page, "the routing codes only apply to one departure-destination pair at a time."
This means:
You must enter codes separately for round-trip flights, and for multi-city flights, "you must repeat the codes for each departure-destination pair for which they should apply."
You can find general rules for the advanced routing codes right on the ITA Matrix website.
2. Manipulate the Sales City to Benefit You
Prices for flights can vary by point-of-sale city. The fares, taxes, other associated fees, and currency can all change what you ultimately pay.
If you don't type in a sale city location, the site will automatically conclude that it is the departure city and use this for its airfare price.
Or, you can be a little savvier, and change the sale city and see what type of pricing you may get.
3. Have Flexible Searches
Be sure to utilize the multiple airport options if you have that flexibility, as that too can determine the price of your ticket.
Fortunately for you, the site allows you to enter multiple airports in the search tool. Simply separate the airports by commas.
Another way to search is by city or common attraction. You can even specify the range of your search.
Also, when you have flexibility in your travel, it would be wise to select "See Calendar of Lowest Fares" and specify the start date, rather than "Search Exact Dates." This is a sure way to find the cheapest flight.
4. Have Patience
By no means, are the search results the fastest. It even refers you to Google Flight Search.
But just think how hard this powerful search tool is working to create all the possible options if you don't specify your wants and needs for a flight. So keep that in mind if you're patience is running thin.
Boost Savings with Travel Rewards Credit Cards
Generally, airline credit cards are ideal for travelers who fly with the same airline on a regular basis. These cards tend to have cost-saving perks such as free checked bags and priority boarding.
For users of ITA Matrix, there may not be loyalty to any particular airline.
Therefore, general travel rewards credit cards are better for these frequent flyers. Two credit cards worth adding to your wallet are Chase Sapphire Preferred and Capital One Venture Rewards.
Chase Sapphire Preferred Card
Chase Sapphire Preferred Card is a popular travel reward credit card because of its flexible rewards program and convenient travel benefits.
For instance, all the points earned can be transferred to a number of airline and hotel frequent traveler programs.
Capital One Venture Rewards Credit Card
The  is known for its simple travel rewards program that encourages cardmembers to shop for the cheapest flight deals on their own (such as those found with ITA Matrix).
Then, they can redeem their earned miles as a statement credit toward their travel purchases.
Before you book your next travel itinerary, be sure to check out ITA Matrix Airfare Search and add one of these great cards to your wallet.