The Best Alternatives to Closed Virgin America Credit Card
Learn what will happen to the Virgin America credit cards that are closing down and find out which travel credit cards are the best options as replacements.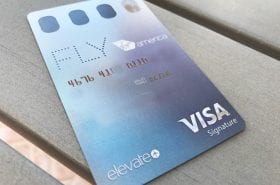 Virgin America has announced that it will be shutting down its branded credit cards in 2018. The card accounts will not be transferred to another credit card company, nor will they be converted to another card. These accounts are being closed completely.
Learn more about what exactly is happening to the Virgin America credit card accounts and how it affects you as a cardholder. Also, find out what would be the best replacements for these cards.
Key Dates
Through 12/31/17: You may continue to use your Virgin America credit cards as usual. You will continue to earn points for card purchases and card benefits still apply.
1/01/18: You will no longer receive Elevate point for card purchases. Card benefits will cease -- benefits also don't apply to flights on or after this date (even if flights were booked prior to this date).
1/04/18: You can no longer use your Virgin America credit cards to make purchases.
After 1/04/18: Comenity Capital Bank will continue servicing your account until the card balance is paid in full. The account is closed after the balance is paid off.
Getting a Refund on Your Virgin America Card's Annual Fee
The annual fees for the Virgin America Visa Signature Card and the Virgin America Premium Visa Signature Card are $49 and $149, respectively.
Cardmembers are getting a prorated refund on their annual fees based on the date of account close or until 12/31/17 (when benefits end), whichever is later. The refund will be in the form of a statement credit that will be posted within 1-2 billing cycles of account closure.
Note: If your annual fee is normally charged during the month of December, an annual fee will not be charged in December 2017.
The Future of Your Elevate Points and Elite Status
Virgin America will no longer use Elevate as its loyalty rewards program. Instead, it will be replaced with Alaska's Mileage Plan.
Any Elevate points that you have after 12/31/17 will need to be converted to MileagePlan miles for redemption. This may be the case if Elevate points are posted into your account after your final billing cycle.
Elevate points that are converted to Mileage Plan miles will receive a 30% bonus. For example, if you transfer 10,000 Elevate points, you'll receive 13,000 Mileage Plan miles.
Elite status won't change
Cardholders of the Virgin America Premium Visa Signature card still have time to maximize their ability to earn 5,000 status points for each $10,000 spend on the card (up to 15,000 status points this year).
Excess status points will not roll into the 2018 qualification year for elite status. But, your Elevate Silver or Elevate Gold status in 2017 will be matched accordingly for elite status under the Mileage Plan program in 2018.
Impact on Your Credit
When a credit line is closed, your credit is likely to be affected adversely.
Here's a quick review of the factors go into calculating your credit score:
FICO Credit Score Factors and Their Percentages
| FICO credit score factors | Percentage weight on credit score: | What it means: |
| --- | --- | --- |
| Payment history | 35% | Your track record when it comes to making (at least) the minimum payment by the due date. |
| Amounts owed | 30% | How much of your borrowing potential is actually being used. Determined by dividing total debt by total credit limits. |
| Length of credit history | 15% | The average age of your active credit lines. Longer histories tend to show responsibility with credit. |
| Credit mix | 10% | The different types of active credit lines that you handle (e.g., mortgage, credit cards, students loans, etc.) |
| New credit | 10% | The new lines of credit that you've requested. New credit applications tend to hurt you score temporarily. Learn more about FICO credit score |
When your Virgin America credit card account is closed:
You lose the borrowing limit of that account.
The age of the account stops growing.
Your total credit limit (combined with the borrowing limits of your other credit lines) will decrease. Debt utilization would appear to increase as your existing balances will make up a larger percentage of your total credit limit. Generally, this will lead to a drop in your credit score.
Also, the average age of your credit accounts increase less quickly because the age of your Virgin America credit card account stops growing.
Which Credit Cards are the Best Replacements
Although loyal customers may be sad to see the Virgin America credit cards go away, there are a few great options to replace them.
Alaska Airlines Visa Signature Card
The Alaska Airlines Visa Signature Card offers a list of benefits that is similar what is available through the discontinuing Virgin America credit cards. It allows you to earn 3 points per dollar on Alaska and Virgin America flights while you get 1 point per dollar on all other purchases. You still get a free checked bag and no foreign transaction fees.
Every year, you can purchase a companion ticket as a significant discount. The card also has an annual fee of $75, which is about half the annual cost of the Virgin America Premium Visa card.
Chase Sapphire Reserve
The Chase Sapphire Reserve has been a very popular travel rewards credit cards since its release. It offers 3 points per dollar on other travel and dining purchases and 1 point per dollar on everything else. You get a $300 travel credit every year that can go towards any travel expense, including airfare, ground transportation, checked bags, and more. Fees for Global Entry or TSA Precheck are also credited.
Points earned with the Chase Sapphire Reserve card can be transferred to British Airways, which is partnered with Alaska Airlines. The transferred points can end up being used to redeem for Virgin America flights.
The card does have a $550 annual fee, much of which is offset by the various benefits.
Conclusion
While it is unfortunate that Virgin America is shutting down its branded credit cards, there are great alternatives available. Loyal Virgin America flyers should still be able to earn plenty of rewards on their trips and travel with a plenty of the same benefits that they had before.
More: Best Travel Credit Cards of the Year