How to Avoid Airline Fees for Canceling Flights
Find out how much airlines will charge in fees when you cancel a flight that you redeemed with points or miles and learn how to avoid those fees.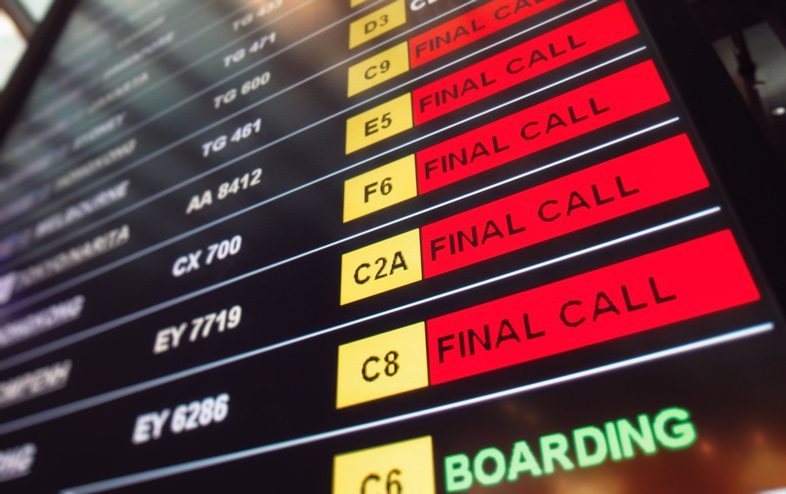 You booked your plane tickets with a whole bunch of travel miles or points you've patiently built up.
So what becomes of your airline rewards when, for one reason or another, you need to cancel your flight, voluntarily or involuntarily? Are your points redeemable, or refundable, like cash?
Or do your miles just disappear forever?
Find out how much it costs to cancel flights that you purchased with points or miles and learn how you can avoid them.
Airline Miles Are Refundable
Cancel a flight and the points or miles you've accrued are refundable. It's no different from canceling a plane ticket you've paid for with cash or a credit card. In this case, your rewards hold plenty of value, so the airline or booking agent can't just take them from you. (That would constitute stealing, after all.)
But, airlines can charge you cancellation fees or other surcharges for the inconvenience and expense for changing or canceling your flight.
Each airline has its own cancellation policy -- some good, some bad -- so it's good to know what your carrier's rules are before booking your flight:
Airline Awards Flight Cancellation Fees
| Airline | Award Ticket Cancellation Fee | How to Waive Fee |
| --- | --- | --- |
| Alaska Airlines | $125 | Cancel at least 60 days before your flight |
| American Airlines | $150 | Be an Executive Platinum member |
| Delta | $150 | Be a Diamond or Platinum club member |
| Frontier | $75 | Buy a Last Seat award ticket |
| JetBlue | $75 to $150 | Cancel at least 60 days before your flight |
| Southwest | None | - |
| United | $75 to $125 | Partial to full waivers for elite status members |
Alaska Airlines
Award tickets through the Alaska's Mileage Plan program can be refunded in full after a cancellation. But take note: you'll need to cancel at least 60 days prior to your flight to avoid paying a $125 change/cancellation fee. That could mean paying more in fees than your miles or ticket is possibly worth, so don't wait if you anticipate a change of plans.
American Airlines
For American, if you need to cancel a flight booked with flight awards you've redeemed, you'll need to request a mileage reinstatement with the airline -- but do it fast, since you can only exchange it for a fully unused AAdvantage award ticket if yours hasn't expired.
At $150 per account for the first award ticket, reinstatement charges for canceled award flights are a bit heftier with American; additional reinstatements to the same account, according to the airline's FAQ, are levied a $25 fee, but for Executive Platinum members, that fee is waived when they use miles from their account.
Delta
Award tickets (for either outbound or return flights) booked through Delta Airlines are thankfully refundable if other plans prevent you from catching your plane. But there's a downside: there's a mandatory $150 cancellation fee you'll need to pay, and if you don't change your reservation within 72 hours, your ticket can't be refunded or exchanged -- that means you lose your awards and you'll need to buy a new ticket on your own expense. Thankfully, if you belong to Delta's Diamond or Platinum club, that fee is waived.
Frontier
The low-fare airline is a great alternative for fliers on a budget, as Frontier offers a chance to purchase tickets through its awards program (tickets available include economy, choice and last seat availability). There's a smaller, $75 fee if you intend to cancel your original ticket for a refund and redeposit of your miles back into your account. Non-refundable, if you're holding an economy class ticket, it'll need to be canceled prior to flight departure, so make sure to cancel yours before you're at the gate.
JetBlue
JetBlue customers can also cancel their TrueBlue rewards for a refund, but you'll need to cancel your ticket before boarding if you want your points back. (Simply skipping your flight, whether you've paid for it with cash, credit or rewards, is the same as throwing your ticket away.)
Cancellation fees for JetBlue vary depending on the cost of your ticket; they range from $75 for fares up to $99, $100 for fares up to $149, and $150 for fares $149 and up, on both Blue Fare and Blue Fare Plus flights. Similar to Alaska Airlines, for JetBlue you'll need to cancel your ticket within 60 days of your scheduled flight.
Southwest
There's a good reason why Southwest is the best airline for fliers buying tickets with their Rapid Rewards points: no cancellation fees at all. "Southwest," notes the airline's website, "does not charge a fee to make a change to a reservation." Any unused points you've used to make your ticket purchase will be redeposited back into your account within four days.
However, bear in mind that there may be differences in fare prices, so if it's a last-minute cancellation, your new ticket may cost more than your rewards points can afford.
United
United Airlines charges fees for both booking and canceling awards travel flights under their MileagePlus program. For booking, you'll pay anywhere from $25 to $75 (free if you're a member of United's Premier Platinum or 1K clubs).
For cancellations or to change your award travel plans, be prepared to pay anywhere from $75 to $125 to redeposit your awards funds back into your account. (For customers not in the MileagePlus club, refund/cancellation charges are up to $200!)
Avoiding Award Flight Cancellation Fees
Sometimes, canceling your awards-bought flight is inevitable; but paying fees doesn't have to be. These tips can help minimize the cost.
Cover redeposit fees with travel insurance
Travel insurance can cover expenses if you need to cancel a flight; like if you or a family member falls ill, a car accident causes gridlock on the freeway down to the airport, or some national emergency or natural disaster impedes your travel plans.
But awards flight insurance is another thing altogether. A policy covers the redeposit fees your airline of choice may charge if you change or cancel your flight; so, if you bought insurance with Allianz, for example, they've reimbursed you for that $150 fee to return your awards points. Before buying a policy, see if the premiums are worth it. Infrequent travelers who rarely cancel flights may find the ultimate cost of insurance is more expensive than the odd fee.
Book your flights separately
Booking a round-trip flight may be convenient; you kill two birds with one stone, eliminating the need to search for separate one-way flights at different times and rates. But for the sake of avoiding cancellation fees -- especially if you're using up those limited award points -- booking your flights independent from one another may be your best money-saving option.
In this case, never buy a one-way plane ticket that costs more than the airline's cancellation/change fee. So, if you were to use points for a $250 round-trip ticket with American or Delta, and you need to cancel your outbound flight, you'd be charged a $150 fee, wasting more than half of your points' value on the entire first flight and part of your return flight.
But if you bought two independent tickets, the cancellation fee would literally cancel out only the first ticket, and your points are still returned to you to use again. If you anticipate possible delays from time to time, buying tickets separately may be more of a hassle but can save you money and points in the long run.
Play it by ear
You're waiting at the terminal in the airport, waiting to fly home for the holidays, and out the window, it looks like snow. Sure enough, there's the announcement that all flights to your destination have been delayed. Your first instinct: head up to the counter and cancel or change flights.
Not so fast -- there's no reason to be hasty in these situations. Unless your need is to cancel your travel plans days or even weeks in advance of a schedule change, acting impulsively at the airport after you've already checked in could cost you. A flight delay doesn't always lead to a canceled flight, and even if it was, your airline might just reimburse you and other passengers with a voucher, refund or ticket exchange, fee-free. But if you hurried to cancel your flight and paid the exorbitant cancellation fee, you'd never have that opportunity. Treat situations on a case by case basis so you don't bring unnecessary fees upon yourself.
Compare Carriers
While you should always look to fly with an airline that has not only the best reputation for service and aerial safety, when it comes to fees, compare and contrast airlines to see which one has the lowest impact to your finances if a flight cancellation is ever something you'd need to consider.
From our list above, we can see that airlines like American and Delta are on the upper end of cancellation surcharges for awards flights. United offers a sliding fee scale.
Southwest has the best policy when it comes to canceling or changing your award flights.
Stacking Up the Rewards
Avid travelers are best served with a credit card with rewards points or redeemable miles, preferably one where your awards can be used across several different airlines. But is booking our ticket with cash the more reasonable choice?
Not always. Some airlines charge higher cancellation fees on flights secured with cash or a debit/credit card -- once an incentive to attract customers to their rewards programs with the allure of lower (or no) fees. Plus, while racking up points and miles on your credit card can be slow and tedious, the time it takes and the purchases you make all serve to build rewards and your credit.
Because most reward credit card holders and members of airline loyalty programs work hard to amass their rewards, points, and miles
, you don't need to lose them through frivolous fees and pointless policies.
Knowing when and when not to cancel a flight, how to pursue a refund with the lowest impact, and choosing the right airline rewards program can make flying with rewards points a lot more rewarding.