TD Bank Credit Cards Review
TD Bank is know for great branch hours but it also offers credit cards. See which ones offer the best rewards programs, either in cash back or travel rewards.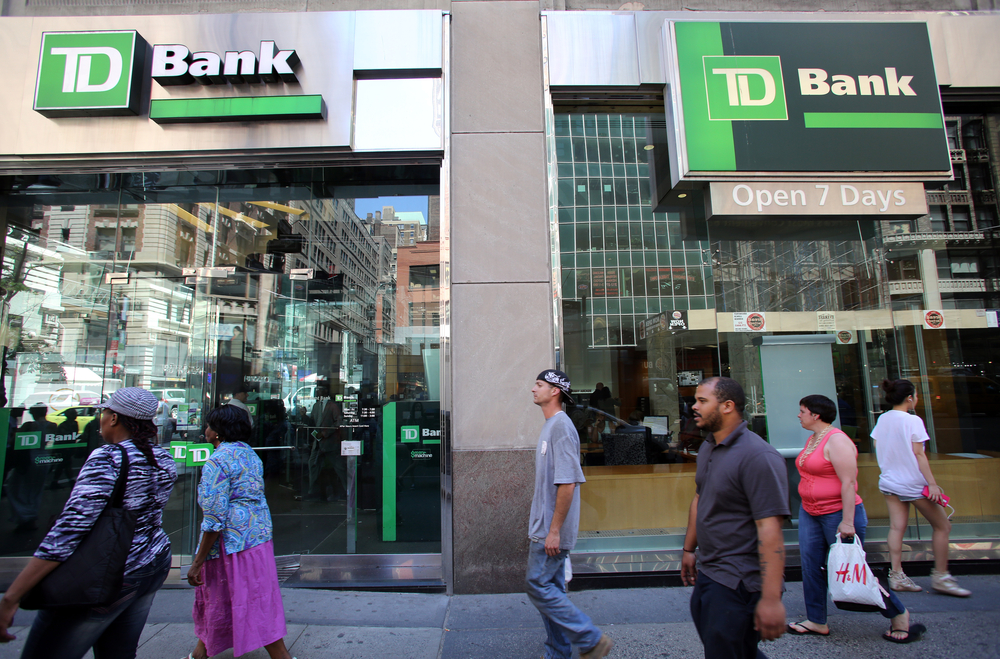 However, besides checking accounts, savings accounts, and investment management services, TD Bank offers several credit cards.
There are currently four different unsecured credit cards offered to consumers.
If you're looking for a credit card from TD Bank, we've analyzed all of TD credit cards to determine the best one for you.
TD Cash Visa Credit Card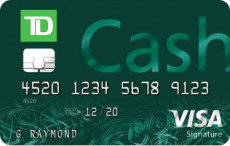 Earn 2% cash back on dining
Earn 1% cash back on all other purchases
0% introductory APR on balance transfers for the first 12 months
No foreign transaction fees
No annual fee
Visa Signature benefits
The TD Cash Visa Credit Card is one of the two cash back rewards credit cards available from TD.
This one is ideal for people who use eat out often at restaurants because they'll earn a high amount of cash back on their dining spending.
Pros
The TD Cash Visa Credit Card has no annual fee, which means that you can hold onto it from year to year even if you don't plan to use it extensively.
With no foreign transaction fees, you'll also save money when you use your card to pay for purchases internationally. A typical credit card would have foreign transaction fees of roughly 3%.
The introductory APR offer for balance transfers is a nice addition for people who want to consolidate their credit card debt with the focus of paying down their balances.
The cash back rewards can be redeemed as more than just cash. They can be used for gift cards, merchandise, airfare, hotel stays, and car rentals.
Cons
Although there is an 0% APR introductory rate for balance transfers, there isn't one for purchases. Therefore, you'll have to pay off your entire balance starting from the first billing cycle if you want to avoid paying interest.
Additionally, there is a balance transfer fee of 4%. The fee is higher than the balance transfer fees on many other credit cards.
It also becomes expensive for people who want to take advantage of the card's introductory deal for balance transfers.
TD First ClassSM Visa Signature Credit Card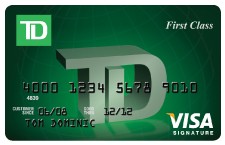 Earn 3 First Class miles per $1 on travel and dining purchases
Earn 1 First Class mile per $1 on all other purchases
No foreign transaction fees
$0 annual fee the first year; after that, $89 annually
Visa Signature benefits
The TD First ClassSM Visa Signature Credit Card is designed for people who spend a lot on travel and dining and who want to earn free trips.
Pros
The card offers a high rate of rewards on travel and dining -- both of which can be quite expensive and they'll help generate significant rewards.
There's no cap on how many miles you can earn and they never expire as long as your account remains open and in good standing.
This card has no foreign transaction fee, which is great if you routinely travel outside the U.S. It also comes with Visa Signature features, including travel protections like complimentary 24/7 concierge service, travel insurance, lost luggage reimbursement, auto rental collision damage waiver and roadside assistance.
All those benefits can come in handy if you run into trouble while you're away from home.
Cons
On the other hand, this card does have a few weak spots, beginning with the $89 annual fee.
To earn that back in rewards, you'd have to spend at least $3,000 on travel and dining per year. If you don't travel that often, the fee may not be justified by the rewards you're accumulating.
Another potential downside is the fact that you can't transfer your miles to a frequent flyer or hotel loyalty program the way you can with other cards, such as the Chase Sapphire Preferred Card.
The TD First ClassSM Visa Signature Credit Card only allows you to redeem your miles as a statement credit for travel or cash them in for gift cards and merchandise so if you're looking for a little more flexibility, this one may fall short of your expectations.
Tip: Stick with redeeming rewards for statement credit towards travel because exchanging them for gift cards or merchandise could diminish some of their value.
TD Ameritrade Client Rewards Credit Card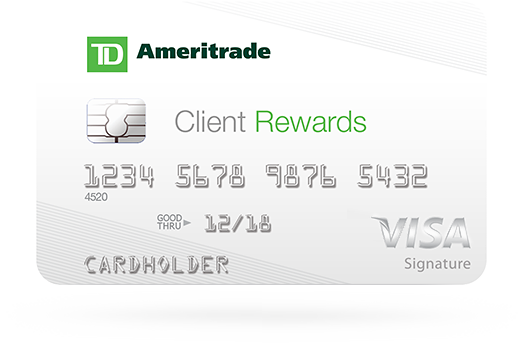 Earn unlimited 1.5% rewards on all purchases
Earn a 10% bonus when you redeem your rewards into an eligible TD Ameritrade account
No annual fee
Visa Signature benefits
The TD Ameritrade Client Rewards Credit Card is branded in partnership with TD's investment division.
It comes with a simple rewards program that encourages you to put your earnings to a TD Ameritrade account for investing. It is one of the few credit cards for people who invest.
Pros
This card keeps things simple, with a flat rewards rate of 1.5% on all purchases, with no caps on the amount of rewards you can earn.
The redemption options are quite flexible. You can trade your rewards for in for merchandise, gift cards to selected retailers, or statement credit.
If you want to get an additional 10% back, you can do so by redeeming your rewards for cash into a TD Ameritrade account.
That means if you've earned 20,000 rewards points, they'd normally be worth $200 but if you redeem them into your TD Ameritrade account, you'd get $220 instead.
That's a nice incentive to pick this card if you're already a TD Ameritrade client.
For those who don't have a TD Ameritrade account, note that their brokerage accounts and IRAs do not carry annual fees.
If you want to earn the bonus and then withdraw the cash, you can do so through a regular brokerage account without worry of additional costs.
Cons
The 10% bonus only applies to rewards that are redeemed as cash into a TD Ameritrade account. The bonus isn't available if you redeem for other types of rewards.
Overall Winner: TD Ameritrade Client Rewards Credit Card
It was a close race between the TD Cash Visa card and the TD Ameritrade Client Rewards Credit Card. But in the end, the simpler rewards credit card won.
Both cards are very similar when it came to annual fees, rewards options, benefits, and card protections.
However, the TD Ameritrade Client Rewards Credit Card will likely generate more rewards in the long run if it was the only credit card in your wallet because of the higher-than-average 1.5% rewards rate on all spending.
The TD Cash Visa card's 2% cash back rate may be higher for dining, but it only offers 1% cash back on other purchases.
And, the Client Rewards card is a great all-around rewards credit card to have even if you don't have a TD Ameritrade account to collect the addition 10% rewards bonus.
It is ideal for nearly anyone regardless of their spending habits.
However, if travel is your main focus, there are better options than the cards available from TD.
Our list of the best travel credit cards include cards that provide large sign-up bonuses and better overall travel rewards programs.
Compare Best Accounts Now
You might also like