IKEA Visa Credit Card 2023 Review
Learn all about the IKEA Visa Credit Card to see if its rewards program is a good fit for your loyal IKEA shopping, in addition to its fees, APR, and perks.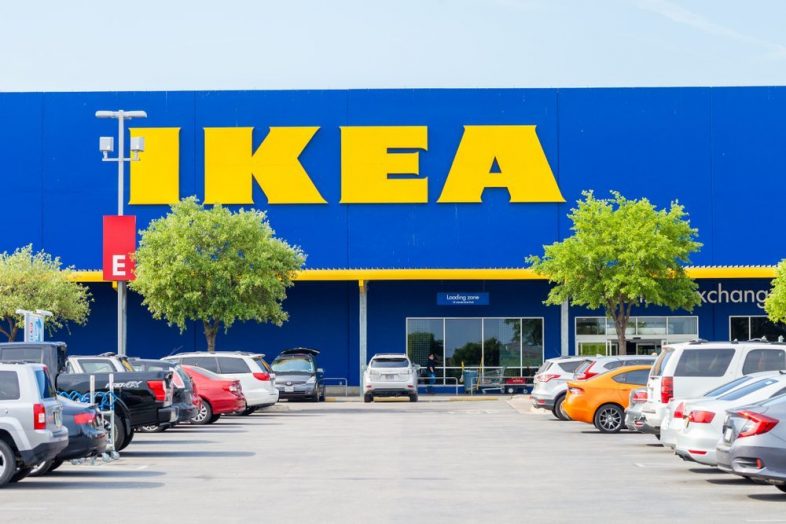 Besides affordable furniture and those famous meatballs, there's a new reason to shop IKEA: the IKEA Visa credit card.
This recently launched rewards credit card is designed for IKEA shoppers, but it could also be good for people who want to rewards on everything else they charge.
That includes gas, dining, travel, groceries and everyday spending. That gives it a leg up on the other IKEA-branded credit card: the IKEA Projekt card, which can only be used at IKEA USA.
The IKEA Visa has no annual fee and it comes with some added benefits, beyond earning rewards. Those include bonus rewards and free shipping offers, as well as membership in IKEA Family, the store's loyalty program.
This card could be right for you if you regularly shop at IKEA but you want the flexibility of being able to earn rewards everywhere you go. But, there's a catch: the rewards you earn can only be redeemed for IKEA purchases.
Before you sign up for the IKEA Visa, read our review to decide if it's worth it.
IKEA Visa Credit Card Pros & Cons
Earn 5% Back When You Shop IKEA
The IKEA Visa offers serious earning potential for loyal IKEA shoppers.
The card allows you to earn 5% of what you spend back on IKEA purchases.
You also get the same 5% back when you use your card to pay for Traemand installation and TaskRabbit assembly services.
The 5% back rewards rate makes it a standout. You're basically getting $50 back for every $1,000 you spend, which isn't too shabby.
IKEA's Projekt card, by comparison, doesn't offer any kind of rewards; you just get promotional financing on large purchases.
Beyond IKEA, you also earn rewards on the rest of your spending. You can earn 3% back when you use your card for dining, grocery or utility purchases. For everything else, you'll earn 1% back.
Rewards are unlimited so you can get a lot of mileage out of this card if you shop IKEA frequently. The rewards rate for grocery, dining and utility purchases is also competitive, compared to what certain other rewards offer.
Redeeming IKEA Visa Rewards
You can reap some great rewards with the IKEA Visa but you need to know how you can use them.
When you're earning IKEA Visa rewards, you're earning back a percentage of what you spend but it's not exactly the same thing as getting cash back.
Instead, IKEA Visa rewards are earned as a rewards certificate. Rewards certificates are issued in $15 increments on your billing statement.
You can then use them to shop at U.S. IKEA stores, or through the IKEA website.
This kind of redemption plan makes saving money at IKEA easy. You just use your rewards certificate to shop and it's like getting a discount on what you spend.
But, that limits your options for saving money elsewhere. Other rewards cards give you more freedom in how you redeem your rewards.
If you'd rather have cash in hand or apply rewards as a statement credit, for example, the IKEA Visa may not be a great fit.
Save More When You Shop With New Account Bonuses
IKEA offers some incentives to sign up for a Visa account, in addition to earning rewards on purchases.
When you open a new account, you get these extra perks:
$25 off your first purchase when you use your IKEA Visa the same day you open it
Free standard shipping and delivery on in-store IKEA purchases
Bonus IKEA reward certificate when you meet the minimum spending requirement
Those all sound good but there are some restrictions to be aware of.
The free standard shipping and delivery offer is good for a limited time only. There are also limits on the delivery area, so if you live outside IKEA's delivery range, you might not be able to take advantage of this benefit.
The bonus certificate is also time-sensitive.
You have to make qualifying purchases within the first 90 days of opening your account to earn the certificate. The upside is that the minimum spending requirement covers all your purchases, not just what you spend at IKEA. It's also relatively low, at $500, so you may not have trouble hitting the mark.
The value of the bonus certificate is a lot less than what you might be able to qualify for with a regular cash back card.
That's something to consider if you're looking for a card that will put a nice chunk of cash in your pocket up front.
Other IKEA Visa Features & Benefits
The IKEA Visa isn't geared towards travelers, so you don't get any travel benefits. But this card does offer some built-in protections that you might value. Those include:
Emergency card replacement and cash disbursement
Convenient lost or stolen card reporting
Zero liability guarantee
Auto rental protection
Automatic enrollment in IKEA Family
We mentioned IKEA Family earlier but here's a little more about the program.
This is IKEA's loyalty program and it comes with its own set of benefits. Those include:
Free coffee or hot tea at IKEA restaurants
90-day price protection
Opportunities to win IKEA gift cards
Extra time in the Smaland children's play area
Discounts on IKEA products
That last benefit is important if you want to save on IKEA's already low prices. Some of the recent offers available to IKEA Family members included 25% off select coffee purchases and 15% off salmon purchases.
If coffee and salmon aren't on your shopping list, don't worry. The discounts change from month to month.
Depending on the current month's deals, you might find savings on everything from mattresses to candles to kitchen items.
No Annual Fee, But Watch Out for the APR
The IKEA Visa has no annual fee, which is a plus. Some cash back rewards cards take a bite out of your rewards by charging a yearly fee.
There is, however, a fee for balance transfers and cash advances.
You won't earn any rewards on those transactions. You also don't enjoy any kind of promotional APR on balance transfers or cash advances.
The regular purchase APR is on the steep side, but it's about what you'd expect with a co-branded store credit card. Only one APR applies; you can't land a better rate by having a higher credit score.
The APR may not matter if you pay your card in full every month. But if you're planning a large purchase that you can't pay off right away, this card could be an expensive choice.
How Does the IKEA Visa Stack Up to Other Shopping Rewards Cards?
The IKEA Visa has some pros:
A great rewards rate on IKEA purchases
Competitive rewards on dining, groceries and utilities
No annual fee
But, there are some downsides, starting with the high APR and the limitations on how you can redeem your rewards. You can find other rewards cards with a lower APR and fewer restrictions on using rewards.
The APR is also something to think about if you're planning a balance transfer. IKEA will let you transfer a balance to your VISA card but not at a 0% APR.
Other rewards cards may also come with a bigger introductory sign up bonus. The trade-off is that instead of earning 5% back when you shop at IKEA, you might earn 2% or 3% back on shopping.
In that scenario, you have to decide what matters more: a bigger bonus up front or a higher ongoing rewards rate.
When comparing other cards, you also need to look at the rewards rate for purchases other than shopping.
Ideally, the card you pick should give you the most rewards possible on everything you buy.
Some cards that offer shopping rewards also come with certain benefits you might want. Depending on the card, that could include:
Price protection
Purchase protection
Extended warranty protection
Return protection
Those are things you may not automatically think about, but they can come in handy if something you buy is damaged, needs to be returned or you find it on sale somewhere else at a better price. With IKEA Family, you just get the 90-day price protection.
Finally, consider the fees. The IKEA Visa has no annual fee, but you might be okay paying an annual fee if it means earning better or more flexible rewards.
Just remember to think about how much you'd have to spend to earn back the fee in rewards each year.
Final Verdict: Should You Get the IKEA Visa Credit Card?
The IKEA Visa is designed with dedicated IKEA shoppers in mind.
This card could be an excellent choice for anyone who spends a lot of time and money shopping IKEA and wants to earn money back on those purchases.
It's also good for someone who wants a go-to rewards card they can use anywhere.
The card does fall short, however, when it comes to the APR and rewards redemption.
If you sometimes carry a balance on your card or you just want more ways to redeem, we'd suggest shopping around for another rewards card option.